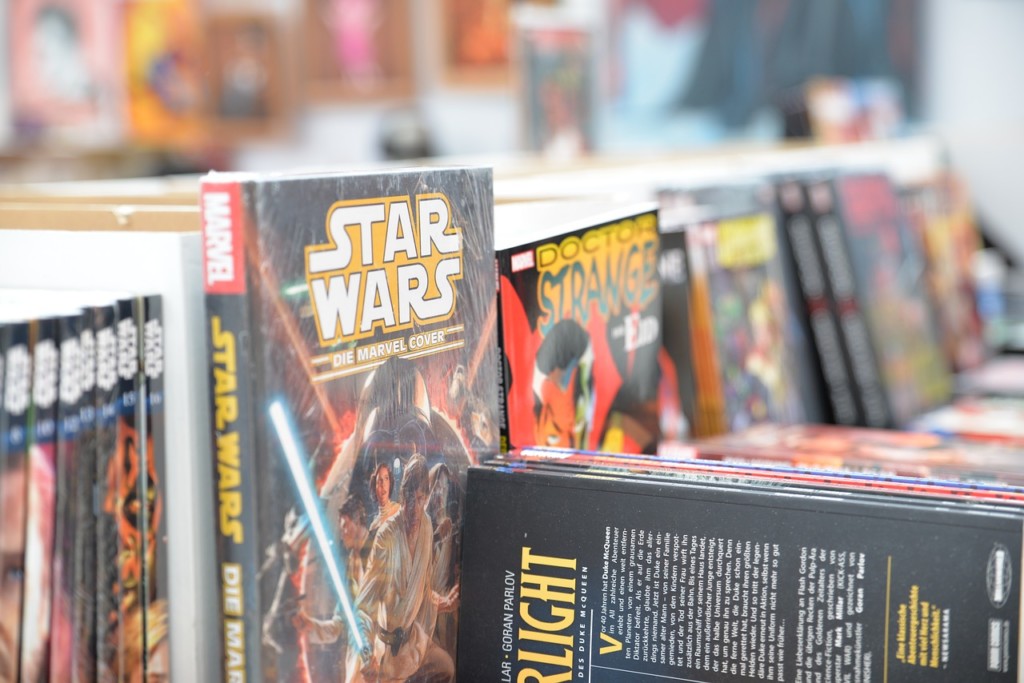 "I am a Jedi, like my father before me."
True story, even though, I will admit I'm not a Skywalker. I can still remember playing with Star Wars toys on the living room floor with my dad as a young girl. (Confession: My dad has the best Yoda voice ever.) Those memories are precious to me for many reasons. The stories of Star Wars didn't just open up my imagination during playtime, they also provided fertile ground for important conversations about life, love and the choices we face in this galaxy not so far away. I am so excited that at long last the next chapter is here: Star Wars: The Last Jedi. I mean, even the title?! I've been sorting through the what-might-bes in my head since before The Force Awakens even hit theaters. As you might have guessed, I have already seen the film. But fear not, friends. You won't find any spoilers here. Just a few tips for enjoying the Star Wars palooza that always surrounds new releases, such as this one.
Watch the other Star Wars Films before you see the new one. I know. I am a Star Wars Nerd; but it's just necessary to have a bit of a Star Wars fest before you see a new theatrical release. If you are running short on time at least make sure you watch The Force Awakens. The Last Jedi is the second movie of a trilogy. Seeing the first chapter of the new trilogy before watching the second is important. I also recommend re-watching The Empire Strikes Back if you can fit it in. Just trust me. We will talk more later.
Enjoy the marketing hype. I don't know if you saw our review of the cosmic shells at Winn Dixie. But we think they are pretty awesome. It is so fun to be a Star Wars fan.  The powers that be work very hard to keep the galaxy and its storytelling authentic and consistent. We were able to theorize, guess and learn the names of several new character thanks to our shells. I was most excited about Rose, who was one of the first character shells we received. No spoilers, but let's just say I was not disappointed in her story. There are lots of these opportunities happening.  Take advantage of them!
Grab some leveled readers. This is especially true if you are taking your children along for the journey and you are skipping tip one. Thanks to the wide fan base of the modern Star Wars trilogy; you can find leveled star wars readers at almost every bookstore. They truncate the stories and make them digestible by age and reading level. It can serve as a cliff notes of sorts for children who may be new to the galaxy. It's also great inspiration to read for little padawans. Just remember, The Last Jedi is a 2 hour and 33 minute adventure. This film is engaging through out, but it is long.
Prepare for big conversations. The best way I have heard Star Wars films described is as a mythology. They are epic saga stories that often leave questions unanswered and people debating. These stories also deal with big topics like finding your own path, loss, parental issues, consequence, and corruption. The stories have the same rhythm and themes with unique prose that make them diverse and interesting. But they will always spark conversation and sometimes controversy.
Timing is Everything. There was little doubt in my mind that I would share these stories with my children. I did, however, take great care in deciding on the when and the how. Little did I know, as a child, that the trilogy would expand to include prequels, animated series, Star Wars Anthology movies (like Rogue One), and a brand new triology (The Force Awakens and The Last Jedi). When The Force Awakens was released we previewed the film before sharing it with children. We were excited to share it with them, but I first wanted to make sure the film was not to dark or violent. We found it struck a good balance for our family a bit after its first theatrical release. There is no rush, trust me there will be a DVD with all the bells and whistle released soon. Experiencing a New Star Wars release in theatres is something special, but only if everyone can fully enjoy it.
I loved this movie. It is a beautiful addition to the Star Wars cannon. Sharing this film with my children was pure delight. We laughed, cried, gasped, cheered. In this fan's opinion Star Wars returns to it's ground breaking roots with this film. It reminds me that no matter who you are or where your story begins you are the architect of your future. Indeed, we can all nourish that spark of hope with in us.
Have you seen The Last Jedi? And if so with the children or without?