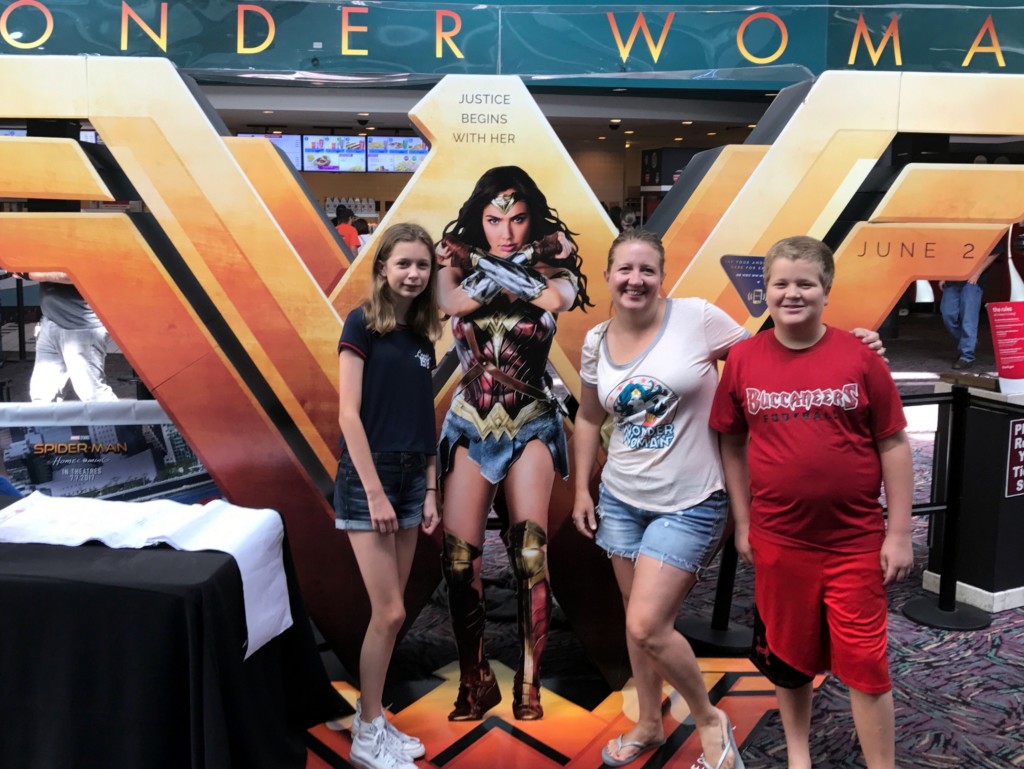 Growing up, I never missed an episode. In an age where DVR, Netflix, and On Demand didn't exist, I made sure to be seated right in front of the television as soon as the opening theme music played. Wonder Woman. She was my hero, and I watched her religiously while my mom cooked dinner in the kitchen of our tiny apartment.
My mom was a single mom, and we didn't have much. My after-school snack while watching my favorite show consisted of two cheese slices. Not the fancy deli kind my kids are accustomed to but the individually wrapped bright yellow slices. Generic store brand, I'm sure.
With every bullet blocked by golden cuffs and with each villain forced to tell the truth with the wrap of a lasso, I wanted to be her. Strong, fierce, confident, and compassionate. She was a female superhero in a man superhero world who stopped the bad guys every day. At the end of each show, I ran through the apartment singing the song, stopping my own imaginary bullets with the swing of my wrists and concocting story lines where I was the warrior. I didn't need the fancy red, white, and blue costume. I had Underoos!
My love for Wonder Woman taught me how to dream because I believed I could do anything just like her. It taught me how to create a world beyond reality as I developed story after story of crime fighting that would later translate into my love for writing and creating worlds from nothing but an idea. Most importantly, my love for Wonder Woman taught me that women are powerful, and I saw my mom as my own real-life superhero fighting for our tiny family in ways that weren't alway recognized or wrapped in a television show-ending bow.
On Saturday, I took my family to see the modern version of my hero, and to say that I was excited is an understatement. I was also a little scared. What if the hero I'd built in my mind as a little girl in a tiny apartment no longer felt larger than life?
There was no need to be concerned. My favorite superhero had the biggest opening ever for a female director, received rave reviews, and introduced a new generation of fans to her awesomeness. For me, personally, it meant more than box-office numbers and big-screen success.
My 14-year-old daughter got to watch a fierce female take control and save the day. A woman whose compassion, just as much as her strength and power, made her a hero. These are all the things I hope to teach my daughter each day as she grows into a young woman.
I also got to share a my favorite superhero with my almost 13-year-old son, and although it looked different than all the other superhero blockbusters, it had heart, action, and humor which kept him thoroughly entertained. As he grows into a young man from the little boy who thought his mom could do anything, we were once more able to connect in our love of a comic book superhero.
My husband saw me cry during the movie. Twice. It was a glimpse of the little girl inside of me remembering what it was like to dream big, have heroes, and to feel strong when the world around you can sometimes make you feel weak.
From this mom with kids who are growing up too fast. This wife who was able to show her husband a little of what shaped her into the person she became. This daughter who didn't always appreciate that she had a real-life Wonder Woman right in front of her sacrificing so much. This forever dreamer who still thinks she can be and do anything, even if it's taken more years than she planned.
Thank you, Wonder Woman.