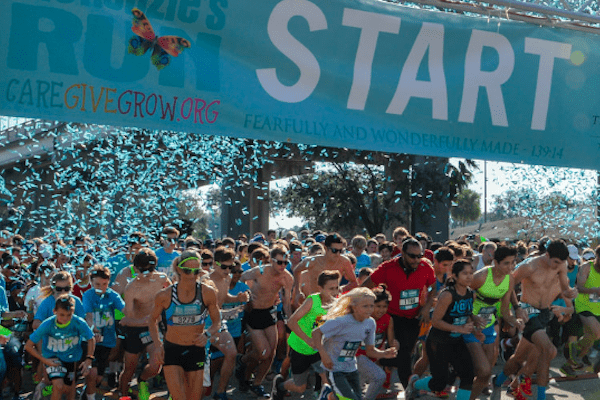 IMPACT. That is what you create when you lace up your shoes every November for the annual McKenzie's Run at TIAA Bank Field. Created to bring awareness to the McKenzie Noelle Wilson Foundation, McKenzie's Run aims to unite the community of Jacksonville and help young people recognize their full potential. Since its inception in 2010, the Run has helped children right here in Jacksonville, as well as across the globe, and it's all because of your help.
YOUR impact is felt locally with the McKenzie's Academic Resource Centers that provide free after-school mentoring and tutoring programs to over 300 students living in two local communities. 
YOUR impact is felt globally in the three homes at the Okoa Refuge Orphanage in Uganda, Africa. The Foundation, in partnership with the Okoa Refuge, provide medical care, food, shelter, education and love to over 75 children. 
YOU can continue to make an impact locally and globally by signing up for either the 5K or 1-mile fun run that takes place on November 17 at 9:30 a.m. This year, McKenzie's Foundation is furthering their impact by seeking nominations for the 2018 McKenzie's Run Captain. Last year, the Foundation started a new tradition in which they selected a young person from the community who embodied the spirit of the McKenzie Noelle Wilson Foundation. 
Teachers, friends, parents, pastors, coaches and mentors are encouraged to nominate somebody between the ages of 2 and 22 who CARE about their community, GIVE their time and attention to those who need it most and inspire others to GROW into their full potential. The chosen captain will be announced and presented on race day and will receive a $2,500 college scholarship! Nominations are due by October 31.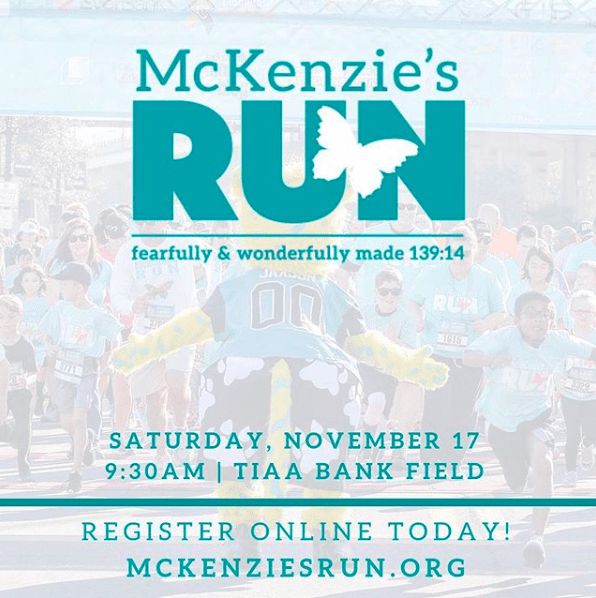 The family-friendly event also includes plenty for the kiddos including face painting, games, inflatables, and much more. In addition, the Runners Village will be full of incredible Jacksonville organizations seeking to make a BIG difference in our community. Make sure you pop in and see what's happening in your city. 
McKenzie's Run is mom-friendly too with "MOM PODS" available during the run. The pods will be located adjacent to our "Runners Village."
Please note the race will start on the EAST Side of the stadium in Parking lots C&D. Guests can enter at Gate 4. On your way into the race make sure you tune into 100.7 The Promise Radio for live updates on parking, traffic and other important race info. We should note that the stadium will follow "GAME DAY" bag policy during the event. 
Sign up now for the 9th annual McKenzie's Run on November 17! Sign up as a team and use Jax Moms Blog as your team name and you will receive $10 off your registration!