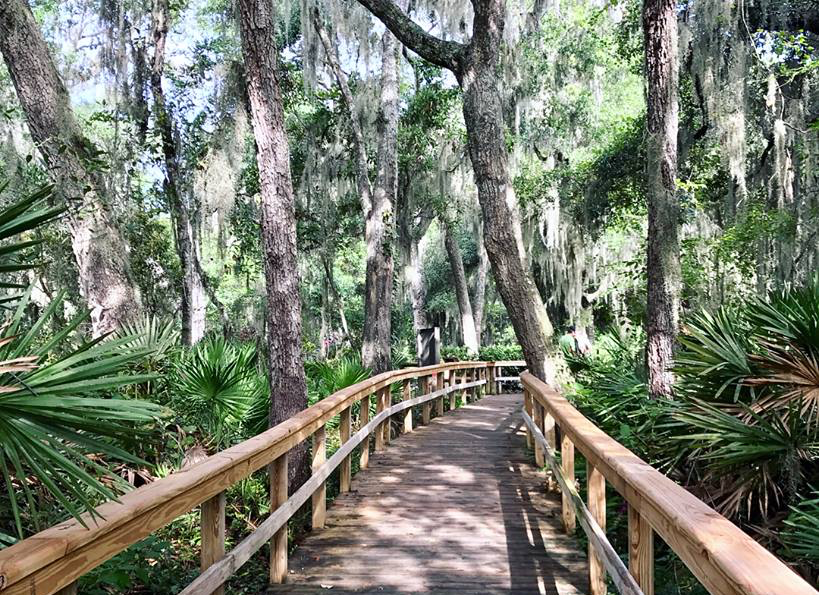 One of the best things about spring in Jacksonville is getting outside again. The crisp, clean air after a dreary winter season fills my soul in such a timely way. There seems to be a sweet spot of several weeks where the temperature is perfect, the sun is perfect, everyone's attitude is positive and bright (much like the sun), and it's during this time our family tends to explore our wonderful city's hiking trails.
Most people think of Jacksonville as only a beach community, but don't forget that we also enjoy many gorgeous green spaces. There are several parks and hiking trails that provide a fantastic way for families to reconnect with each other, away from the hustle and bustle of the week. And don't let the time of year stop you — even during the sweltering summer heat, these hikes are a great way to stay cool under the of canopy of trees along the trails.
Hiking Criteria
We have simple criteria as to what makes a hike a good option for us: 1) Long AND short trails because sometimes we want to explore more and other times we're looking for a quick family reset. 2) A trail that offers more than just trees and a dirt path. 3) A good snack place to hit after our family adventure. With that being said, here are several family-friendly hikes in and around our awesome city.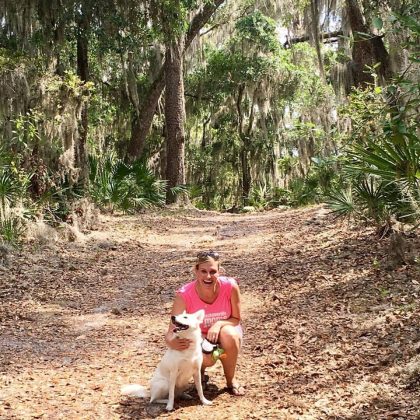 Fort Caroline National Park — Timucuan Preserve
The beautiful tree-canopied road sets the stage as you enter Fort Caroline National Park. From the visitor center, you can take a path to a river overlook where you can watch boats and ships go by. Another short trail from the visitor center takes you past a boat dock (open at times) and then down to the fort, a recreation of Fort Caroline. Kids will love to run around and explore the fort's steps, hills, and cannons. If they are still full of energy after the fort, you can take the easy 1.2-mile Hammock Trail from there that loops back around to the parking lot. These trails are also dog-friendly and stroller-friendly.
Address: 12713 Fort Caroline Road 32225  |  Hours: 9 a.m.–5 p.m.  |  Fee: None  |  Trail Map  |  Trail Length: 1.2 miles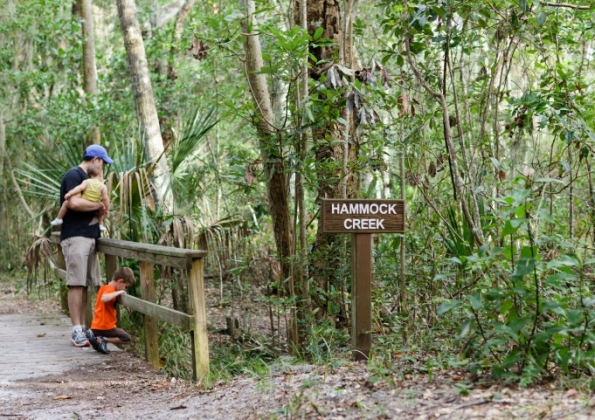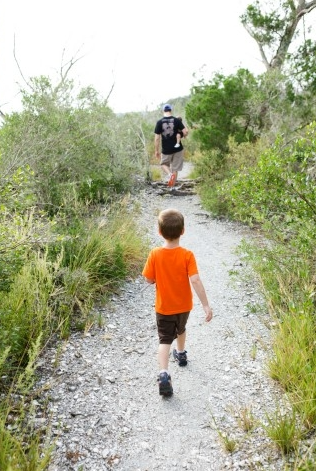 Theodore Roosevelt Area — Willie Brown Trail
Located at the Timucuan Preserve headquarters and connecting to the trails at Fort Caroline National Park, the Willie Brown Trail in the Theodore Roosevelt Area is popular with trail runners and has several historical sites along the way. The entrance to the Willie Brown Trail is in a different location than the entrance to Fort Caroline National Park. Down this trail, you will hike along the marsh and will come to the marsh overlook tower — a great place to see birds and waterfowl! As you are walking along the trail you will likely come across scurrying crabs. Watch out for the small cactus plants that grow in the section of trail that is nearer to the marsh. The Willie Brown Trail is 1.6 miles and might challenge some of the littlest legs but may be just right for some younger hikers. Be aware that other trails connect to the Willie Brown Trail and lead you into longer walks toward Fort Caroline. I suggest you stay on the Willie Brown Trail if you want a shorter journey, otherwise, it could be a long hike for some kids. This trail is dog-friendly and much of it is also stroller-friendly.
Address: 13165 Mt Pleasant Road 32225  |  Hours: 9 a.m.– 4:45 p.m.  |  Fee: None  |  Trail Map  | Trail Length: 1.6 miles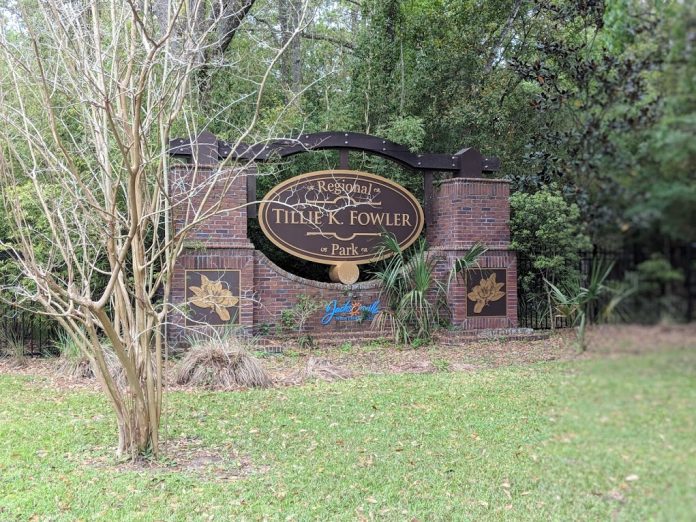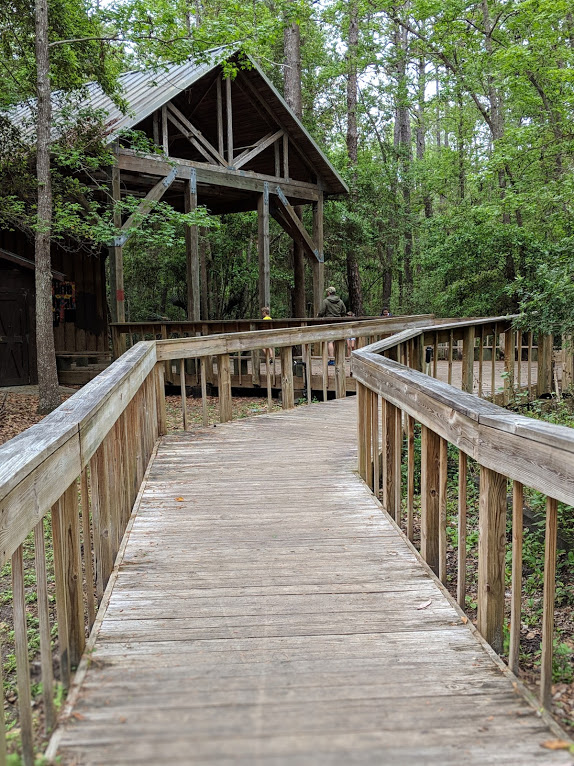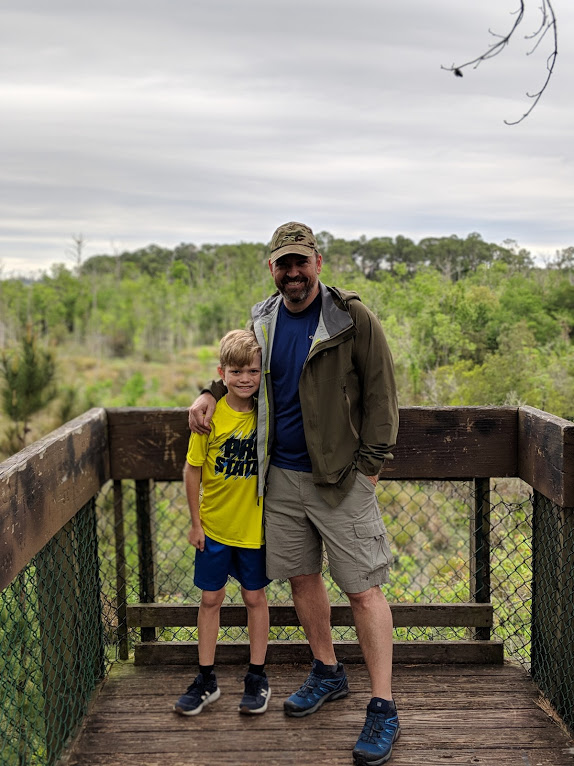 Tillie K. Fowler Regional Park
My family recently discovered Tillie K. Fowler Regional Park a couple of months ago. It is located near NAS Jacksonville and boasts 509 acres in an otherwise crowded urban area that sits along the Ortega River. The trail totals 1.9 miles but can be longer should you decide to double loop some of the jaunts off the main trail or even take an unmarked path or two. We loved discovering the observation tower and climbing to the top to see the Ortega River from this viewpoint. Trees are marked with orange and blue blazes to keep you on the trail and your family will enjoy seeing the many different species of trees since this large acreage stretches through drylands and wetlands. After our hike, the boys threw the football in the open air space near the playground and pavilion area, which is perfect for a picnic lunch.
Address: 7000 Roosevelt Boulevard 32244  |  Hours: 5 a.m.–7 p.m. (9 p.m. during Daylight Saving Time)  |  Fee: None  |  Trail Map  |  Trail Length: 1.9 miles
Castaway Island Preserve
If you blink, you'll miss this treasure of a hike located on San Pablo Road. Castaway Island Preserve is tucked between lovely neighborhoods and a great place to take the kids for an easy hike and a picnic lunch. Along the hike kids will enjoy seeing the "fossil" animal footprints, the Intracoastal Waterway overlook, and the educational signage that refers to the animals living in the preserve area. This trail is 1.7 miles long and is not a traditional hiking trail as it is composed of all sidewalk paths and a boardwalk towards the end. As such, it is easily accessed by both strollers and wheelchairs. At the end of the parking lot, there is a place to launch kayaks and a pavilion area with benches to enjoy a rest.
Address: 2921 San Pablo Road South 32224  |  Hours: Sunrise–Sunset  |  Fee: None  |  Trail Map  |  Trail Length: 1.7 miles
UNF Trails
The trails at the University of North Florida are open to the public and have a great variety of lengths that both runners and little hikers can enjoy. We've enjoyed these trails for many years as there are plenty of shorter paths and extensions to make it a longer hike. These well-maintained trails are located in the school's 300-acre Sawmill Slough Preserve where mature trees provide ample shade even at midday. The kiddos will likely enjoy the winding curves of the 0.19-mile Red Maple Boardwalk! If you hike the loop around Lake Oneida, it is less than 1 mile and goes by an access point to an island where picnic tables are available. Along this loop are also a few fitness stations where kids can attempt pullups, pushups and practice balancing on "balance beams."
Address: 1 UNF Drive 32224  (Park in Lot 100)  |  Hours:  Sunrise–Sunset  |  Fee: $3 parking on weekdays and during special events, free evenings and weekends  |  Trail Map  |  Trail Length: Variety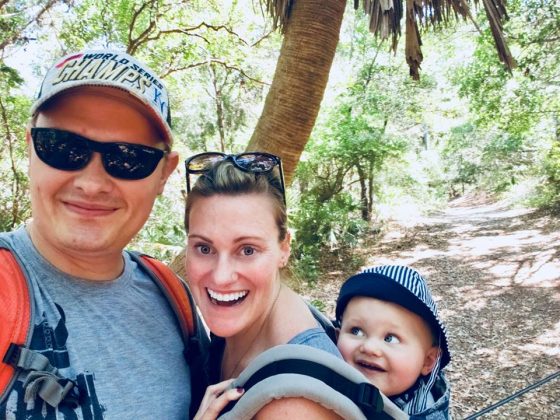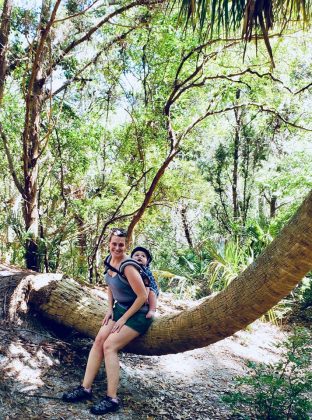 Little Talbot Island State Park
Located just north of Atlantic Beach, Little Talbot Island State Park boasts a couple of excellent trails, one of which is extremely family-friendly. The Campground Nature Trail is 1 mile, ideal for little hikers, and features salt marshes, ancient dunes, and a lush forest. For a longer hike, the Dune Ridge Trail is 4 miles of beach dunes, marshland, and stunning beach. Check in at the ranger station for a kid-approved Hide and Seek Scavenger Hunt!
Address: 12157 Heckscher Drive 32226  |  Hours:  8 a.m.–Sunset  |  Fee: $5 per vehicle  |  Trail Map  |  Trail Length: 1 mile, 4 miles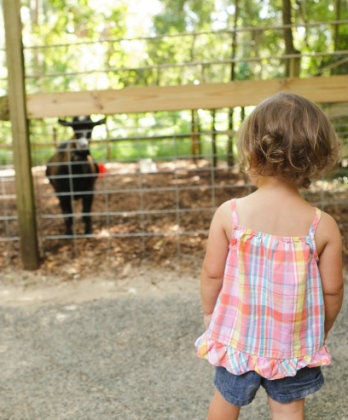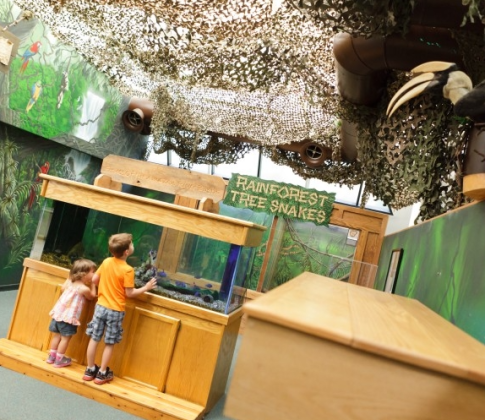 Tree Hill Nature Center
At the Tree Hill Nature Center, the minimal cost of admission will buy you more to see and do than just the hiking trails. Kids can enjoy the animals both outdoors and inside the museum. There are a variety of trail lengths to choose from and all trails have minimal elevation changes. Kids can enjoy the newly constructed boardwalk that gets you off the ground for a different perspective of the park. There are several paths to take and the levels are all considered easy to intermediate. Sabal Palm Trail is actually asphalt paved and handicap accessible.
Address: 7152 Lone Star Road 32211  |  Hours: Monday–Saturday, 8 a.m.–4:30 p.m.; Sunday (June–August), 10 a.m.–4 p.m.  |  Fee: $4 Adults, $2 kids ages 3–17  |  Trail Info  |  Trail Length: Variety
Kathryn Abbey Hanna Park
Hanna Park has much more than just the trails to offer active families. There's a playground, many picnic areas, a lake with kayak rentals, beach access, camping, and a splash park that is open in the summer. The trails at Hanna are popular with mountain bikers and park rules say that "bikers yield to hikers," but if your kids' movements are as unpredictable as mine are, it's best to look out! This park has a mix of both long and short trails, ranging from 0.2 to 4.5 miles with varying levels of difficulty. Be sure to consult a map and know where you're going. Both the Scout Trail and Lil' Joe Trail are very short trails and could be a good place to start. If you don't think your kids can go the distance on a 4.5-mile trail, but you want to see something different, then at the start of a trail just set a time to turn around and go back rather than trying to make it all the way around the loop. (Nothing is worse on a hike than dragging along a worn-out kid, amiright?!)
Address: 500 Wonderwood Drive 32233  |  Hours: April–October, 8 a.m.–8 p.m.; November–March 8 a.m.–6 p.m.  |  Fee: 8–10 a.m., $1/person; 10 a.m.–close, $3/car  |  Trail Map  |  Trail Length: Variety, 0.2–4.5 miles
Cradle Creek Preserve
Cradle Creek Preserve is a short and sweet trail located in Jax Beach, tucked in between Jacksonville Beach Golf Club and Baptist Beaches Medical Center. The trails are nice and wide and mostly stroller-friendly. Several points of the trail take you over boardwalks and bridges. Kids can enjoy walking on these because of how their footsteps sound! One leg of the trail takes you to an overlook of the Pablo Creek Estuary. Another section of the trail takes you by a canoe launch site. Kids may also like collecting "treasures" during this hike. This trail has a nice tree cover that greatly helps to reduce the heat.
Address: 900 15th Street 32250  |  Hours: Sunrise–Sunset  |  Fee: None  |  Trail Map  |  Trail Length: Variety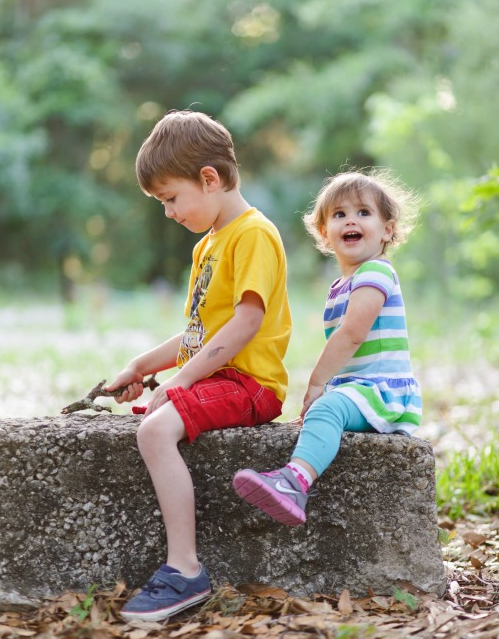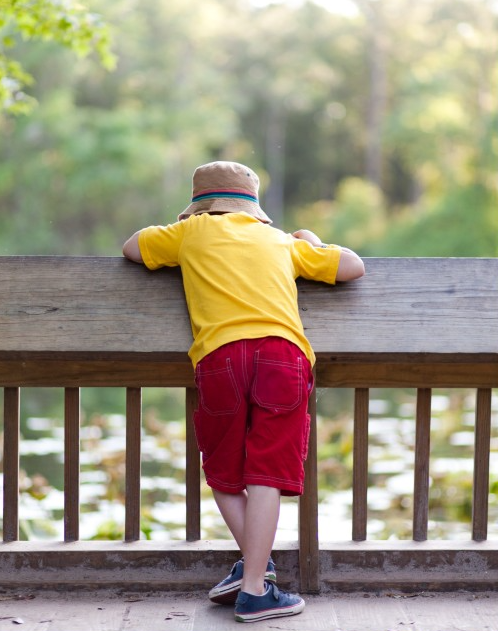 Jacksonville Arboretum
The Jacksonville Arboretum is a 120-acre urban woodland for the family to enjoy with over 3 miles of trails. This beautiful park is maintained by volunteers and continues to improve each year. Benches are located along the trails for a little pause or to use to stretch your legs during a vigorous walk. For little hikers, there is a short "lake loop" that is nice for shorter legs and easily accessible to jogging strollers. On this loop, you will go by a dock where you can feed fish and turtles. Turtles love leafy greens, so bring leftover lettuce, carrot tops or spinach from your salad the night before. And if you plan to feed the fish, stop by the pet store on the way to pick up fish food. Bread isn't good for turtle or fish bellies, so let's be kind to our wildlife. Many other trails extend from the lake loop, some are kid-friendly, and some are a bit longer so grab a map when you enter. There is only a small section of a trail that isn't dog-friendly, so even your four-legged family members can enjoy the Arboretum. If you have an interest in plant species and habitats, you'll appreciate the multitude of educational signs that are here. If you like to hike with your kids, the Arboretum is a great one to enjoy.
Address: 1445 Millcoe Road 32225  |  Hours: 8 a.m.–5 p.m.; 8 a.m.–7 p.m. during Daylight Saving Time  |  Fee: None  |  Trail Map   |  Trail Length: Variety, 3 miles of trails
What are your favorite family trails? We'd love to add to our list, so please share with us in the comments, and happy hiking!
Photos courtesy of Megan Johns, Tina Peckham, and Meredith Loudenback.