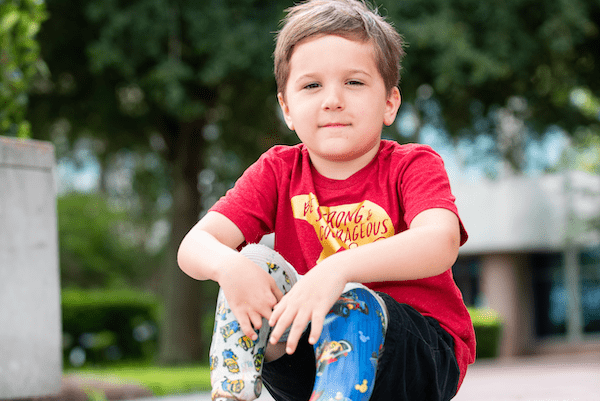 Five-year-old Gunnar has a condition called bilateral fibular hemimelia, meaning he was born without a fibula bone in each leg, resulting in the absence of feet. He was diagnosed in the womb at his mother's 13-week checkup during a routine ultrasound.
"He was missing his fibulas in both legs and partial tibias in both legs, but had fully equipped knees in both legs," said Gunnar's mother, Rachel Chester.
Gunnar had his first amputation surgery at 10 months old and began walking for the first time on prosthetic legs at 14 months old. Since age 3, Gunnar has had seven more amputation surgeries and four pairs of prosthetics, and has received specialized orthopedic care from Eric Loveless, MD, pediatric orthopedic surgeon at Wolfson Children's Hospital and Nemours Children's Specialty Care, Jacksonville. He also sees Mike Wright, a pediatric orthotist/prosthetist with Nemours Jacksonville, who ensures Gunnar's prosthetics fit properly; Gunnar also undergoes physical therapy at Wolfson Children's Rehabilitation as needed.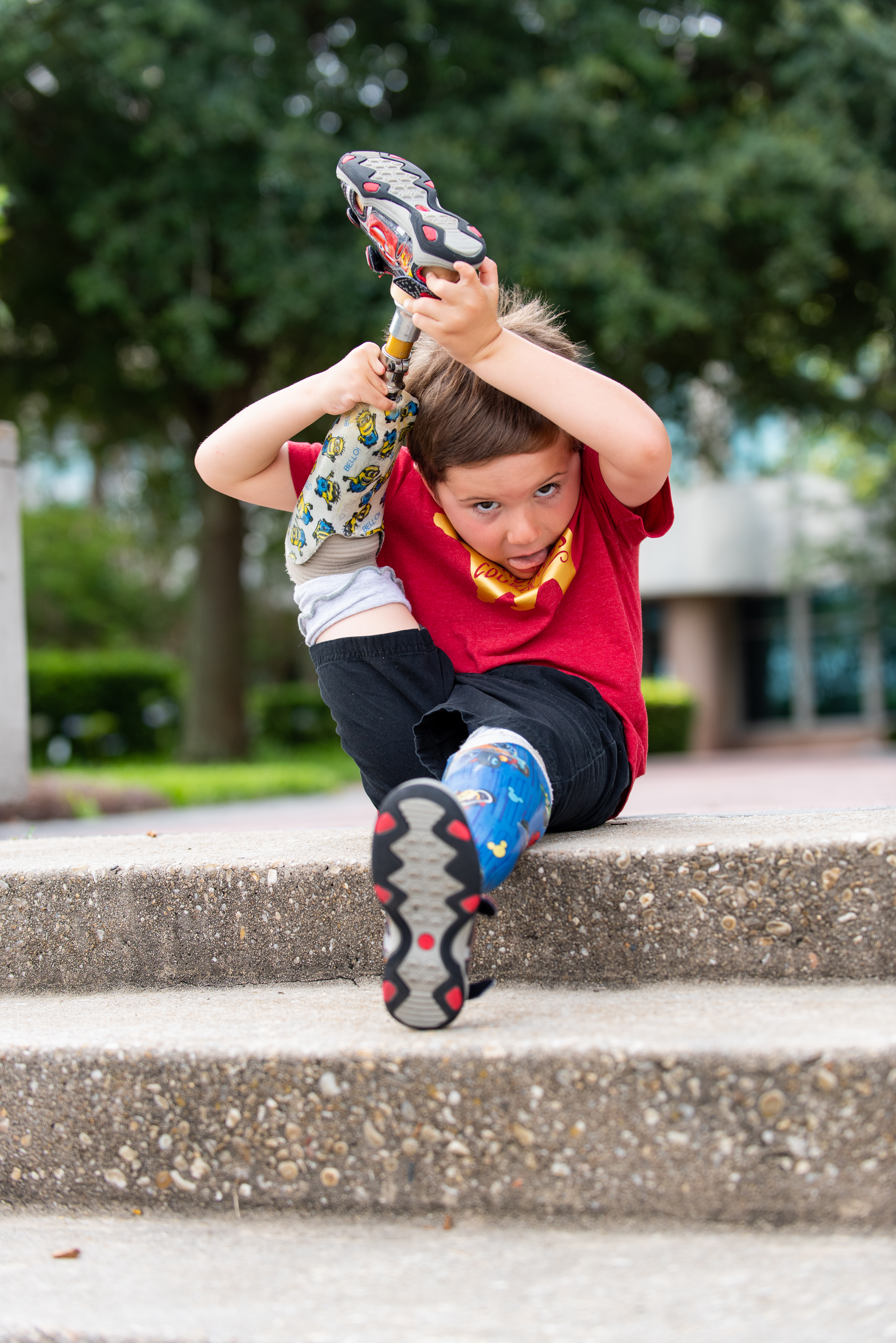 January 26, 2019, is the 10th anniversary of Wolfson Children's Challenge, where Gunnar will be honored as one of the Wolfson 55 — a group of patients there to share their inspiring stories. He's excited to complete the 1-Mile Fun Run, and his family is considering putting together a relay team called "Gunnar's Runners."
"They had to amputate about an inch or two of extra tissue on his legs and shape them for prosthetics. That was the first surgery. They've had to go in and shave the tibia bones because they grew into spikes. It's just reshaping his legs as he grows so he can fit the prosthetics in the best way," said Chester.
It may sound like a sad story, but when people approach Gunnar's mother and express their sympathy for her son's condition, she doesn't really see why.
"Countless people have come up to us crying and telling us they're so sorry, and I'm like, 'Why?!' He's a pistol so it doesn't even stop him. We talk about it like it's not abnormal, because this is our normal," Chester said.
In fact, Gunnar is thriving — not in spite of his prosthetic legs, but because of them. When he took his first steps, he took them in prosthetics. He runs and plays with friends at church and his fellow kindergartners at school. He loves to ride his bike and he's always dancing, even in the middle of the grocery store. In his mom's words, "If he gets the chance, he's busting a move."
"He talks about what he calls his 'nubbies' all the time, and we say we have a 'prosthetic' sense of humor. We'll be in the grocery store or somewhere and his prosthetic will fall off and he'll be like, 'Whoops, my leg fell off again.' He will take off his legs and ask people to tickle the bottom of his prosthetic feet and then laugh when they do," said Chester. "I just know God is going to use him for something great. He's great at playing the drums, and he plays with his dad. Maybe that's his calling."
The Chester family has been stationed in Jacksonville with the U.S. Coast Guard since 2012. They're currently hoping not to relocate so Gunnar can remain in the care of his long-time team of specialists at Wolfson Children's Hospital and Nemours Children's Specialty Care.
"We wouldn't even be where we are if it wasn't for Wolfson and Nemours. Everyone there has always treated us like family," said Chester. "We've spent a lot of time in the hospital and in the clinic developing those relationships. We walk in and people know who he is — it's like a second home. Without them, our little firecracker wouldn't be so mobile."
To register for the 55K Ultra, 55K Relay, 30K Run or 1-Mile Fun Run during the Wolfson Children's Challenge, visit wolfsonchildrenschallenge.com. Early-bird registration for the Relay is December 31, 2018.