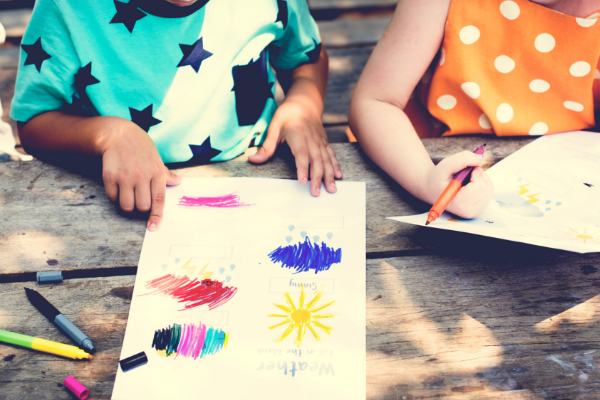 It's almost time for spring break! And whether you're a stay-at-home mom looking for a break or a working mom needing extra help, there are spring break camps in and around Jacksonville you'll love. Whether you need a daily drop-in or a full week, you are sure to find something that fits your family's needs! Here are a few of our favorites for 2020.
Bach to Rock
March 9-13, March 16-20
Ages 7-17
For Spring Break this year, Bach to Rock is offering several options. Rock Band is designed for students of all levels and is taught by experienced musicians using the B2R method. Students are placed in a band according to their age and skill level, with a focus on ensemble playing, teamwork and achievement of musical objectives. Weekly sessions conclude with a public performance and the recording of their own CD. Glee Club is inspired by the television show, and students will learn fun vocal exercises, singing in harmony, and cool choreography. Lessons include reading music, intonation, listening skills, rhythm, and healthy vocal technique, and weekly sessions conclude with a public performance and the recording of their own CD.
Cost: $75 per day
---
Champions Gymnastics
March 9-13 | 8:00am – 3:-00pm
Ages 5-12
Champions provide the perfect solution for families seeking a stimulating and nurturing environment for their children during the holiday break. Champions camps are filled with exciting activities including gymnastics, relay games, rope climbing challenges, arts and crafts, foam pit, bounce house and more!
​
Their instructors ensure every camper has the most fun and safe experience possible and plenty of opportunities to make friends. Campers will have the opportunity to grow their flexibility, strength, fitness, and character, while learning gymnastics skills on floor, bars, beam, vault and more.
---
Chappell Schools
March 16-20
VPK and school-aged children
Let Chappelle Schools Longleaf Campus show your kids a great time over spring break! There are exciting activities planned for the entire week, including two field trips. On March 17th, kids will get all that excess energy out at Jump Street Trampoline Park, and on March 19th, they'll get to see the Sonic the Hedgehog movie! Sign up now while space is still available.
Cost: $200
---
Creative Me Art Studio
March 9-13 |  9:00am – 12:00pm or 1:00pm – 4:00pm
March 16-20 | 9:00am – 12:00pm or 1:00pm – 4:00pm
The Creative Me! Camp Program promotes exploration and discovery of the art world. To help foster that growth they give their students the opportunity to think outside the box while working on their teacher-guided art projects. Your child's week at camp will be centered around a specific art theme. Within that theme, they will explore a variety of age-appropriate materials and hands-on processes, while having a great time! Just have your child wear old clothes and bring a small snack!
Ages 5+,  participants will complete 2 small or 1 large "Make & Take" art project(s). Don't forget to bring a small non-messy snack and a water bottle for break time.
Cost: $35 per session, per student.
---
Cultural Center at Ponte Vedra
March 16-20 | 9:00am – 2:00pm
Spend the day or the entire holiday break creating original artwork with talented art instructors. Kids ages 4-8 and 9-14 can have fun with daily or week-long camps and workshops. Artists will need to prepare to get messy and dress accordingly, with closed-toed shoes. A snack will be provided, and artists will need to bring a nut-free lunch.
Cost: $250 for the week, or $55 per day
---
First Coast YMCA
Dates vary in March by county | 6:30am – 6:00pm
Head to the YMCA for fun games and activities that are sure to keep kids having fun and learning along the way. They will have the opportunity to make new friends and engage in indoor and outdoor activities in a safe, positive environment.
School's Out Camp is available on most school holidays and teacher planning days. Dates, times and prices vary by location. Plus, you can sign up for any number of days. Both members and non-members are welcome to attend, so invite your friends. Register today at a YMCA near you!
Activities include:
Arts and crafts
Team sports
Games
Science experiments
And more!
Cost: Pricing may be available for the entire week and varies by camp location. Daily rates are also available at some locations.
---
Iron Diamond Sports
March 9-13 | 9:00am – 3:00pm, with extended day options available
Ages 6-14
Iron Diamond Sports specializes in the enhancement of athletic performance through sport-specific comprehensive training. Boys and girls ages 6-14 can practice their skills on the diamond, with camp topics covering hitting, throwing, fielding, pitching, catching, and more. There will also be games and prizes, and a pizza party to wrap up the week!
Cost: $225 for the full week
---
Jacksonville Humane Society
March 11-13, March 18-20 | 9:00am – 4:00pm
Children in grades K-8 are invited to spend Spring Break with the animals at the Jacksonville Humane Society! Choose from two different sessions and register your child for one day, two days, or three days. Those who register for all three days will receive a savings of $25. Spring Break campers will learn what it means to be a friend to the animals and how to help pets at home, in the community, and in shelters. We'll spend time interacting with and training dogs and cats, making crafts and treats for our four-legged pals, playing games, and so much more! Must bring lunch and a water bottle.
Cost: $70 for one day, or $185 for three days
---
Jacksonville Zoo and Gardens
March 11-15 | 9:00am -4:00pm (extended care available)
It's time to come out of hibernation! Spring Camp is back and ready to help your campers shake off the winter by exploring new life at the Jacksonville Zoo and Gardens. Spring means bright flowers, cheery bird songs, and baby animals – and camp means amazing activities, keeper chats, and Animal Ambassador encounters. Combine the two for an unforgettable week of fun!
Cost: $195 for members, and $220 for non-members
---
Jax Surf & Paddle
March 9-13, 16-20, April 13-17 | Morning, Afternoon, and All Day Sessions Available
Campers will be separated into groups based on age and skill, with all skill levels welcome. Lesson plans include learning how to surf and improving current surfing skill set, with demonstrations and lots of practice. Campers will learn about ocean safety, correct stance, pop-ups, proper paddle technique, entering/exiting the ocean, standing up, riding, and falling. Other activities throughout the week might also include paddleboarding, yoga & stretching, relay races, beach sports, races, exercise, and classroom-style whiteboard sessions. Five-day camp graduates will receive a goody bag and pizza party at the end of the week.
Cost: Half-day: $220 / Full-day: $360; Single half-day drop-in: $50 per day / Single full-day drop-in: $100 per day
---
Jewish Community Alliance JCAtion Days
March 9-13, 16-20 | 7:30am – 6:00pm
When school is closed for the day, send your children to the JCA! They'll experience a wide range of activities including sports, arts, crafts, cooking and more. Their experienced and caring staff will guide your child through a fun and stimulating day away from school in a safe and nurturing environment.
Cost: $46 per day for members / $55 per day for non-members
---
Kids Can Code
March 9-13, 16-20 | 9:00am – 12:00pm or 9:00am – 3:00pm
Ages 5-12
Campers will work with the awesome Dash & Dot Robots. Teams of campers will participate in a series of coding robotics missions that will teach problem-solving and teamwork, all while reinforcing computer science skills!
Learn the Blockly code language that is based in Javascript. Put that code to use to solve robot challenges in a team of 2-3! Campers will leave with new knowledge of algorithms, loops, conditionals, and variables. Spring Break wouldn't be complete without a BOT BEACH PARTY! We will celebrate all these bots can do while exploring other coding activities!
Cost: $200 per half-day for  / $400 per full-day 
---
KinderCare
Ages 5-12
Winter break, spring break, summer break — whew. When school's out (but you still need to work), you can count on KinderCare to provide your children with a safe and supportive environment that's focused on fun.
Many KinderCare centers welcome children ages 5–12 during school break times, and they'll make sure they have a blast. In any given week, kids in their programs might be exploring circus science, diving into the world of marine mammals, or making up their very own version of a mixed-up fairy tale. In other words, boredom isn't a thing there — and friendships and laughter are guaranteed.
---
MOCA Jacksonville
March 9-18 | 9:00am – 1:00pm, half-day / 9:00am – 5:00pm, full-day
MOCA Jacksonville provides half-day and full-day sessions for kindergarten through fifth-grade students during spring break. Experienced art educators teach a variety of media and skills while providing the contemporary art history context for each project. Daily themes include Tall Tales, Micro-Macro, Fibers & Textiles, Observing Nature, and Turn Back Time.
Cost: $25 per day for half-day camp / $50 per day for full-day camp
---
My Gym
March 9-13 | 8:30am – 5:30pm
At camp, your child will not only be having the time of their lives in their state-of-the-art facility with award-winning programs, but they will also be enriched by creative crafts and entertained by their AMAZING staff. Prices include a hot meal for each session, so no need to pack a lunch – they take care of everything!
Cost: $35 per session, $70 for a full day
---
MOSH
March 9-13 | 9am to 3pm
Ages: Enrolled in K-5th Grade
Rollie Robots & Crazy Coasters!
Looking for something exciting to do this Spring Break? Spring into Science at MOSH! Campers will get to drive rolling robots, construct the wildest roller coasters that they can imagine, and learn amazing engineering skills!
3rd – 5th Grade Camp: March 11 – March 15 | 9am to 3pm
Looking for something exciting to do this Spring Break? Spring into Science at MOSH! Campers will get to program robots to explore a gigantic map of Mars, construct crazy roller coasters, and take a field trip to Sally Corps, a local STEM Lab!
Cost: $164 for MOSH Members / $205 for Non-Members
---
Shiva Robotics Academy
March 9-13 for Duval County, March 16-20 for St. John's County | 9:00am – 3:00pm, with extended day options available
Shiva Robotics Academy is an educational institution that teaches kids about Science, Technology, Engineering, and Mathematics through various hands-on activities. Kids will love five days of LEGO-themed activities, including animatronics, smart vehicles, humanoids, and spirographs!
Cost: $375 – $525 for full session / $60 – $100 for single day
---
St. Augustine Alligator Farm Zoological Park
March 16-20 | 9:00am – 4:00pm
Your kids will get to go wild about animals as campers explore the wild side of animal behaviors. How do animals hunt, hide and survive using their special skills? What does it take to survive a life on the wild side? Campers will become behavioral biologists and use their keen observation skills to learn the ins and outs of animal behavior. Lunch, a snack, and a camp t-shirt included.
Cost: $225 for members / $250 for non-members
---
The Playgarden
March 9-13 | 9:00am – 1:00pm
Ages 3-7
Campers will enjoy a wonderful spring at the Playgarden! This a time for exploratory celebration! They'll enjoy fun, spring-themed crafts, kite flying and sandcastle building at the beach. Staff will provide a snack and supplies; campers will need to bring a healthy lunch.
Cost: $200 for the week, with a $50 non-refundable deposit to be applied towards tuition.
---
The Little Gym of Orange Park
March 22-28
Ages 3-12
Day camp for kids at The Little Gym of Orange Park is as great as you'd imagine! Held during vacation times when school's not in session, their Fleming Island seasonal camps combine physical activity, gymnastics, and games with arts, crafts, and special LEGO® DUPLO® and LEGO® Juniors building activities for giggle-filled relief from the winter doldrums.
Cost: Pricing starts at $18 per session
---
Check out our Family Directory for our comprehensive list by location!