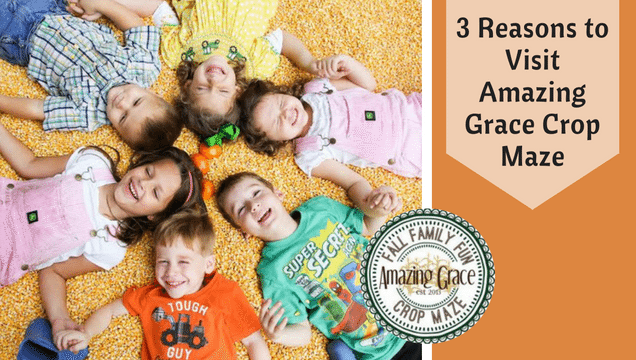 Every fall, my family and I look forward to visiting Amazing Grace Crop Maze, which is one of our favorite spots, and we encourage you to visit it before the season ends (last day is November 7, 2015)! Here are 3 reasons why YOU need to take your family there ASAP:
1. The Attractions
Amazing Grace Crop Maze offers a variety of attractions that enable visitors of all ages to have a good time on the farm:
Corn Crib: My daughter LOVES this attraction. Fun fact: there are approximately 9,000 pounds of corn in the corn crib! This year they have added a second corn crib for the little ones!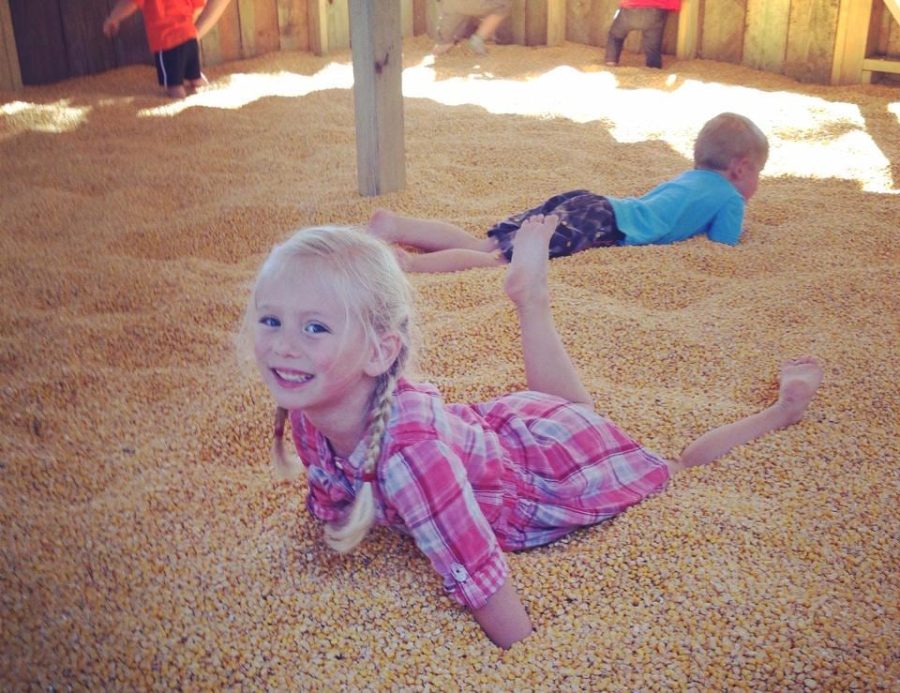 Cow Train: All the kids love taking a spin on the cow train and seeing more of the farm.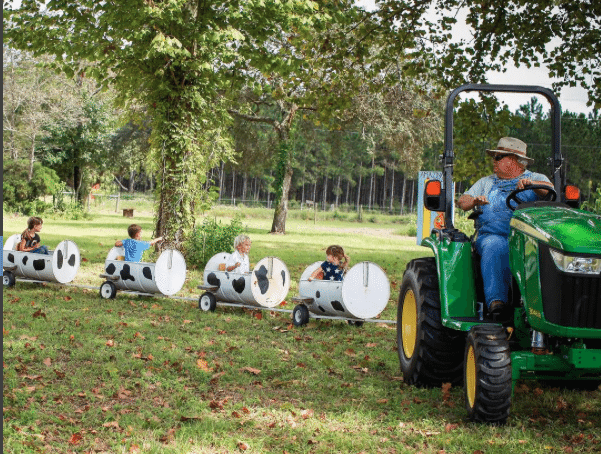 Barnyard Ball Zone: This attraction, which is new this year, is fun for little kids, big kids, teenagers, and parents! Everyone loves trying out each kind of ball, including baseball, basketball, and football.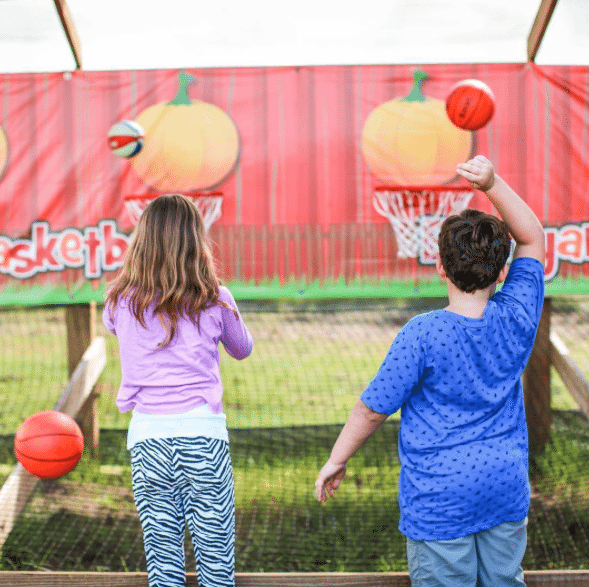 Rat Rollers: Children have so much fun getting into the giant barrels and rolling along, even racing friends as they go!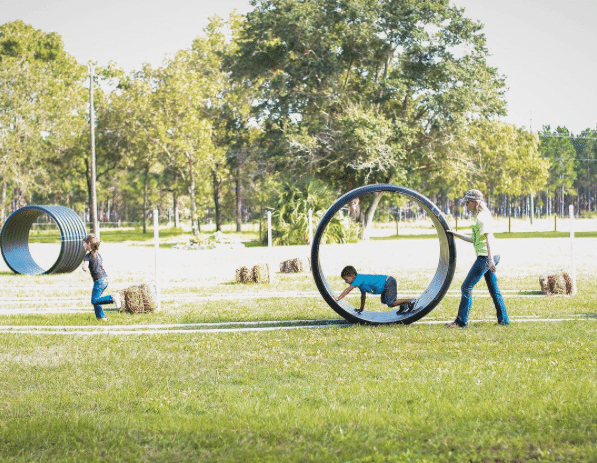 Jump Pad: New for the 2016 season! Get all that excess energy out and jump your kids to exhaustion!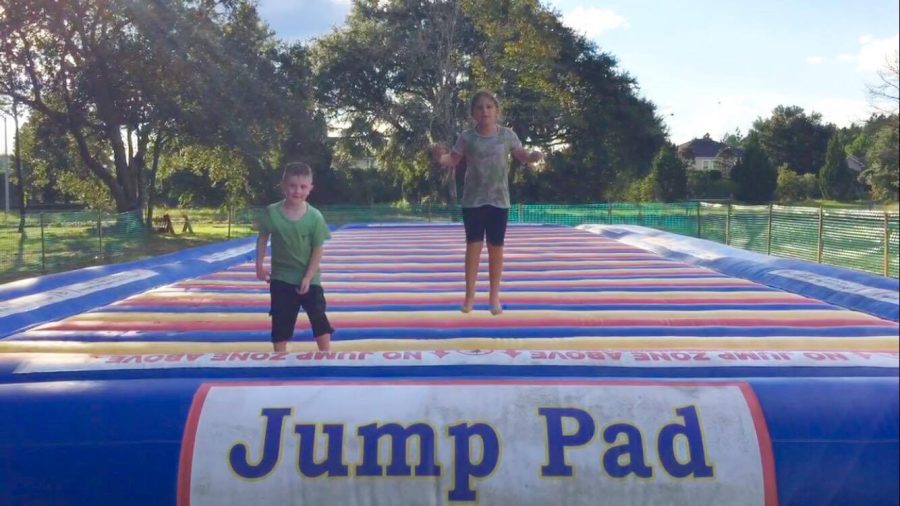 Farm Animals: The kids can see a variety of animals, including donkeys, chickens, pigs, cows, and goats (they can even pet and feed certain ones).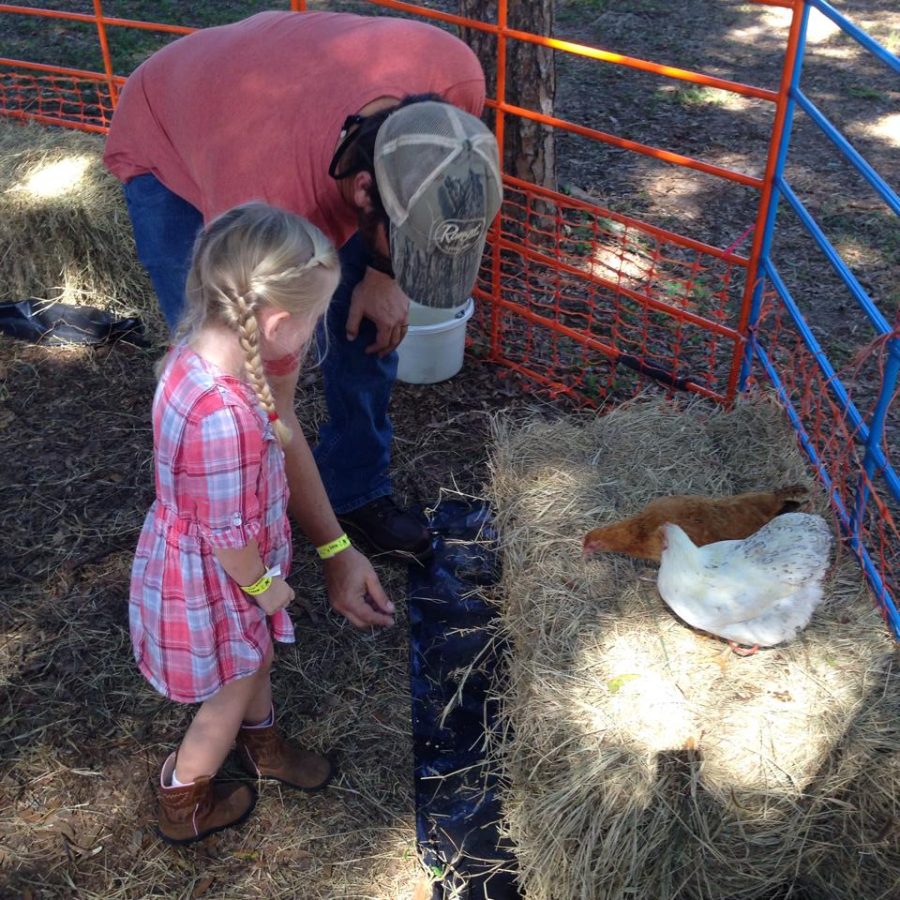 Amazing Grace also offers a corn hole game, a playground, duck races, hay rides, a mini-hay bale maze, a pumpkin patch and more! The seemingly endless available activities keep the whole family busy.
2. The Crop Maze
Fun fact: Because it's actually created by planting sorghum, it's called a "crop maze," rather than a "corn maze." Amazing Grace Crop Maze is excited to celebrate the a-MAZE-ing work of the Tim Tebow Foundation as the 2016 maze design. The Tim Tebow Foundation's mission is to bring Faith, Hope and Love to those needing a brighter day in their darkest hour of need. The Foundation utilizes the public platform that God has blessed Tim Tebow with to inspire and make a difference in people's lives throughout the world. A portion of this year's admission sales will be donated to the Tim Tebow Foundation's W15H Program which fulfills the dreams of children with life-threatening illnesses whose wish it is to meet Tim Tebow.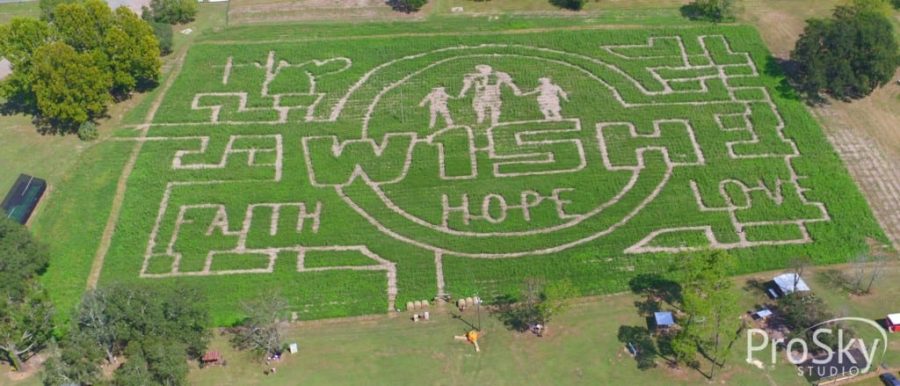 Every Friday evening during the season, AG hosts a Friday Night Flashlight Night, during which you can take on the challenge of finding your way through the maze in the dark. Make sure you bring your own flashlight and dress appropriately. All AG Crop Maze rules and FAQS can be found HERE.
3. Emphasis on Family
The mission of Amazing Grace Crop Maze is "being good stewards of God's blessings by providing safe family-oriented entertainment while teaching visitors about the agriculture industry." Not only is it a wonderful place for families to spend time in the beautiful outdoors, but it also offers the perfect opportunity for a Fall photo session.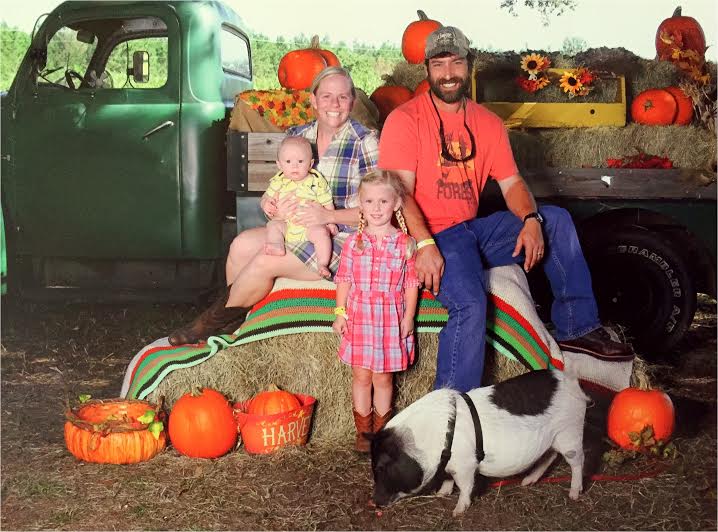 One of our favorite things about AG Crop Maze is that it is run by a local working family, Justin and Kelly Mosley, who, as Kelly's statement indicates, have a passion for giving back to their community:
Justin and I started Amazing Grace Crop Maze after attending a Florida Farm Bureau Young Farmer and Rancher Conference in the summer of 2012. We always talked about doing events on our farm at home, because people enjoyed coming out here so much, but we didn't know these types of businesses had a name until 2012 – Agritourism. We prayed about it for a month and didn't tell a soul. Then that Fall, we started researching agritourism operations, interviewing farmers, and visiting farms…..we called it the "Great Corn Maze Tour of 2012." In 2013 we started the business and opened for our first season that fall. It has been a fun and exhausting ride. We love this business because it combines everything we are passionate about (faith, family, and farming) and gives us an opportunity to provide our community with a safe, fun, place where families can enjoy spending time together. The greatest joy we have is when we receive feedback that our guests "had the best time with their family" or "your staff is so friendly and helpful!" We love providing Fall Family Fun on the Farm!
Make sure you make your way to Amazing Grace Crop Maze this season! Check out all of their special events, follow them on Facebook, Instagram, and Twitter to keep up with all their news!
Thank you Amazing Grace Crop Maze for sponsoring this post. All opinions are my own.