On Saturday, March 28 from 10 AM – 4 PM, the Judy Nicholson Foundation for Kidney Cancer Cure will host its First Annual Art for Hope Battle of the Bands at Riverside Arts Market.
We are proud to partner with Mighty Music Group to present this amazing opportunity for children and youth in Northeast Florida. Children's artwork and bands will compete for prizes including an art exhibition throughout Jacksonville beginning at the Cummer Museum of Art & Gardens, studio recording time at Mighty Music Group and additional prizes totaling $1000.00.
Our foundation is named in honor of Judy Nicholson who bravely fought a battle against kidney cancer. Judy had a deep love of the arts. Judy also believed in HOPE. It became quite fitting to offer an Art for Hope competition. March is kidney cancer awareness month. We will remember Judy's lovely spirit with joy this coming Saturday as we raise awareness and money to fund a cure for kidney cancer.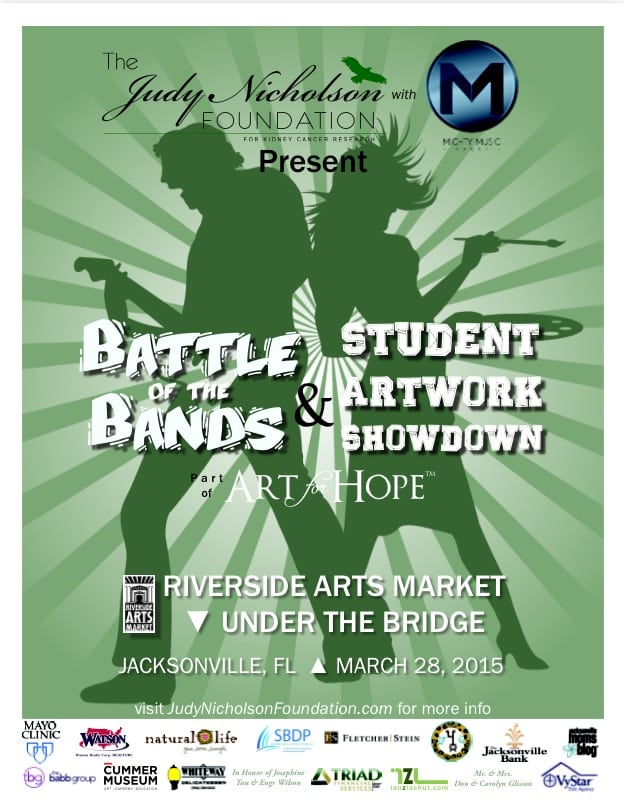 This is Judy's story:
During the Christmas – New Year period of 2007, Judy was engaged, happy, and involved with no indications of an illness. On February 27th, 2008, she experienced a fainting spell, an unnatural event for her, suggesting further examination which was promptly scheduled. On March 14th, her left kidney was removed by an outstanding team of physicians at Mayo Clinic Florida, located in Jacksonville, following a diagnosis of renal cell carcinoma (kidney cancer) which had spread to lymph nodes and to the aorta from the kidney. She undertook chemotherapy as quickly as medically feasible.
On August 1st, she was readmitted to Mayo Clinic for surgery to remove an aggressive tumor that had destroyed one of the vertebrae in her spine which was replaced with a prosthesis. The cancer had injured critical nerves in the spinal column and she experienced paralysis of her left leg in addition to the effects of the invasive cancer.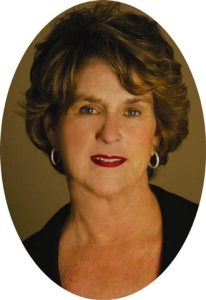 Throughout this ordeal Judy maintained a positive, courageous outlook, and was an inspiration to her family and friends. Judy left us on October 11th, 2008 after fighting a valiant battle she could not win. Judy had never been admitted to a hospital except to give birth to two children, and prior to the fainting spell had experienced no symptoms that would have led one to suspect she was ill. She was examined by physicians during December 2007 as a precautionary measure for another condition, and during that exam no reason was found to investigate further for an illness. Had a screening test of some type been available, such as the PSA test given men for prostate cancer, perhaps Judy would be with us today due to early detection of the cancer.
Sadly today, there is no cure for kidney cancer or any cancer. There are more than 50000 individuals diagnosed a year with kidney cancer in the United States alone. There are 200,000 kidney cancer survivors living with kidney cancer in the US. Approximately 10,000 people will die from kidney cancer a year in the US. Kidney cancer is among the 10 most common cancers in both men and women. We must fight.
In 2009, Judy's family and colleagues at Watson Realty Corp helped start the Judy Nicholson Foundation to help raise money to fund research for a cure, advocate and provide emotional support for those directly and indirectly affected by kidney cancer. An amazing patient support group was also started.
Today the foundation is strong as we seek to reduce pain, suffering and death associated with kidney cancer through increased awareness, promotion of early detection and improvement of treatment. The Foundation's theme Wings of Hope honors Judy Nicholson's dignified battle with this cancer and signifies her professional associate's, friend's and family's desire to uplift patients and families dealing with this cancer by maximizing their hope for a successful outcome with this often devastating illness. The Foundation works in partnership with kidney cancer researchers at Mayo Clinic Florida to achieve our goals.
We are excited to support children's art and music in the community as there is no greater hope than seeing happiness in youth.
We are overwhelmed with the community support as well as our sponsors for our first annual Art for Hope Battle of the Bands! We hope you will join us Saturday at Riverside Arts Market!
Please visit our website at www.judynicholsonfoundation.org for more information and to find our social media links!
Let's get READY TO ROCK N' ROLL!