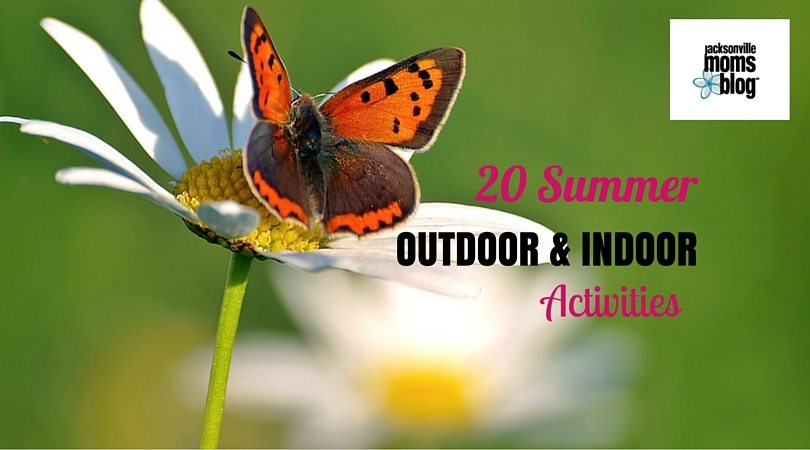 Now that summer is unofficially here, kids will be out of school and will have more time on their hands. I know I won't always have time to leave the house every day to enjoy all the great summer activities our city offers, so I searched for activities I can do to keep my kids entertained outdoors and indoors at home that does not involve screen time. I found these 20 activities that your kids might want to try this summer, too:
Outdoor Summer Backyard Activities
The warmer summer weather draws kids to spend more time outdoors. There are plenty of activities your kids can do outside without leaving the backyard.
Have a water balloon fight. You can also use water balloons for other activities like water balloon piñata. Tie them up with sturdy ribbon or twine and hang them upside down. Play a game of water balloon baseball or if there are no other kids around for your kids to play with, use water balloons to make paint bombs.
Blow bubbles. Try making your own bubble solution and create different types of bubble shapes like these large bubbles or rainbow bubble snakes. Make bubbles using styrofoam plates or hula hoops.
Go on a scavenger hunt. Write out a list that goes with a theme for items to find. Ideas to get you started: nature scavenger hunt, hunt for items that use the five senses, scavenger hunt bingo, I Spy scavenger hunt, or fairy garden scavenger hunt (find items to use to create a fairy garden).
Drawing with chalk on pavement is a classic outdoor activity. Draw out games to play like hopscotch, lines for a race, connect the dots, or make ice chalk.
Aside from swimming, use a kiddie pool to play multiple activities like fishing after toy ocean animals or bath toys. Turn the kiddie pool into a ball pit or sandbox. You can turn it into a water table by placing it on top of a table or crates.

Photo credit from left to right: Babble, Pink and Green Mama, and Fun-A-Day.

Tic Tac Toe: Mark X's and O's on smooth rocks and pebbles and draw the lines with chalk or tape on the pavement. Make it a more summer-themed game by playing tadpoles vs. lady bugs (or paint on other bugs or pictures).
Play lawn games and backyard board games. Make it more exciting by using large wooden pieces to play Jenga or Dominoes. Play a giant game of twister using ground marking spray paint.
Play a game of bowling using recycled cans or bottles.
Make an obstacle course to get your kids moving. Use a variety of objects like cones, hula hoops, rubber balls, buckets, pool noodles, boards, and more to create challenges appropriate for your child's age.
A favorite summer toy is a squirt gun. Stack cups to shoot down or add more excitement by having a squirt gun water race. Make art with squirt gun painting by filling the squirt gun with liquid watercolor and coloring on paper.
Indoor Summer Home Activities
Florida weather means it is scorching hot outside, so it might be too hot at times for little ones to enjoy the outdoors. Also, the summer months in Florida often call for rain. Bring the fun indoors when it's pouring outside or too hot to play without leaving the house. Here are some indoor ideas for your child to enjoy:
Bring the beach inside. One of a child's favorite things to do at the beach is playing in the sand. Bring the sand indoors by using a bucket or bin and filling it with sand from a home improvement store. Home Depot sells 50-pound bags of play sand for about $4. Use the sand to build sand castles, make a sandbox, find treasure, find shells, practice writing numbers and letters, or dig dinosaur fossils.
Another way to bring the beach home is to collect sea shells when you visit the beach. Save them for a rainy day to get crafty. Have your child paint them, decorate them with things like glitter and small beads or make sea shell animals. Use the shells to decorate picture frames, make shell ornaments, or make a beach house.

Camping is an outdoor activity you can bring indoors. If you don't have a play tent, build one using blankets and pillows. Use a tall electric candle for the camp fire. Bake or microwave s'mores or try these s'mores on a stick. Use a flashlight to tell stories or read books.
Get artsy and crafty. If your child collected pinecones from the nature scavenger hunt, she could paint them into pineapple pinecones. Talk about the ocean with this jellyfish paper bowl craft. Celebrate 4th of July with this American flag paint stick
Summer is a fun time to try out experiments. Create a storm in a jar or make a balloon hovercraft to teach kids about air pressure and how hovercrafts work. Make ice cube paint and mix some science into it by asking your child scientific questions during the process.

Bring outdoor games indoors with masking tape that you can place on your carpet or floor. Tape down lines for games like Tic Tac Toe. Make a masking tape maze or tape down roads to drive toy cars or tape out the outline for hopscotch.
Make your own play dough. Try this easy two-ingredient ice cream play dough or this marshmallow play dough.

Make a fairy garden using a shallow bucket, large bowl or bins. Use rocks, flowers, sticks, small craft houses, decorative butterflies, etc. Create mini ladders, bridges, and chairs using small twigs.
Use ball pit balls and laundry baskets to play a game of laundry basket skee ball or ball toss.
Go bowling. Build towers to knock down using plastic cups and plastic bottles or knock down small items using marbles.
Hopefully, you can find activities on here that will keep your kids from screaming, "I'm bored!" and when you can leave the house, explore the 100 Free and Cheap Things to do this Summer. What are some of your favorite summer activities to do at home?