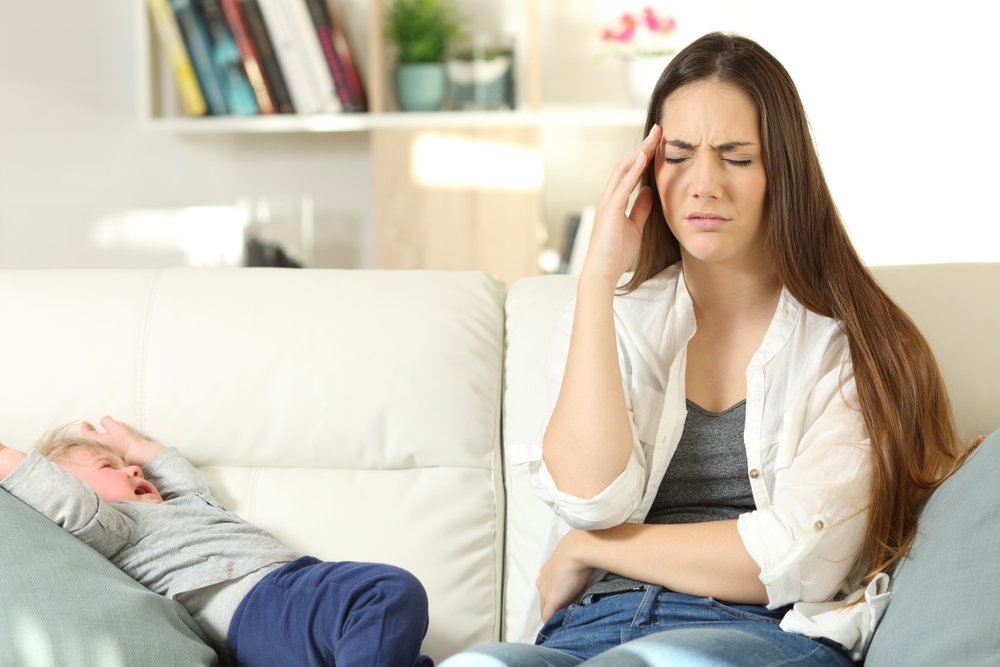 I've been employed since I was 15. I started as a gift wrapper during the holidays for a department store, and when I turned 16, I was hired as a part-time employee in the office of that department store. I worked all throughout high school and college, returning home during the holidays and summers to work. As a senior in college, I started working at a local restaurant and quickly secured 40 hours a week while simultaneously taking classes because I knew I would be graduating in August, instead of May. #changedmymajor
I continued waitressing after I graduated college until I secured my first "real job" at 23 years old. I worked hard and consistently until I was 39 — that's 24 years of dedicated, successful work that I proudly wore as part of my identity. My work defined me. I loved working.
We lived in Boston when our son was born, when I was still working, and we then moved back to Jacksonville when he was 16 months old. Our son was born via fertility treatments (IVF), and we desperately wanted another child — and IVF was the only way. We made the decision for me to "pause" from work so I could focus on less stress while enduring the treatments. And so, I became a stay-at-home mom — something I NEVER envisioned for myself.
I struggled.
It was H-A-R-D! And I'm not only referring to the physical and emotional labor of being a SAHM with a husband who must travel for work, which is tough in itself. I'm talking about ME, as a person, separate from being a mom. Who was I now? How do I present myself to new people I meet? What's my worth to society? To my marriage? Do I just stay at home, take care of my kid, cook, clean, laundry, grocery shop — rinse and repeat — while my husband gets to contribute to the outside world? Undergoing hundreds of injections for fertility treatments during this time certainly didn't help my emotional state as I grappled with my new "position" in life.
New people I'd meet: "Do you work?"
Me: "No. BUT I recently relocated from Boston and I used to work… blah, blah, blah."
I found myself over-explaining why I was a SAHM, giving too much unsolicited information trying to justify my value as a person as more than a SAHM. During discussions with my husband, I felt my opinions were no longer respected or valued because I wasn't contributing financially to our family. (Wrong! My own insecure perceptions.) I'd run into old work colleagues and do my best to be happy for their advances in their positions while longing for the same professional stature. I wasn't happy, and I couldn't understand it. So many people loooooooong to have the privilege to stay at home, moms AND dads! What was my problem? I had to get over myself. I was sick of me, and it took me at least 18 months to LEARN how to "stay at home."
First, I needed order.
I began making my bed every day, which I had stopped doing for years. It may sound silly, but the process of making my bed every day organized my thoughts while I organized my pillows. Seeing my perfectly taut sheets and fluffed pillows gave me great satisfaction as I breathed in the success of my first daily task. If you've seen the powerful YouTube video of Admiral William McRaven discuss why it's crucial to make your bed to begin each day, then you know. And if your day sucks, like many days can, then you get to climb into a beautifully made bed with hope for tomorrow.
Second, I also realized I needed to be around people.
I crave the energy of others for stimulation and sitting in the house was sending me down a dark hole. I joined a gym with my bestie, and we worked out all our problems, along with yours, too, and possibly the world's, on the elliptical at least four days a week. Just having someone expecting me to show up every day, like a boss did when I was working, helped to lift me slowly out of my hole. I had not exercised regularly in over a decade and found tremendous benefit in my mental state the more I exercised. Being active was my happy pill, and the spillover effects were greater than any counseling or medication could provide.
Third, I also realized I love serving others.
I became an active volunteer at my son's school, joining the PTA Board as a Kindergarten parent. I enjoyed being a Room Mom for a few years and then accepted the privilege of serving as PTA President at my son's school. This opportunity has been one of my greatest gifts in life to date (besides my sweet family). It was challenging in the beginning, much like being a SAHM was. And then I changed my mindset, like I had to as a SAHM.
So, what IS my worth? 
The takeaway epiphany for me during these last 8+ years as a SAHM is that my worth in this world is not related to a paycheck — quite the opposite. I believe my value now, not just as a SAHM, but as Meredith — wife, daughter, sister and friend — is greater than it ever was. I may have over-simplified in three steps what it took for me to learn how to be a SAHM, but these steps are key in ensuring you don't lose yourself as a mom, whether you are coming from the working world or not. Finding order, discovering a passion and serving others in addition to my family, have brought a joy to my heart that I could NEVER experience as a working mom.
My "pause" from working may come to an end someday, and when I return to being a working mom, it will be with the gratitude and wisdom that could only come from being a SAHM. And I can't put a price tag on that.