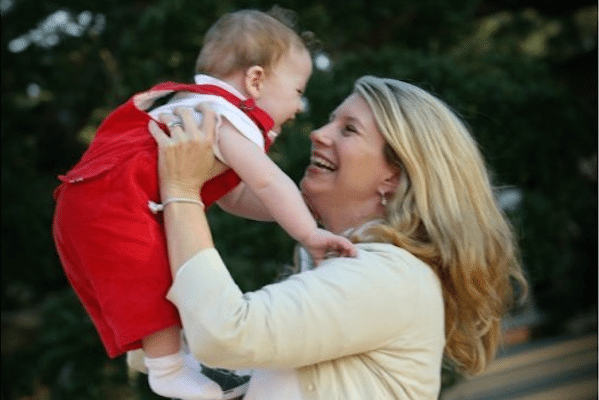 Now that I am a parent, I often try to remember when I was a kid and what my parents were like with me back then. It might be a "How did they handle that parenting challenge?" or a "I can't believe I sound like my mother!" and sometimes it's a "That's a nice memory."
I think of the day-to-day with kids — four kids in my case — and how darn hard it can be. It's exhausting, frustrating, humiliating, aggravating and sometimes completely infuriating. It can also be unbelievably rewarding, gratifying, loving and beyond beautiful. I hope, when my kids have kids, or even before then, that they look back and think of me in the way I'd like them to.
I hope, instead of the tired, full-time working, carpool-driving-to-soccer-practice-and-ballet mom, they remember the mom who had the energy to take them to the playground and get ice cream after school. I hope instead of the ragged, formula-stained, baby-puke-smelling mama, they remember the one dressed to the nines, wearing actual heels and earrings, for a night out with daddy. I hope they remember all the fun times they had with the babysitters, instead of the hours I was away at work or in meetings.
I want them to remember the mom who made a late-night grocery store run for Skittles, so they had a rainbow beside the leprechaun houses they built one night before St. Patrick's Day. I hope they remember, at least in their hearts, the mom that held them just a little bit longer at 1 a.m, 2 a.m, 3 a.m. and 4 a.m., just because they smelled so sweet, instead of the almost hysterical mom who left them to scream in their crib after hours of colicky crying in her aching arms.
I hope instead of the mom who snaps at them to get in the bath, brush your teeth, put your clothes in the hamper, BRUSH YOUR TEETH, make your lunch, pick up your shoes, throw away your snack wrapper, brush your hair, get in the bath, brush your TEETH, PICK UP YOUR SHOES, they remember the one whose eyes lit up when they got in the car, whose arms were outstretched when they ran down the hall at daycare, whose bright smile started off their day at drop-off.
I hope instead of the mom who forced them to get dressed and dragged them to run errands early on a Saturday morning, they'll remember the mom who let them stay in their pajamas all day on a Sunday, eating donuts on the couch and watching movies while it rained outside. I hope instead of the woman with dark circles under her eyes, coffee permanently attached to her right hand and a glass of wine in her left, they'll remember the mom who ran around the park with them with the dog and the stroller to get to the climbing tree before a group of teenagers reached it first.
I hope instead of the bear of a woman they woke up on Saturday morning after she'd been up all night with the babies, they remember the mama who snuggled and read books with them in the big bed night after night when she was too big-bellied with the twins to really move. I want them to remember the mom who let them stay up late, really late, one hot summer evening to ride bikes with the neighbors' kids, instead of the mom who looked at their pleading little faces and shook her head and said, "Sorry, not this time kids."
I often think of my own parents — my mom, alone and home in the evenings with three kids under four while my dad worked in another town for a few months. Her reality was three kids to care for during many a freezing cold, dark Maine winter — no cell phone to text her gals for a lifeline, no Facebook posts to make her laugh, no friends down the block to help her through a tough evening. But I only remember a woman who taught 25+ second graders all day, drove to daycare and preschool, dragged us through the grocery store and came home and helped us cook pasta from scratch, noodles and all, making the best fettucini alfredo with bacon I've ever had.
I hope that's how my kids remember me.