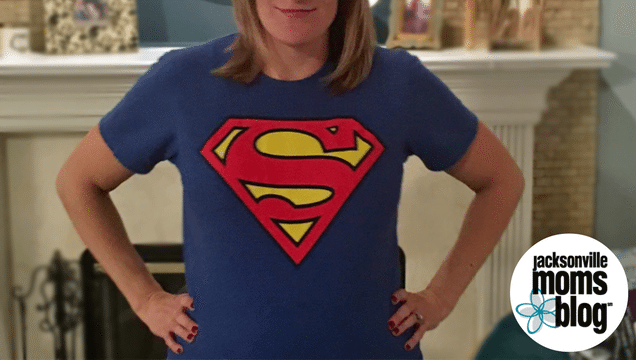 "Wow, you're Supermom!"
You know you've heard that phrase — muttered under someone's breath, as a direct and outright compliment, in a begrudging admiration — at some point or another throughout your motherhood journey.
Because we know all about Supermom.
Supermom changes two poop diapers, gets three kids dressed, makes 10 baby bottles and an Eggo, braids hair and packs four kids for school all while her husband is taking a shower. Supermom gets four kids fed, bathed and to bed by 7:45 and is watching Netflix, with dinner in the oven, when her husband finally gets home from work. Supermom's super powers include being able to recall where any child's object is at any given moment in the house (blue Lego man? Halloween headband? husband's keys? baby's missing sock?), mad French braid skills, hosting the cutest birthday party ever, finishing a 5K in under 30 minutes, posting professional-level photos to Facebook and delivering a delicious home-cooked meal to a new mommy. Supermom is able to feed a baby at 1 a.m., 3 a.m. and then get up and get to work by 7 a.m. so she can pick up her kids at 3 so they can go to the park before sundown. Supermom takes four kids to the pediatrician for shots by herself, and then hits the grocery store on the way home for good measure.
Supermom is ex
hausted. Supermom needs help from Shipt, Amazon Prime, Domino's, babysitters, Superdad, grandma, a venti Starbucks and a bottle of wine.
Supermom wishes her actual super powers included being able to be invisible. Or at least being able to whisk her children to a magical safe place, where they are fed organic snacks with all the vitamins and can play educational (but fun) games all FOR FREE, just so she can sleeeeeep for 8 straight hours for the first time since 2007. Or fold laundry. Or get a haircut. Or take the dog to the vet. Or get the oil changed. Or do her taxes. Or clean out dresser drawers. Or read a book. All. By. Herself. For. The. Love. Of…
Supermom also gives her daughter a packet of ranch dressing mix for a school snack instead of Veggie Straws (the packaging looks very similar at 6:20 a.m.). Supermom forgets to pay tuition, fails to buy formula, has to bring diapers to daycare at lunch after they call her for the fourth time, forgets icing for her husband's birthday cake, RSVPs to a birthday party that has already occurred and/or accidentally keeps her daughter home on a day she actually has school. Supermom dries her hair on the way to work using the car's air vents, uses a Sharpie instead of mascara when necessary, and says, "Hey, kids! Yay for breakfast (cereal) for dinner tonight!" more times than is probably healthy. Supermom is laying face down on the couch when her husband finally gets home at 7:30 p.m. and all four kids are awake — three are crying, the baby's peed on the bed, there's no formula left, no one has had a bath, and the big kids have eaten gummy worms for dinner.
Supermom runs her own business from her living room. She works after the kids are asleep, while they are home sick, on weekends and even on vacation. Supermom goes back to work so her husband can start his own business. Drives her son to a different city every week for vital healthcare. Makes a bicoastal marriage work for the sake of two dream jobs. Fundraises and friend-raises for the organization that supports her child's needs. Gets to the gym and home by 6 a.m. so she's healthy and strong for her kids. Supermom goes through round after round of IVF while working full time to give her child a sibling. Supermom is a room mother and PTA president. Supermom travels to Tallahassee and Atlanta and New York for work. Lines up child care, babysitters, pediatrician appointments, and oil changes. Calls the lawn man, cleaning lady, electrician, alarm company and plumber. Picks up dry cleaning, birthday presents and ballet shoes. Plans playdates, date nights, holiday dinners, moms' nights out and haircuts. Signs camp permission slips, daycare forms, reading logs, homework folders and spelling tests. She does laundry and wipes sinks, bottoms, noses and dishes. Supermom gets it done. She has to.
Supermom is all of the above — the good, the bad and the ugly. Some days are most definitely not Super. Some days, Supermom feels as if she is Winning at Losing.
But some days are Super days. Some days mom definitely has Super powers.
Hey, Supermom. I'm talking to YOU.