Amanda Broach always knew she wanted to help people, and her interest in the medical field dates back to her pre-teen years. "My grandmother had a stroke when I was 12," she recalled. "I remember going to see her at the hospital and my mom telling me not to cry, to be strong for Grandma."
Broach said her mom explained what she might see, but told her not to be scared — that Grandma would be okay. "I remember walking into the room and seeing her in her bed. I remember being scared because she looked different, with her whole right side paralyzed, but I didn't cry," she shared.
Originally interested in physical therapy, Broach decided to pursue nursing instead of going for a doctorate. "Throughout nursing school, I helped care for my grandma to help my grandpa out and give him a break," she said. "It allowed for quiet study time and learning how to properly care for a person. Throughout nursing school, I knew I wanted to work with kids, but wasn't sure where."
When she discovered that her husband, Michael Broach, had been born prematurely, she knew that the NICU was where she was meant to be. "The pictures and stories of his will to live and early entry into the world piqued my curiosity," she explained. "I landed a job in the NICU as their health unit coordinator, thanks to a retired nurse for whom I taught aqua aerobics at UNF. I worked every weekend through nursing school. When I graduated from FSCJ, I was hired to work the weekends as a nurse with the understanding that I would return to school to obtain my BSN. I graduated from UNF with my BSN a year later."
A longtime Jacksonville resident, she has since cared for hundreds of babies and their families, including during the last two hurricanes, when she was responsible for collaborating with her team as well as administration and other units.
In 2014, Broach became the Assistant Nurse Manager for the Wolfson Children's Hospital NICU, which puts her in charge of the entire NICU. "I like to compare myself to a mother hen," she joked.
She partners with the neonatologist team and Baptist Medical Center Jacksonville Labor and Delivery to ensure a smooth transition to the NICU for the critically ill babies who need them, traveling from all over northeast Florida and southeast Georgia for care. "It is my job to know each patient's history, progress and keep updates on them daily," she said. "I serve as a resource to the medical and nursing staff and help answer (or find answers) to any questions or concerns they have. I also serve as a patient/family advocate to help ensure that their stay is as smooth and as comfortable as possible."
Broach married her husband, Michael, in 2006. They have two children — Charlie, 10, and Ellie, 7. She has earned a copper Distinguished Caregiver pin after being recognized by a family, and a silver Distinguished Caregiver pin for going above and beyond for her unit and staff.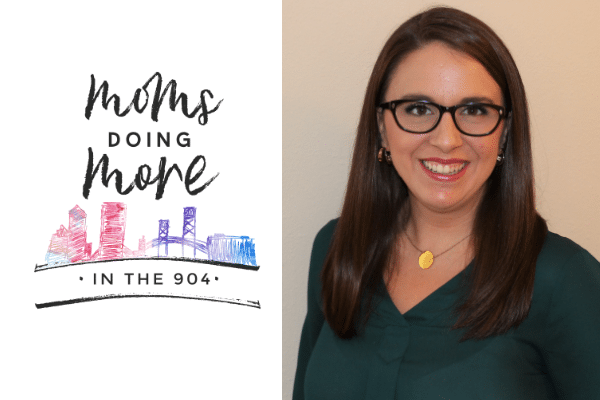 What is one thing that motivates you and pushes you to do more?
My family. My husband is my biggest supporter, and I want to prove him right when he believes I can do something and make him proud. My kids are always watching and looking up to me. I want to set a good example for them. My parents have always had high expectations of me, and I strive to meet every single one. Being a nurse is my vocation and calling. I love what I do and strive to be the best at it! I work in a field that is constantly changing and with patients that we are still learning so much about.
What is the biggest challenge that you have had to overcome?
The loss of one of my best friends. She passed away quickly from cancer at a very young age in January. A very dear friend, I helped plan her funeral liturgy and delivered a eulogy during the Mass. That is probably the hardest thing I've ever had to do.
How do you balance work/family/time for yourself?
This is a tough one. When I'm at work, my mind is at work. I focus on that and try to not let my personal life interfere. When I'm with my family, my focus is on them. With that being said, family always comes first, and I'm very fortunate to work with a company and supervisors that feel the same way. If your home life is taken care of, it makes it easier to focus on your work life. As for time for myself, I'm still working on that. Making time for myself varies based on the season of life I'm in. Sometimes it's pedicures and nights out with friends. Other times it's something as simple as blow drying my hair and wearing makeup or working out.
How do you define personal success?
I define personal success as being happy and comfortable with myself. It's not about money or climbing the ladder at work. It's not even about family. In today's society, when we are being blasted with media ads of how we should or shouldn't look or behave, it's hard to find yourself in all of that. I'm just as vulnerable as the next person, but I am who I am and I'm stuck with me for my entire life. I had better learn to love myself and be happy with myself, or this is going to be a long and rough life. God put me here for a reason. I have work to do. It's like I told my friend the other day, Mother Teresa didn't have time to worry about the size of her thighs; she had work to do.
What advice do you have for other moms?
Do what you can with what you have to work with and do things that make you happy. Don't try to please everyone! No one is perfect and we all have our struggles. Be patient with yourself. You are doing the best that you can. And I promise, no matter how you feel, you are not broken. We've all been there!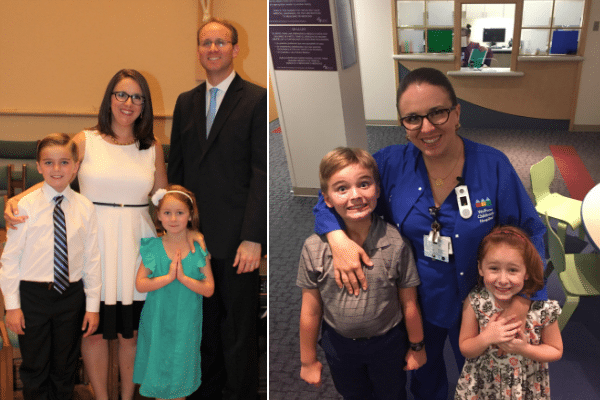 What do you love most about being a mom?
I LOVE being a mom. I wish it came with an instruction manual, though. I think what I love most is being able to mold and shape these tiny humans that God has given me into beautiful, polite, loving and caring adults. Being able to watch them grow and change is awesome! There are some nights I put them to bed one size and they wake up another, and that's so cool to me. Or there are moments when I hear them repeat advice or words of wisdom that I have given to a friend. I love listening to my children pray, and watching them go out of their way for others.
And now, a few questions for Ellie, Broach's 7-year-old daughter:
What does your mom do all day?
Like working her jobs, like the dishes.
What does mommy do for work?
Math.
What does she love most?
She loves me. She tucks me in, and every time I see her do her jobs, I smile at her.
What does your mom do for fun?
Takes me outside.
Moms Doing More in the 904 is a series that highlights local moms who are making a big difference in our community. Want to tell us about an inspiring mom who is doing something great? Tag us on social media @JaxMomsBlog with the hashtag #MomsInThe904.