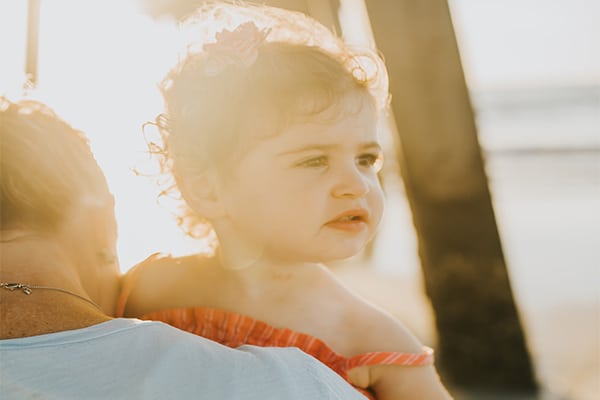 I stayed home with my first child. She was a fall baby, so by the time summer began, she was sitting up on her own and could fit into a cute bathing suit. That summer as a first-time mama, I spent long, long days at the neighborhood club pool. My closest friends would meet us early in the morning so we could snag the best spot in the shade. We'd even bring a pack 'n' play for our little girls – all born weeks apart – for naps so we didn't have to leave. We spent hours that summer at the pool, enjoying lunch, the sun, and each other.
Those were happy days for me. At the time, I loved being a stay-at-home mom. I loved the frilly baby girl bathing suits and the long days in the sunshine. This, I thought, is why I quit working. So I could spend long lazy days of summer with my kids. And then sometime in the next year, I began to drown in stay-at-home motherhood — and it terrified me. So when a friend told me about a (semi) flexible job at her organization, I applied, interviewed, and accepted. The following May, right before summer, I went back to work. My daughter was almost two.
That summer, I kept a bag for the pool in my car. After work I'd race to get my daughter at daycare, drive to the pool, change us both in the pool dressing room, order chicken fingers, French fries, and a Styrofoam glass of wine at the snack bar before it closed down for the day, and we'd enjoy the early evening sunshine. Sometimes our friends would be there, but most of the time they had already left. Some nights, especially during the week, we would be two of only a few there. And it was lonely — as much as I loved the time with my daughter after being away from her all day. But I hung on with my guilt, trying to give her a summer I felt she was missing out on since she was always at school and I was always at work.
Fast forward to eight years and three kids later. This summer will be my eighth non-summer since I went back to being an office mama and my second since our twins were born. After eight years, I've learned how to manage through the non-summer that comes with being an office mom (and the difficulty of a summer that comes with having more than one small, not-yet-swimming child!).
We go to the beach on the weekends as much as we can — early, by 8 a.m., or late, after 4 p.m. — to miss the heat and the parking rush. During the week, after work, I try to get them outside as much as possible. Summer nights are spent with packets of water balloons I grab at Target, or splashing in the two baby pools and the water table in our backyard. I turn on the bubble machine and the two sprinklers or we get out the Slip 'n' Slide. My big kids soak each other while the babies play in the spray. I make dinner (okay, I make peanut butter and cutup fruit!) and serve it on the picnic table on the porch so they can eat, soaking wet, before it gets too late. I give them all popsicles for dessert. When it gets toward 6:30, I rinse off the twins with baby wash under the hose, put on their diapers and pajamas in the backyard, and carry them upstairs, one on each hip, and they quickly fall asleep.
I do miss the summers I had before I went back to work. I miss the long weekdays by the club pool and the ease of one child who was content to splash on the steps and the time I had to read a book while she took a long nap. Now I make the most of our non-summer as best I can, around camp and babysitters, meetings and work conferences. Summers are much more chaotic with four children (more towels, more wet bathing suits, more missing flip flops, more sand and shells in my car, more camp schedules to remember and equipment to pack), but also richer and more filled with laughter, too.
I hope my kids only remember the fun of our non-summers in the backyard — and not that we only sometimes went to the beach, rarely took a long trip and never had a Summer Bucket List because mom was at work all day. I hope they remember the still-hot-as-heck evenings, being outside for a few hours after camp, spraying each other with squirt guns, soaking their heads in the hose, turning the swing set into a water slide. I hope they remember the ice-cream-for-dinner stops on Fridays after daycare. Mostly, I hope they remember the fun they had and the giggles they shared with each other under the sprinkler with popsicles in their hands. I hope they look back on our always-too-short non-summers and think, Mom made that a fun summer.