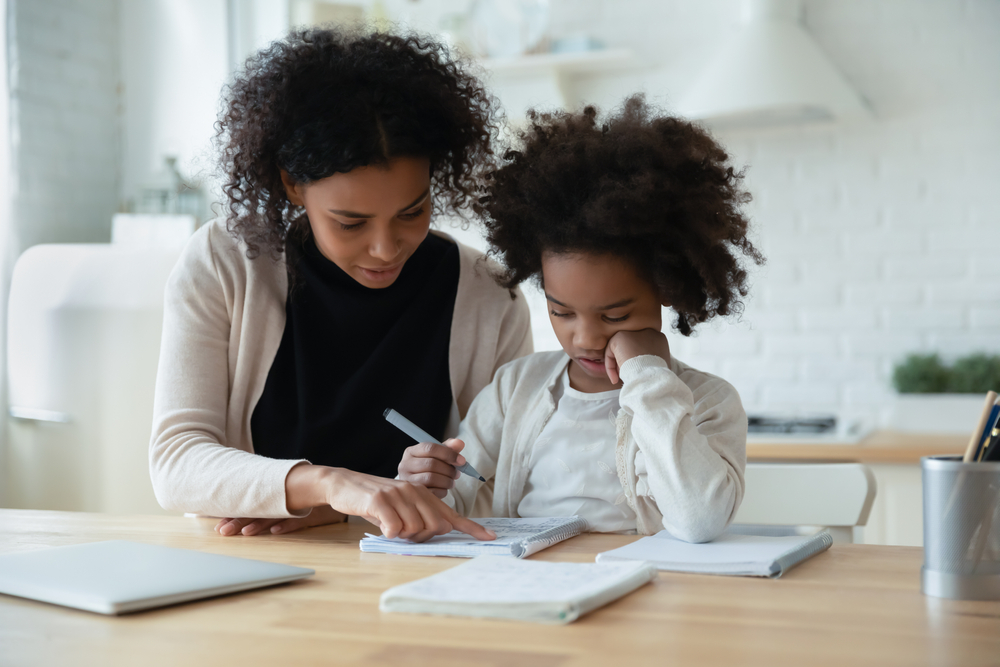 While many parents have made the decision to homeschool for the first time, this territory is far from new to us. If I've learned anything, it's that creating a mind-nurturing environment is key and leads to a growth-mindset which is essential for me. It doesn't take rocket science or being a psychologist to create this type of homeschooling environment — just the knowledge to do it well.
Here are a few tips and hacks that I've learned along the way to ensure my kids have an environment where they not only thrive academically but also psychologically:
Verbal words are cute, but written words nurture the mind.
You may have seen a video years ago that flooded your timeline featuring kids talking to plants. It was a study conducted by Ikea on the effects of bullying on regular house plants. They had both plants in the same environment receiving the same amount of light and water. One plant was told continuous affirmations, while the other plant was told insults. Surprisingly, the plant that received affirmations thrived beautifully, but the plant that was insulted wilted. Various psychologists, neurologists, child developers, and the like have conducted several studies that would prove humans are affected in the same way and more so children. It's important to not only say positive affirmations and encouragement to my kids but also write them on boards above their desks. The more they hear what they are seeing, it becomes solidified in what they believe about themselves.
Create structure, not prison.
Whether you are unschooling, homeschooling, or still trying to figure all of this out, structure is vital for a thriving environment and mindset. Homeschooling doesn't have to look like regular schooling. Ask yourself a few questions: What time will you wake up? Where will they sit each day? How long will they work on an assignment? Which assignments will be done first? Does music need to be played? Will there be multiple snack periods or one snack time? Now don't get me wrong, I'm all for spontaneity and flexibility. However, providing my kids with structure and some organization allows them to be responsible for what they need to accomplish for the day. Unlike being told what to do and following rules mindlessly, having responsibility gives my kids a sense of purpose and meaning — a key aspect to their well-being and a thriving environment.
Communicate over LEGOs (or other toe-harming toys).
Homeschooling can feel isolating sometimes for the kids. If you're a working mama like me, between reading a lesson and facilitating a business meeting, it leaves little time to associate with neighbors, friends, or FaceTime with Nana. But it does provide time to join in with my kids to play with their favorite toys, listen to their excitements and challenges, and get creative on what they think we can do better as a homeschooling family. A small break time with toys allows for them to be in their element and provides me the insight I would otherwise not get if they were sitting in a chair all day.
Take time to breathe.
It's no secret that homeschooling can be taxing, especially if you lack patience. It's important for me to recognize when things are getting intense. Whether my son decides his chair is an amusement park ride or my daughter wants to create math problems with unicorns, that's my cue that we need to stop, breathe, and take a break. Verbalizing this will help my kids learn to recognize, retreat, and or rest when they need to — something that will be helpful for them into adolescence and adulthood. They will come to understand that working 5–6 straight hours not only seems exhausting but also causes them to be less productive. Taking time to breathe helps them reset and refresh their minds so they can come back to their work with the ability to address problems in various ways.
At the end of the day, my kids' academics matter, but their psyche matters more — a thriving environment accomplishes both. By creating a thriving environment, they are ready to approach difficulties, confront challenges, recognize when they need to step back, and see their work as a part of who they are becoming as they learn their strengths and weaknesses. I hope these few tips can help you brainstorm how you, too, can have a thriving homeschool environment.
What additional tips do you have for creating a thriving homeschool environment?