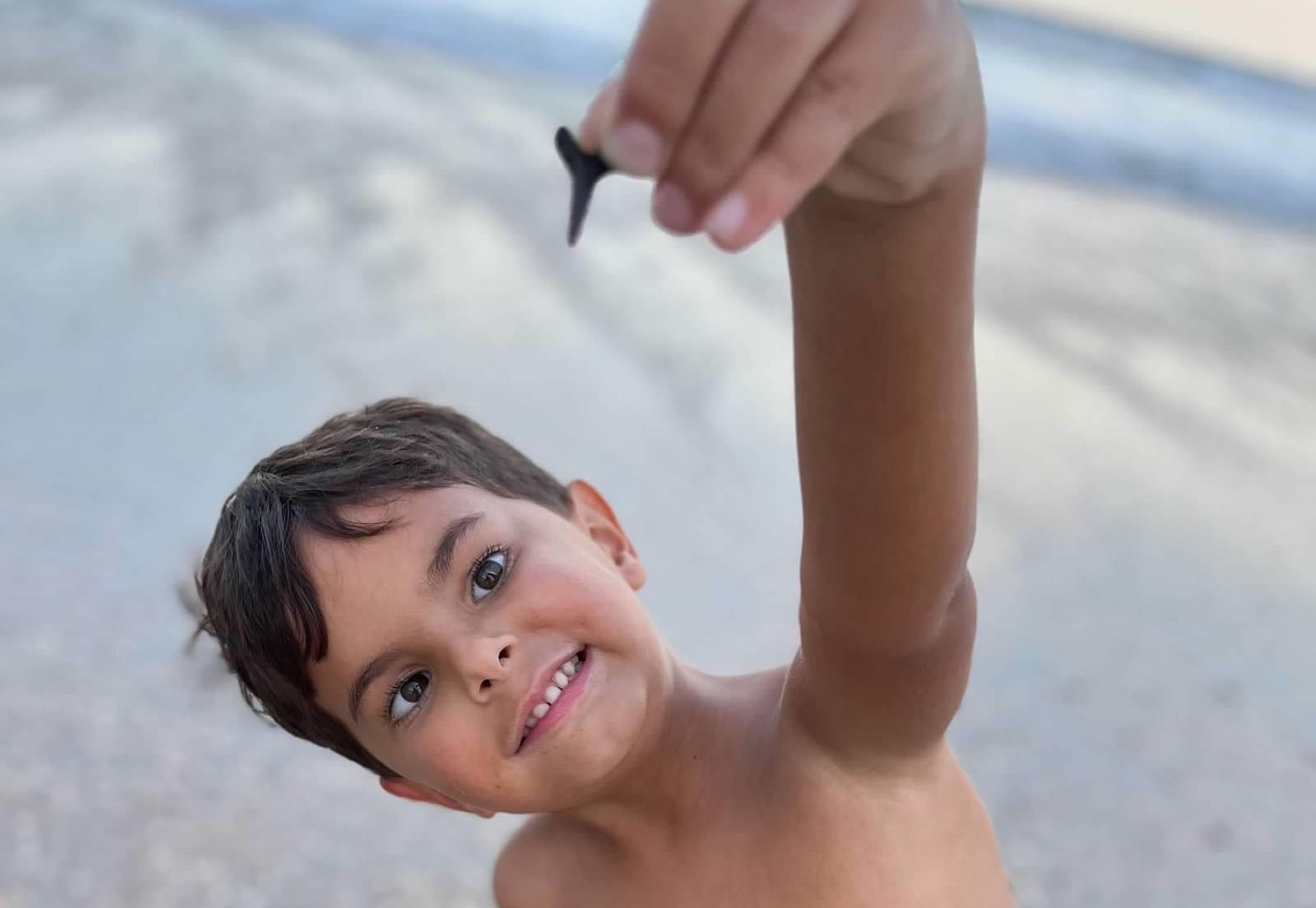 Did you know the First Coast is home to some of the best shark tooth-hunting spots in the world?
Sharks have been around for about 400 million years. When a shark dies and its cartilage dissolves, its teeth fall out, and down to the ocean floor they go to fossilize. That's why most teeth that are found aren't white, but instead, they are gray, black, or brown.
Since moving to Ponte Vedra Beach two years ago, I've become obsessed with finding shark teeth. My collection is well over a couple of thousand teeth and growing. Sharks have anywhere between five and 15 rows of teeth and shed their teeth continually — some up to 30,0000 teeth in a lifetime.
I check the tides daily in the event I can sneak away for a quick visit to the beach, and I'm almost never alone — there are always locals and tourists looking for their next big tooth. Mickler's Landing in Ponte Vedra Beach is a popular spot to find fossilized and modern-day shark teeth. If the shell beds and the tides are right, the place will be packed and people often post photos of their finds and there is plenty to go around. A good group to follow on Facebook is Shark Tooth Hunters of Mickler's Beach. Beware: It can lead to FOMO.
Guana, Fernandina Beach, Amelia Island, and Vilano Beach are also good spots. I've never had much luck in Jacksonville Beach but maybe others have.
So, what's the secret to finding shark teeth? Here are a few tips:
Where can I find shark teeth?
Shark teeth are likely to end up in the intertidal zone (the area sometimes covered by the ocean at high tide). When the water recedes, there are often shell beds for miles. I like to walk the waterline just as it meets the shell bed — the water's movement can make it easier to see a tooth floating around. Recently, I started standing in the water so it just covers my foot when it comes onshore and every time the water recedes, I look for teeth. Sometimes, I can't get to the tooth fast enough before it washes away. Some people like to sit in one area and scoop up a handful of shells and sort through it. Sifting is also an option if you get in the water and dig up scoops of sand.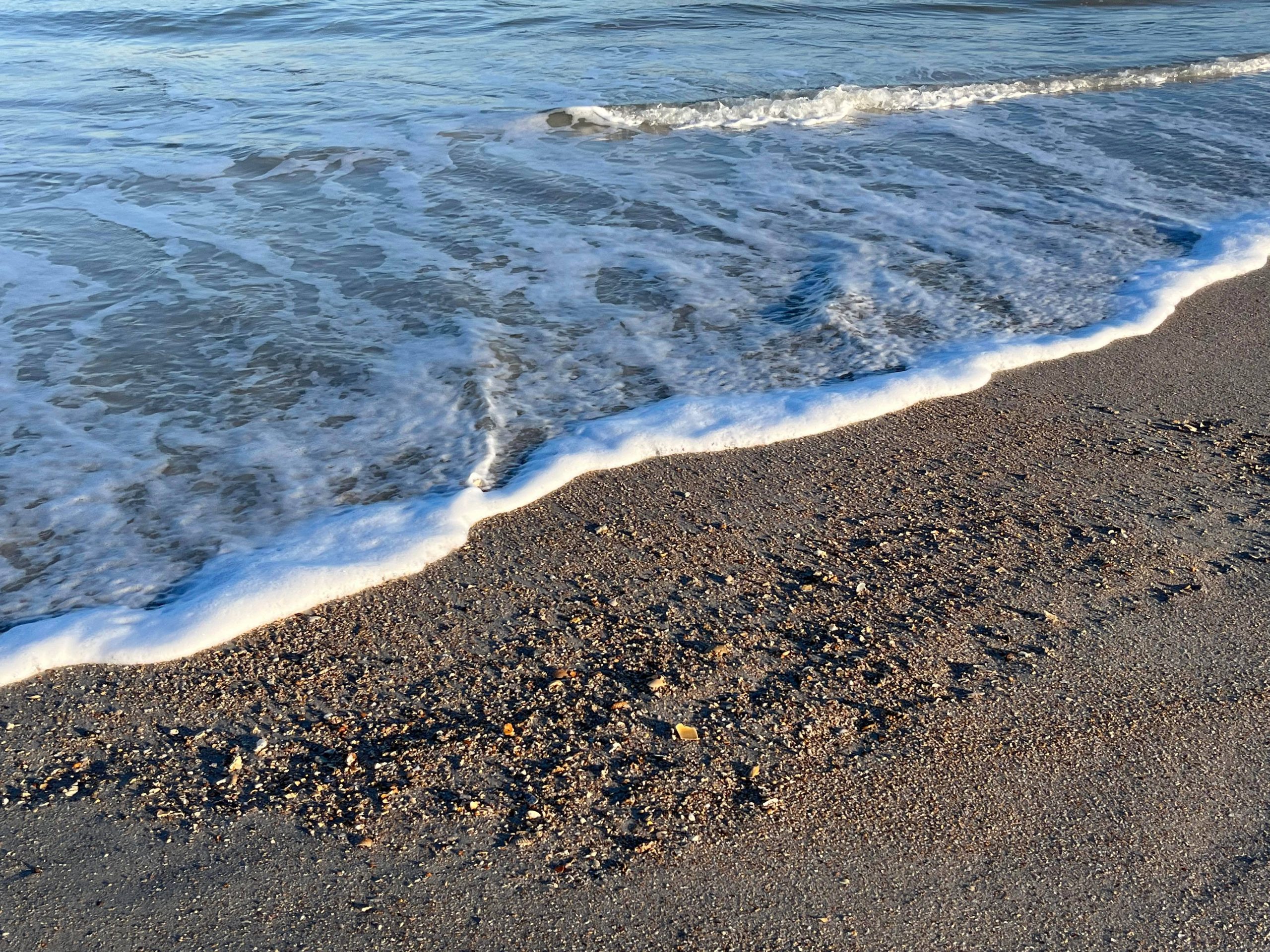 The ocean isn't the only place to find teeth — creeks and rivers are full of them, too. There are local boat charters like Bracewell Charters, and from the looks of their Facebook posts, they know of secret spots to hit the tooth jackpot. Mudslinger Tours in Gainesville offers guided fossil tours in local creeks, and the teeth are plentiful.
Don't ask me why, but once you find a shark tooth, keep looking in the same area. Usually, where there is one there are others.  
When can I find shark teeth?
Low tide is said to be the best time to find teeth. The water is calmer and clearer, and receding waters expose good areas to search. I've found teeth during high tide, too, just less ground to cover. You increase your chances of finding teeth after a good storm or Nor'easter when things get knocked around a bit and washed onshore.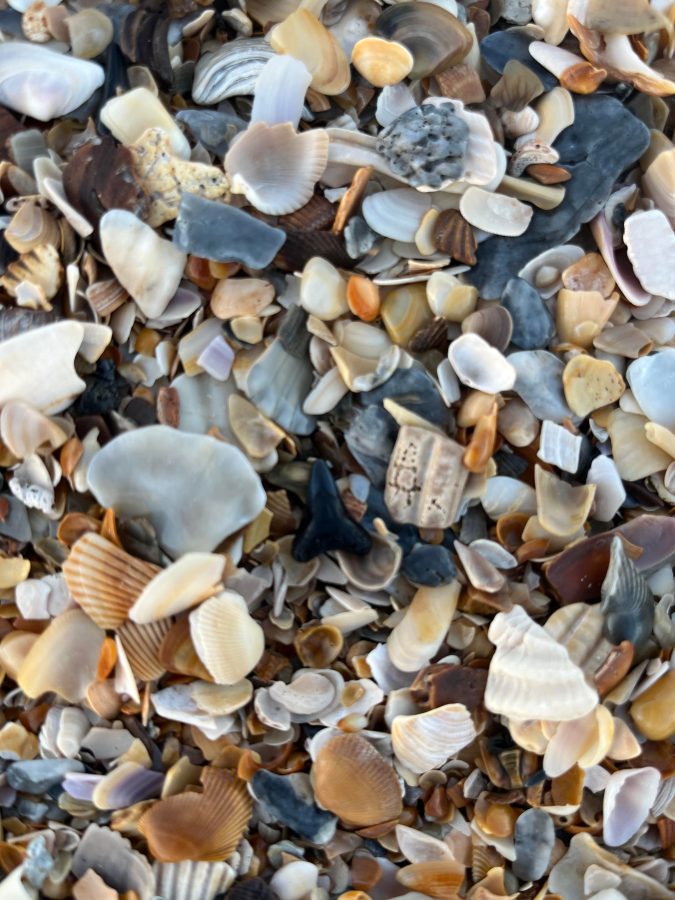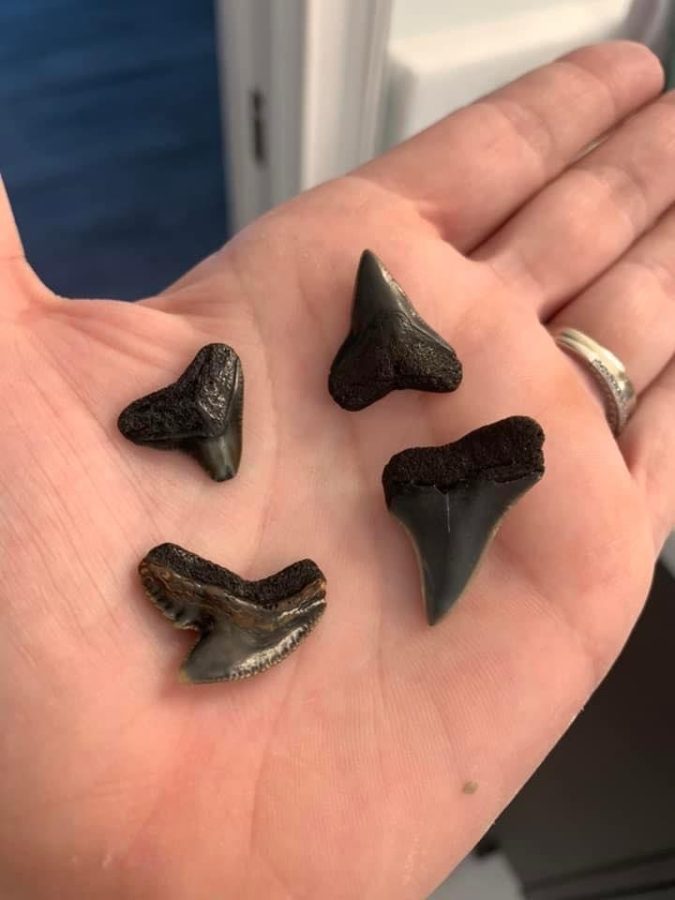 What am I looking for?
Shark teeth come in many colors — look for dark, glossy, triangular shapes. Some are pointier than others, but the glossy sheen gives them away. There are a lot of "imposters" that look like teeth. The best way to tell is to see if it has ridges and a gum line near the top. Also, give it the break test — shark teeth are very strong and unlikely to break in half.
There are 440 species of sharks today, so teeth can vary, but the ones most often found around here are Bull, Tiger, Lemon, Mako, Megs, Snaggle, Sand Tiger, Tiger, and even Great Whites. The bigger the better for me — doesn't matter what kind, but I do have a few Great White teeth that I love to show off.

Some people claim they try and try and still can't find a shark's tooth. It does take time, and then once you get the hang of it, you're collection will grow quickly. Some days I'll find five and other days I'll find 65.
I try to "pay it forward" when I see tourists searching for teeth. I'll find one, make a circle around it and let them try and spot it. They are always very appreciative, especially if they have a little (or big) keepsake to take home.
Every day, every tide, and every beach is different but I enjoy every second of it and have an awesome collection to show for it.
Happy hunting!