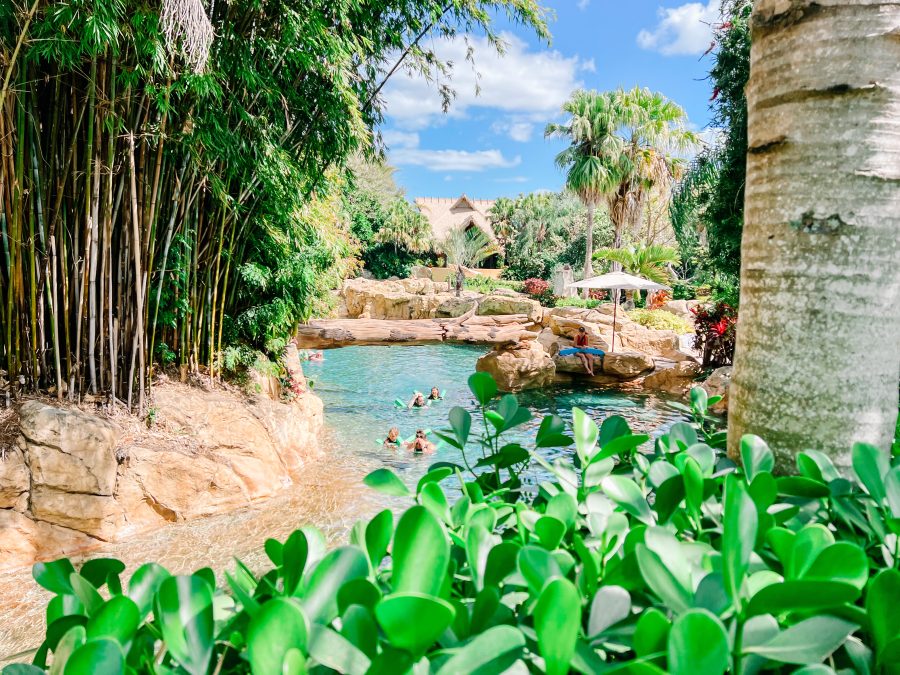 If you are looking for a relaxing day in the sun (or in the shade of a cabana), flowing along a lazy winding river without a care in the world, with maybe an animal encounter or two thrown in, Discovery Cove could be the answer to all your vacation wishes. Bonus: You don't need to get on an airplane — paradise can be found after a quick two-hour car ride from Jacksonville!
My husband, daughter, and I recently had an absolute blast hanging out together, eating, drinking, and enjoying an encounter with dolphins. It was an 8-year-old's dream come true. (Okay, mine too.)
What is Discovery Cove?
Discovery Cove is "a unique all-inclusive day resort where you and your family will experience exciting animal encounters in a breathtaking tropical atmosphere." Included in the price of admission is:
Breakfast
Lunch
Unlimited snacks (chips, soft pretzels, etc.)
Unlimited drinks (including icees for the kids or the kid in you, beer, wine, and fountain drinks, though there is an option to upgrade to a premium alcohol package)
Equipment for swimming such as snorkels/goggles (you keep the snorkel at the end of the day), wet suits, and life vests
Locker rooms with changing rooms and showers including shampoo, conditioner, and body wash
Lockers to store all the things you brought from home
Access to the Wind Away River (It's a fairly long lazy river!)
Ability to snorkel in the Grand Reef (It's amazing.)
Swimming in Serenity Bay (It's 85 degrees year-round!)
Feed and view colorful birds in the Explorer's Aviary
Animal-friendly sunscreen
Towels
Kids under 3 are free; they just need to be included in the reservation.
In addition to all that's listed above, you can add on animal encounters. We added the dolphin swim, which is a 30-minute interaction (you must be at least 6 years old). You can also be a VIP trainer for the day, take an underwater walking tour called SeaVenture, swim with sharks, feed stingrays, add a 30-minute tour to meet some of the smaller animals, rent a cabana/day bed, or even do the flamingo mingle.
You can enjoy Discovery Cove as a day trip or make it into a package and enjoy Sea World, Busch Gardens, and/or Aquatica! Want help scheduling and figuring out what combination is right for you? A travel agent (like me!) can help you plan it all out to fit your family perfectly!
Check-In
The morning does start a bit early: Check-in is between 7–8:30 a.m. The more animal encounters you have selected, the earlier you check-in, for the purpose of getting all the experiences scheduled without overlapping each other. The process is simple and streamlined — after a quick bag check, you are ushered to a kiosk with a staff member waiting to schedule your day. Everyone gets a lanyard with a badge that has your encounters on it. Adults have their pictures taken for purposes of helping bartenders know who is over 21. Then you are on your way to your day of fun in the sun!
We arrived at about 8:10 a.m. and were put in an 11 a.m. dolphin swim.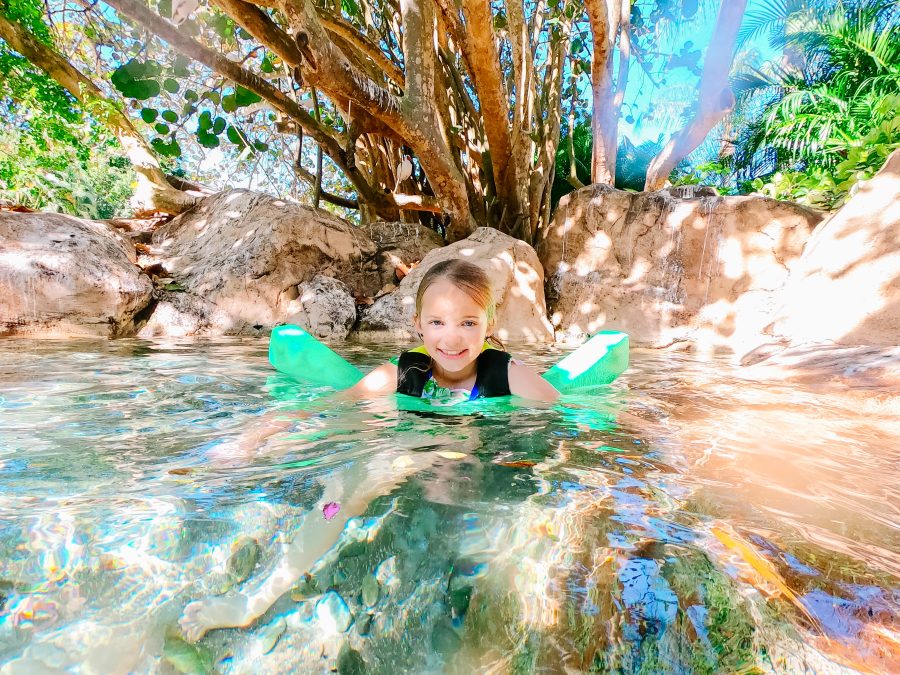 Wind Away River
We found the Wind Away River to be very relaxing and fun with a slow and gentle current. The floor of the river does change often, with large rocks that come up under you and some drop-offs, too. Lifeguards are aplenty, and they give you a heads up when the river will get deeper (in addition to posted signs). You have to wear a yellow Discovery Cove vest, wet suit, or life vest in the river, so the lifeguards can spot you easily. The river is 3–8 feet deep. No tubes or rafts are allowed, but Discovery Cove provides "noodles" you can use to lean on.
Note: You will not be able to get through the river without getting your hair/head wet. You go through an aviary which is beautiful, but there is a rather strong waterfall at the entrance and exit of the aviary to keep the birds inside!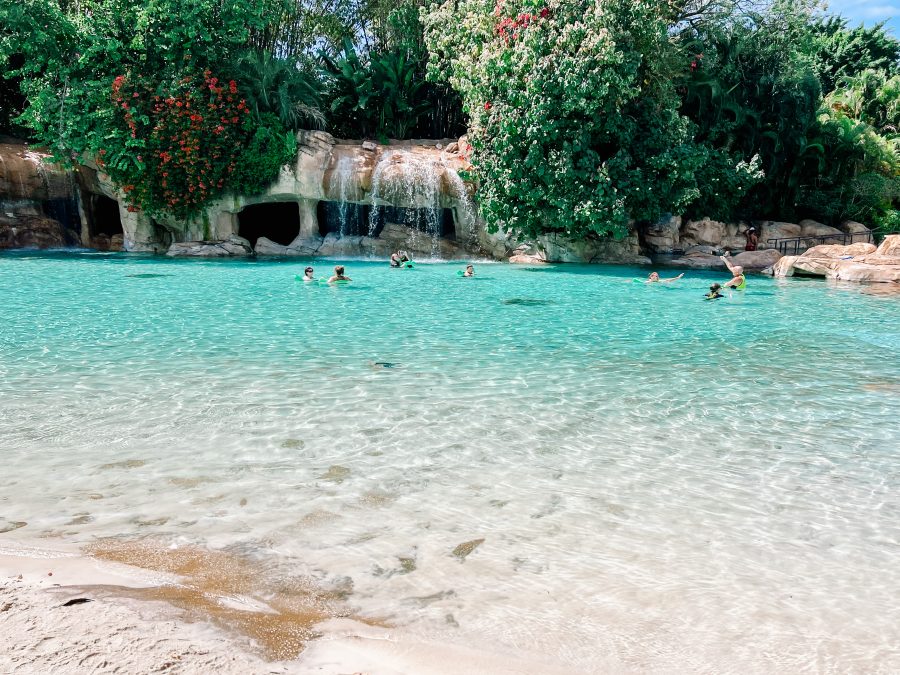 Serenity Bay
Serenity Bay and the Wind Away River are where I'd spend most of my time if I had tiny kids coming along. This warm water oasis has a beach-type entrance without the waves. There is plenty of space to swim to your heart's content, and the deepest point is only 4-feet deep, which was great for my 8-year-old!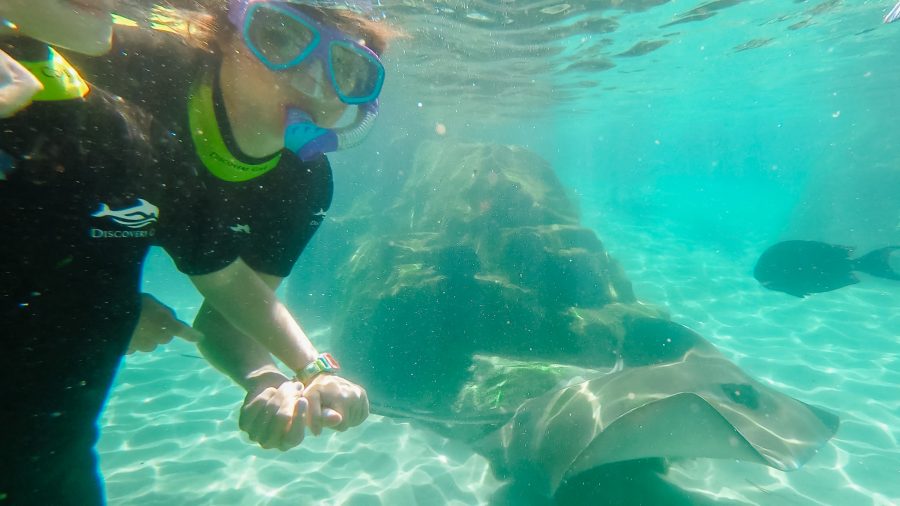 The Grand Reef
This was a great experience; one I won't soon forget. Swimming and snorkeling in the Grand Reef allows you to get up close and personal with some amazing creatures. Rays of all sizes swim by, so close you are allowed to touch them (if they are on the bottom of the reef you don't touch), in addition to colorful, tropical fish. My daughter went from very nervous to brave and excited in the span of about 15 minutes. The outside edges of the reef are shallow which is great for kids, and there is a deeper (about 12 feet) center channel that you can swim over or down into. I would highly recommend wearing a wetsuit (especially for kids), as the wetsuit helps you float easily on top of the water, allowing rays and fish to pass under without being touched by them!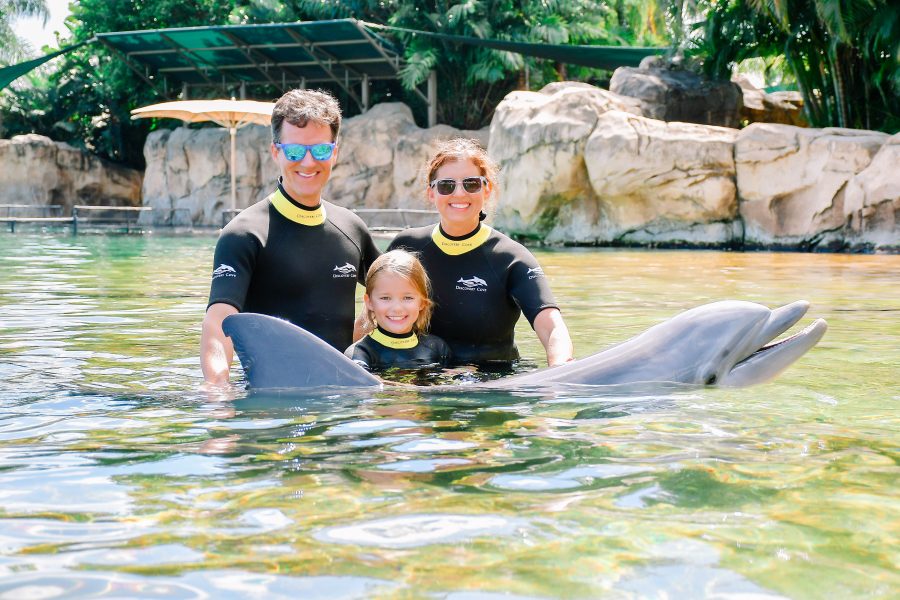 Dolphin Swim
Swimming, touching, talking to, and taking pictures with these beautiful mammals is simply surreal. For the dolphin swim, you are put into a group of no more than 10 people. We had two trainers and were able to interact with two dolphins (one at a time). You can ask any question you want about dolphins or their care at Discovery Cove and being able to be right next to them is breathtaking. I was so excited one of the trainers told me no I wouldn't be able to take Gertie home with me. It's really a dream come true.
Note: Water shoes could be helpful in the Dolphin Lagoon. The "shelf' where you stand for the interaction can be a bit slippery. No jewelry except watches and flat wedding bands are allowed, though you are permitted to wear hats and sunglasses provided you keep them snug on your face/head during the entire interaction.
Final Thoughts
A day at Discovery Cove is relaxing and exciting at the same time. You can do as much or as little as you want — it's completely up to you and your family! This could be the perfect way to have a chill day during a week of theme park fun, too. Swim your way to happiness!