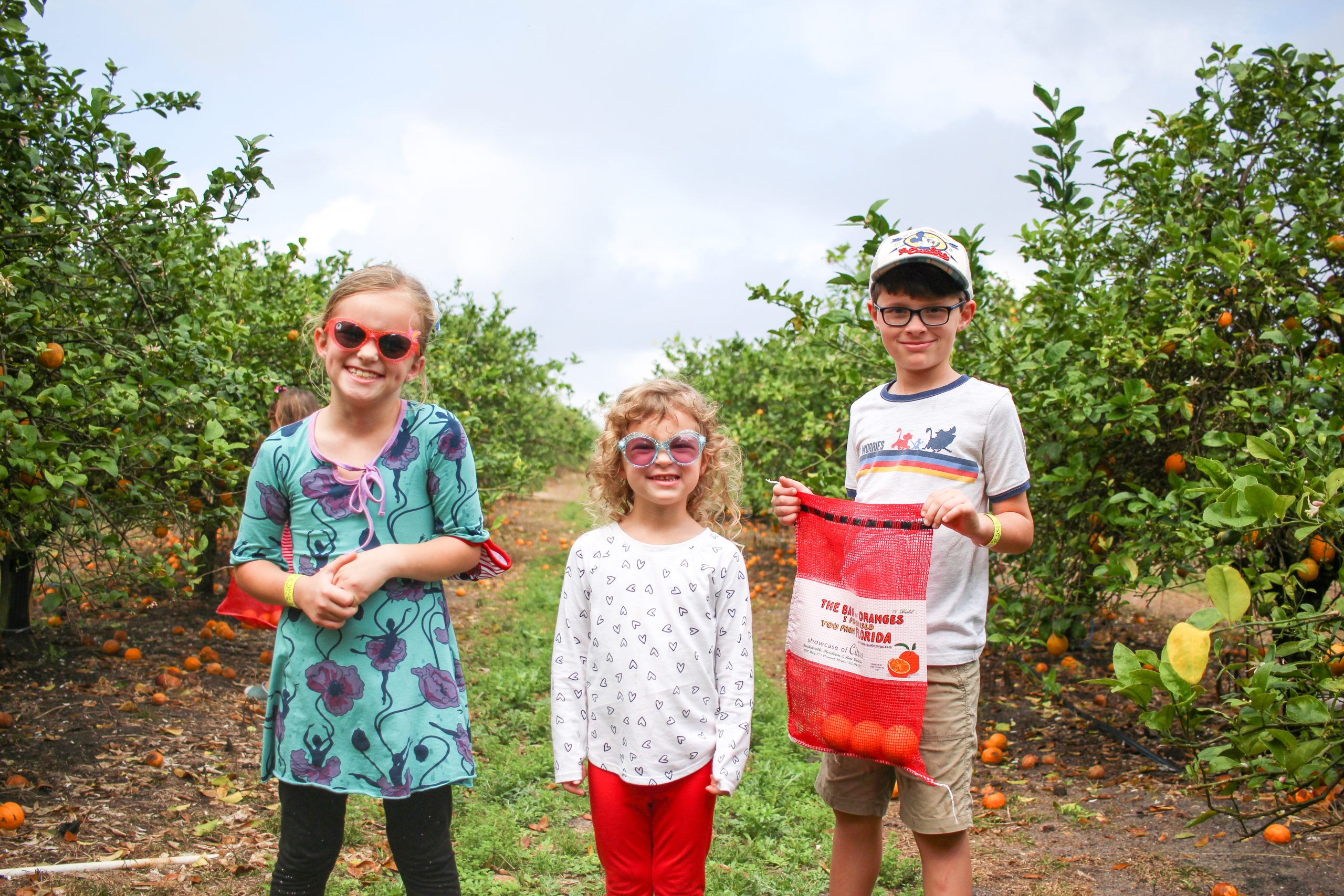 Get ready for some good ol' down-home fun when you visit the Showcase of Citrus in Central Florida. A scant 30-minute drive from the most magical place on earth (Disney World, obvi), the Showcase of Citrus offers monster truck tours, orange picking, gem mining, delicious slushies, and a lot of dirt. My kids had the BEST time getting dirty and seeing amazing animals in their natural habitat. Here's the breakdown of all the country fun!
Gem Mining
My science-loving son had a blast "mining" for gems.  It was a simple (and quick) process for a few minutes of fun. Our whole group of kids felt like real excavators. Simply choose your bag of "dirt" that contains all the gems, grab your sluice box, and away you go! A souvenir cup and gem identifying card for each child are included in the price of the bag of dirt.
Country Store and Food
Take a gander through the open-air country store at all the unique jams, jellies, honeys, and various items made especially for the farm. A few lunch-type food items are available during the picking season, but I would say it's more of a snack-type venue. I do HIGHLY recommend the orange juice slushies and the creamsicle slushie (OJ and frozen yogurt in layers, delish!).  It reminds me of what I used to get from the ice cream truck as it rolled through my neighborhood, only much fresher. It was a perfect treat after getting off the monster truck tour. The Showcase of Citrus also has alcoholic beverages available for purchase, many made with the orange juice made on the property!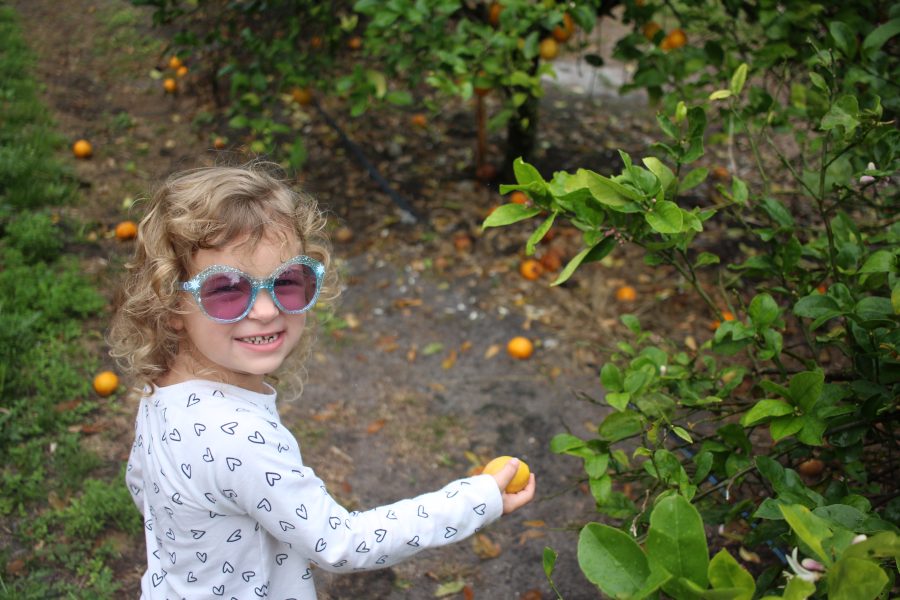 Citrus Picking
With over 500 acres of citrus (this includes over 40 types of citrus, mind you), there is sure to be a fruit that satisfies everyone in your group. Upon arrival, you pay $2 for each person to pick fruit, and then choose what size bag you want to fill. We picked the middle size, and it was more than enough fruit for my family to enjoy over the course of a few weeks. Thankfully a map is provided with instructions on what is currently in season, otherwise, we would have been completely lost. Be sure to wear closed-toe shoes — there are plenty of fire ant piles around! Oranges are ripe for picking between November and May, depending on the weather.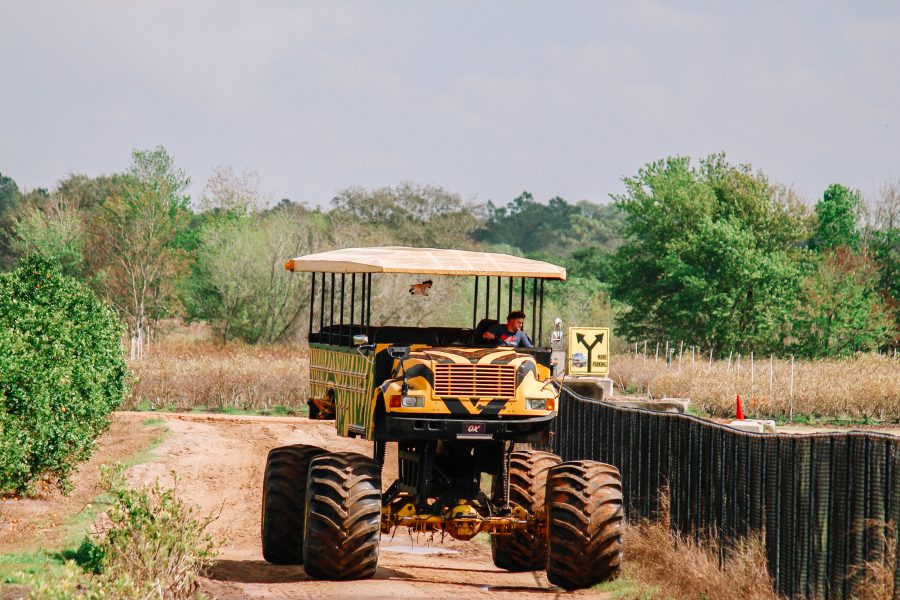 Monster Truck Tour
I have saved the best for last. To me, this was the highlight of our visit. The fine folks at the Showcase of Citrus have taken old school buses and reconfigured them to be open-air, 4×4 vehicles. The buses are mounted on GIANT tires (like so big you can't climb into them from the ground). The trucks are backed up to a platform, and guests load in from the back, onto one of two long benches.
After being loaded onto the truck, you embark on an approximately one-hour tour around the 2,500-acre property. We learned fun facts about the farm, such as no part of an orange is ever wasted — whatever is not used by humans (such as the rind and pulp of the orange) goes to the cows for cattle feed. Everything on the farm is picked by hand, nothing that falls on the ground is ever sold. They even partner with Disney World by taking the organic waste from Animal Kingdom and using it as fertilizer for the farm.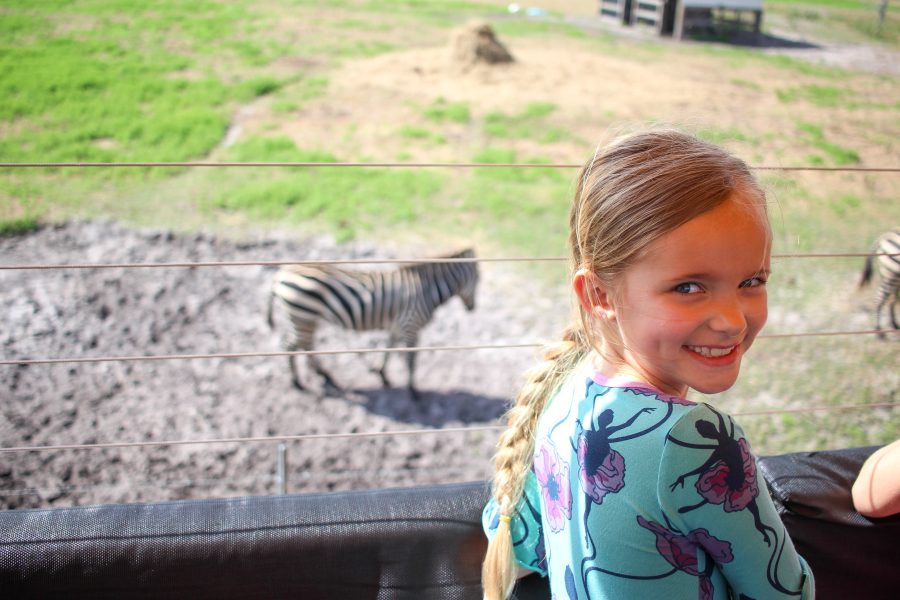 While enjoying the tour, you see the 500 acres of oranges as well as explore some of the other 2,000 acres of land. There are several stops along the way to listen to the farmers tell history about the farm and Florida. The kids were given oranges to feed the grazing cattle, and we saw some neat animals along the way as well. There are even a pair of zebras named Barcode and Scanner!
During the off-season for citrus, you can pick blueberries (usually in April and May), and even take a hot air balloon ride (they are a launch/landing site for a local balloon ride company).
Tip: Be sure to check Groupon for discounted tickets for the Monster Truck Tour — they saved us a bundle!
The Showcase of Citrus is a world apart from that favorite theme park of mine that I mentioned. It would be a fun break on a Disney World, Sea World, or Universal Studios trip, or even as a standalone adventure. Happy trails!