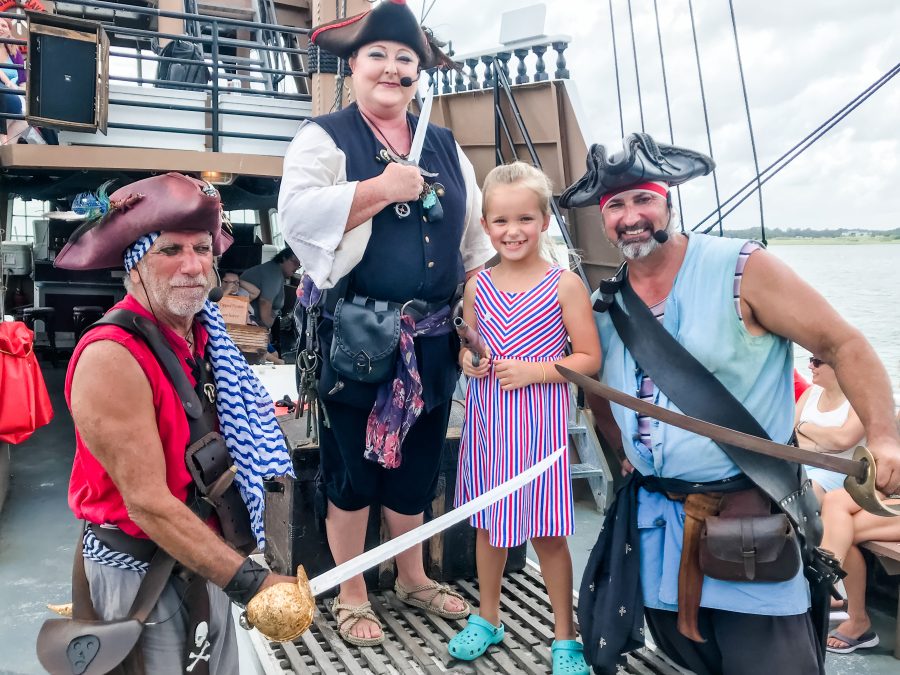 Ahoy, me hearties! Come along as we chase the booty! Seriously, though, who doesn't enjoy talking like a pirate and having an excuse to act silly? You know you do! In the oldest city in America, there is plenty of history with these buccaneers, so we decided to do a day trip to St. Augustine to check things out. We first toured the St. Augustine Pirate and Treasure Museum, then we sailed on the Black Raven and witnessed Captain Blackbeard stealing our treasure (aka "booty" in pirate speak). Of course, we had to chase him down, and after an epic battle, we were victorious and rewarded for our efforts. Here is the breakdown!
FYI: St. Augustine currently requires masks in indoor spaces, but while walking around outside, we didn't need a mask.
St. Augustine Pirate and Treasure Museum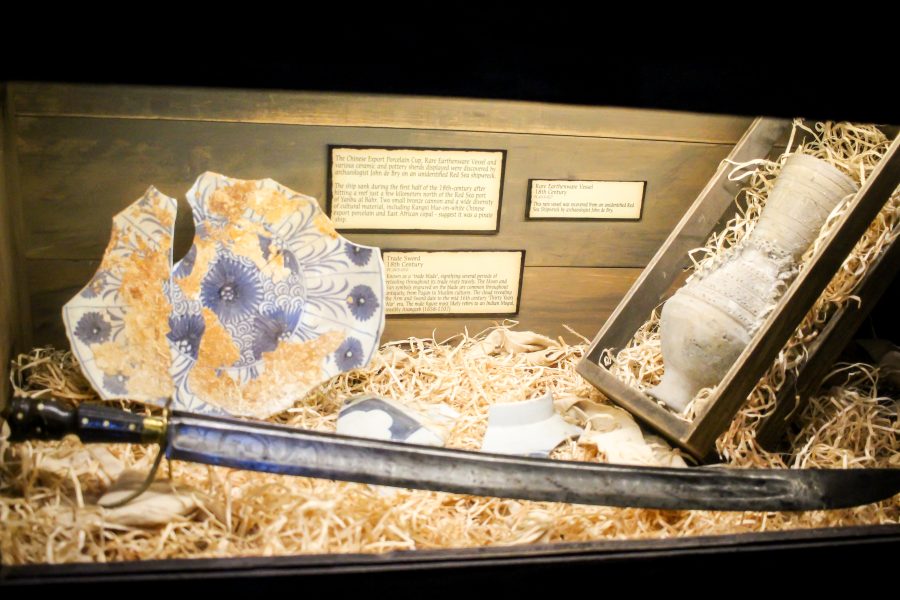 I wasn't quite sure what to expect when I decided to check out the St. Augustine Pirate and Treasure Museum, but I was blown away (literally, as there are cannons inside). It was very clean, informative, and had amazing artifacts! I could have easily spent more time there than we did.
In addition to reading all about pirate life (it's a pretty challenging lifestyle), we learned the history of when pirates first came to St. Augustine and Port Royale, fired a canon, lifted a musket, touched a 400-year-old pirate chest, and there's even an option to go into a brig and listen to a recording.
The last room you explore is a Hollywood Pirate room, and I'll admit, it was my favorite! It displays props from movies like Goonies, Peter Pan, and of course Pirates of the Caribbean. It's a great ending to the whole experience!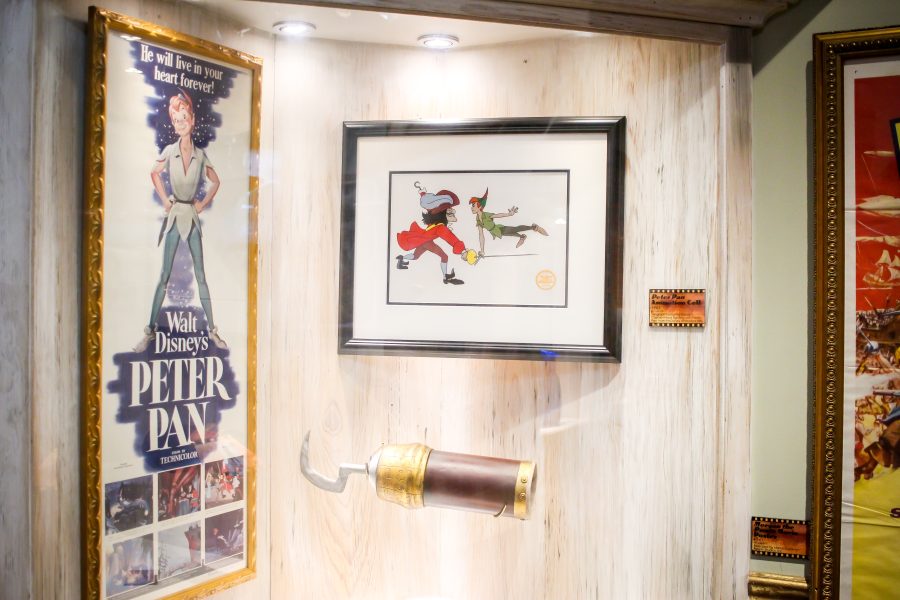 There's something for everyone, and though my 3-year-old didn't quite understand everything that she was being shown (fair warning — there's a lot of talk about pirate torture, death, and walking the plank), she did really enjoy looking for the special skull-and-crossbones symbol that indicated a clue for the scavenger hunt we were given upon entering the museum. We found 11 of the 12 drawers, and she was very excited to receive her prize. The staff was friendly and helpful, and I cannot wait to take my older kids there soon!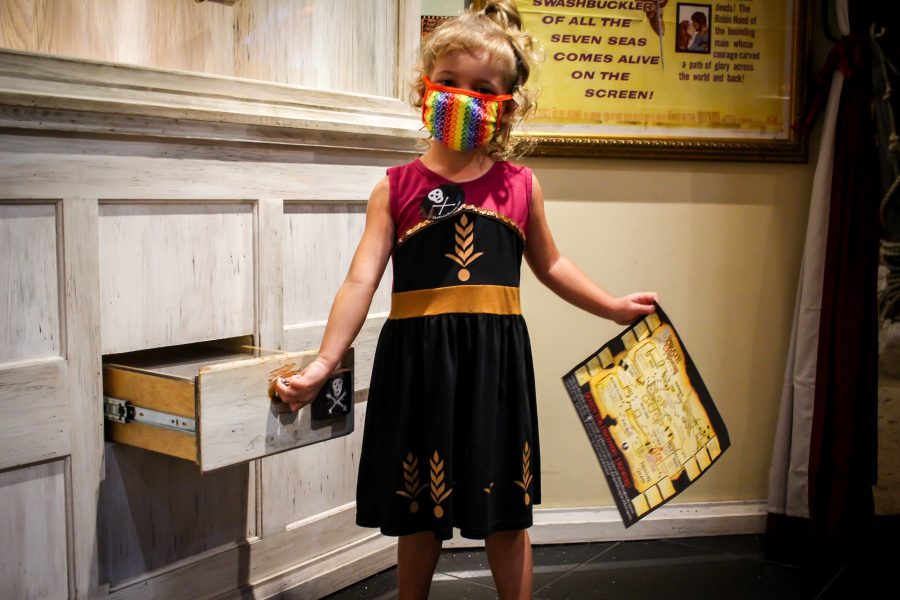 Teachers: There's a free curriculum you can download from their website (find it HERE), and it aligns with the Sunshine State standards. They also welcome field trips, and teachers can come to check it out ahead of time.
Black Raven Pirate Adventure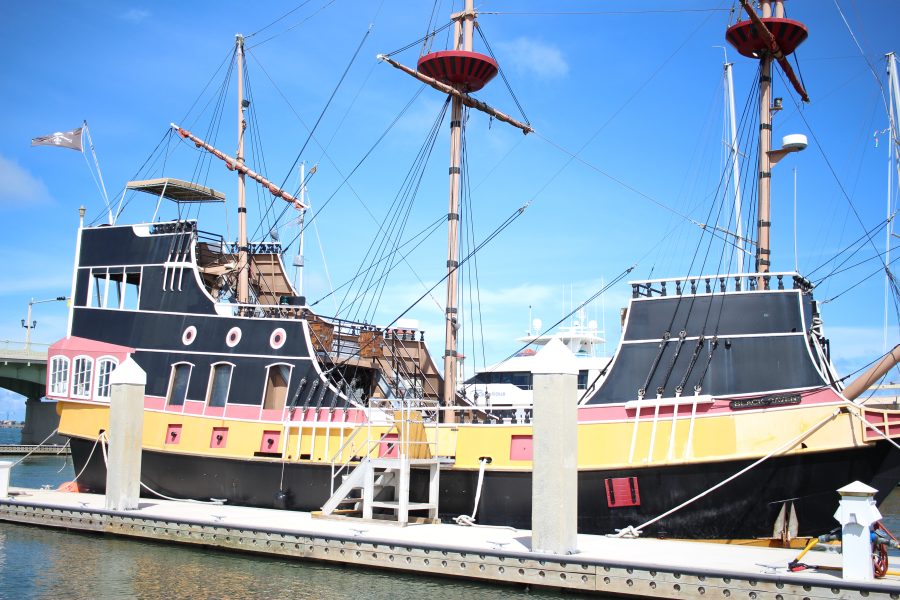 Sailing aboard the Black Raven Pirate Ship for our 1.5-hour journey was an entertaining, fun, and even relaxing experience. There's just something about being on the open water that calms the soul.
Of course, there was quite a bit of adventure as well. Before you even leave the dock, Captain Blackbeard invites himself aboard the ship and manages to steal the treasure! A chase ensues to try and retrieve the treasure… spoiler alert, we were successful!
Our ship (the Black Raven) has a few encounters with Blackbeard's ship (Queen Anne's Revenge) which includes gunfire and cannon fire. Obviously the shots are not real, but the noises are — if you have small kiddos who are sensitive to loud noises, I'd recommend noise-canceling headphones or earplugs. The pirates were very sweet to our friends after their 1-year-old was upset by the first round of cannon fire, suggesting they move to the lower deck where the noises weren't so loud for the remainder of the battle.
Along the way, there is a lot of singing, interacting with very friendly pirates, and you also get to become part of the pirate crew. Drinks are available (regular and alcoholic), as well as a few snacks. Bring cash to tip the barmaid and if you want to tip the crew at the end of the experience for a job well done. (And yes, there are restrooms on the ship.)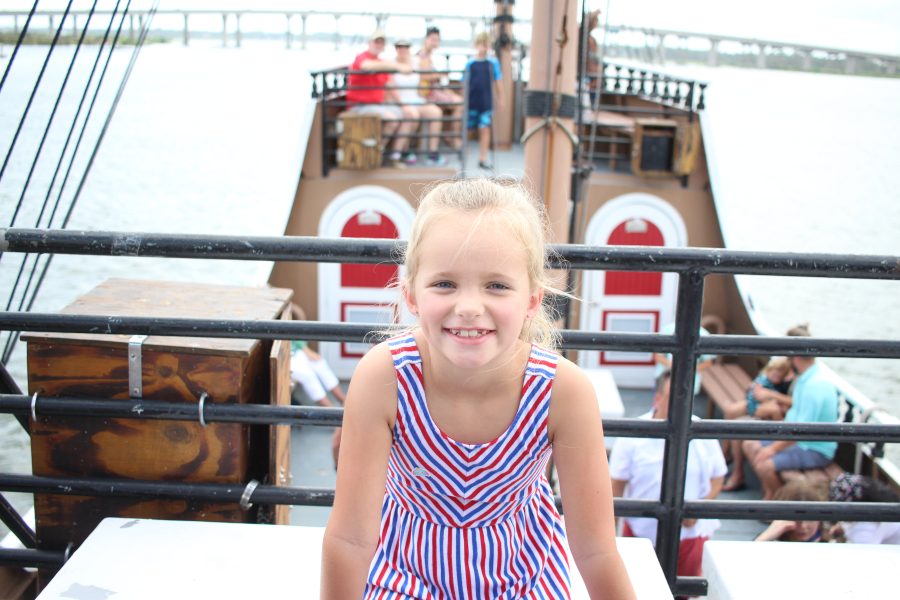 The Black Raven Adventure happens every day at 2:15 p.m. and again at 6:15 p.m. On Friday and Saturday evenings there is an adults-only version at 8:15 p.m. If you go on a weekday, be sure to call ahead of time and see if they are sailing, especially if it's during the offseason. Our first sailing was canceled due to lack of people signed up, and because of previous plans, we had to come back two days later on a weekend.
Note: Parking can be a bit tricky. When we went to the Pirate Museum, it was during a weekday, and we parked at the Castillo de San Marco with no problem (it's a pay by plate, $2.50-an-hour lot, with a 4-hour max). We returned on a weekend to sail on the Black Raven, and the lot was very full by early afternoon. I did get lucky and got a spot, but check out the Black Raven Adventure's website for their parking advice here!
There are also COVID restrictions in place. Masks are not required, but you do have assigned seats on the ship to make sure everyone has space. In addition, some of the usual activities are suspended, which include face painting and sword-fight training. The crew did a great job interacting with us despite these restrictions, and we did have the opportunity to take a picture with them!
Other Pirate-y Things to Do
If you wanna talk sweet to your spouse (okay, actually these are incredibly crude), take a look at these Pirate Pick-Up Lines!
Did you know September 19 is International Talk Like a Pirate Day? Here are some fun activities for the family!
After touring the Pirate Museum and experiencing the Black Raven ship, I was inspired to do a family pirate movie night at my house with my family. I kept it pretty simple and used all kid-friendly foods!
Mini golf courses in Ormond Beach, Daytona Beach, and Orlando have pirate themes!  Pirate's Island Mini Golf courses are offering $2 off per game on International Talk Like a Pirate Day. Coupon is on their website.
I hope you have a swashbuckling good day, and be sure to tell us your favorite pirate activity in the comments below!