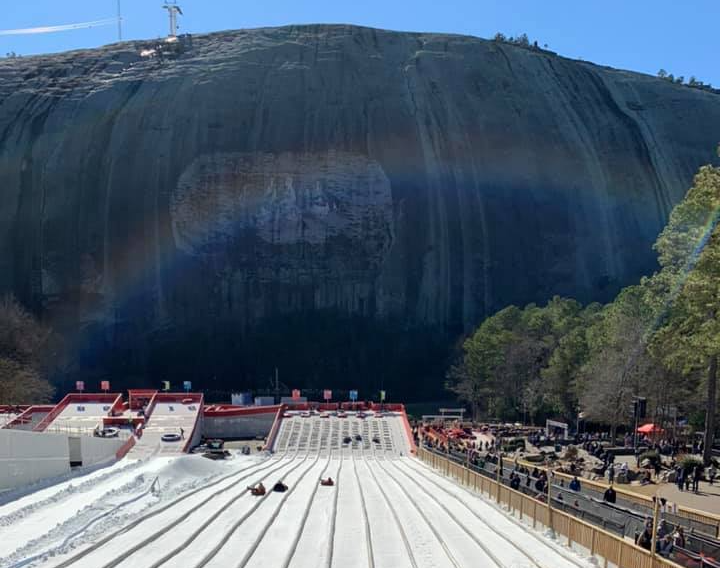 Until recently, Atlanta was not a destination we have ventured to as a family. Just a five-hour road trip from Jacksonville, you can leave in the morning and still have plenty of time left in the day to explore the city and its many kid-friendly venues and activities. Here are three that we discovered and loved, and a few more we hope to visit in 2020.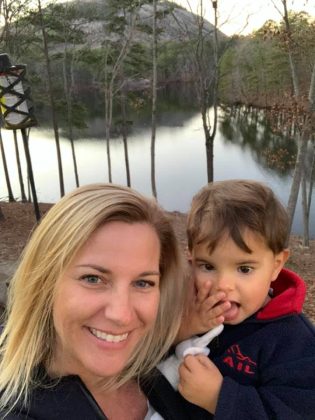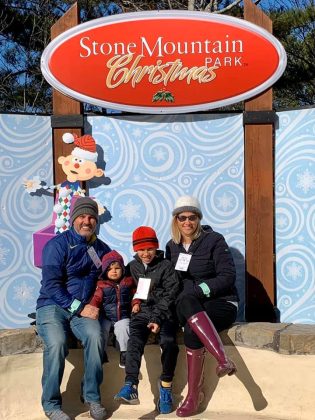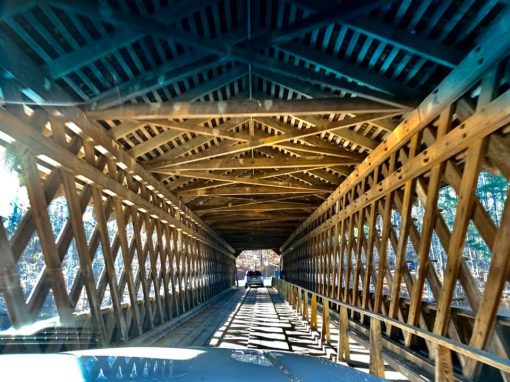 Stone Mountain Park
Fifteen miles east of Atlanta is Stone Mountain Park or more specifically, a quartz monzonite dome monadnock. To kids, it's just a mountain with a cool carving on it which happens to be the world's largest high relief sculpture of three Confederate figures: Jefferson Davis, Robert E. Lee, and Stonewall Jackson. It's also 3,200 acres large and 1,686 feet above sea level which affords a sweet laser show and fireworks if your timing is just right. Take a ride to the top on the Summit Skyride, hop on the train for a scenic ride around the park, hike and explore miles of nature trails, camp, kayak, play mini-golf under the stars, visit the quarry exhibit, and more! Check out the festival schedule to see what's happening in 2020. We spent New Year's Eve there and it did not disappoint, as their Christmas decorations and events were still going strong. The kids loved the Christmas parade and fairy flight, holiday shows, Polar Express in 4-D, daredevil plunge and avalanche alley snow-covered tubing hills, and snowball fights and bunny slopes in the SnowZone. Bring a change of clothes for little ones, as it can get a bit nippy when the sun sets behind the mountain.
Tip: Traffic is a nightmare in and around Atlanta, so we stayed two nights at one of two Marriott properties inside Stone Mountain Park to avoid spending a lot of time in the car. Or, check more affordable camping options including RVs and Yurts.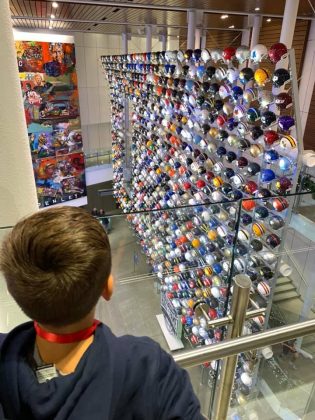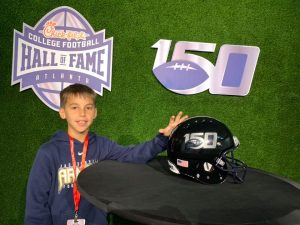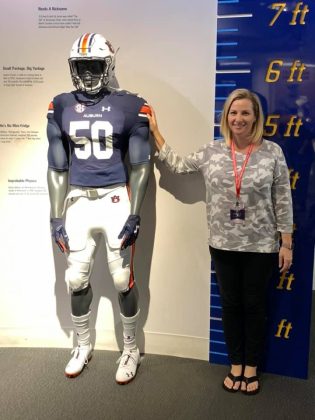 Chick-fil-A College Football Hall of Fame
My older son's favorite stop on our trip was the Chick-fil-A College Football Hall of Fame in downtown Atlanta. This mecca for college football will keep any young athlete (and any older fellow sports fans) busy for hours. When you check in, you get a badge linked to your favorite college team and your team helmet lights up on a three-story helmet wall. My son was stoked to collect digital badges for some of the 50 interactive exhibits he completed. He also really enjoyed running the 40-yard dash, testing out his broadcasting skills during a mock recording of College GameDay LIVE, doing agility drills, and attempting to kick a field goal on the 45-yard indoor football field, all while learning about some of his favorite players, past and present, the game, and its 150-year history. I won some serious MomVP points after this visit!
Tip: After the family works up an appetite, order Chick-fil-A from the app and pick up at a special window for CFHOF visitors only (the line outside serves downtown Atlanta crowds and you'll be glad you aren't in it). Then have a seat and eat uninterrupted while your kids enjoy running wild on the gridiron nearby. Score!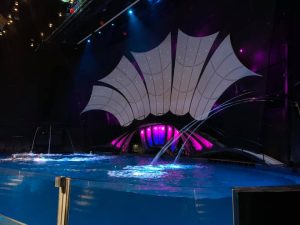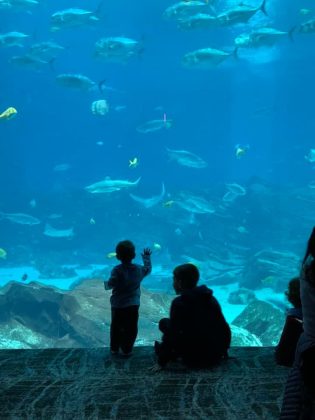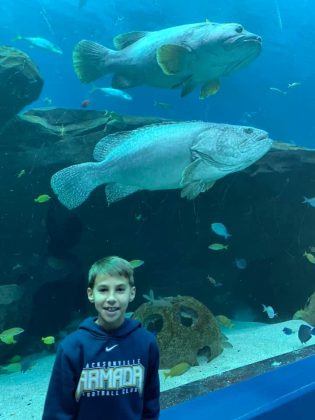 Georgia Aquarium
Jacksonville isn't home to an aquarium, but lucky for us, one of the best and largest in the country is only a five-hour drive away. Also, downtown, plan to spend a few hours at the Georgia Aquarium to experience all seven major galleries: Cold Water Quest, Aquanaut Adventures, Dolphin Coast, Ocean Voyager, River Scout, Pier 225, and Tropical Diver. Our favorite sightings were a chocolate-chip sea star, three African penguins doing their waddle walk into the crowd (only happens once a day, so check showtimes), crawl tunnel viewing areas for kids, touch tanks, sea dragons, piranhas, otters, and Nemo — yes, we found Nemo! The dolphin show (and splash zone) was also a hit with my almost 2-year-old. IMO, the most incredible gallery is Ocean Voyager. Built to house four whale sharks, this thing is massive with a 100-foot-long underwater tunnel where sharks and rays (and thousands of fish) swim right over your head. Have a seat in front of the massive viewing window which is one of the largest in the world at 23 feet tall by 61 feet wide and two feet thick. I could have sat there all day. An eighth gallery is coming this fall and will house dozens of sharks. Um, how thick did they say the glass was going to be again?!
Tip: Order online before you go for discounted parking and tickets. Rates are cheaper before 11 a.m. and after 4 p.m. Active military members enjoy free admission on Mondays and 10 percent off every day for active and former military members and their families.
We ran out of time during this trip, but we hope to make it back to the Peach State soon to experience the World of Coca-Cola, Atlanta Botanical Gardens, Centennial Olympic Park, the Atlanta Beltline, Southeastern Railway Museum, Center for Puppetry Arts, Atlanta History Center, Piedmont Park, Children's Museum of Atlanta, and Zoo Atlanta. And check out this On the Road: Jax to Atlanta post for more hot spots and tips!
What are your favorite things to do in and around Atlanta?