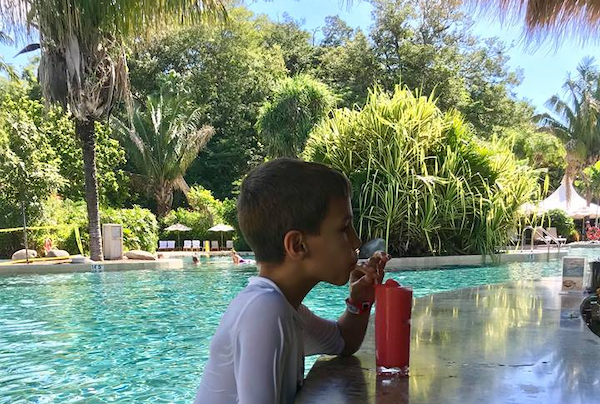 In December, we took our 7-year-old son to Costa Rica. It was his first time out of the country and he was excited to get his first stamp in his shiny, new passport. This was the first time leaving our 8-month-old home with his Gaga, so I was a little nervous. But the minute we touched down in paradise I was on "tico time."

Where We Stayed
We landed in Guanacaste and had about a 45-minute ride to the Westin Golf Resort and Spa in Playa Conchal with a transfer set up ahead of time. We arrived at an open-air lobby with the most picturesque setting, and everyone was so warm and friendly. You could feel the breeze and smell the salt in the air. We made it!
On our golf cart ride to our room (the resort is huge), we were immediately on the prowl for monkeys. Not only did we see a monkey — we saw a family of howler monkeys and the babies were fighting with each other and swinging around the branches playing. My heart melted. Then, around the next corner, my son spotted a native coatimundi, which is in the raccoon family but much cuter. They just cruise around the property along with countless iguanas and more monkeys. We were worried we wouldn't see any wildlife — we were very wrong!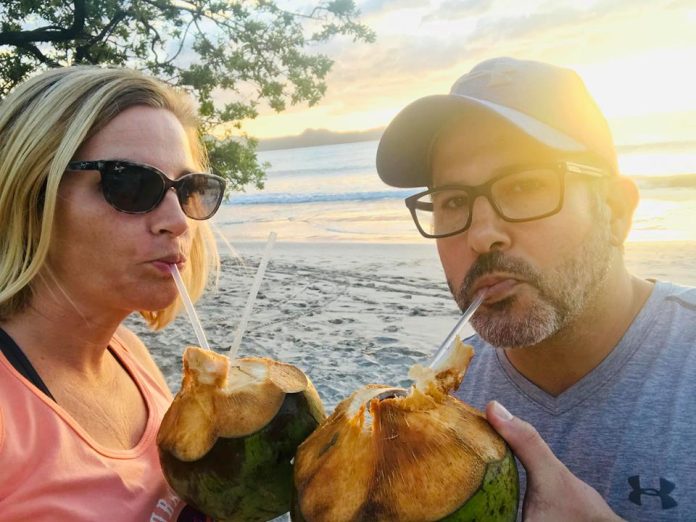 The resort is all-inclusive, eco-friendly and an incredibly family-friendly destination set on 2,400 acres and tucked between the forest and the Pacific Ocean. The lagoon-style pool with the swim-up bar was probably my favorite part. Kids could shoot pool basketball, order all the virgin daiquiris they wanted (as my son did) and hop out to try their hand at ping pong or pool at the Westin Kids' Club. They had cool activities every day to choose from like bracelet making, arts and crafts, sushi rolling and more!
The resort features a diverse mix of restaurants: Italian, French, Mexican, Asian Fusion, etc., and we ate at all of them. They also have an amazing open-air buffet, if you don't mind hefty iguanas lurking nearby, with local dishes like Gallo Pinto, a typical breakfast in Costa Rica with rice and beans. My favorite was probably the Italian restaurant — partly because of its ambiance (everything was decorated for Christmas when we were there), and partly because of the incredible pasta we devoured.
There was evening entertainment for the whole family. Loads of kids were front and center for the fire and magic shows. My personal favorite was the Michael Jackson show — the choreography was spot on and the guy was a dead ringer for MJ!
Before I move on to things off property, I would be remiss without mentioning the beachside massage. The second you step foot out the back entrance to the hotel and on to the beach, you are swarmed by local vendors offering you massages, clothing, trinkets, etc. It's a public beach but not crowded. We ended up trying the massage, and it was awesome! Not to mention it was only $20 for an entire hour! And, the white noise of the ocean waves crashing on shore was better than my sound machine back home.

Things To Do Off-Resort
When it was time to venture out, we did two things. But there are many within a very bumpy drive if you're up for it. I get car sick (yes, even as an adult) and so I don't like to venture too far off the beaten path. The Arenal Volcano, Cloud Forest and several national parks are within driving distance of many hotels.
If you want a great tour guide, ask for Aaron when you hit the beach. He has all the connections and hooked us up with the sweetest father-and-son driving service to get us to our most-awaited part of the trip: Diamante Eco Adventure Park. Oh. My. Gosh. The website does not do this place justice. You can spend the entire day there. It's Mother Nature meets Evel Knievel. This place is Costa Rica's Disney World and it's worth the price of admission if you're an adrenaline junkie. Home to the fourth fastest and longest, head-first zipline — I've never seen or done anything like it.
Five lines, with a near-mile-long ocean view zip called the Howler, a free-fall quick jump and a hanging bridge over crocodiles finish the course which takes about two hours. Kids must weigh at least 60 pounds to do the aerial course unless the winds are in your favor, which was the case for us that day. There is also a low ropes course to do with fun challenges for the kids.
The Superman, which is the second line, is so high, zip liners look like ants from the pavilion area where you can have lunch and watch the action. I think you're about 300 feet about the treetops. To say I was scared is an understatement. My husband and son did it together and I stood paralyzed in fear. I cried as they buckled me in and my lips were white. I held on for dear life and closed my eyes most of the way. Looking back, I'm so glad I did it. But I'm not sure I could find the courage to do it again.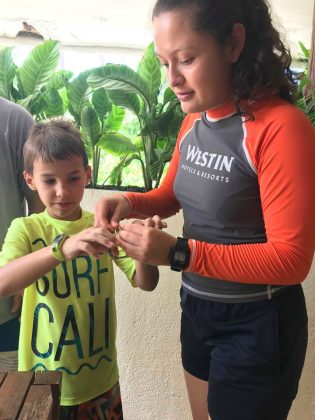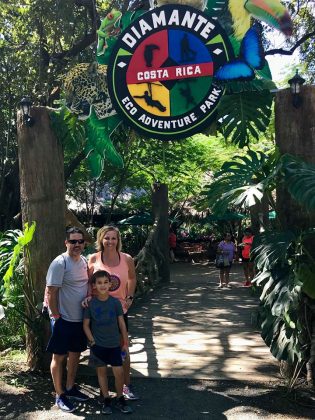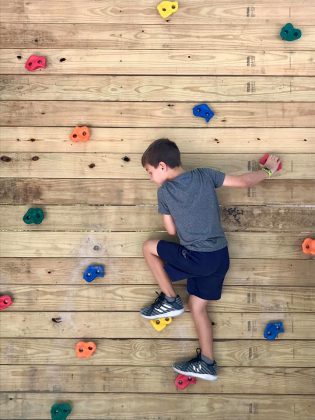 If ziplining isn't your thing, there are other options more your speed like ATV rides and horseback riding. Or, stay on foot and enjoy the Botanical Garden, hands-on cultural experience with coffee, chocolate and sugar cane, along with an animal sanctuary and wildlife education center. Lucy the Sloth is a celebrity in Costa Rica, and seeing a sloth was on my bucket list!
We also took a half day trip to the quaint fishing town of Tamarindo which was about 45 minutes to the south. I loved this spot! We sat at a local beach bar and had a few Imperials while the locals tried to sell us these little bird whistles. Finally, after the 10th approach, I caved and it's one of my favorite mementos I brought home. We hit the shops along the main drive and got some cute gifts to bring home to family and friends. There were people surfing, walking the beach and enjoying the sunshine. I could have stayed there all day.
I don't normally get excited about going back to my room, but the bed in our room was one of the most comfortable beds I've ever slept in. They are even trademarked "Heavenly," and now I see why. We had a terrace, too, which was nice to sit outside and enjoy the fresh air and a glass of wine when our son went to sleep. The fridge came stocked with wine, Cava and Imperial beer. And we were within a stone's throw of the Imperial Bar which had loads of outdoor seating for stargazing, and soccer (futbol) on repeat on the TVs in the bar — another bonus for my son.
We visited several beaches and brought back some unique shells only found in that part of the world. We met some great people and learned a lot about the local culture. We drank pineapple juice right from the source and sat on the beach every night as the sun set into the Pacific Ocean. I've never met a beach or sunset I didn't love, and Costa Rica offers some of the best in the world.
After five quick days, it was time to head home. We really enjoyed Costa Rica as a family and will return one day — maybe to the other side of the country. Until then, Pura Vida, Costa Rica!