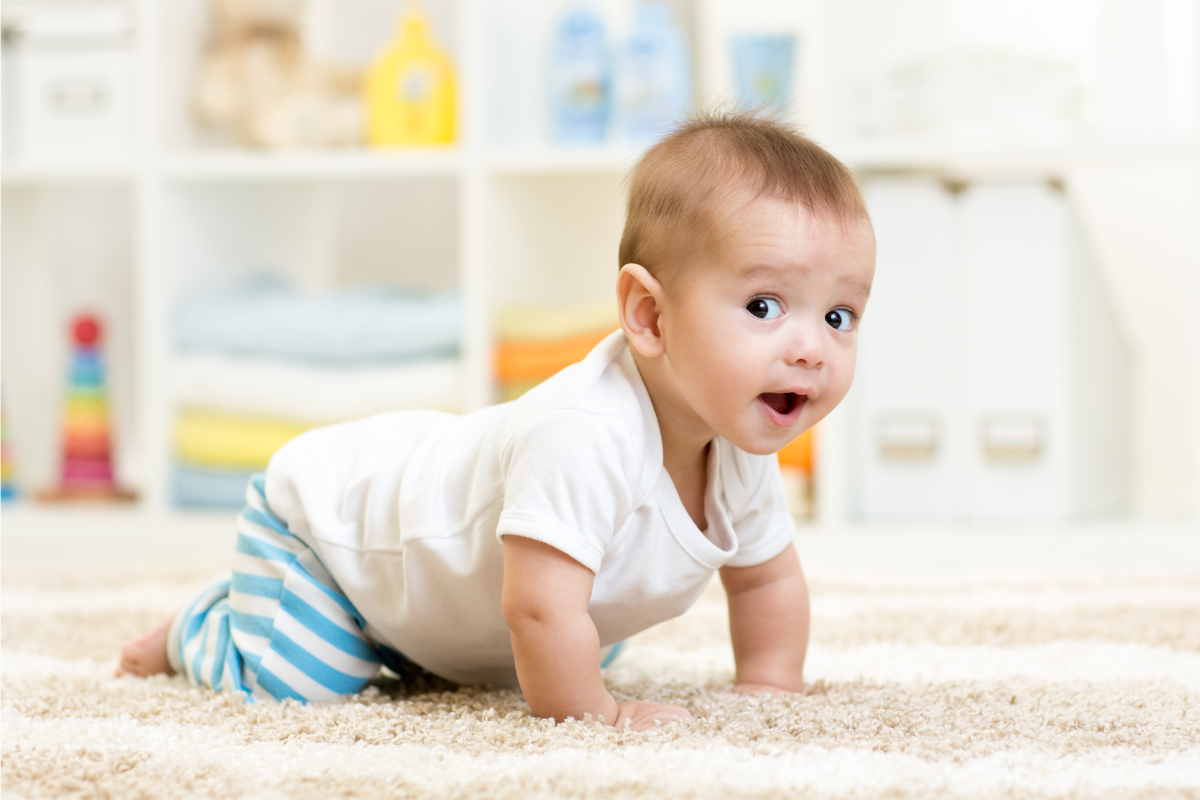 There's endless excitement to look forward to when you're blessed with a baby boy — like the cuddles, crazy antics, and complete and total chaos that may arise during toddlerhood (and beyond). And there's a lot to learn… like the proper names of every dinosaur that roamed the earth and every construction vehicle ever made, in some cases.
All jokes aside, there are definitely a few things you'll want to know about your sweet little guy. Randolph "Randy" Thornton, MD, a pediatrician with Jacksonville Pediatrics and Wolfson Children's Hospital, is here to get to the bottom of some of those baby boy myths and also address a few common concerns shared by parents during those early weeks.
The gender divide
So, what's up with those age-old questions about boys versus girls? Is it true that boys tend to be wilder and snugglier compared to their female counterparts? And do they oftentimes talk later than girls? Dr. Thornton assures parents not to place much stock in those questions.
"Not at all. There are so many personality types. We tend to think boys gravitate toward hitting more milestones or talking later, but I haven't seen any specific differences based on gender. It's not something I ever factor in," Dr. Thornton said.
(And yes, many girls like dinosaurs and excavators, too!)
The truth about hair tourniquets
Many new parents may not be familiar with something called hair tourniquet syndrome, a condition that can happen when a piece of hair or thread becomes tightly wound around a baby's appendage, causing damage. It can occur on fingers and toes, and on boys, it can also affect the genitals.
"The age group most at risk for finger and toe hair tourniquets is birth to 2 years, and on the genitals, they occur most often in ages 4 months to 6 years," said Prasanthi Reddy, MD, medical director and president of Rainbow Pediatric Center and medical staff member at Wolfson Children's Hospital. "In 210 cases in the U.S. in 2020, 44% occurred on the penis, 40% on the toes, 9% on the fingers, and 7% in other areas."
Dr. Thornton said while it can be a good idea to periodically check for hair tourniquets, don't let the possibility of one worry you too much.
"Parents always get nervous about them, but they're rare," he assured.
Expect the occasional erection
If you're changing a wet diaper and it appears that your baby has an erection, don't stress. It's absolutely normal at any age.
"They can start really from the day the baby's born," said Dr. Thornton. "In my experience, it's usually right before they're about to urinate. Don't worry at all if you notice an erection. It's not tied to any sexual cause."
Whether or not to circumcise
One of the first decisions parents may make about their baby boy can seem overwhelming: deciding whether or not to circumcise. Dr. Thornton said that circumcision is always a personal choice and that no one way is right or wrong as long as you do your research and are informed.
"In our practice, I'd say 90% to 95% of boys are circumcised. There's also a large contingent of people who say it's totally unnecessary," he said. "The arguments for circumcision are that medically, it's easier to keep clean so there's a lower risk of urinary tract infections (UTIs). Statistically, babies who are circumcised do have slightly fewer UTIs. If you have an uncircumcised child and you spend a little extra time keeping that area clean, you minimize the risk."
As for the downside to having the procedure done?
"The cons to circumcision are the risk of infection and bleeding. That risk is very, very low if you take care of the circumcision site," Dr. Thornton said.
Parents who do opt to circumcise their sons may be curious as to how the penis will look afterward.
"There will be a little streaky yellow film that develops on the site. It's totally normal and the equivalent of a scab forming," said Dr. Thornton. "If you have any questions during the healing process, certainly ask your pediatrician."
Regardless of what you choose, it's best to make this decision before your baby is due (and make note of it in your birth plan so your doctors are aware, too). The more you get ready and learn about your sweet baby boy now, the less chance you have of feeling overwhelmed later.
You want the best care for yourself and your newborn during and after labor and delivery. To learn more about Baptist Health's Labor and Delivery services, visit baptistjax.com/baby.