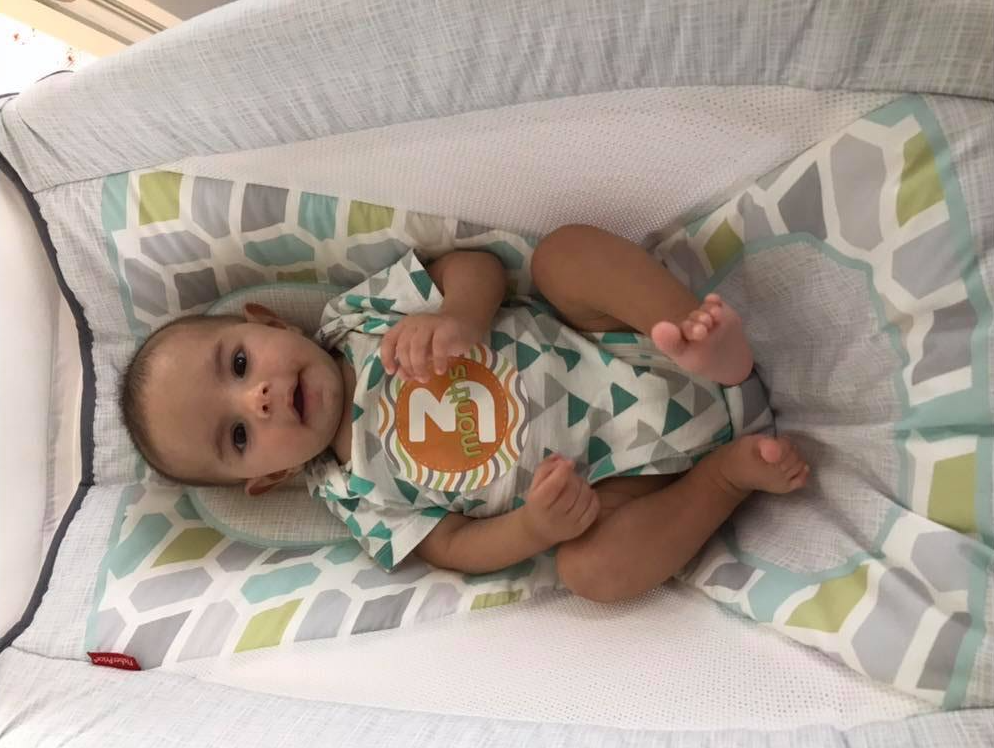 UPDATE: As of April 12, 2019, all models of the Fisher-Price Rock 'n Play sleeper have been recalled by the Consumer Product Safety Commission.
Many parents everywhere, including me, stopped in their tracks when they saw the news this week that the American Academy of Pediatrics (AAP) urged the Consumer Product Safety Commission (CPSC) to issue an immediate recall of Fisher-Price's popular Rock 'n Play sleeper after they learned that 32 babies died while using the product. What? How? Tragic. How many families own these things? I'd bet a lot.
The product is designed and marketed for babies to sleep on an incline, though medical experts say babies should be placed flat on their back alone and free of any bedding to reduce the risk of accidental suffocation. In this case, it's more a matter of the baby being capable of rolling over and that's where the risk occurs.
"The CPSC is aware of 10 infant deaths in the Rock 'n Play that have occurred since 2015, after the infants rolled from their back to their stomach or side, while unrestrained. All 10 infants were 3 months or older," the CPSC said in the statement.
I don't know who's to blame, the parents or the product itself? On one hand, new parents may not necessarily know what to look for or know when a baby might be close to rolling over. The 3-month mark is usually the threshold. Or, did they not follow the safety guidelines on the product? On the other hand, if more than one baby died (and this has allegedly been happening since 2015), why is this product even still on the market? It's impossible to know the exact details behind the 10 deaths, but it still has me shaking my head — why, parents, why?
With my first son, we never used a Rock 'n Play. I don't even remember the product being around. He co-slept with us until he went in his crib at six weeks. When I was pregnant with my second son last year, the Fisher-Price Rock 'n Play sleeper was literally the first thing I added to my registry. All my friends swore by them, including many of our Jacksonville Mom contributors. It was a godsend. The contraption was one of the only places he would sleep. It rocked, it vibrated, it helped soothe the baby to sleep — what's not to love? Of course, my doctor recommended he sleep only in a crib and on his back, but how many of us have broken that rule? Raised hand here. Let's be honest, you'll do anything to get through those first few weeks with a newborn, including putting them in an inclined sleeper, that just so happens to works like a charm.
Fisher-Price is responding to the backlash this week, telling Consumer Reports in an emailed statement, "The loss of a child is a devastating tragedy. We will continue to do all we can to ensure that parents and caregivers have the information necessary to create a safe sleep environment for infants." On their website, they stand by the safety of this product and posted the following safety warnings/reminders:
ALWAYS use the restraint system.
ALWAYS place a child on back to sleep.
Use ONLY the pad provided by Fisher-Price.
NEVER use extra padding under or beside infant — do not add blankets, pillows or other items.
STOP using the product when the infant begins to roll over.
READ all instructions before using any product for your infant, not just those made by Fisher-Price.
Since the recommended recall, it appears other similar products will be looked at more closely, which in my opinion is a no-brainer to avoid any other children from losing their lives. And, maybe all the press will prompt parents to pay closer attention to sleep safety. 
So, the question is, will people stop using this product? Or, just pay more attention to the safety instructions and guidelines, and use it more sparingly past the 2-month mark, just to be safe? If I had to do it again, I honestly think I'd still use it while I could.