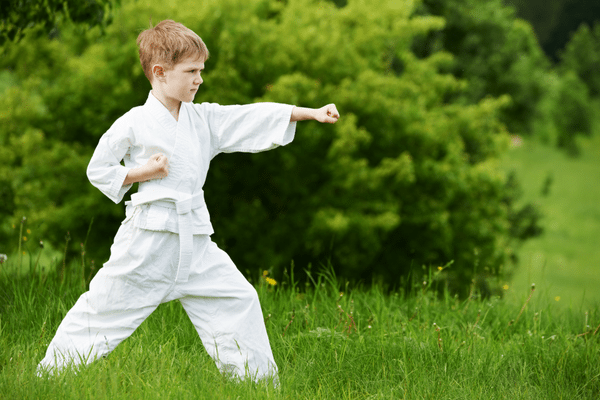 Initially, we signed our son up for karate so he could exert some of his energy by running around, kicking the air and karate chopping his way through class. Now nearly six months in, we've had a change of heart. Karate is one of the best things to happen to my son for many reasons, and I want to share some of them with other parents who may think martial arts is little more than just fighting and violence.
Respect is expected before you even walk in the door. Literally, each student must bow when they walk into class and say aloud, "Hello sir," or "Hello ma'am." It is one of the first things the instructor teaches new students. As part of their initial test to be able to even begin their black-belt journey and earn their white belt and uniform, they must perform a series of exercises at home and show their parents respect. The student must report back in their second class how they showed respect. We love that karate isn't just about the physical aspect.
Self-discipline is instilled in each student from day one. Students are encouraged to help their parents at home by picking up after themselves, doing their homework without being asked, brushing their teeth without being told, etc. Within a few weeks, we noticed a change in my son's behavior at home. He started doing these things without our constant nagging.
Gratitude is also something the class talks a lot about. Students are reminded that their parents pay a good amount of money for them to be able to practice martial arts. The monthly fee, uniforms, sparring gear — it adds up, and it shouldn't be taken for granted. At the beginning and end of each class, parents are asked to stand up while students turn to face them and bow to show their gratitude and respect.
Bullying is often addressed, including self-defense techniques — but only after you've tried other methods of diffusing the situation. The instructor acts out real-life examples of walking away, telling a teacher, standing up for yourself using your words, and more. He makes it very clear that karate is only to be done in the studio during class. If he hears of anyone kicking or punching in an inappropriate setting, he takes their belt away.
Character traits and life lessons like these and others are a part of the daily training regime, and they are rewarded accordingly. By exhibiting these traits over time and showing their dedication by regularly coming to class, some students are invited into the Black Belt Club. It's not for everyone. It's for those students who always show up focused and ready to learn and grow. It's for those who listen, respond and progress. It's for those who help fellow students who may be younger and/or less experienced and set a good example. And finally, it's for those who master the various combinations required to move up to the next belt.
Fellow karate mom and JMB blogger, Meredith Fitts Loudenback, shares my sentiment and states, "What I love about karate for my 8-year-old son isn't just the skills he learns of mastering a new punching or kicking combination. It's the life lessons being instilled by his instructor. Each new skill is accompanied by a life lesson. It's not just about the discipline it takes to master new levels, but practicing self-discipline in all aspects of life. My son isn't learning to earn his black belt, he is learning to become a black belt. The benefits of karate, to me, are the tremendous spillover effects it has on our entire family."
We really enjoy watching our son grow both mentally and physically at Zone Martial Arts while achieving his black belt. It's a three-year commitment that I wasn't sure we were up for when we signed up, but now, we can't imagine our after-school life without it.
For even more martial arts listings, check out our directory here.