As childbirth educators, one thing we've realized is that expectant couples eagerly preparing for the birth of a baby have a lot on their minds! They take classes to prepare for labor, breastfeeding classes, and even classes to learn how to diaper, swaddle, and bathe their newborns.
With all of the information available these days in classes, online and in literature given to them by their doctors, it's no wonder they might feel overloaded with facts and sometimes those well-intentioned details can get a little overwhelming and even scary!
But prevention is key to many aspects of infant care. As educators, we present information that new parents need to make well-informed choices based on the latest evidence and statistics available. Hopefully, parents-to-be also share this information with family members and caregivers, so everyone is on the same page with simple, but important ways to make baby's first year safe and secure.
Since newborns spend an average of 16-17 hours a day sleeping, one of the most important areas of pre-natal education is safe sleep guidelines for the prevention of sleep-related deaths, including Sudden Infant Death Syndrome (SIDS).
Recommendations for safe sleep for babies is the focus of a new program in Northeast Florida, now beginning its second year with a grant of $107,137. Kohl's Ready, Set, Sleep is a community program funded by Kohl's Cares and conducted by THE PLAYERS Center for Child Health at Wolfson Children's Hospital. The initiative reminds moms and dads, grandparents, and other caregivers of the importance of following safe sleep guidelines and providing only safe sleeping environments for their baby in their own home or while in the care of others. Expectant moms in their third trimester who cannot provide a safe place for their baby to sleep are referred by caseworkers to a Ready, Set, Sleep class for education and to receive a portable crib and accessories to support safe sleep.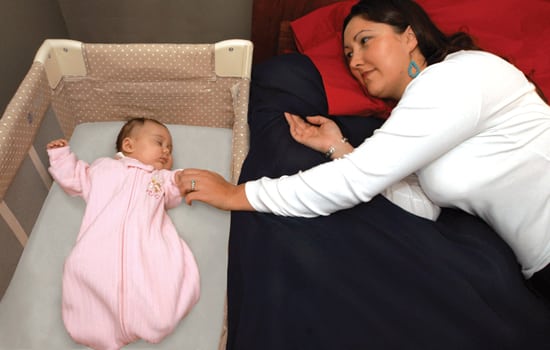 Placing your baby on his or her back for every sleep time.
Always using a firm sleep surface. Car seats and other sitting devices are not recommended for routine sleep.
The baby should sleep in the same room as the parents, but not in the same bed (room-sharing without bed-sharing).
Keep soft objects or loose bedding out of the crib. This includes pillows, blankets, and bumper pads.
Wedges and positioners should not be used.
Pregnant woman should receive regular prenatal care.
Don't smoke during pregnancy or after birth.
Breastfeeding is recommended.
Offer a pacifier at nap time and bedtime.
Avoid covering the infant's head or overheating.
Do not use home monitors or commercial devices marketed to reduce the risk of SIDS.
Infants should receive all recommended vaccinations.
Supervised, awake tummy time is recommended daily to facilitate development and minimize the occurrence of positional plagiocephaly (flat heads).
By continuing to spread the word and by assisting families in need, THE PLAYERS Center for Child Health at Wolfson Children's Hospital and Kohl's Ready, Set, Sleep program, are dedicated to the reduction of the higher than average infant mortality rate that exists in Northeast Florida. Organizations such as the Northeast Florida Healthy Start Coalition have welcomed this program into the variety of on-going community efforts to address the issues known to play a role in sleep-related deaths in infants.
For more information, visit www.wolfsonchildrens.org/readysetsleep.