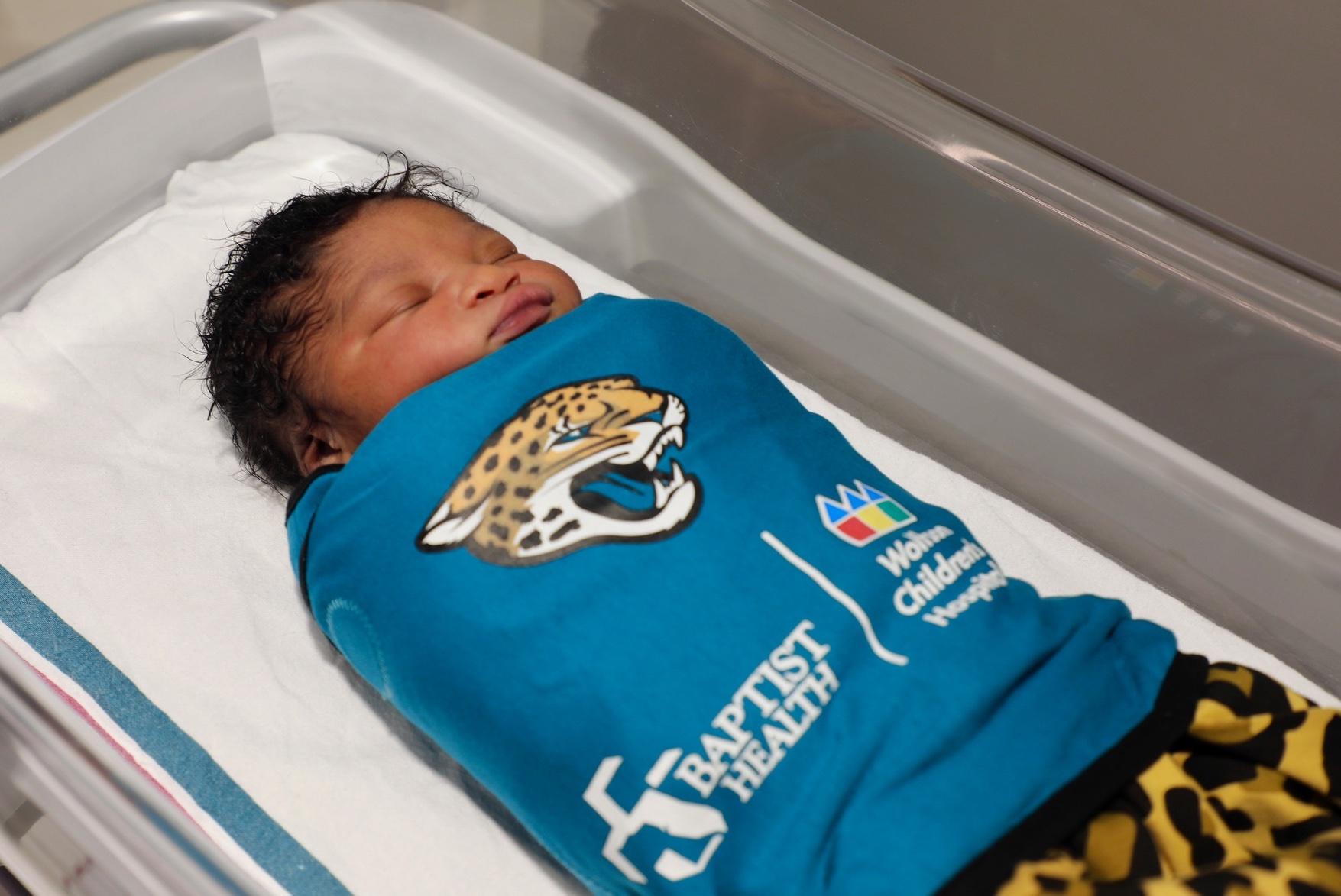 Caregivers can certainly all agree that they want their sweet little ones to get a good (and safe!) night's sleep. But as research continually evolves, the safe sleep guidelines for newborns and infants can be baffling for parents. Which types of bassinets are approved, and which methods are not considered safe for sleep? What about items that might be a suffocation hazard or those that could possibly put your infant at risk for SIDS? The information can be seemingly endless, but any potential risks can be reduced by being well-versed in safe sleep practices.
As stated by the American Academy of Pediatrics, infants should sleep directly on their backs on a firm mattress without pillows, loose blankets, stuffies, crib bumpers, and any other plush items that could result in suffocation. One possible solution? Sleep sacks. These "wearable blankets" can actually be a good alternative for caregivers looking to keep their little ones cozy and comfortable at night and during naps.
"Sleep sacks can be used with one additional thin layer of clothing," says Jessica Winberry, prevention coordinator for Safe Kids Northeast Florida and Wolfson Children's Hospital. "This allows parents to keep their baby warm without the risk of blankets."
The difference between swaddles and sleep sacks
Typically used with newborns, swaddling is a method used to help your baby feel safe and secure, similar to the cozy prenatal environment they experienced in their mother's womb. Enter the baby burrito: A lightweight blanket wrapped tightly around baby's entire body and limbs. Because their arms and legs are also secure, they're less likely to struggle with the newborn startle reflex, allowing for lengthier stretches of sleep for both the baby and parents.
Though the timing of every milestone can vary, many babies start to roll over at approximately four months old. If an infant happens to roll onto his or her tummy while secured in a swaddle, it can be unsafe — this is where a sleep sack comes in.
"A sleep sack or a swaddle sleep sack is more a clothing item. Some sleep sacks have a 'swaddle' component, and some do not," Winberry notes. "It is important to always follow the manufacturer's recommendations on how it should be used to keep your baby safe. Once a baby shows signs of rolling, the swaddle should no longer be used."
A sleep sack, as opposed to a swaddle, fits more loosely and is akin to a wearable blanket or a tiny sleeping bag with arm holes. Often made of cotton, fleece, or wool, sleep sacks typically feature zippers or snaps to make it easy for caregivers to put on and remove. Because they are sleeveless, they allow the baby's arms to move freely while still keeping the child warm at night. When used alongside other safe sleep practices, the use of sleep sacks (which are not loose blankets) can help reduce the risk of suffocation for infants.
"There are many different types of sleep sacks available for caregivers to choose from. It is important to make sure you have the correct size for your baby," Winberry said. "Each sleep sack has specific manufacturer's recommendations describing weight, height, and age that is appropriate for that item. Parents will want to use a sleep sack that fits the height, weight, and age of their baby."
Safe sleep practices
In those early months, babies sleep an average of 14 to 17 hours per day, and parents must be sure to create the safest sleep environment possible. Winberry's safe sleep tips for infants: "Babies should never share a sleep surface, whether that be an adult bed, couch, or armchair. Avoid using wedges, Boppy® pillows, and inclined sleepers for a sleeping baby."
Parents must also remember the importance of reading owners' manuals for baby items of all kinds, especially as they pertain to sleep. "Many products may look like they could be used for a sleeping baby, but often, there are specific directions and cautions outlined for correct product use," she adds. "There are many products available for parents and caregivers to buy for their babies, so make sure to research the intended use and ensure there have not been recalls."
If you do purchase infant items secondhand, make sure that all parts work properly and that there are no rips, tears, or broken pieces. To check for recalls, visit the Consumer Product Safety Commission website.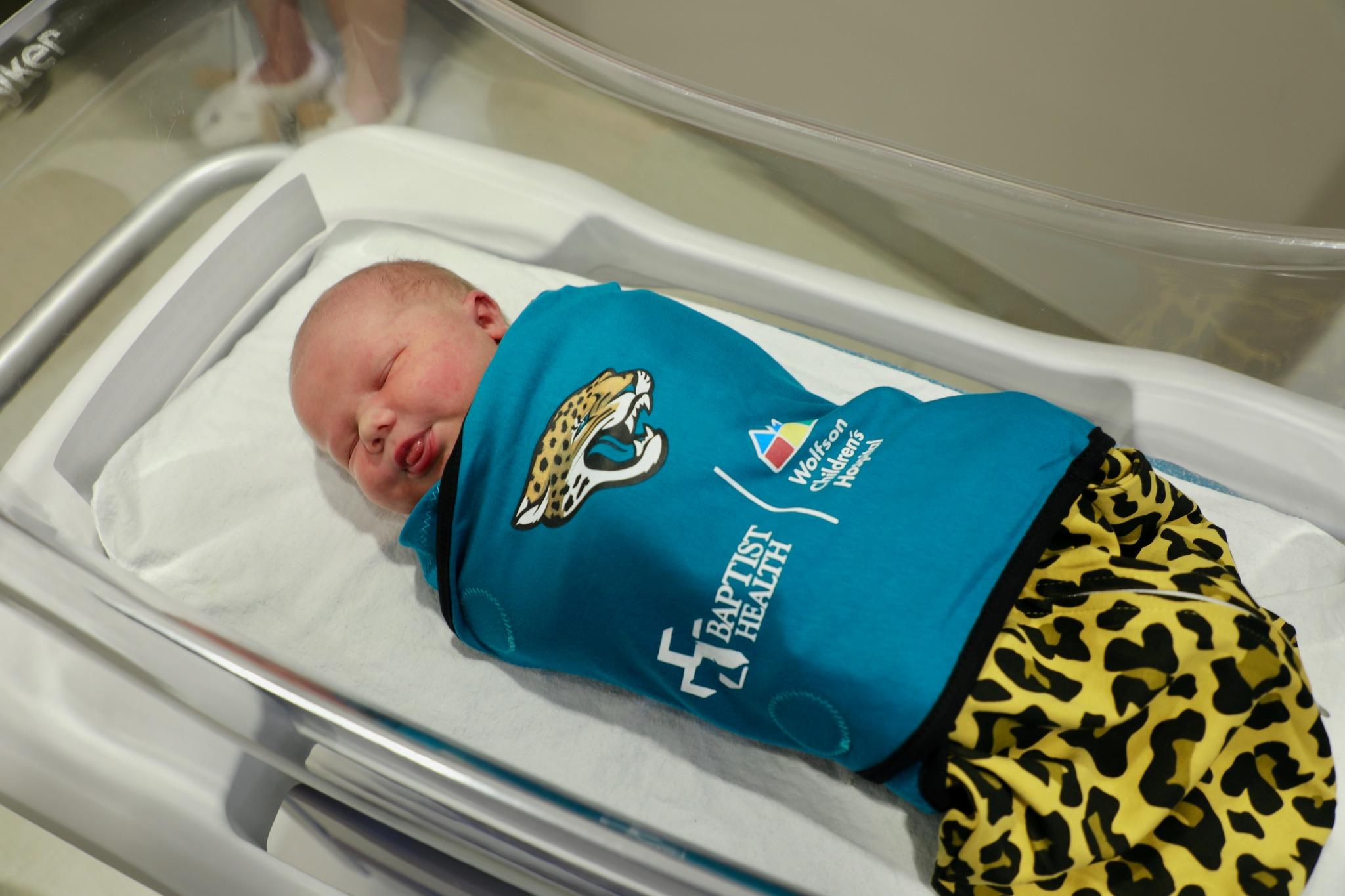 A winning team: Baptist Health and the Jacksonville Jaguars
Baptist Health Jacksonville, including Wolfson Children's Hospital, and the Jacksonville Jaguars are teaming up to promote safe sleep practices for newborns. Throughout the next year, babies born at Baptist Health hospitals in Northeast Florida will receive a safe sleep kit, which includes a tips sheet with instructions on how to create a safe sleep environment, an adorable Jacksonville Jaguars-themed sleep sack, and the Sleep Baby Safe and Snug book, as created by Charlie's Kids Foundation.
For more safe sleep tips, visit WolfsonChildrens.com/SafeSleep. To sign up for First Year Baby Safety Essentials, visit BaptistJax.com/Classes.