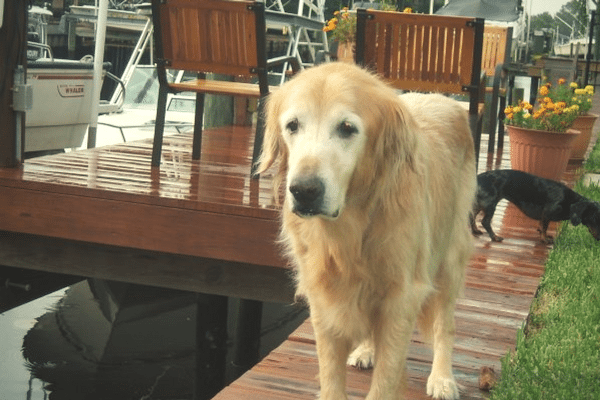 We are huge animal lovers in our house; our pets are like family. Which is why suffering the loss of a beloved pet can be doubly painful. Add in children who are attached, and it only makes the loss even harder. It's never an easy subject to talk about, but there are certain things you can do to ease the pain for you and your children.
Currently, we have two pups — 12.5-year-old Annabelle (miniature dachshund) and 1.5-year-old Charlie (golden retriever rescue), but the guy I want to tell you about today is Winston. Winston was our 15-year-old golden retriever who crossed the Rainbow Bridge three days before I gave birth to our first child. He was my husband's college buddy who lived his early years roaming the campus of Appalachian State University, hiking trails of North Carolina, and going to good ol' college parties. He loved being outside, chewing up TV remotes, getting into the bathroom trash, and barking incessantly at any tiny noise. He always had some sort of sneaky motive. He transitioned easily to married life with us, and I loved him as if he had always been mine. When he was about 8 years old, Annabelle entered the picture. She brought the spunk back in him, and they played and loved each other until his last day. It took awhile for us to be able to talk about him with out being sad because we missed him so much, but we always want to look back and remember all the good times we had together.
Tips for Remembering Your Own Special Pet(s)
Come up with a new holiday ritual. Our favorite time of year to remember Winston is at Christmas. He loved to tear into empty boxes. We hang his dog tag and bandana as an ornament and talk about how he'd love to sniff all over the tree and presents. Our kids obviously never got to meet him, but they know all about his antics!
Look through old pictures. No surprise to me, I am raising a little #CrazyAnimalLady, and one of her favorite things to do is look at old pictures of my husband and I with our nugget she never got to meet. She loves to hear stories about Winston and the crazy things he used to do!
Make a monetary donation to honor your pet. Contribute to an animal protection group. Here are a few local places to check out: Friends Of Jacksonville Animals, G.R.E.A.T Rescue of NE Florida and F.U.R Florida Urgent Rescue.
Donate pet items to a local shelter. Many animal shelters are in need of pet products. The Jacksonville Human Society has a very detailed list of specific needs. They even have an Amazon Wishlist that gets shipped right to them!
Purchase a memorial stone. Garden pet memorials are typically priced anywhere from $35 and up. They can be customized with your pet's name and make a perfect addition for your garden or anywhere else in the yard.
What special ways have you honored the loss of a beloved pet?