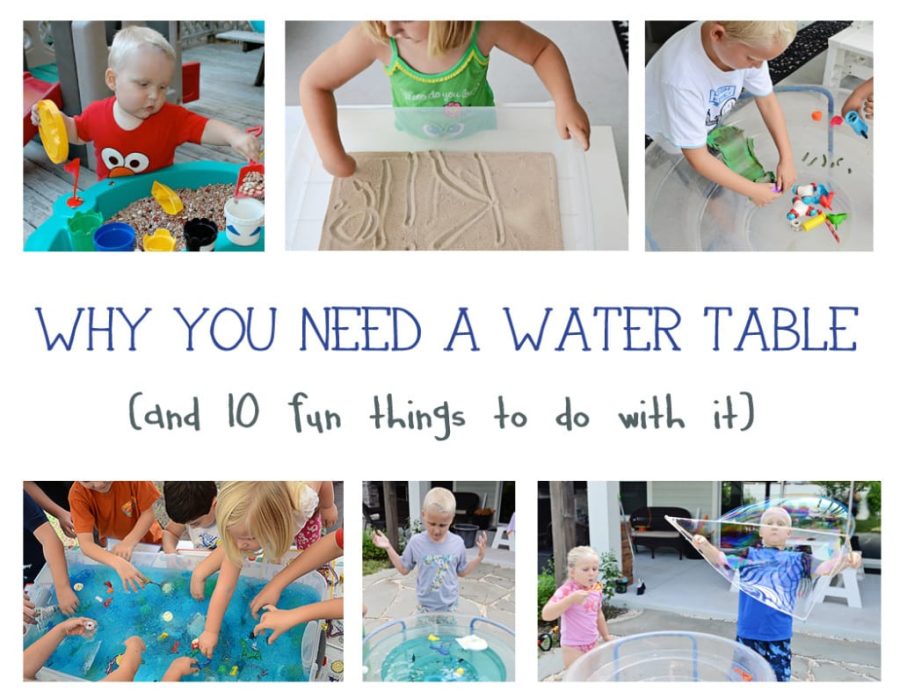 For my son's first Christmas Santa brought him a sand & water table. Little did I know, that Santa guy is a genius. Rarely a week goes by when the sand & water table doesn't get used. Obviously, water is the main attraction of the table. Little kids love water. As a mom, I love that they can splash and cool off and no one is going to drown while using the water table. I mean, let's face it, yesterday the high was 96 degrees here in Jacksonville. It's hard to be outside in Florida in the summer without some water to cool you off.
Water tables don't need to be fancy or expensive, or even originally intended to be used as sand & water tables. We often use a large plastic tub that was designed for under the bed storage for sand play. So grab a bin or your water table and try one of these fun activities.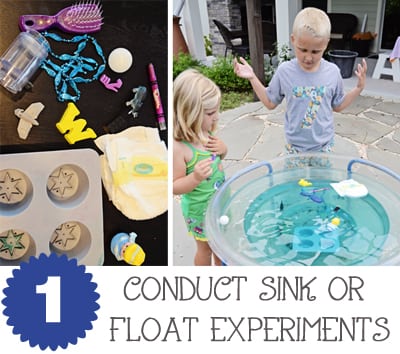 1. Conduct Sink or Float Experiments
This is a great science activity that never gets old. Send the kids around the house to collect some test objects and then let them predict if they are going to sink or float in the water table. Even I was surprised by the outcome of some of our objects.
2. Fill it with Beans
When it's too cool for water (you know those 3 days in February), we fill our water table with beans. Beans are cheap, easy to clean up and come in a variety of colors. Make sure you don't use beans with little kids who may eat them, they can be a choking hazard.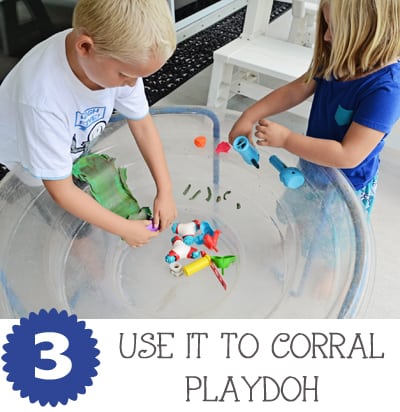 3. Use it to Corral Playdoh
I'm not going to lie, I have a love/hate relationship with playdoh. I love how it entertains my kids for hours and I hate pretty much everything else about it. I hate the mess, the cleanup, the stickiness. That hatred led me to the conclusion that I should send all playdoh outside and into the water table.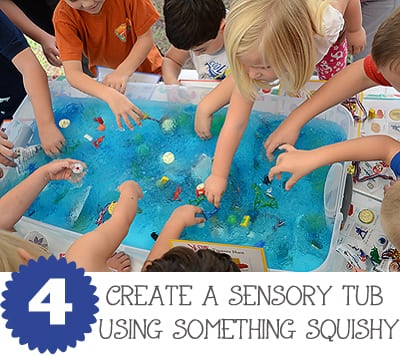 4. Create a Sensory Tub
Kids love squishy stuff. My favorite product to fill up our water table with is called Squishy Baff. I guess it was originally created to use in the bathtub (do people actually put stuff like this in their tubs?) Aqua Beads are another favorite squishy item that the kids love. Make sure to watch small children with these items because they can be a choking hazard.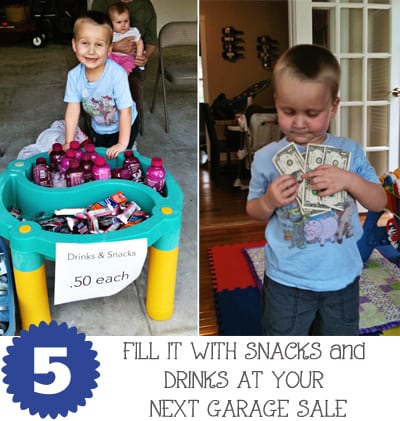 5. Fill it with Snacks & Drinks at your next Garage Sale
Garage Sales can be a bore for kids. Why not use your sand & water table to set up a drink and snack station for them.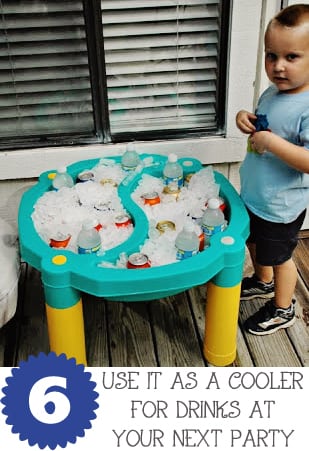 6. Fill it with Drinks at your next Party
This is hands down my most favorite way to use our water table. The water table makes a perfect cooler for drinks at your next party. The stopper in the bottom makes it easy to drain when you're done with it.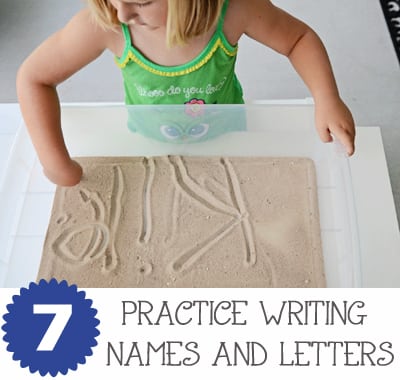 7. Practice Writing
Sand is a great medium for little kids to practice writing their names or forming letters. Just give it a little shake and it's a blank slate, ready for a new set of words.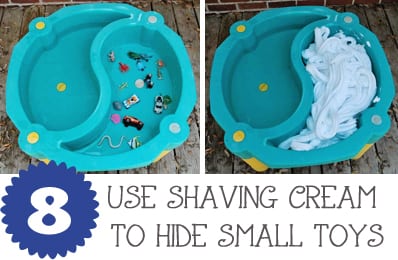 8. Use Shaving Cream to Hide Small Toys
A shaving cream scavenger hunt is the perfect way to kill a little time in the afternoon. You can fill the opposite side of the table with water and rinse off any treasures that are found.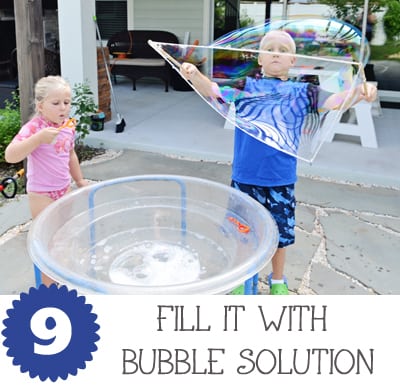 9. Fill it with Bubbles
Kids love bubbles. Try filling your water table with bubble solution. I like to make my own using a mix of 12 cups water, 5 cups unscented & uncolored dish soap and ½ cup glycerin. You can also just buy bubbles and dump them into the water table. When they're done making bubbles I water down the solution and we do some "spring cleaning" with all our outdoor toys.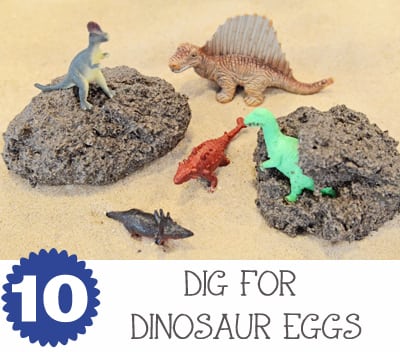 10. Dig for Dino Eggs
If you have a dinosaur lover in your home then you must try making your own dino eggs. Mix together 1 1/4 cups dirt, 1 1/4 cups of flour, 3/4 cups salt, 1/2 cup sand. Add some water until it forms a mushy clay-like mixture. Form eggs around your plastic dinosaurs and leave them outside to harden for 3-4 days. Once your eggs are hard you can bury them in the sand and let your junior paleontologist dig for them.
What's your favorite way to use your sand & water table?
This post contains affiliate links.