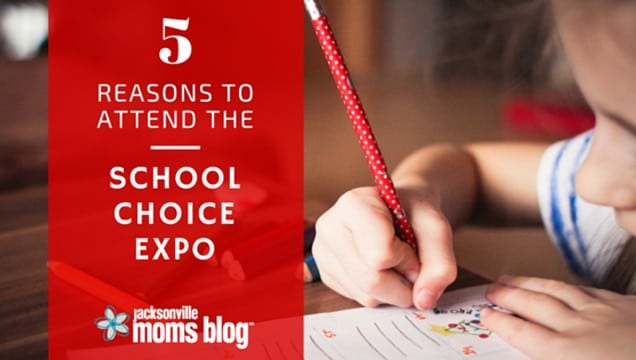 On Saturday, January 12th, Duval County Schools will be hosting their annual School Choice Expo at the Prime Osborn Convention Center. The Expo will be held from 11am-3pm and offers families a great opportunity to learn about the many different educational options in Duval County. Parents will have the chance to explore the many school choices available for K-12 students in Jacksonville.
Here are the top 5 reasons why you should attend the School Choice Expo this year.
Every Duval County public school will be represented at the School Choice Expo. That means that there will be someone from each and every school all under the same roof. The expo showcases magnet programs, charter schools, high school acceleration programs and neighborhood schools for all grade levels. Teachers, principals, and students from every school in Duval County will be on hand to talk with parents and students about their academic offerings. This is the perfect time to chat with representatives from the schools and get a better feel for not only what types of programs they offer, but the school culture as well.
The School Choice Expo is completely free and there's free parking at the Prime Osborn for the event. You'll even save money on gas, not having to drive all over town gathering information about different schools.
It's never too early to start researching your school options. Even if you have another year until your baby starts kindergarten, or high school isn't even a blip on your radar, it will be here before you know it. The sooner you start researching your educational choices the easier it will be to make the right decision for your family when the time comes.
There are more than just schools to see. The convention center will be packed with other educational vendors, performances, and even a few mascots. The day will be filled with student performances consisting of choirs, bands, drama, dance, and musical theater all from schools in Jacksonville.
Getting involved in your child's education is one of the most important things you can do for them. Parental involvement begins with researching all the available options for your child's education. Even if your final choice is to stick with your neighborhood school, being aware and educated about what is available to you makes you better prepared for your child's educational journey.
The Duval County School Choice Expo will be held on Saturday, January 12th from 11am-3pm at the Prime Osborn Convention Center.
If you're interested in researching your educational options, but can't attend the Expo, here are a few links from past Jacksonville Moms Blog articles to get you started.