As a mom, it is never too early to get familiar with schooling options in Jacksonville. I think many moms-to-be quickly learn what schools they are zoned for and what grades the schools have earned. If you haven't, it is easy to find out. Just enter your address through Duval County Public Schools' website, and then check here to find your schools' grades!
In addition to the schools we are zoned for, we also are very fortunate to have other options in Duval County. Many people argue that sending your kids to Magnets and Charters is like getting a private school education for free!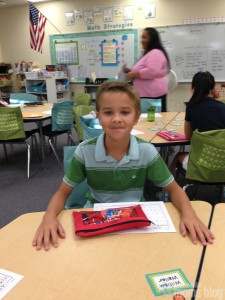 Charter Schools –  Charter schools operate under a charter with the Duval County School Board but are not required to adhere to the same rules and regulations as traditional public schools. While these are not new to Jacksonville, I feel like they have become more popular lately as many parents are seeking an alternative to traditional schooling.
Initially, many of Jacksonville's charter schools targeted at-risk (of dropping out) students, but now there are many charter schools that are designed to reach students not at-risk! Applications are required, and spaces are assigned via lottery. Currently, there are over 30 Charter schools in Duval County. Applications are handled individually by each Charter school, with some available as early as November 1.
Magnet Schools – Magnet schools focus on certain themes or areas of special interest, like Montessori or Health and Science, but follow the rules and regulations of traditional public schools. Like Charter schools, an application is required, and lottery determines placement. Currently, there are over 50 Magnet schools in Duval County. Applications are available now and are due by February 28th. Click here to find out more about applying to a magnet school.
What To Do Next
Begin Researching – What schools are out there? What kind of learning environment would be best for my child?
Expo – Last year, Duval County hosted an expo to provide parents an opportunity to explore all the options available!
Tour Schools – Step on a campus to get a feel for what it's like!
Talk to other students and families – We can learn so much from other families' experiences.
Apply – Make note of all deadlines, and apply on time! Magnet and Charter deadlines are different and students can apply for both!
This is not a sponsored post, and I am not pushing public school over private school or homeschooling. Just sharing the information with our friends at JMB! We all know how stressful choosing a school can be, especially for first-time moms and moms who don't know all of their options.
Many times I've been asked about schools in my area and I love being able to share my knowledge with other moms. With two kids in elementary school, one entering Kindergarten next year and another behind her, I feel like I've learned a lot.
Is your child attending a Magnet or Charter school? Please share any tips and advice with our readers!