Take a deep breath. Camping with a toddler is not as stressful as you may think it would be. With summer coming up in a couple of months, this is the best time to start planning for your trip. Camping spots do book up fast, and here are some tips based on our own experience.
Preparation is the keyword here.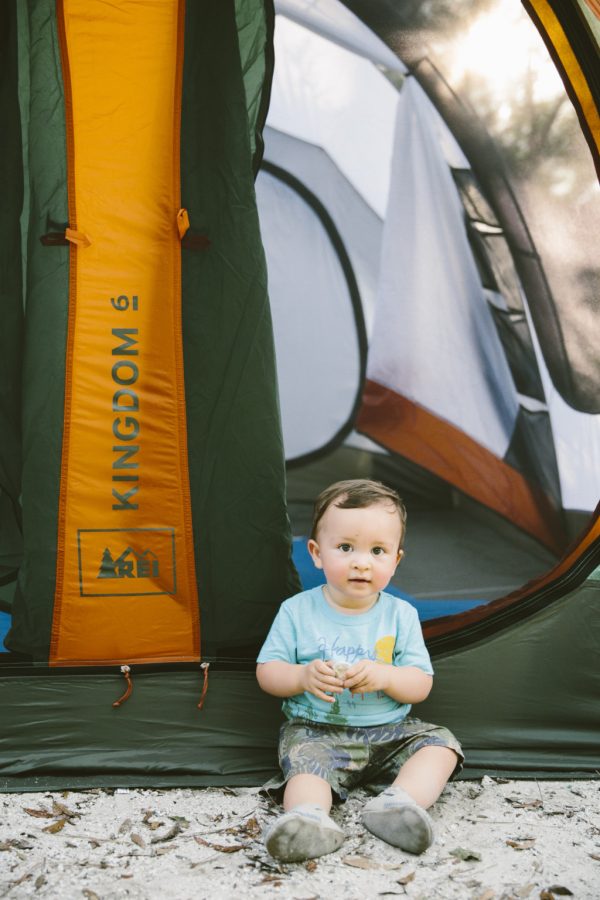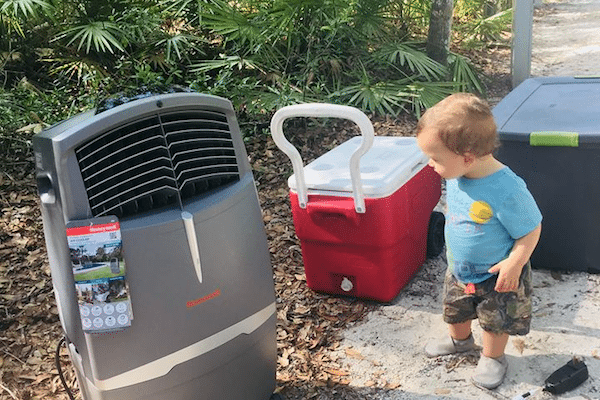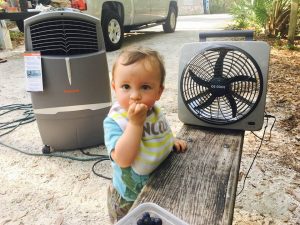 1. Have the right camping gear.
We own the Kingdom 6 tent from REI, and we love that we can separate our sleeping and play area for our little guy, Lincoln. So if it did rain on us, we still had an open area to keep him occupied and entertained. We also brought our trusty Pack 'n Play to help contain him while we were unpacking, getting the food ready, and when we went to sleep at night. We did forget to bring a high chair, so dinner was a little challenging with a squirmy 14-month-old on my lap. I highly recommend getting the Chicco Caddy Hook which you can easily attach to a picnic table. For an alternative, my friend Lori loves her portable high chair from Summer Infant.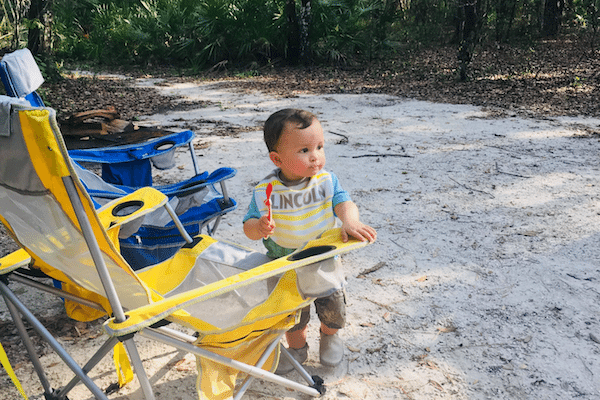 2. Bring extras of everything.
Extra clothes, food, toys, diapers, wipes, and Ziploc bags (for snacks, soiled diapers, etc.) are a must! Pack layers of clothes. It was hot during the day, but it got a little chilly at night when we camped out last summer at Paynes Prairie Preserve State Park near Gainesville. We brought socks and a beanie hat for Lincoln just in case the temperature dropped and had a small swaddle blanket for him, also, though I kept waking up to check on him. Lincoln hates sleep sacks so putting him in one of those toddler sleeping bags would have been futile for us. Also, don't forget your pillows and extra pillowcases!
Not only that, but Lincoln's baby powder that we always keep in his diaper bag was useful for brushing sand off his feet. A couple of small items I wish we brought with us are: water jug with the spout and hand soap with pump so it would have been easier for washing sticky hands and rinsing off dirty dishes and toys. We preferred our tent to be near the bathrooms, so we didn't have a far walk for our toddler when it came to bath time.
Also be sure to bring rain boots and water shoes if you're camping by the beach. Definitely pack extra snacks and food, and don't forget to store your cooler inside your car or tent, otherwise, don't be surprised if a sneaky rascal raccoon gets ahold of your eggs and bacon. (We learned that the hard way!) My friend Anna also suggests bringing extra hotdogs since they had a few too many go right in the fire pit when she went camping with her own little ones.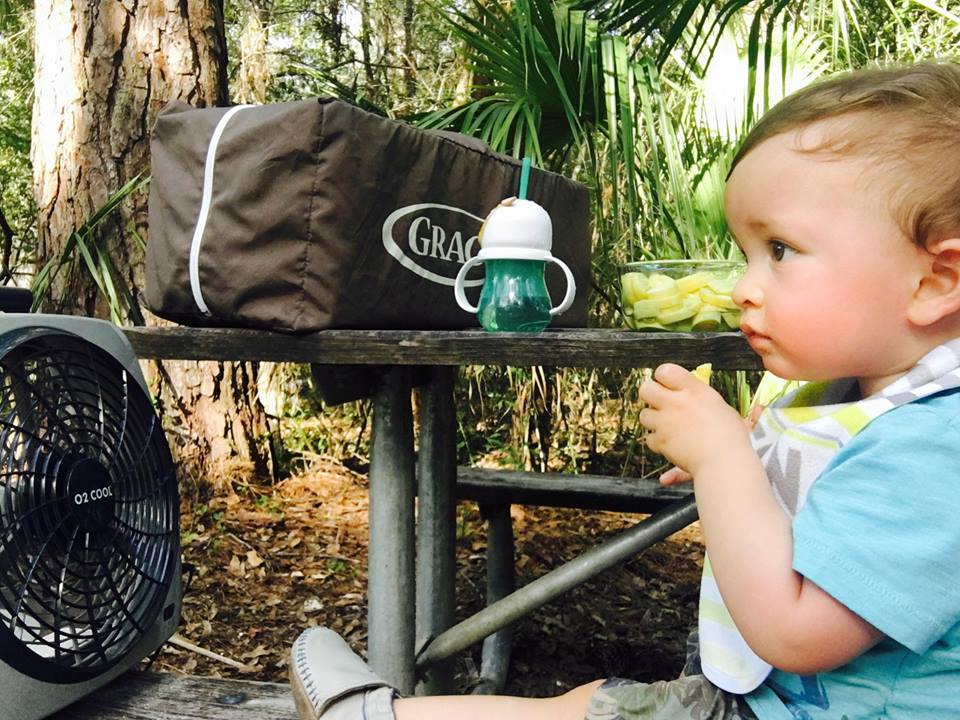 3. Plan your meals in advance.
It's always good to know ahead of time what you are going to eat for breakfast, lunch, and dinner, and prep them at home if you can so you don't have a whiny, hungry child when it's time to eat. We had chicken and veggie kabobs already prepped for dinner, breakfast burritos cooked at home, and all we had to do was heat them up on the fire pit. We then made sandwiches for lunch. Cutup veggies and fruits, food pouches and Cheerios were also lifesaver snacks for us. Oh, and what is camping without s'mores, so be sure you have all of the essentials packed. S'mores are yummy but also messy, so those extra wipes come in very handy!
4. Have backup plans for entertainment.
We had this grand idea of hiking, but Lincoln doesn't like to be contained in a baby carrier and wanted to walk instead. His little feet got tired fast, so we didn't get far. We drove to the nearest observation tower and hung out there instead. It was so hot during the day, and we were not ashamed of bringing our swamp cooler with us and plugging it in the outlet at our campsite! It kept us cool in our tent while we played with toys from home and also during nap time. Bring new books to read at night, and my friend Sarah mentioned bringing glow sticks. I think our little guy would have liked that at night, and I'll remember it for next time!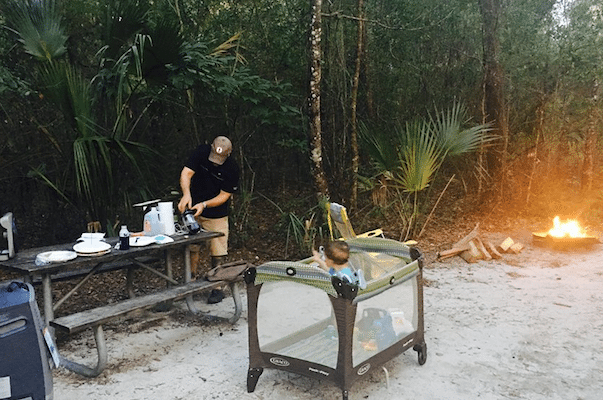 5. Better safe than sorry.
Make sure to have a first-aid kit for your toddler, with items like hydrogen peroxide, Band-Aids, Children's Tylenol, teething tablets, hand sanitizer, anti-itch cream, tweezers, Q-tips, etc. Don't forget sunscreen and bug spray; we love ours from the Honest Company. Check the camping spot for ant hills, poison ivy, poison oak, and poison sumac before setting up your tent, and know how to reach a park ranger anytime of the day if an emergency does arise.
And most of all, remember, you got this! If it makes you feel better, practice camping first in your backyard. Pitch a tent outside and go sleep out there with your kids. If it gets too much, then you can always go back inside the house. Don't stress too much while camping, and lower your expectations if you don't get that perfect Instagram-worthy shot. Have fun creating memories that will last a lifetime with your family. My husband and I love the outdoors, and camping out in the woods is one of our favorite things to do together. We hope to instill the same love of nature in our little guy while roughing it out in the Florida heat (with a swamp cooler)!
Do you have any additional tips for camping with babies or toddlers?