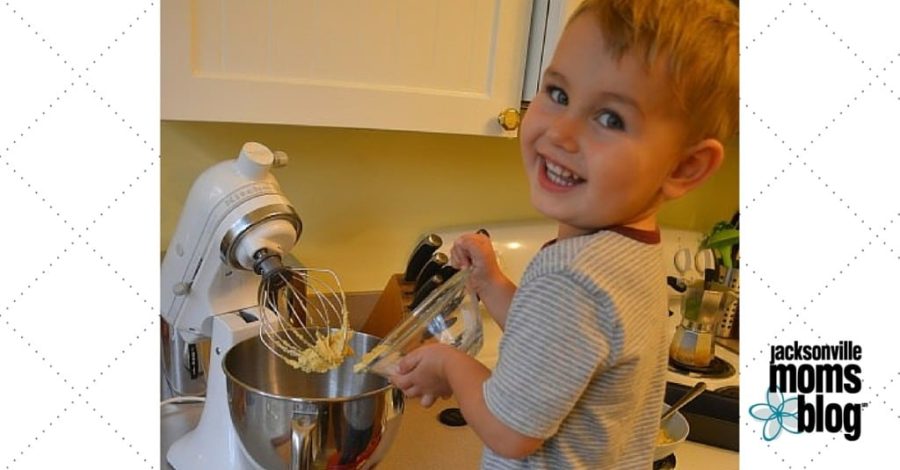 When we lived in Europe, every Daycare (Crèche) I saw had an on-site kitchen. The kitchen had two proposes. Primarily it was to make food for the children. I remember walking into our son's crèche and smelling leeks sautéing for the potage (soup) of the day. While the quality of the food had little, to no, impact on my son's eating habits, it had a second more enjoyable (for him) purpose. From the time the children could stand up and hold a spoon, they were helping bake in the kitchen. It was nothing fancy, but it was something they did on a regular basis. Many people think that baking is important for children because it helps them develop fine motor skills. I am sure that is true, but I like it because I think it's important for children to understand where the food comes from and that it requires preparation.
When looking through a calendar of silly things, I noticed February is "Bake for Family Fun Month," so I decided to dust off the Kitchen Aid and prepare myself for cleaning flour up off the floor. Whenever we have too many bananas I put them in the freezer, so Banana Bread seemed like a good place to start.
Chocolate Chunk Banana Bread
3 medium-to-large very ripe bananas
1/2 cup (115 grams) butter, melted
3/4 cup (145 grams) brown sugar (I use dark here; either light or dark work)
1 large egg
1 teaspoon pure vanilla extract
1 teaspoon baking soda
1/4 teaspoon table salt
1/2 teaspoon ground cinnamon (optional; I skip it)
1 cup (125 grams) all-purpose flour
1/2 cup (about 3 ounces or 85 grams) semisweet or bittersweet chocolate chunks or chips
Heat your oven to 350°F. Butter a 9×5-inch loaf pan, or spray it with a nonstick baking spray.
Mash bananas in the bottom of a large bowl. (You'll have a little over 1 cup mashed banana total.) Whisk in melted butter, then brown sugar, egg, and vanilla. Place baking soda, salt, cinnamon, and flour. Stir dry and wet ingredients with a spoon until just combined. Stir in chocolate chunks or chips.
Pour into prepared pan and bake 55 to 65 minutes, until a tester or toothpick inserted into the center of the cake comes out batter-free. (A melted chocolate chip smear is expected, however.) Cool in pan for 10 to 15 minutes, then run a knife around the edge and invert it out onto a cooling rack. Serve warm or at room temperature.
The banana bread will keep for up to 4 days at room temperature. I keep mine wrapped in foil.
Enjoy!