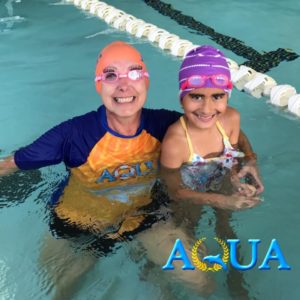 3993 San Jose Park Drive, Jacksonville, Florida, USA
AquaClub is a professionally operated swim school devoted to teaching the BEST of swimming to all levels and ages! We have a heated salt water pool, year-round lessons, smallest ratio's in the country and certified coaches!
Offerings:
Free Swim Evaluation: Call us today 904-775-9400!
Free Swim Lesson for all babies 2 – 6 months old!
Private Lessons
Group Lessons
Birthday Parties
Professional and top notch for little ones learning to swim.
Marissa enjoys every Saturday at her swim lesson. She says she has learned a lot, enjoys going, likes the instructors and just has a fun time. She is proud of having learned how to float on her back by herself, kick her legs, put her head under water, ans so forth. She has a fun time at swim school and looks forward to it each week.
You must login to post comments
Aqua Swim School has amazing swim coaches!!! And love that they offer free evaluation on all kids as well as FREE swim lessons to all babies ages 2-6 months old with their parent. – an invaluable gift to all families!!!
They work with First Coast Kids Triathlon helping to get elementary age kids ready to complete a Tri. Truly lessons for everyone!
You must login to post comments