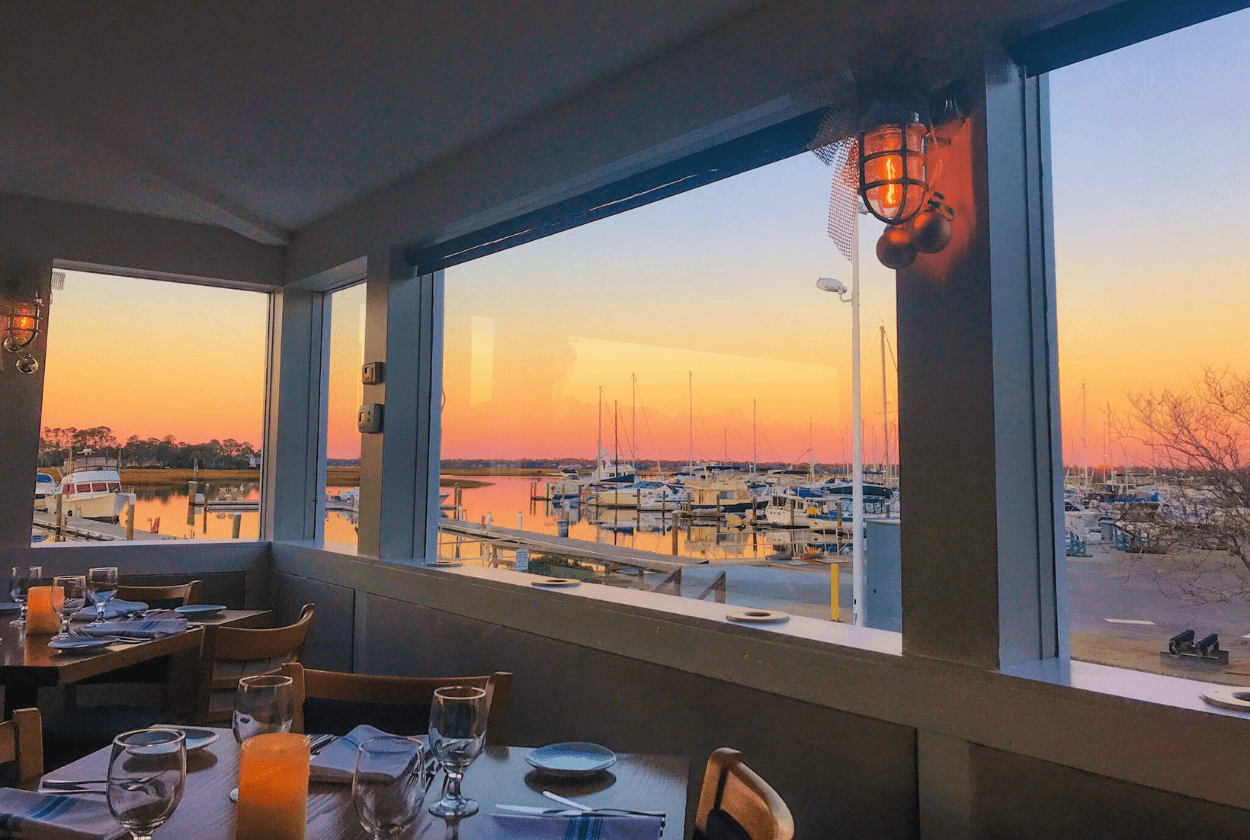 Date nights are so important. I mean, if we're doing continuing education for our careers, shouldn't we do things like date nights to better our marriages, too? Yes. Yes, we should. And let's not forget, we're also setting the example for our sons as to how they should treat ladies, and showing our daughters how they should be treated by men. So make the reservation, put on your favorite outfit, and let's go eat some delicious food with our spouse.
Now, I will admit, these are not casual, inexpensive suggestions I'm making here. These are locally owned restaurants in Northeast Florida that will give you an incredible dining experience. Ready? Let's get boujee. Read on for full reviews (with menu recommendations!) for the best date night restaurants in Jacksonville.
Click link below to skip straight to that restaurant's review.
Downtown Jacksonville
Cowford Chophouse
Riverside & Avondale
River & Post
Biscotti's
Josephine
San Marco
Bar Molino
Rue Saint-Marc
Matthew's
St. Johns Town Center
Prati Italia
Southside
Norikase
Atlantic Beach
Salumeria 104
Azurea
Neptune Beach
Doro
Mezza Luna
Jacksonville Beach
Eleven South
Marker 32
O-Ku
Intracoastal West
Catullo's Italian
Dwight's Bistro
Ponte Vedra Beach
Restaurant Medure
Palm Valley Fish Camp
Coastal Wine Market
St. Augustine
Llama
River & Fort
Casa Reina Taqueria & Tequila
Sainte-George
Michael's
Caps on the Water
Asado Life
Downtown Jacksonville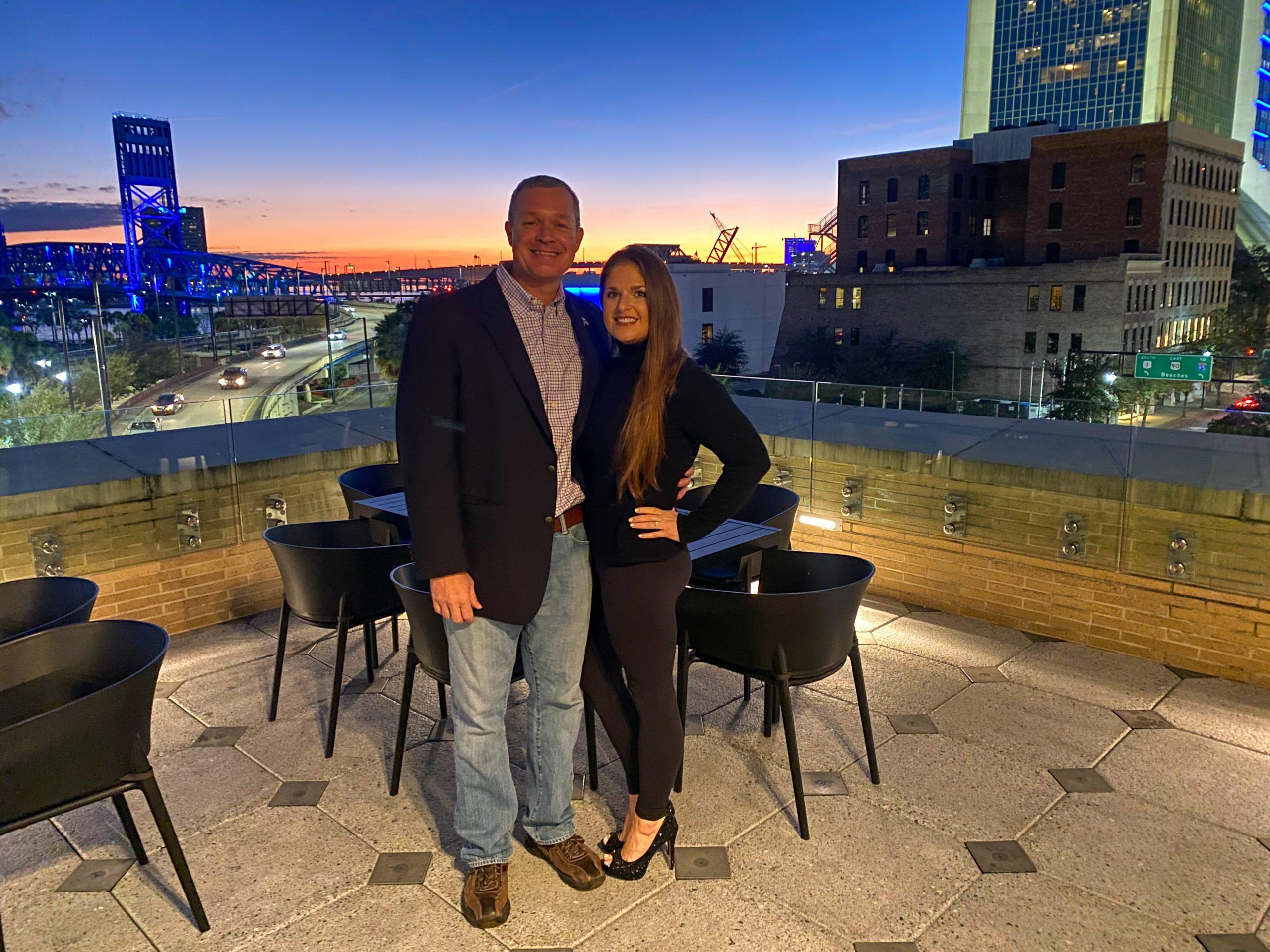 Cowford Chophouse
Cowford Chophouse is the gem of downtown Jacksonville. Enjoy a drink on the rooftop before dinner and take in the sunset views of our beautiful city. The bacon appetizer is one of my favorites. It's really good bacon, y'all — you can't go wrong. The seafood tower is an experience of its own — must try. For soups and salads, I love the wedge salad and French onion soup. My favorite Cowford Cut is the American Wagyu Spinalis with the Point Reyes Blue Cheese Butter Crown. Folks, this is one of the best steaks I've ever had. Anywhere. I said it. As far as sides, literally, all of them are delicious. Seriously, there's not one that I wouldn't recommend. The Chocolate Espresso Martini is a perfect way to end the meal. If you have a sweet tooth, try the cheesecake or the cinnamon roll brûlée. Lawd have mercy, it's good.
Riverside & Avondale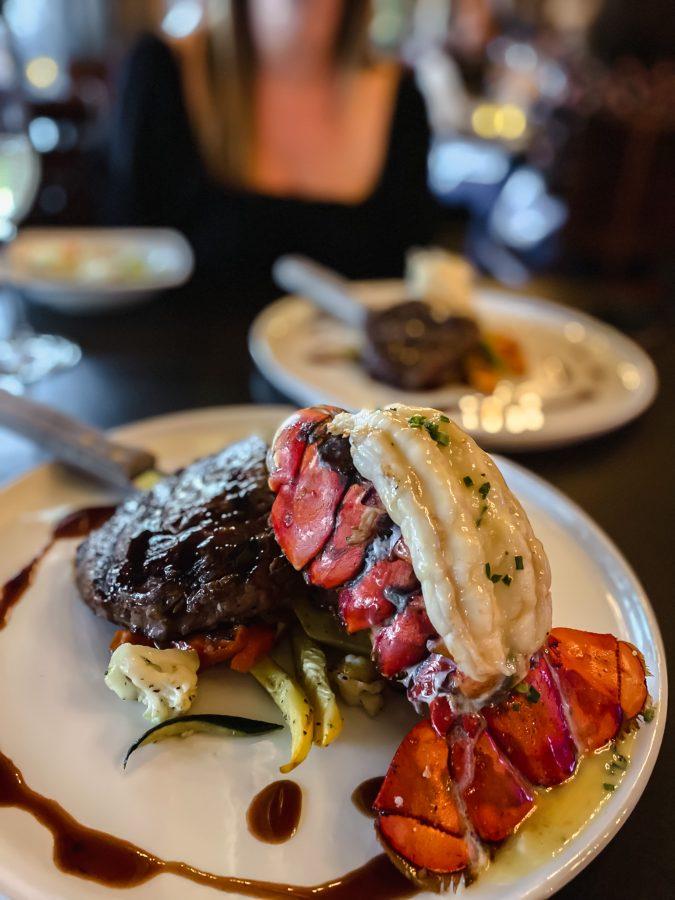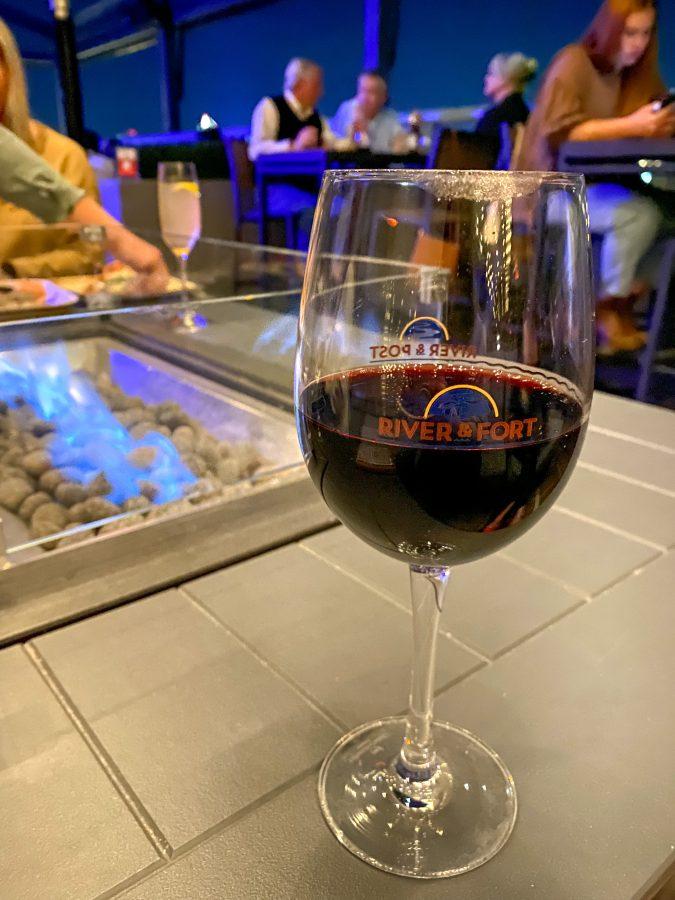 River & Post
Filet mignon and lobster, cooked to buttery perfection. Need I say more? River & Post has this and so many more mouth-watering dishes. And the rooftop bar is so beautiful. It's the perfect place to snuggle up after dinner and look romantically into each other's eyes over the light of the fire. *giggle* It's also great people watching, and it has gorgeous views of the city.
Biscotti's
From the rustic brick walls, and local artwork, to the romantic lighting and incredible desserts, Biscotti's is the perfect cozy little corner of Avondale to snuggle up and enjoy a delicious meal. Start with a little cheese and charcuterie. Don't know what to get? No problem, the knowledgeable staff can make suggestions for you. For entrees, my goodness, I don't think you can make a bad choice here. Everything is delicious. Just leave room for dessert. These desserts are a staple in Jacksonville, y'all. Boston creme cake, German chocolate cake, Gran Marnier Cake, peanut butter mousse, white chocolate raspberry cheesecake, and… did I mention they have cake? Just order it. Eat the cake. Walk an extra mile or five tomorrow.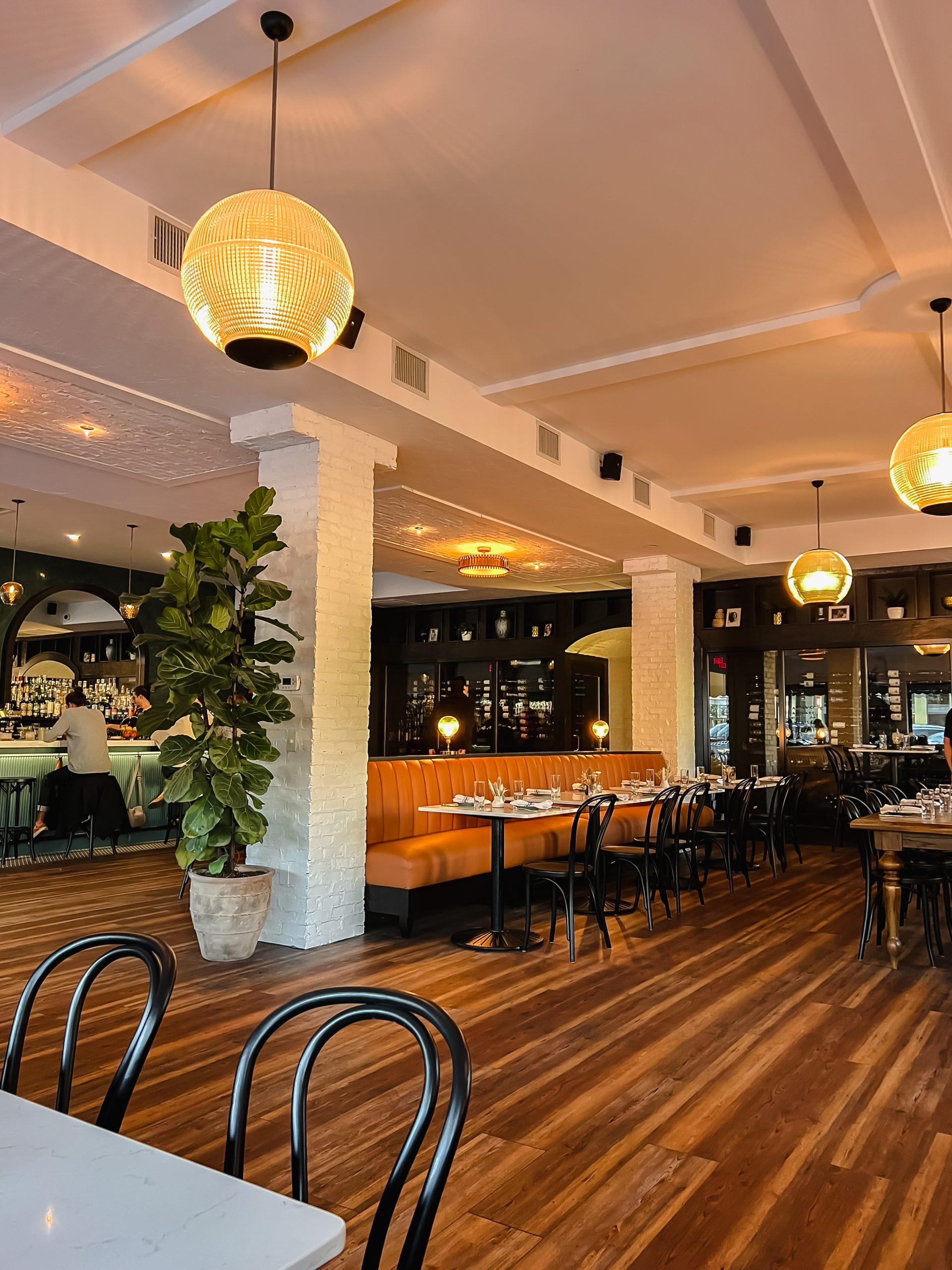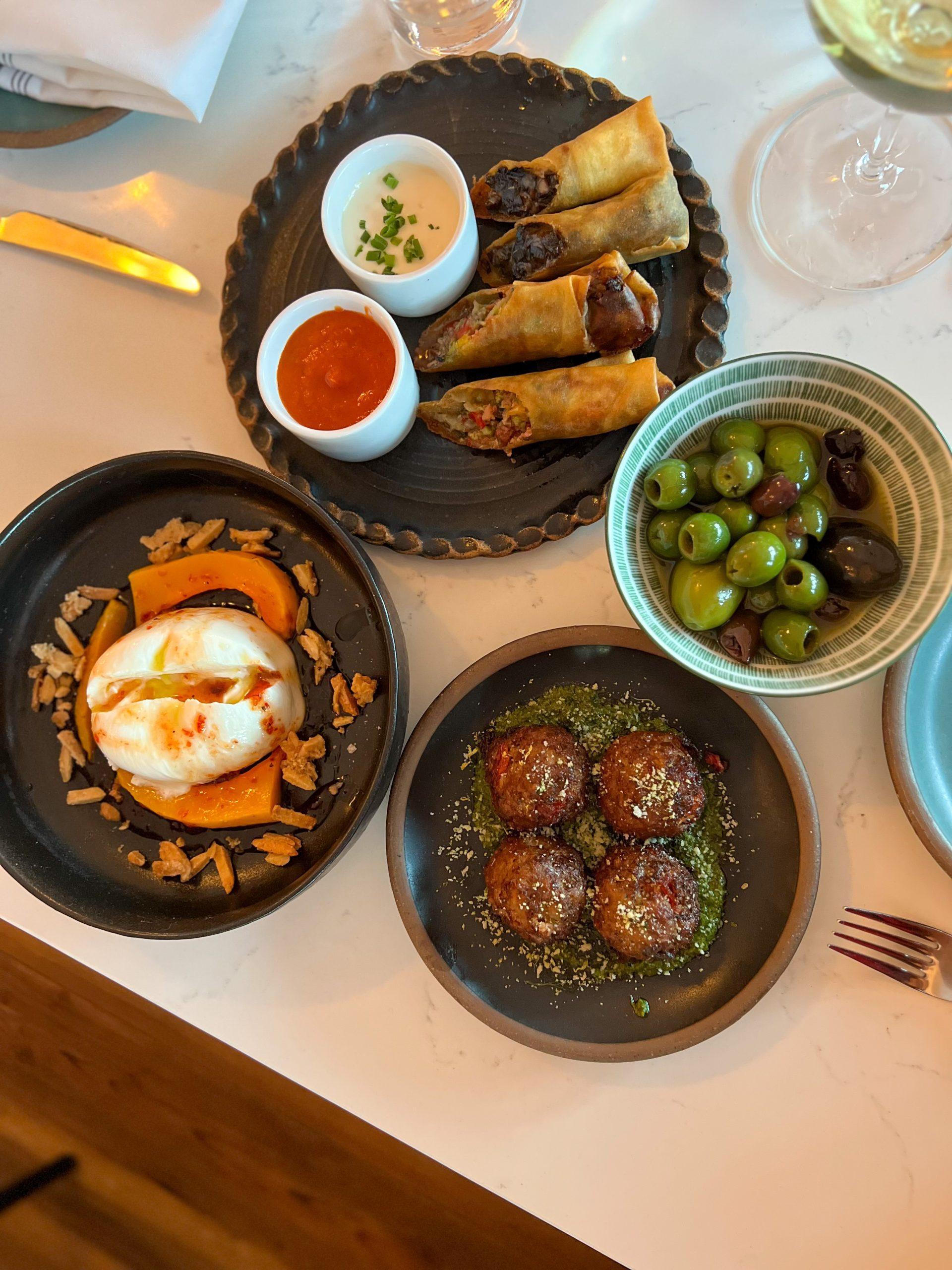 Josephine
Fabulous! Be sure to order some of the fresh-made focaccia with your dinner at Josephine. So good! My favorite appetizer is the pizza rolls. These are not the frozen pizza rolls of our youth. These are little bites of heaven. For pasta, they're all good, but I suggest the cache e pepe and the pinwheel lasagna. And trust me when I say LEAVE ROOM FOR DESSERT because Lawd have mercy the pastry chef, Chef Nickey, is not only one of the best in the business, she's been featured in Forbes for her delicious culinary creations. Y'all, I literally woke up thinking about that olive oil cake the next morning. *drool*
San Marco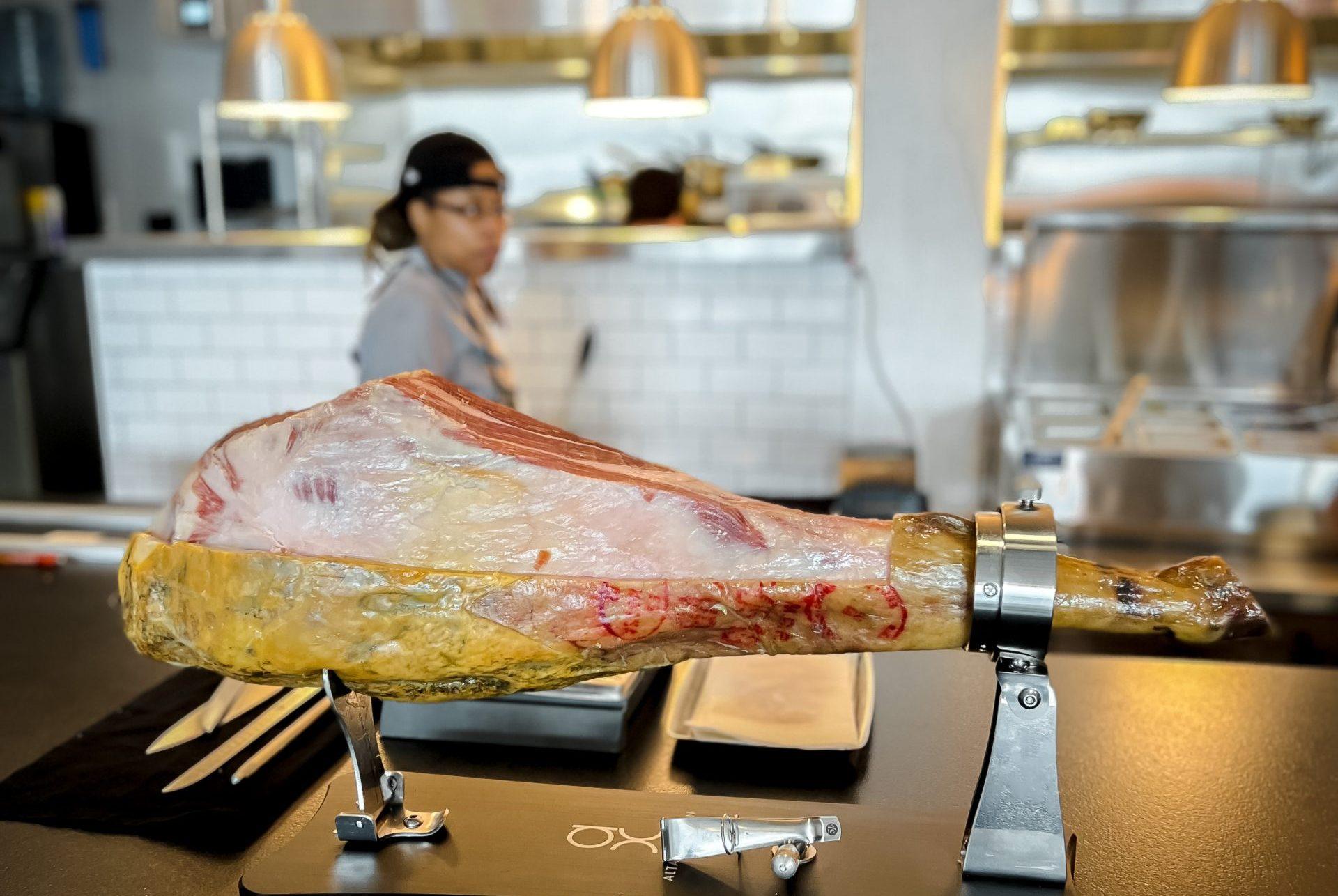 Bar Molino
Bar Molino is one of the newest hot spots in Jacksonville with Spanish tapas and wine. It's traditional Spanish flavors with elevated ingredients, all on small plates. This is one of my favorite ways to dine. A little bit of everything, but not a lot of anything. It's. So. Good. If there's one thing you have to try, it's the hand-cut Jamon Iberico. You can see impressively displayed in front of the open kitchen. They hand-cut each order, and it absolutely melts in your mouth. Also, have you ever drank from a porron? Ask for it. It's a good time. I had so much fun with it that I ordered one for our home the next day.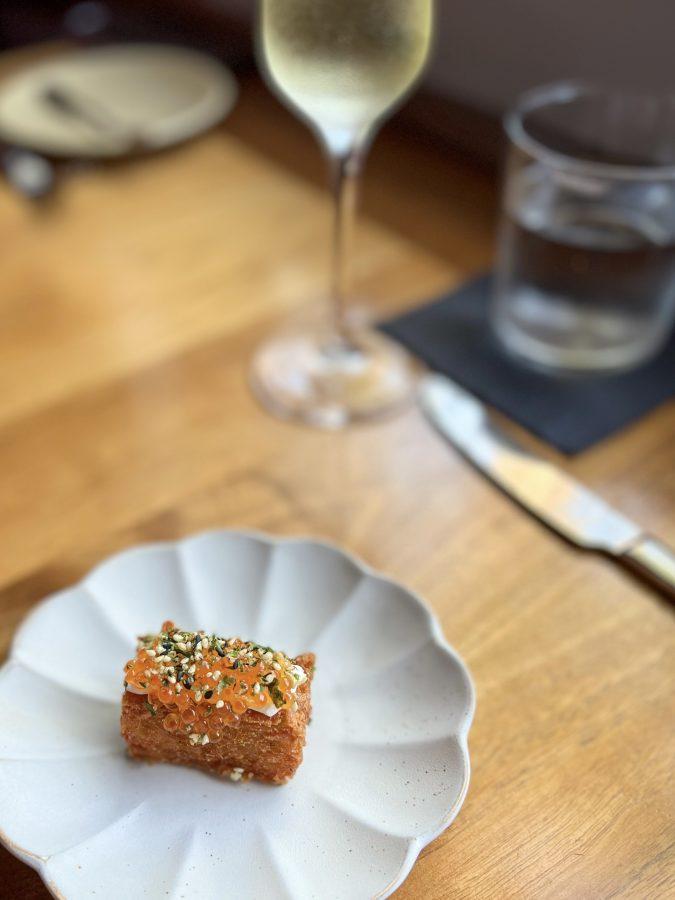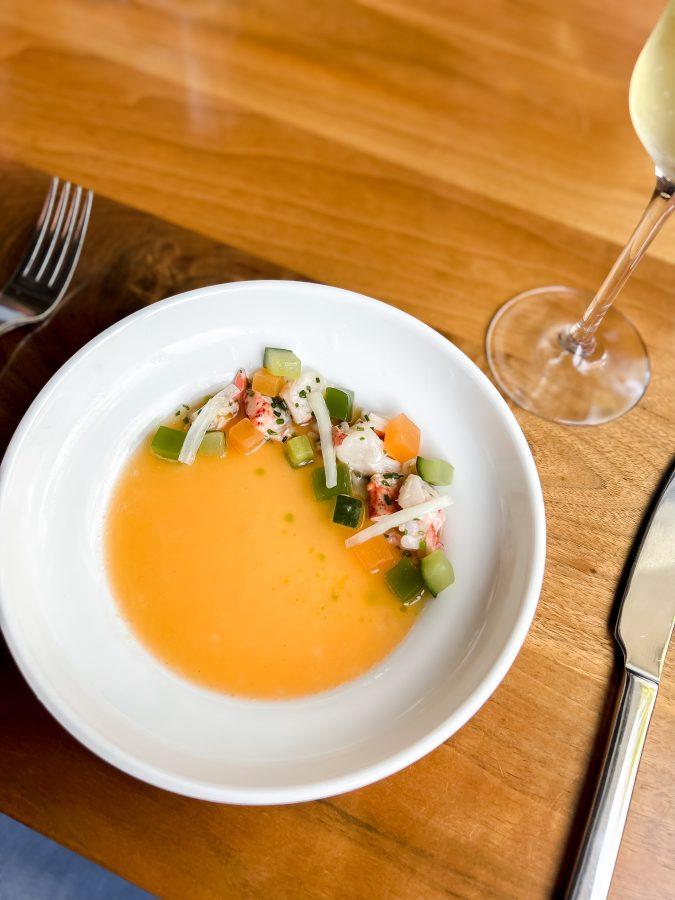 Rue Saint-Marc
Rue Saint-Marc is of my favorite dining experiences in Northeast Florida. I highly recommend the chef's tasting menu with wine pairings. I'm talking fine dining at its best with a highly trained knowledgable staff, artfully prepared food, synchronized service, and exquisite wines. Everything we enjoyed was impeccably prepared, with fresh, quality ingredients, and so much attention to detail. One of my favorite bites is always the Pommes Paillasson with choice crème, trout roe, and nori furikake seasoning. Y'all, it's the fanciest little tater tot you've ever eaten. The craft cocktail menu is also fabulous. The Patio Pounder is one of my seasonal favorites — refreshing and delicious. Make your reservation today and experience all that Rue Saint-Marc has to offer.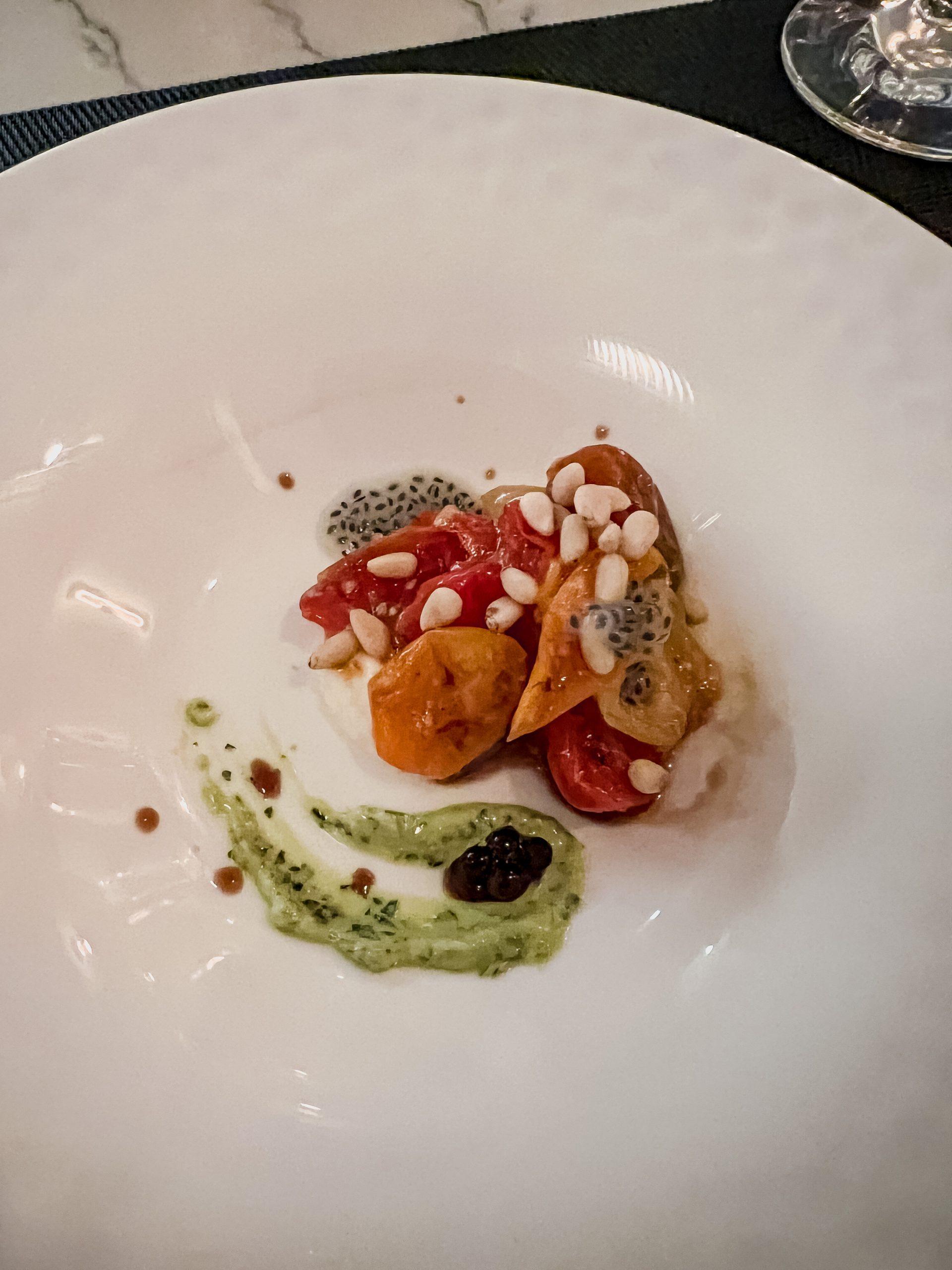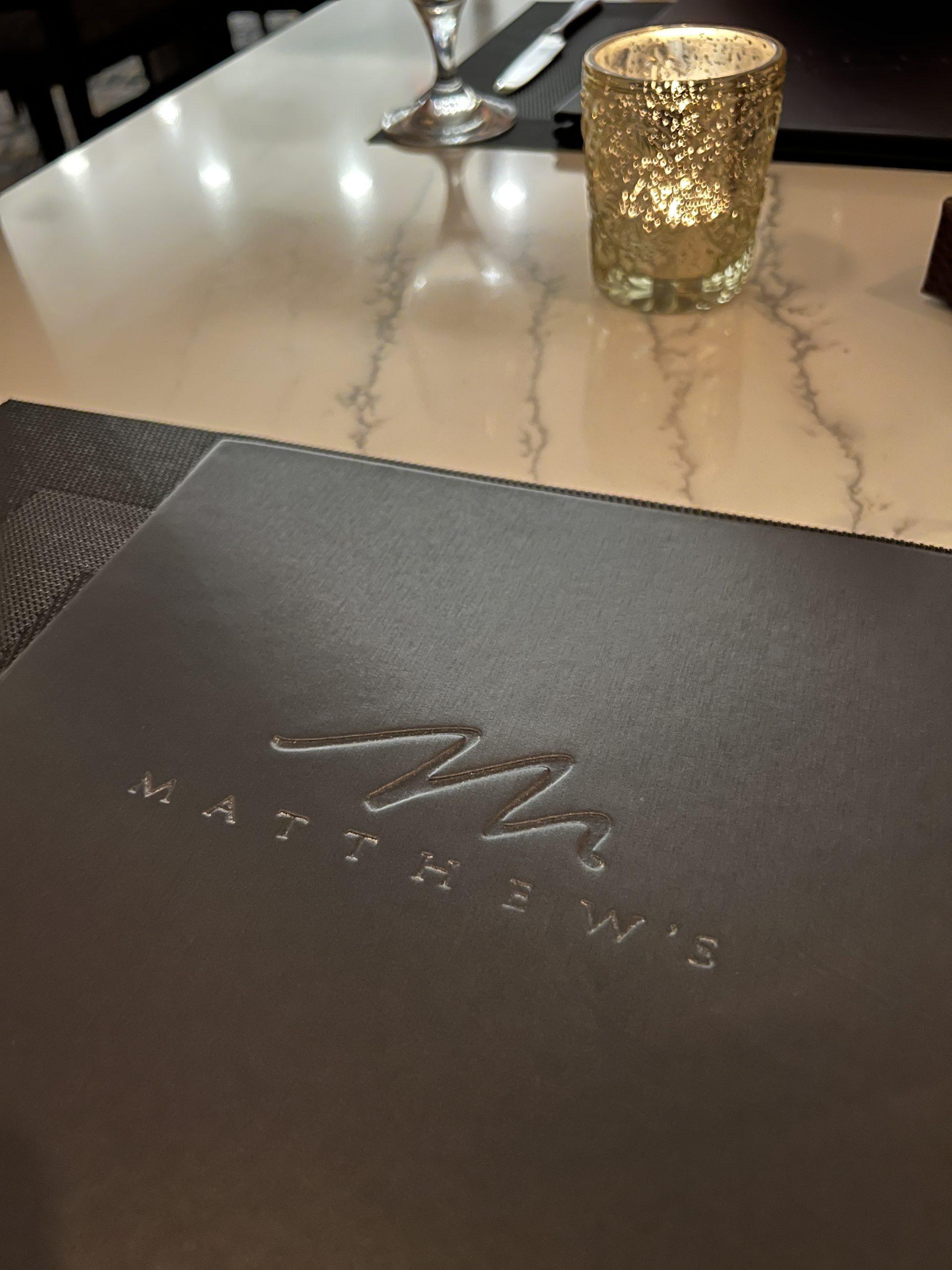 Matthew's
Matthew Medure is one of Jacksonville's most talented local chefs, making Matthew's one of the top places to dine in Jacksonville. The team is professionally trained to ensure you have an incredible dining experience from start to finish. The food is perfectly prepared with attention to every detail, and the presentation is always flawless.
St. Johns Town Center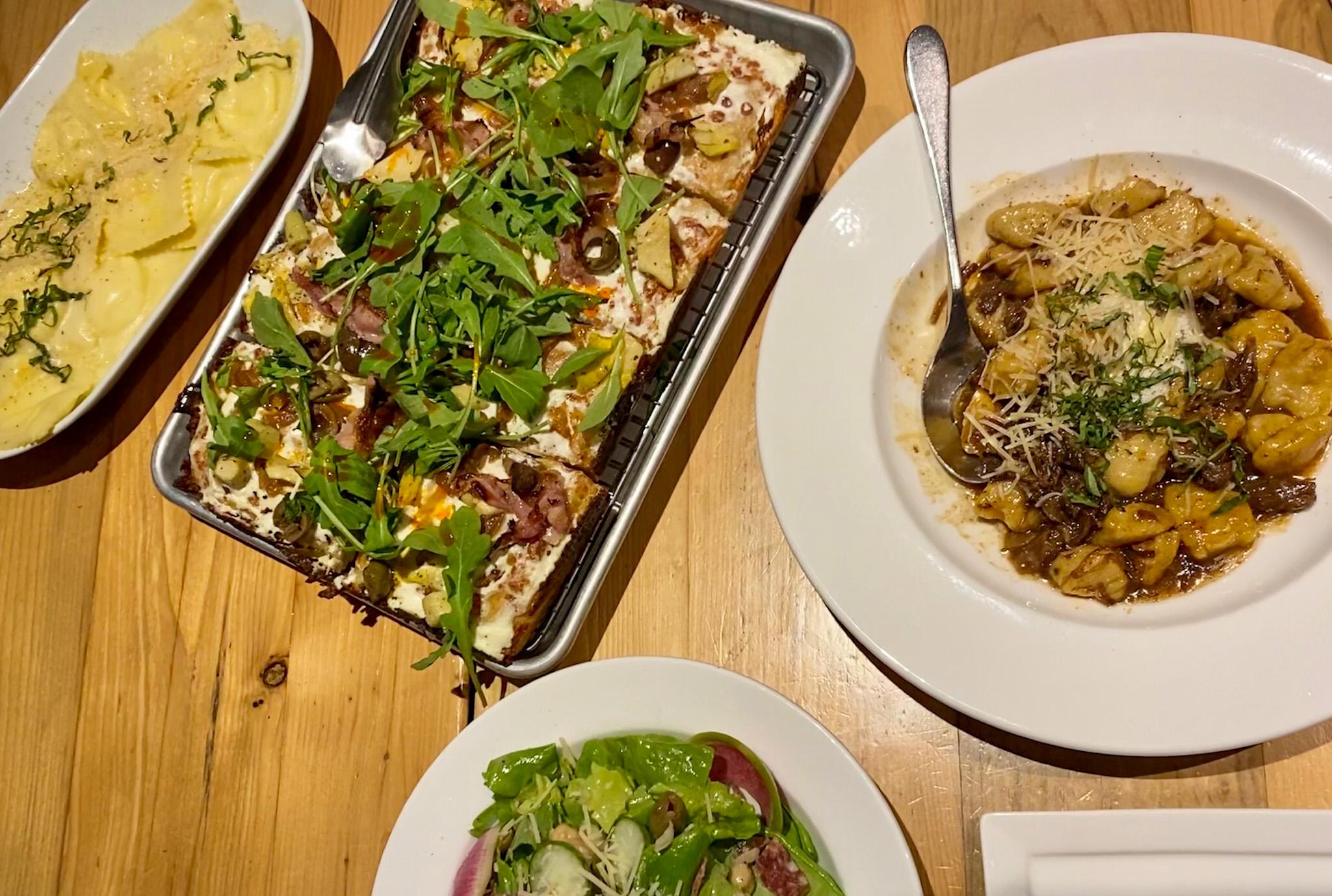 Prati Italia
Wood ceilings, vintage lighting, and round-tufted leather booths. Prati Italia features handmade pastas and pizzas. This is Italian comfort cuisine at its finest. Start with the burrata, fontina meatballs, or steamed mussels. Also, I think it's perfectly acceptable to make pizza your second course. It's date night! Let's get crazy. For a main course, I like the scallops, arctic salmon, or braised short rib. They also have fun craft cocktails to enjoy and are beautifully prepared for that perfect Instagram shot.
Southside
Norikase
Sushi… but really fancy. The moment you walk into Norikase, you know it's something special. This is an intimate omakase tasting menu with limited seating and personal interaction with the sushi chefs. Boujee! This is where you go to get out of your comfort zone, try new things, and dazzle your pallet with new, elevated flavors. Book the reservation.
Atlantic Beach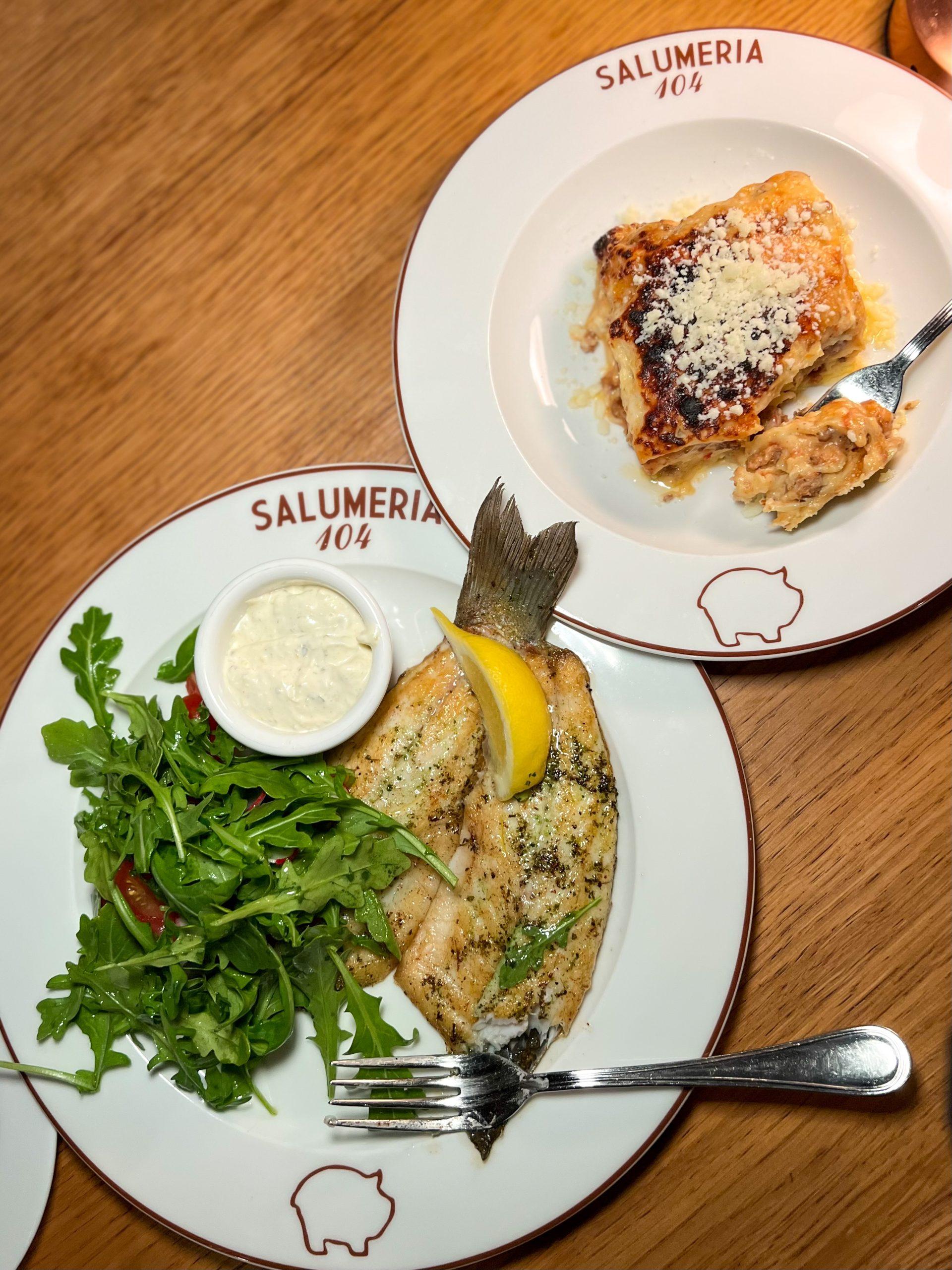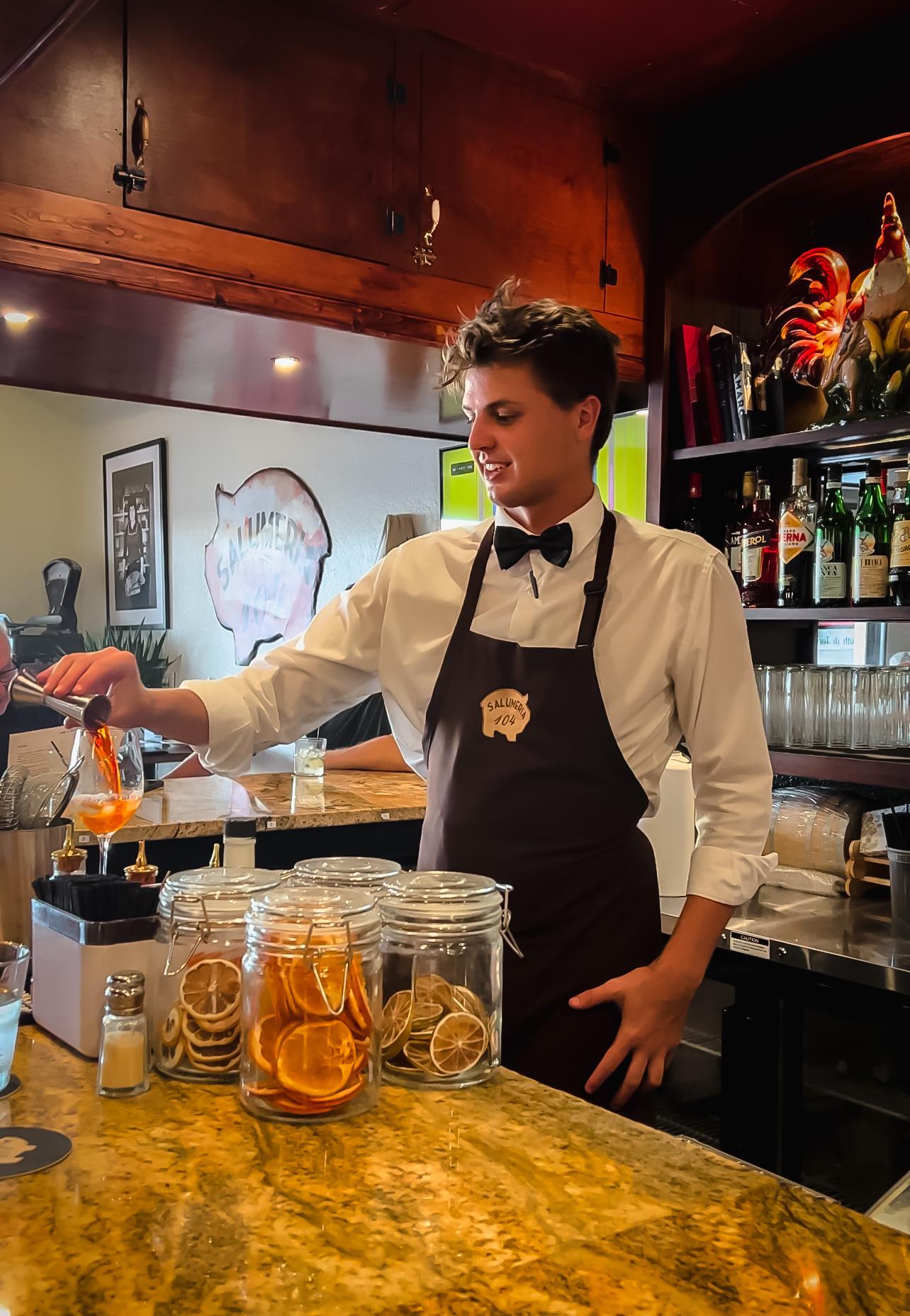 Salumeria 104
Dine inside or outside at Salumeria 104, a new Atlantic Beach hot spot. From the Aperal Spritz and mortadella before dinner, to the lasagna with bolognese and perfectly cooked branzino, everything was delicious. Dine at a cozy table for two and enjoy everything from delicious Italian bites to craft cocktails.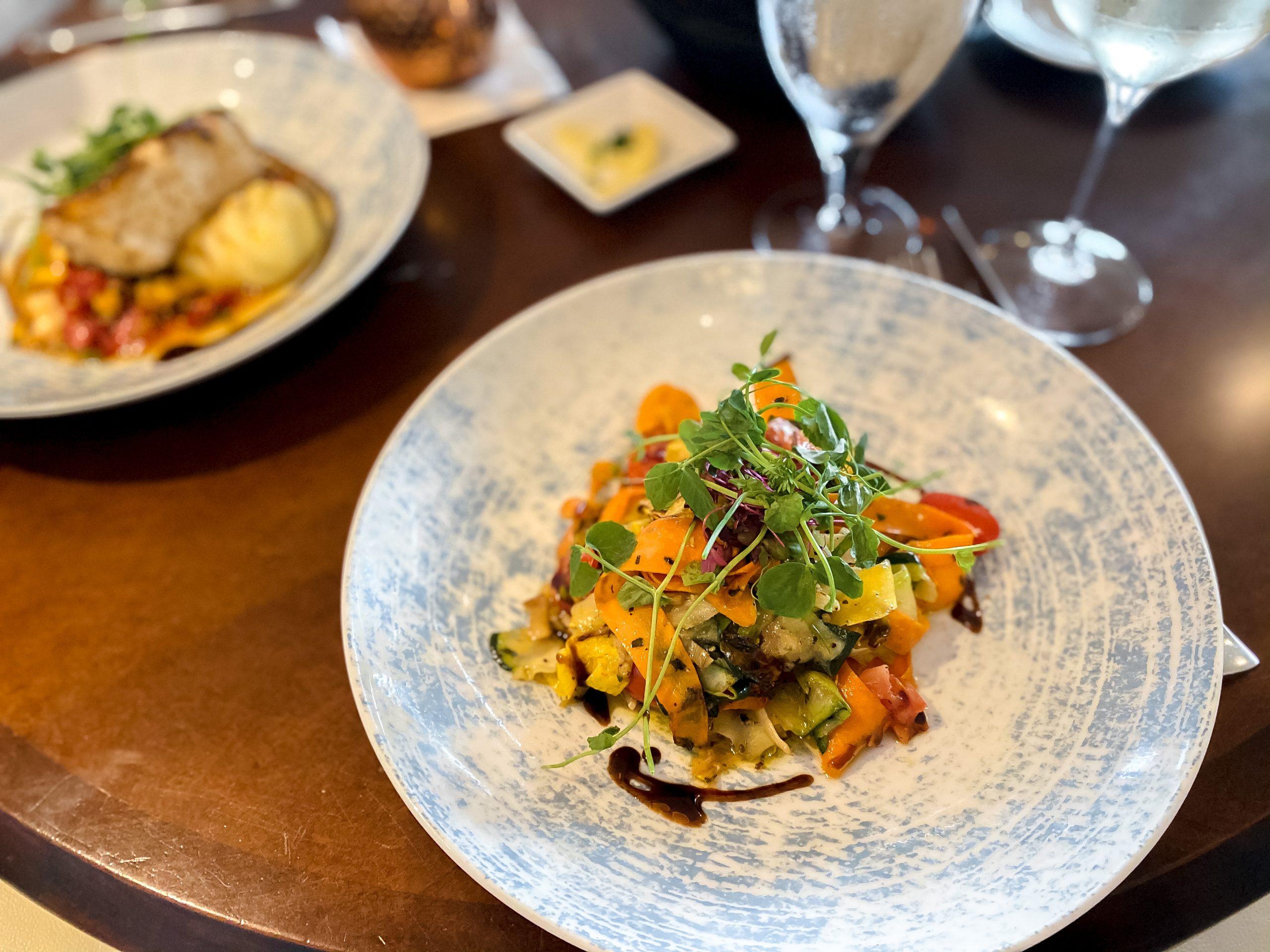 Azurea
Azurea is recognized by Forbes Travel Guide as one of the world's best restaurants in 2022. Make your reservation, valet park at One Ocean Resort & Spa, and go early to have a little selfie photoshoot in front of the stunning Azurea entrance, and enjoy a drink in the waterfront bar before dinner. This is also a great resort for a mini staycation with a night away from the kids. And who knows (*wink*), you may even run into a celebrity here. My favorite starters are the pork belly, and the pear and prosciutto flatbread with garlic cream sauce, brie, and arugula. For entrees, I love the seabass and the local catch trio, while my Big Strong Handsome loves the seared diver scallops and the twelve-hour braised short rib.
Neptune Beach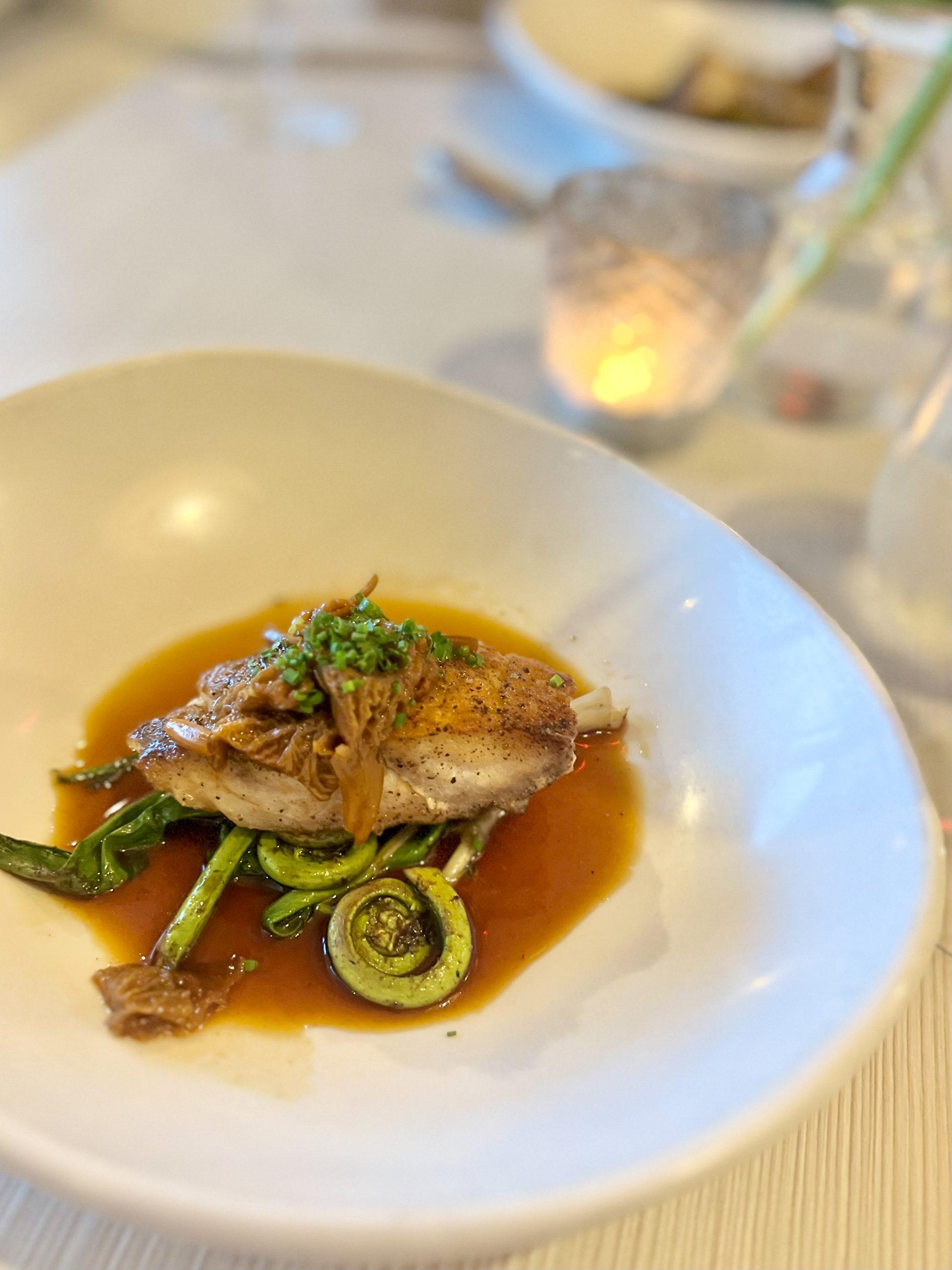 Doro
For a chef-owned intimate dining experience nestled in the heart of Neptune Beach, Doro is the place to be. Every dish that comes to the table is impeccably prepared with fresh ingredients. Here's the meal we shared on our last visit: Pistachio soup served with toasted pistachios; burrata served with maitake, green apple, celery nage and a sesame tuile; and the fresh catch fish of the day served with morel mushrooms and fiddlehead greens. For dinner and a show, ask to be seated at the "chef's counter."
Mezza Luna
Dine alfresco under the covered patio, or in the dining room designed with gorgeous wood and rustic brick detail at Mezza Luna. I think my perfect meal here would start with the cheese plate with an assortment of cheeses, charcuterie, fresh fruit, house gieardiniera, and seasonal preserves paired with a buttery chardonnay. As a second course, I'd have to select the Mezza salad with mixed greens, berries, toasted nuts, jeweled with orange segments, and tossed in a champagne vinaigrette. For the main course, I'd have the short rib ragu served with fresh pappardelle, herbed ricotta and topped with Parmesan breadcrumbs, paired with a nice Cabernet Sauvignon. Then for dessert, share a cremè brûlée and maybe an espresso martini because, well… date night.
Jacksonville Beach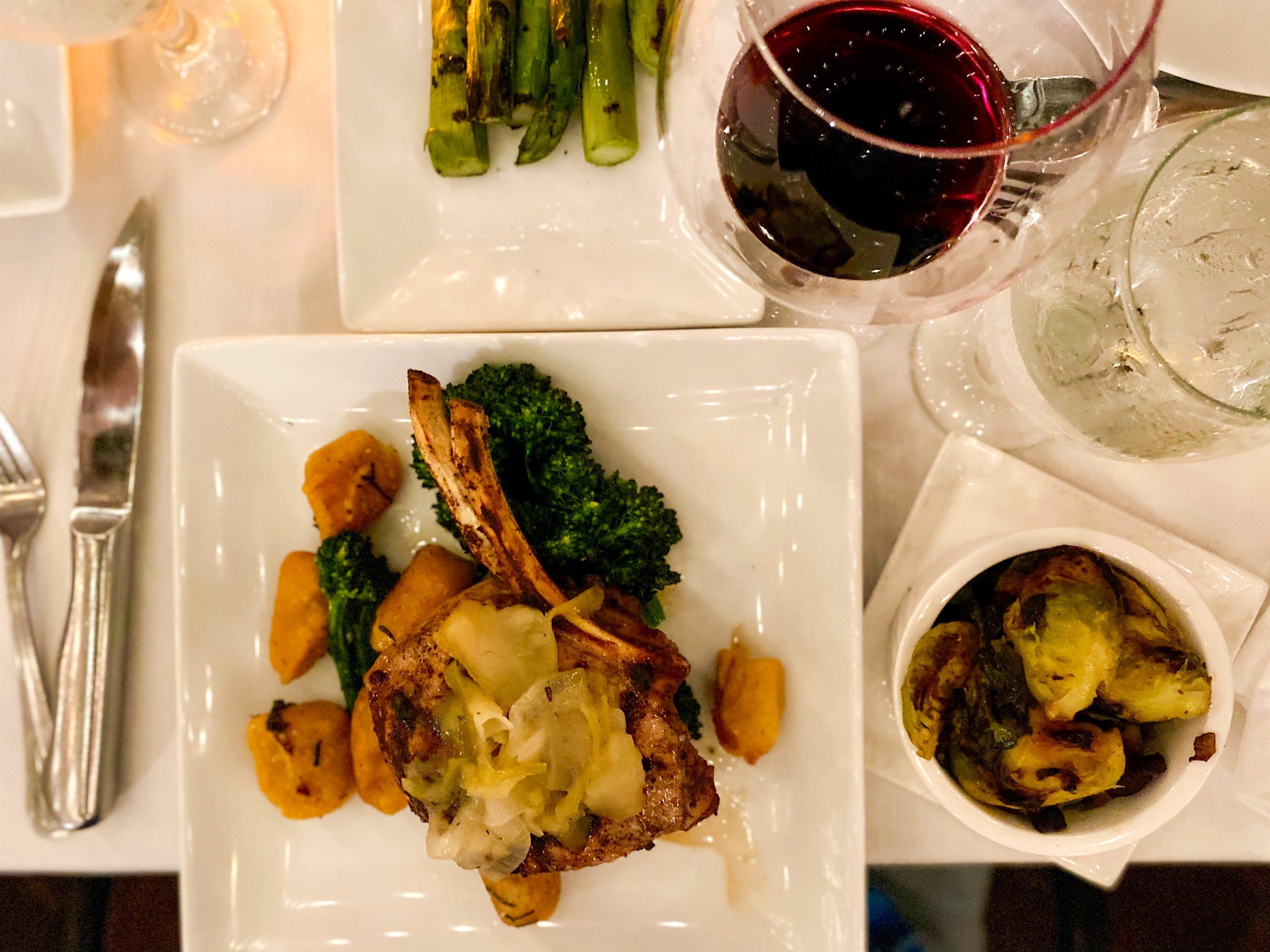 Eleven South
For an elevated dining experience at the beach, Eleven South is always one of my favorites. When you walk through the door, there's a lively bar full of friendly locals. You can enjoy your meal in the main dining room, which is lovely, or on the enclosed patio. The royal red shrimp sautéed in butter, garlic, shallots, and red pepper flakes, or the classic escargot in tarragon scampi butter with toasted crostini are a nice way to start your meal. The classic wedge salad is a nice second course, served with the perfect amount of dressing. For the main course, they're all good, but the rack of lamb is probably one of their most popular dishes.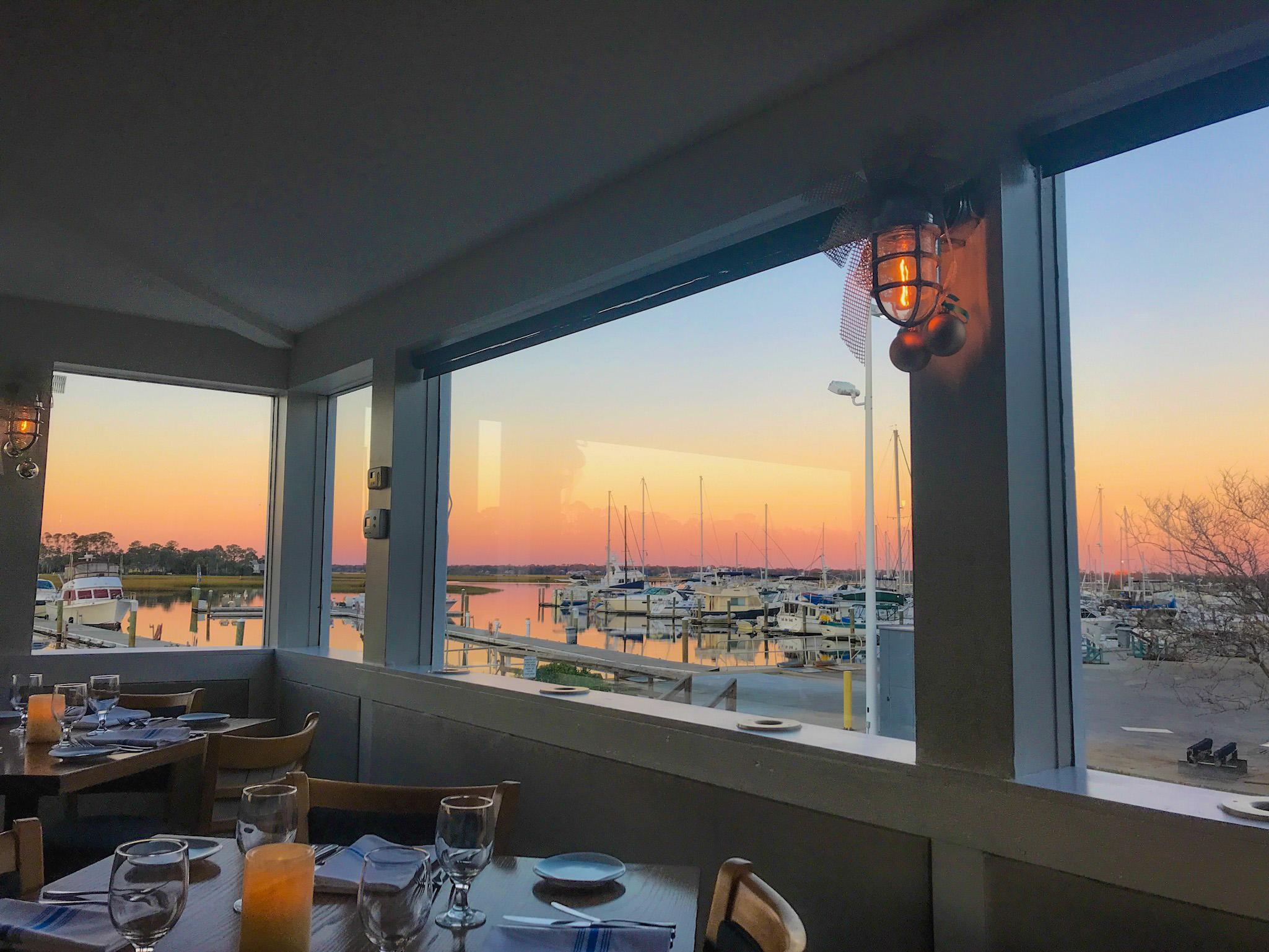 Marker 32
Order the fried oyster deviled eggs! Oh my gosh, they're so good. Marker 32 offers waterfront dining with delicious food, a great wine list, and an incredible staff. Make reservations, and request a table by the window overlooking the water and enjoy the beautiful sunset. It's breathtaking. Florida beauty at its best. Some of my favorites on the menu are the spinach salad served with Swiss cheese mushrooms, bacon and egg, tossed in a honey tarragon dressing; and the local catch hoppin' John (IYKYK). These are elevated classic dishes that will have you coming back for more.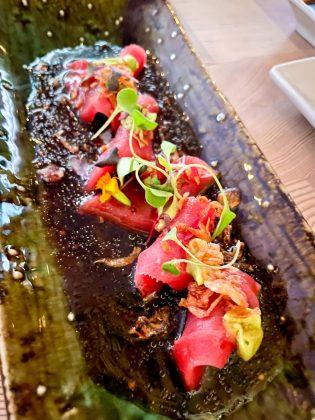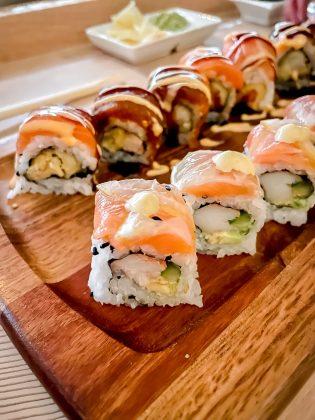 O-Ku
Cool beach vibes with modern décor and beautiful ocean views from the rooftop. O-Ku has so many cool dishes like braised short rib, miso glazed salmon, nigiri, sashimi, makimono rolls, and coconut milk panna cotta. And the cocktails are photoshoot worthy. Definitely add O-Ku to your date night list.
Intracoastal West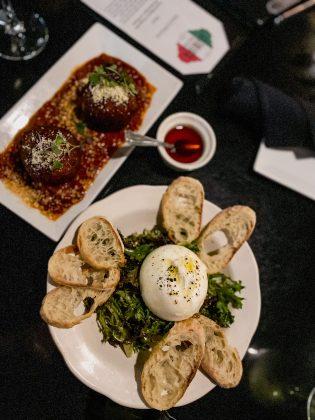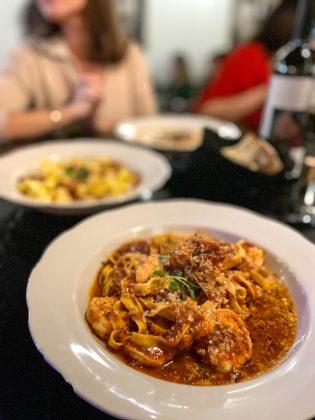 Catullo's Italian
One of Yelp's Top 100 Places to Eat IN THE COUNTRY, and one of my absolute favorites! From the moment you walk into Catullo's, you're transported to another world by the intoxicating aromas of sauces simmering over the stovetop, wine being poured into glasses, and the buzzing conversations between friends around the dining room. The staff is an absolute dream team, and the chefs, well, I may be in love. I've had Italian food all over the world, and Catullo's, you're one of the BEST!
Every dish is prepared with so much care, and detail is put into the perfect presentation. The flavors just explode in your mouth. (I said what I said. It's that good.) The food is freaking amazing, y'all. My favorite appetizer is the arancini. *chef's kiss* My favorite dish… I honestly would have taken any of them, filled up a bathtub, and rolled around in it. They were all sooooo good, but if I had to choose a favorite, I'd say the pear fiocci. It was… squisito!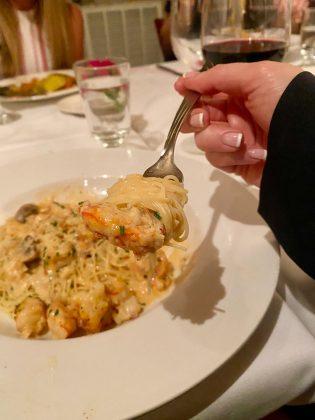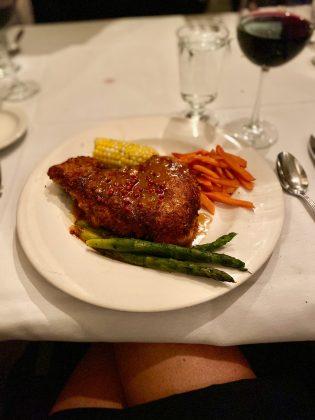 Dwight's Bistro
Talk about a Jacksonville staple! Jacksonville would not be same without the conversations shared over dinner at Dwight's. The dining room is eclectic, with wine corks from floor to ceiling, showcasing the history of fantastic food shared here over the decades. Dine in one of the intimate dining rooms, or get up close and personal with Chef Dwight and sit at the bar. He might even toss you a little taste of whatever he's cooking up in the kitchen.
For a great meal, start with buttery garlic escargot and fresh baked crusty bread. For the second course, try the crisp chopped salad with blue cheese and bacon. My favorite main courses are the bone-in seared pork chop (wow!), the scallops casino, veal piccata, and red shrimp with angel hair pasta. And I never leave Dwight's without trying his ravioli of the day! Finish the meal with a Florida Key lime pie or his classic bananas foster.
Ponte Vedra Beach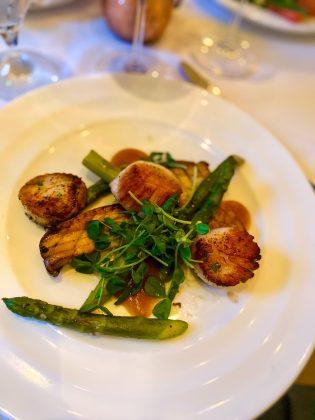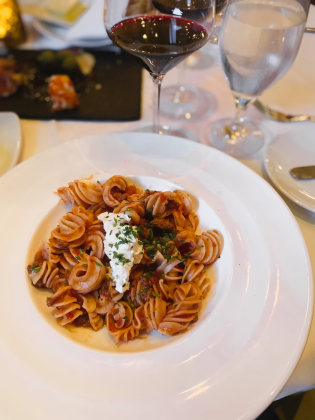 Restaurant Medure
The Medure brothers create perfection yet again. If you're looking for a 5-star, locally-owned restaurant in Ponte Vedra, look no further. Restaurant Medure is perfection. Chef Medure is incredibly talented, always providing show stopping meals. The wine list and drink selections are very nice, the staff is personable and professional, and the food is always delicious and beautifully plated. Before dinner, have a seat in the swanky lounge and enjoy a cocktail or a glass of wine. My favorite appetizers are the tempura salmon roll and the artisan cheese plate. For entrees, gosh, I honestly don't know that I could pick a favorite, and I think I've had them all. So delicious. For dessert, hands down, order the soufflé of the evening. Every single version that chef prepares is delectable.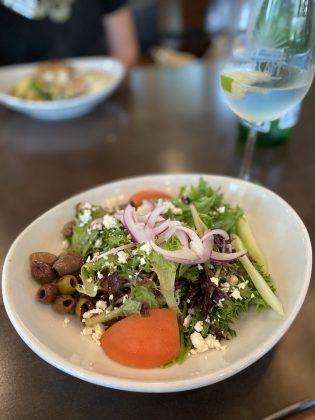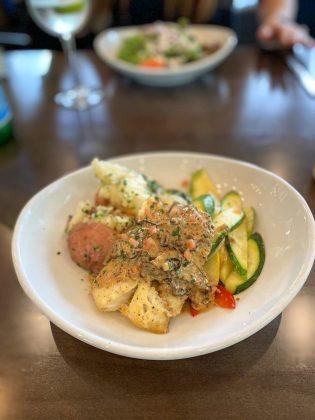 Palm Valley Fish Camp
Casual and laid back with waterfront views and delicious seafood. Palm Valley Fish Camp is part of the Fish Camp family with additional locations in St. Augustine, Julington Creek, and North Beach (Neptune Beach). This southern girl can't go without ordering the spicy pimento cheese — so satisfying. My favorite starter would have to be the oysters on the half shell paired with a crisp glass of white wine. For the main course, I normally go with the grilled salmon or the blackened fresh catch with grits and collard greens while my Big Strong Handsome typically goes for the top sirloin steak with brandy peppercorn demi. They also have a low country boil menu option, which is pretty fun for date night.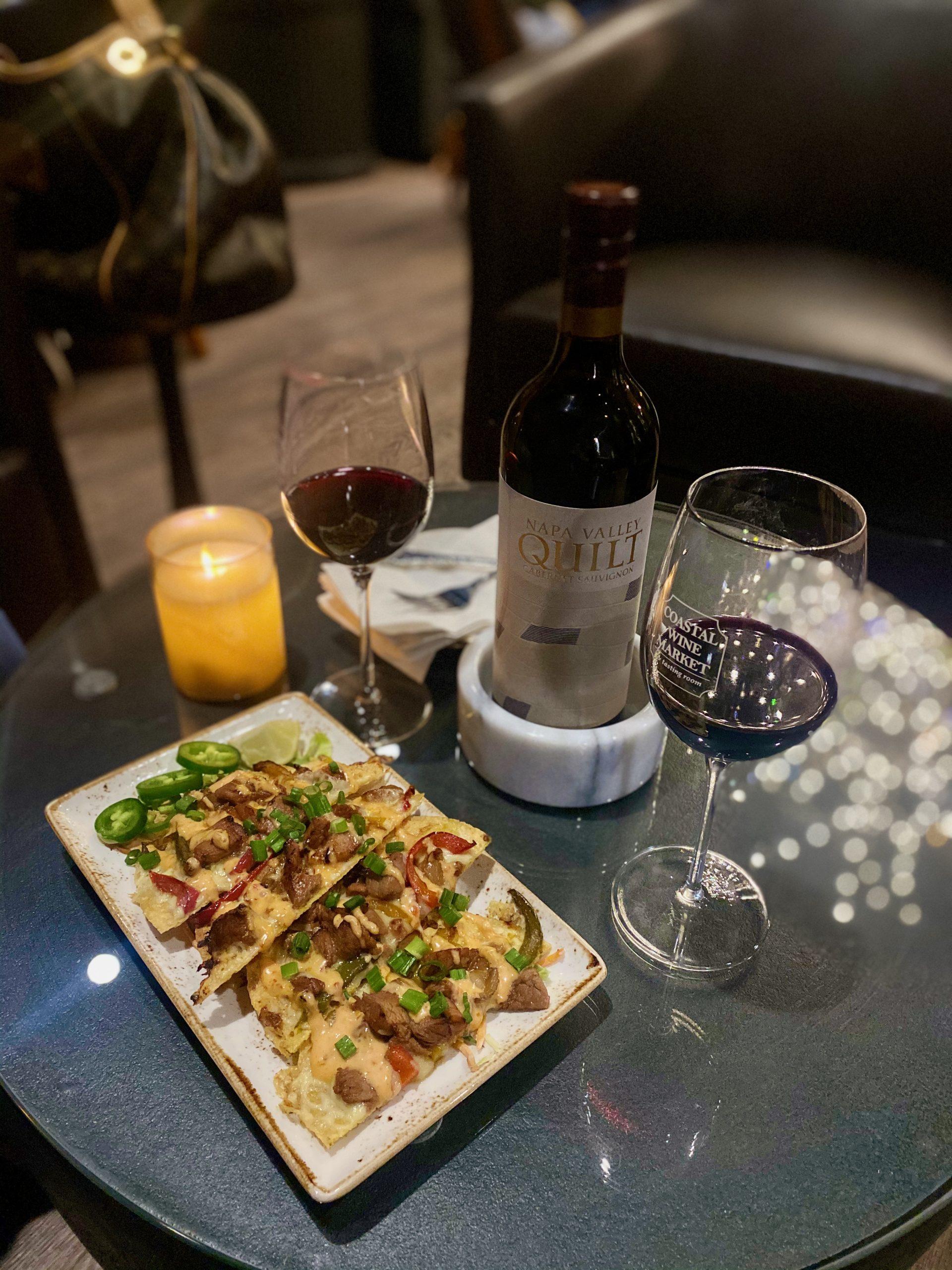 Coastal Wine Market
Coastal Wine Market has an incredible wine selection and delicious little bites of food. It's nestled in the heart of Nocatee in Ponte Vedra, surrounded by palm trees and beautiful cotton candy sunsets. Call ahead and request an intimate table for two under the breathtaking chandelier.
St. Augustine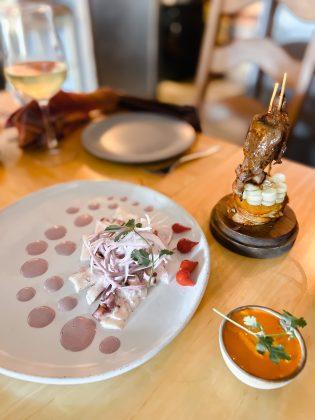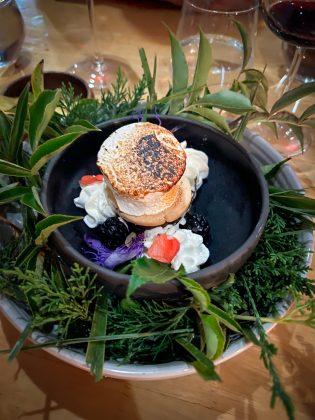 Llama
llama is one of the top restaurants in the country, and it's right in our own backyard. This incredibly talented chef has brought delicious Peruvian cuisine to St. Augustine. Chef Marcel is incredible at creating spectacular and unique dishes. Admittedly, I'm not familiar with Peruvian cuisine, but after many meals at Llama, I always order whatever chef recommends. He has wowed us with incredible flavors with food we never would have ventured out for, but his preparation had us in awe.
If you haven't been, make your reservation at Llama in St.Augustine today. Get outside your comfort zone, be adventurous, and order the chef's suggestions. And leave room for dessert! His culinary creations go far beyond cake and ice cream. It might come to the table under a tower of spun sugar, or burst into a spark of flames revealing an indulgent delight.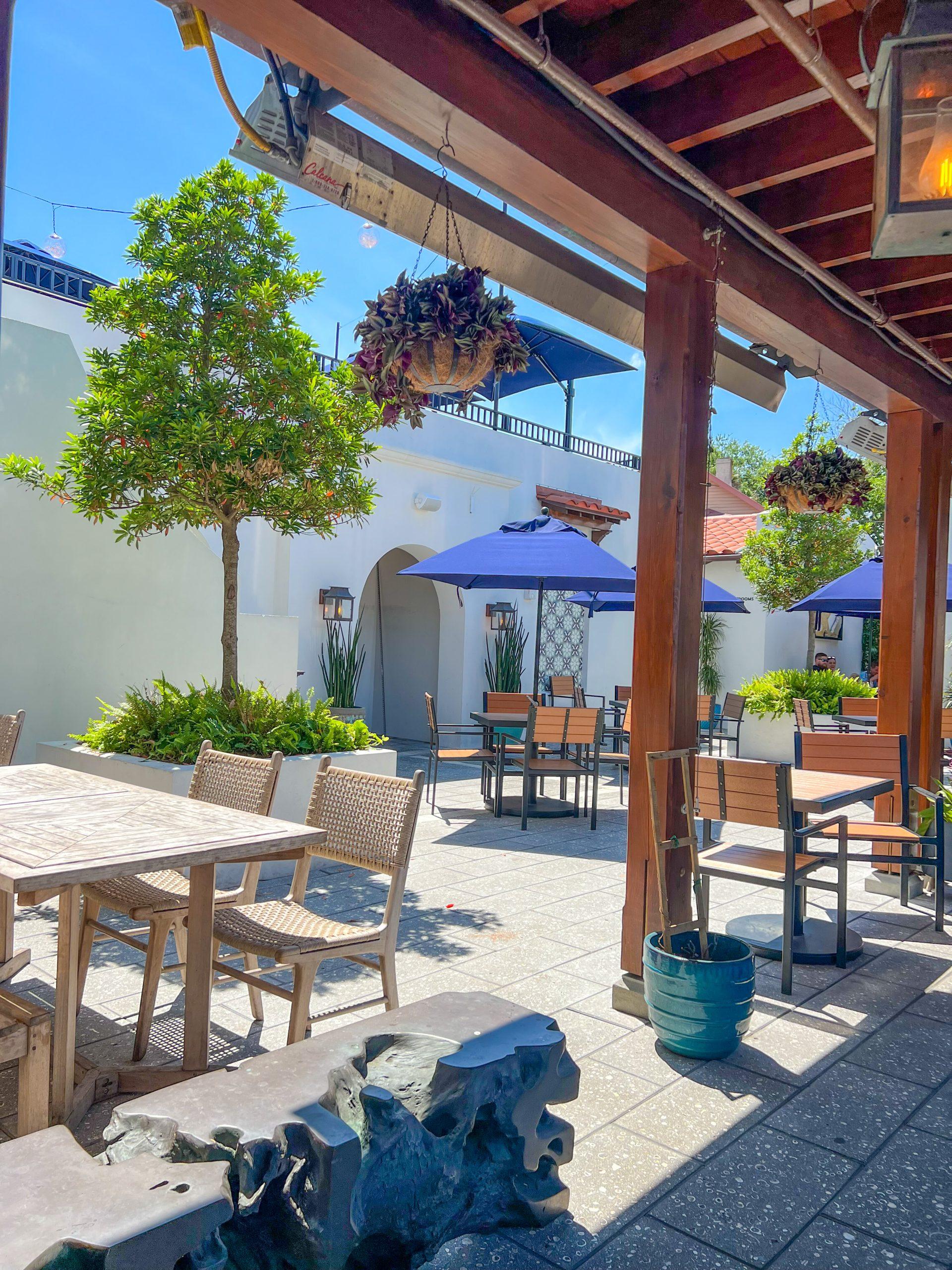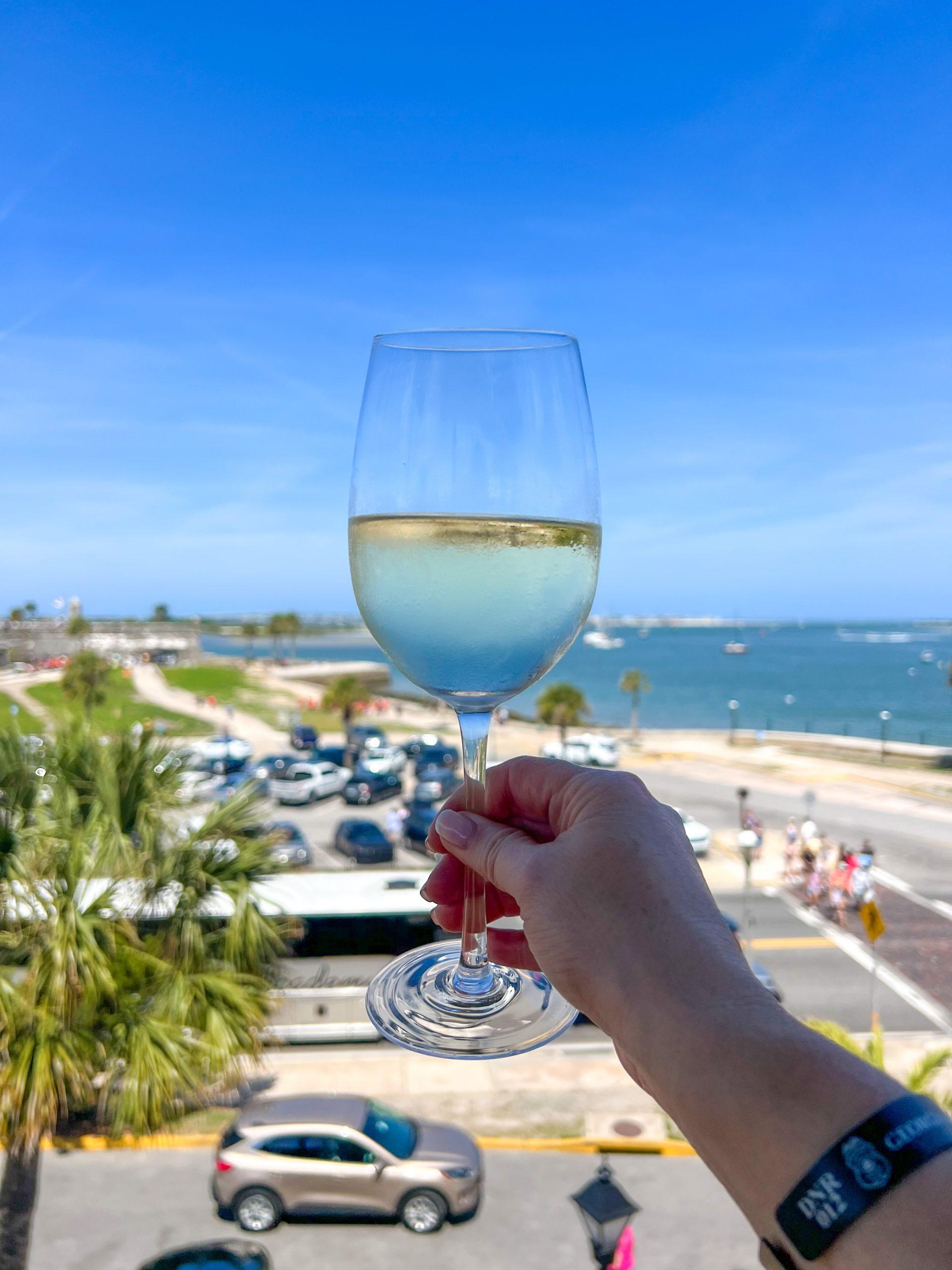 River & Fort
Dine on the River & Fort rooftop for gorgeous waterfront views of historic St. Augustine, and enjoy a drink and small bites like pizza, flatbread, oysters, or wings. If you dine in the dining room, the world is your oyster. Pun intended, so let's start with the oysters. Then try the shrimp and avocado salad tossed in a tomato bacon vinaigrette, served with a cornbread muffin. For a main course, you can select from several delicious steak entrees and fresh seafood selections.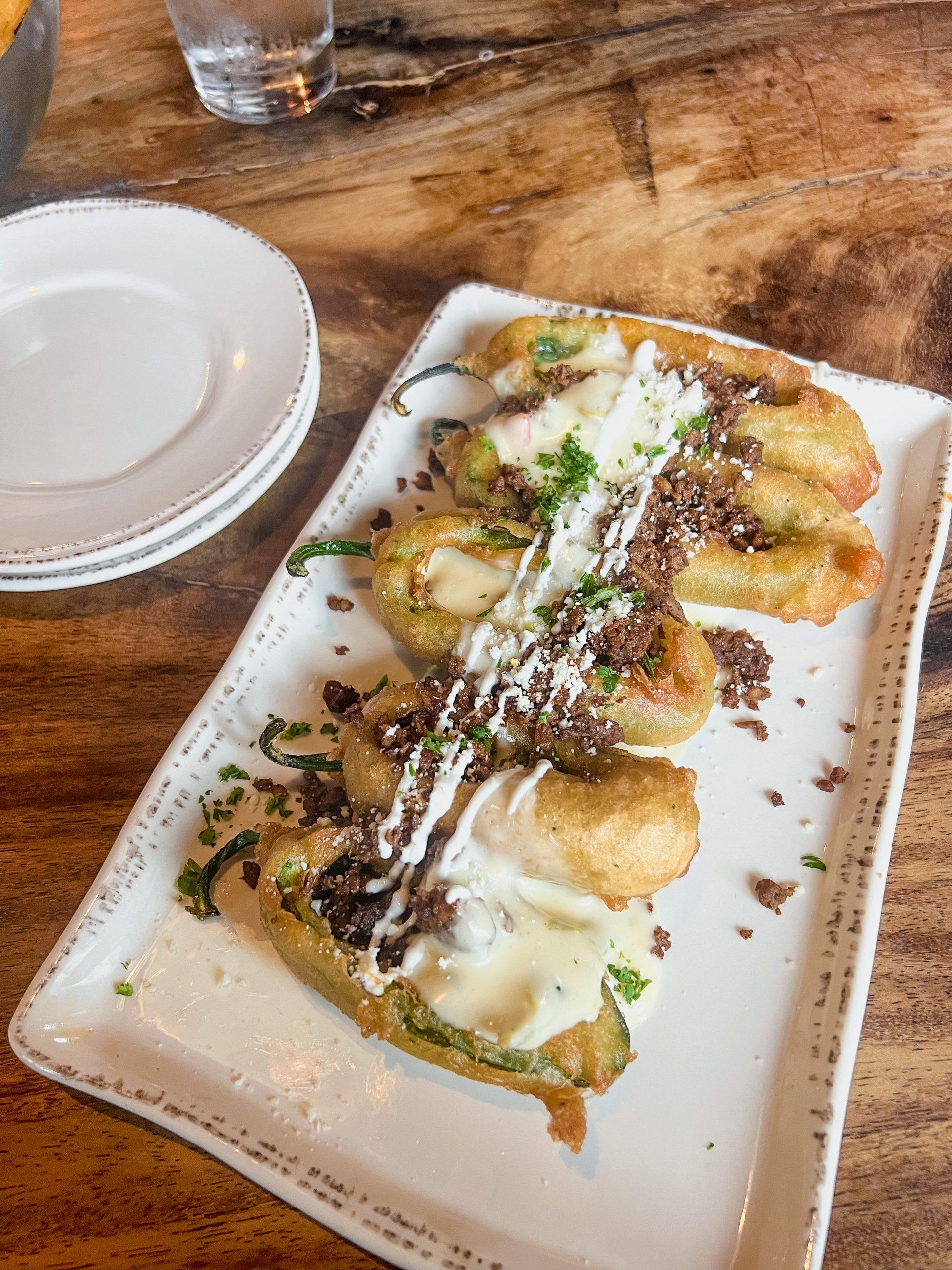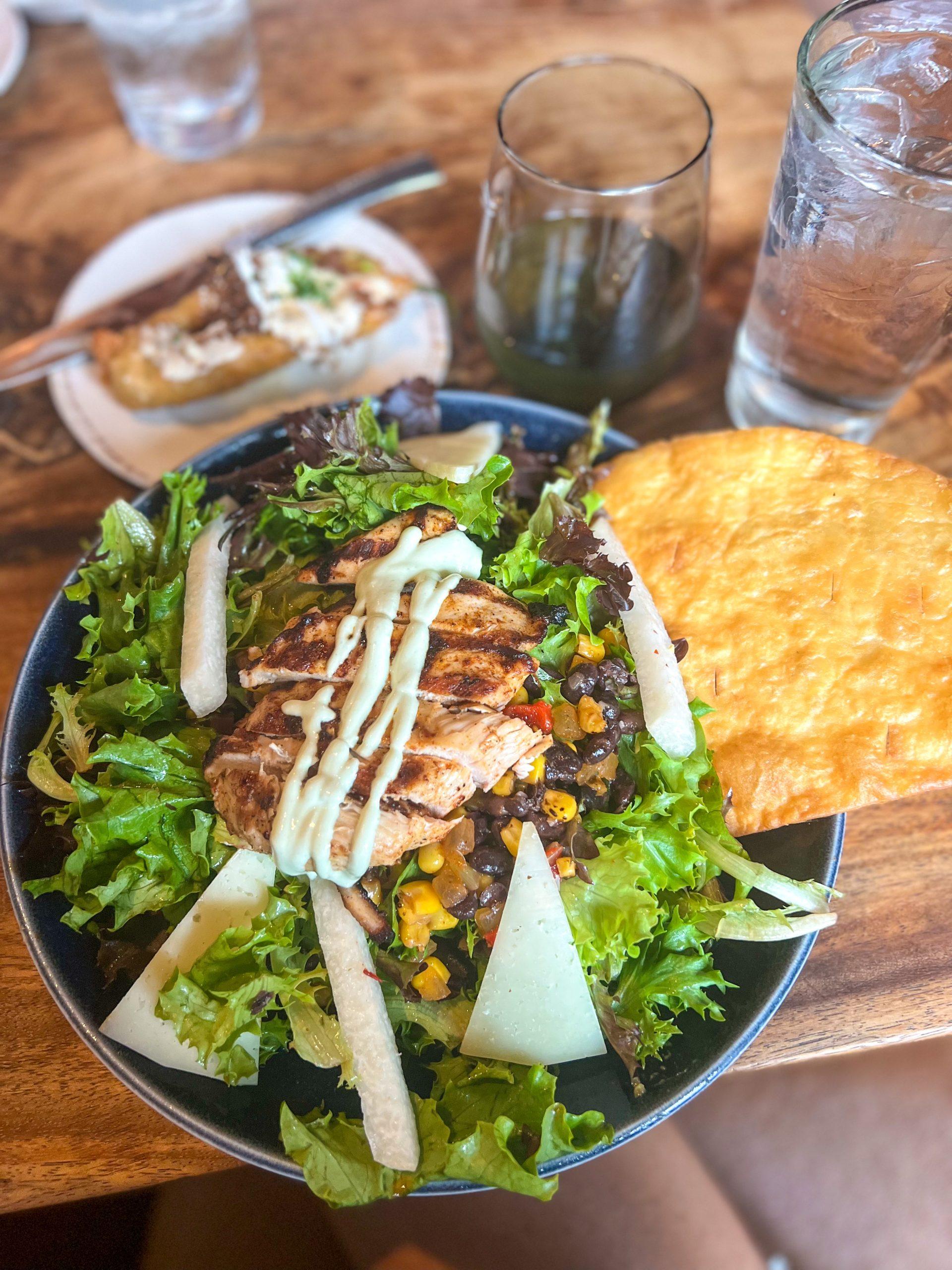 Casa Reina Taqueria & Tequila
Can't beat the location of Casa Reina! Good food and beautiful views of historic St Augustine, right in the middle of everything. Dine alfresco and take in the historic sites, water views, and great people watching. Try the jalapeño rellenos appetizer. It's so good! All of the tacos are fresh & fantastic, and and if you're trying to stay on the lighter side, the steak salad is a winner.
Sainte-George
Sainte-George is a special treat with sophisticated flavors in downtown St. Augustine. The view is spectacular, and the modern decor is exquisite. Green velvet seats with gold accents, crisp white linens and romantic lighting. Now, I can't pick favorites here because I honestly love every single menu item. Seriously. But, if it's cold outside, or even if there's the slightest breeze and they're offering it on the menu, order the mulled wine. I'm not a fan of mulled wine at all, but this nectar of the Gods was irresistible on a chilly evening. We drank our fair share of it, and it was a happy ending to the evening. Cheers to date night!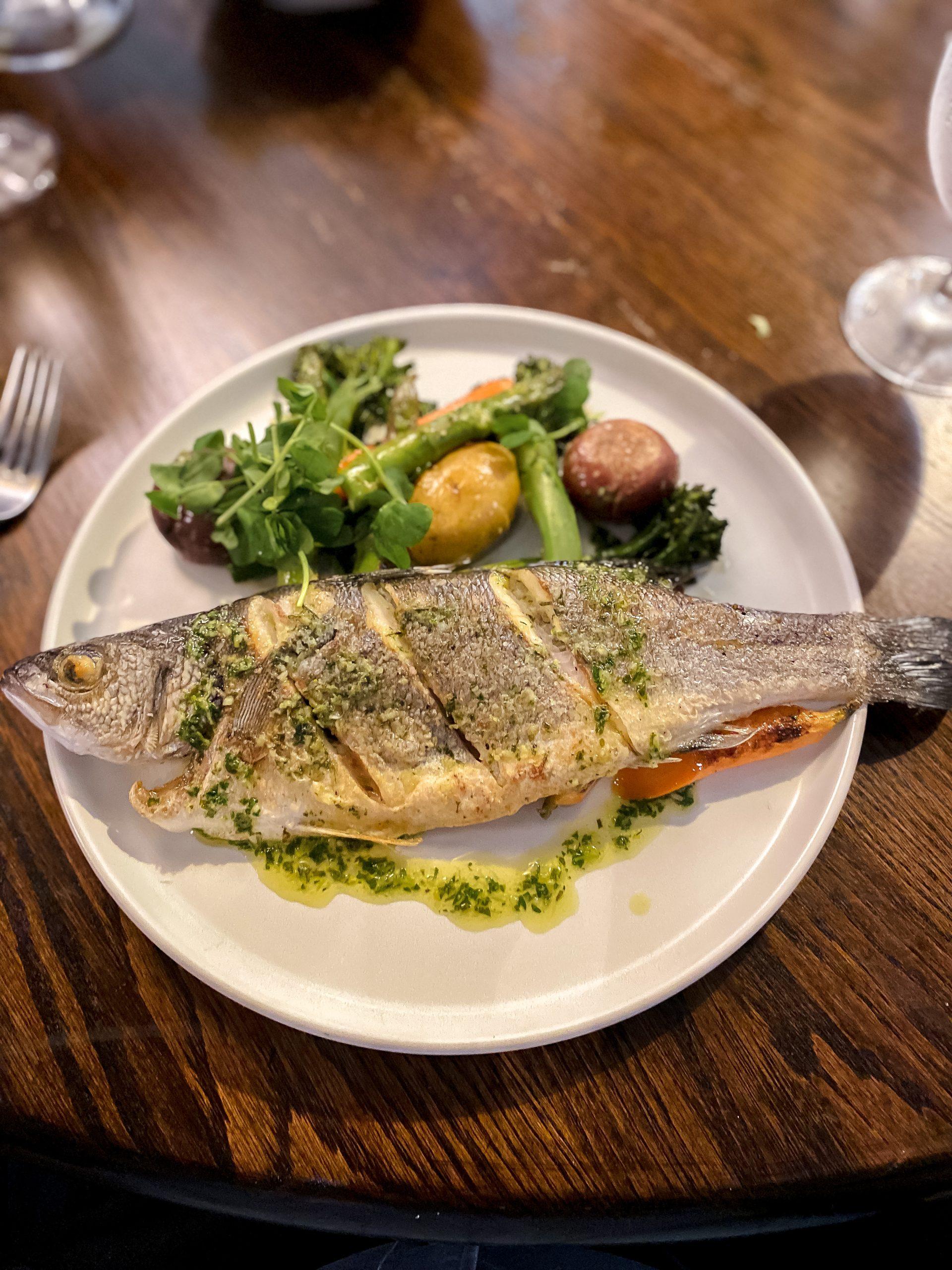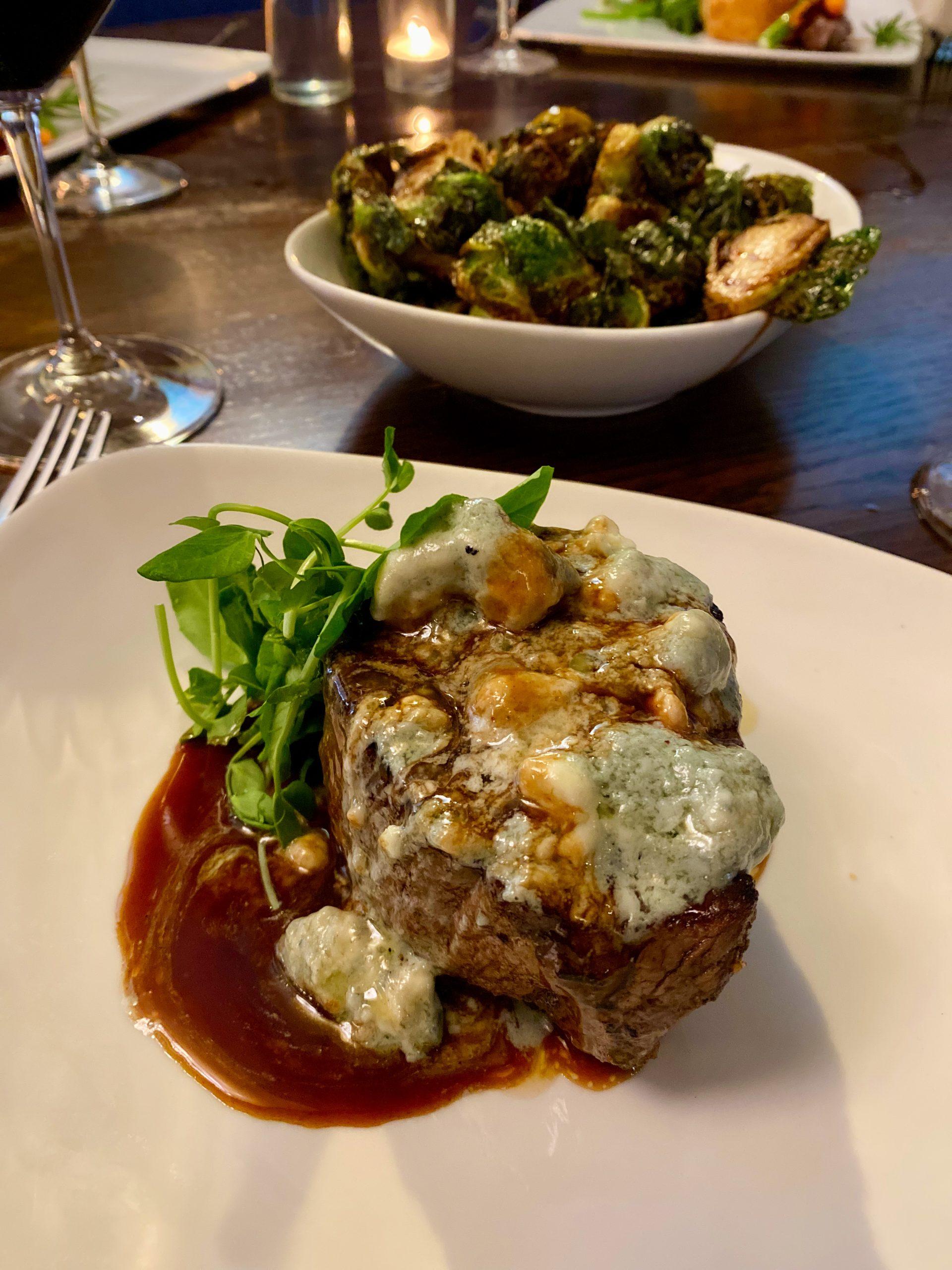 Michael's
A St. Augustine gem! Locally owned and operated by Chef Michael himself, Michael's offers elegant dining with a Spanish flare. It's the perfect place to enjoy a menu made for a refined palate. Beef tartare, confit mushrooms, fresh seafood, and savory steak selections. Feeling ravenous? Try the 32 oz. tomahawk ribeye, and embellish it with your choice of jumbo lump crab meat, blue cheese crust, au poivre, or Maine lobster.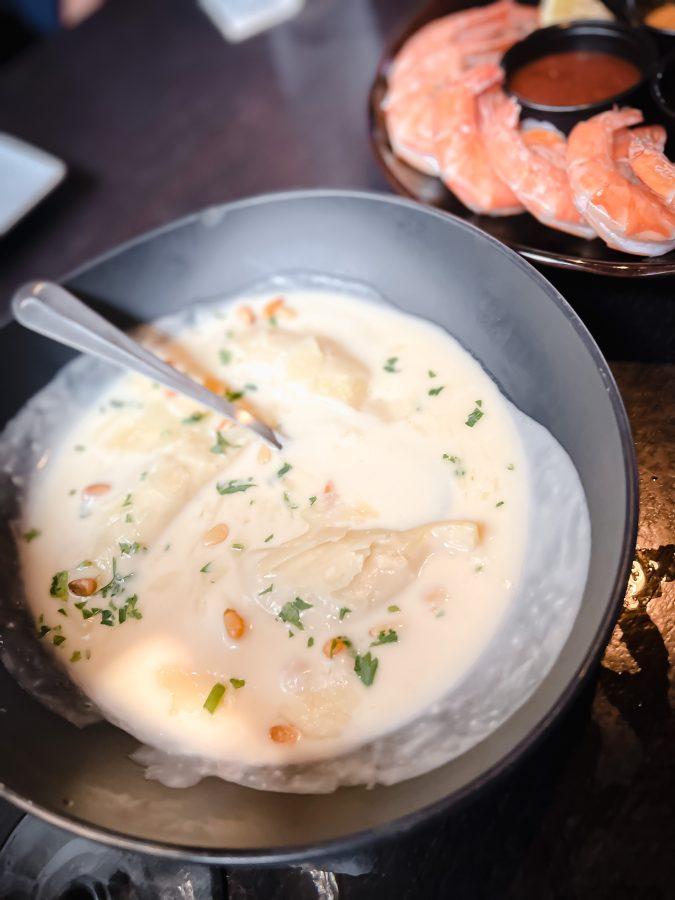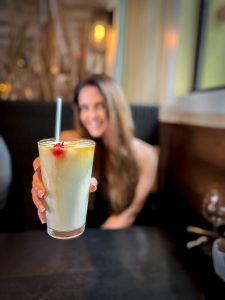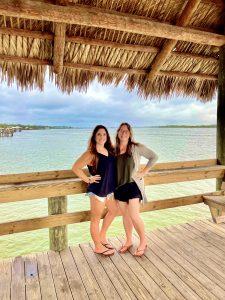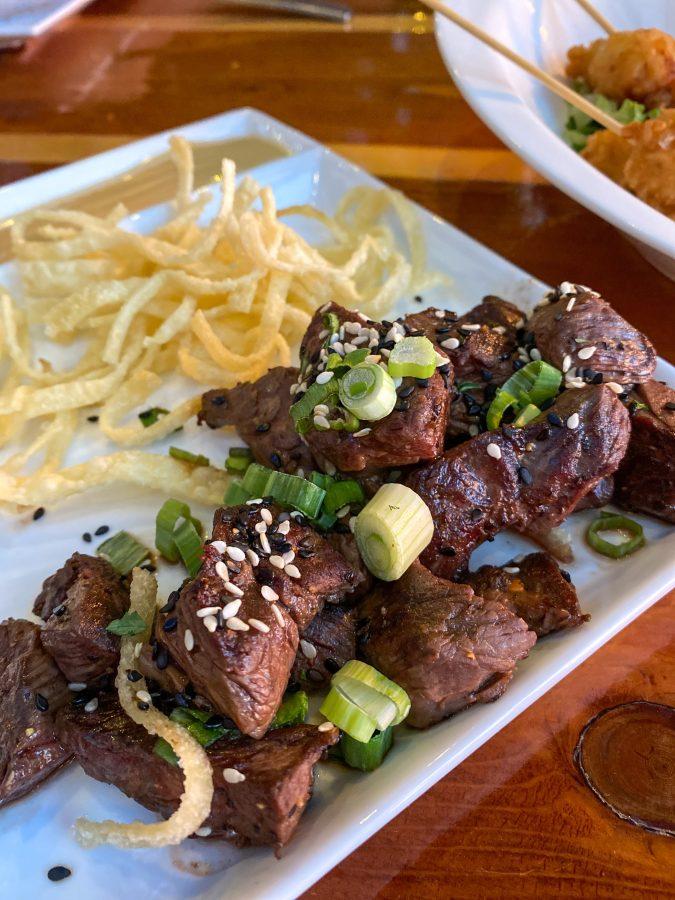 Caps on the Water
Caps on the Water may belong in a category all it's own. It's one of my longtime favorites, and one of my top three places to send people visiting the area. The sunsets are magical, and the ambiance is Florida perfection. The menu is delicious, and the wine list and drink menu are great. Nestled on the water in St. Augustine, this is the perfect place to catch a beautiful sunset and take in all the natural beauty of Florida.
If you haven't been, go. Don't wait, do not pass go, do not collect $200. Go directly to Caps on the Water. Some of my favorite appetizers are the steak tips and the stone crab. I also highly recommend the pear ravioli. I know it sounds strange, but trust me. Thank me later. For entrees, you can't go wrong with the fresh catch. For dessert, let's get crazy and sip on piña coladas while snuggling up at the end of a perfect date.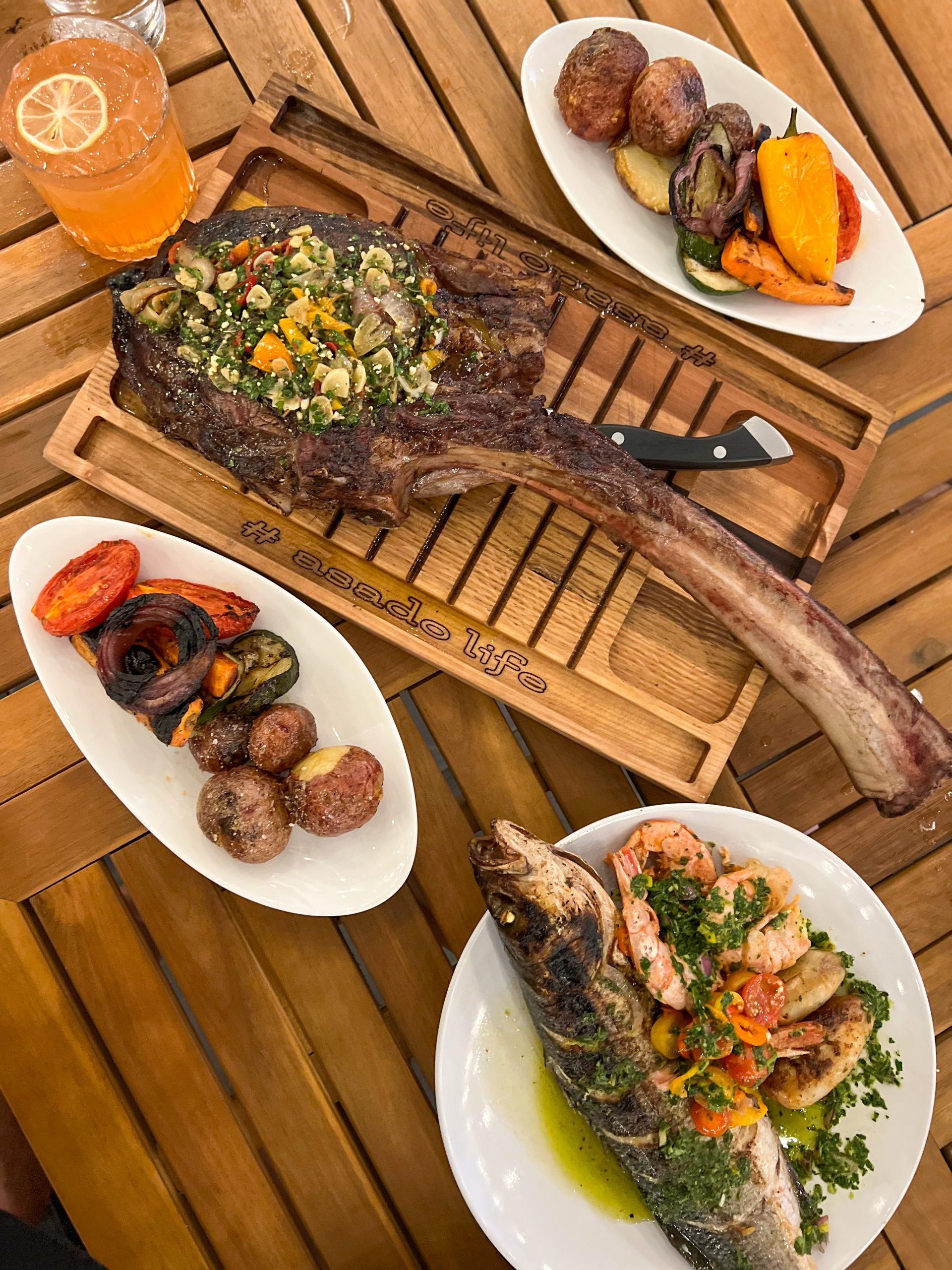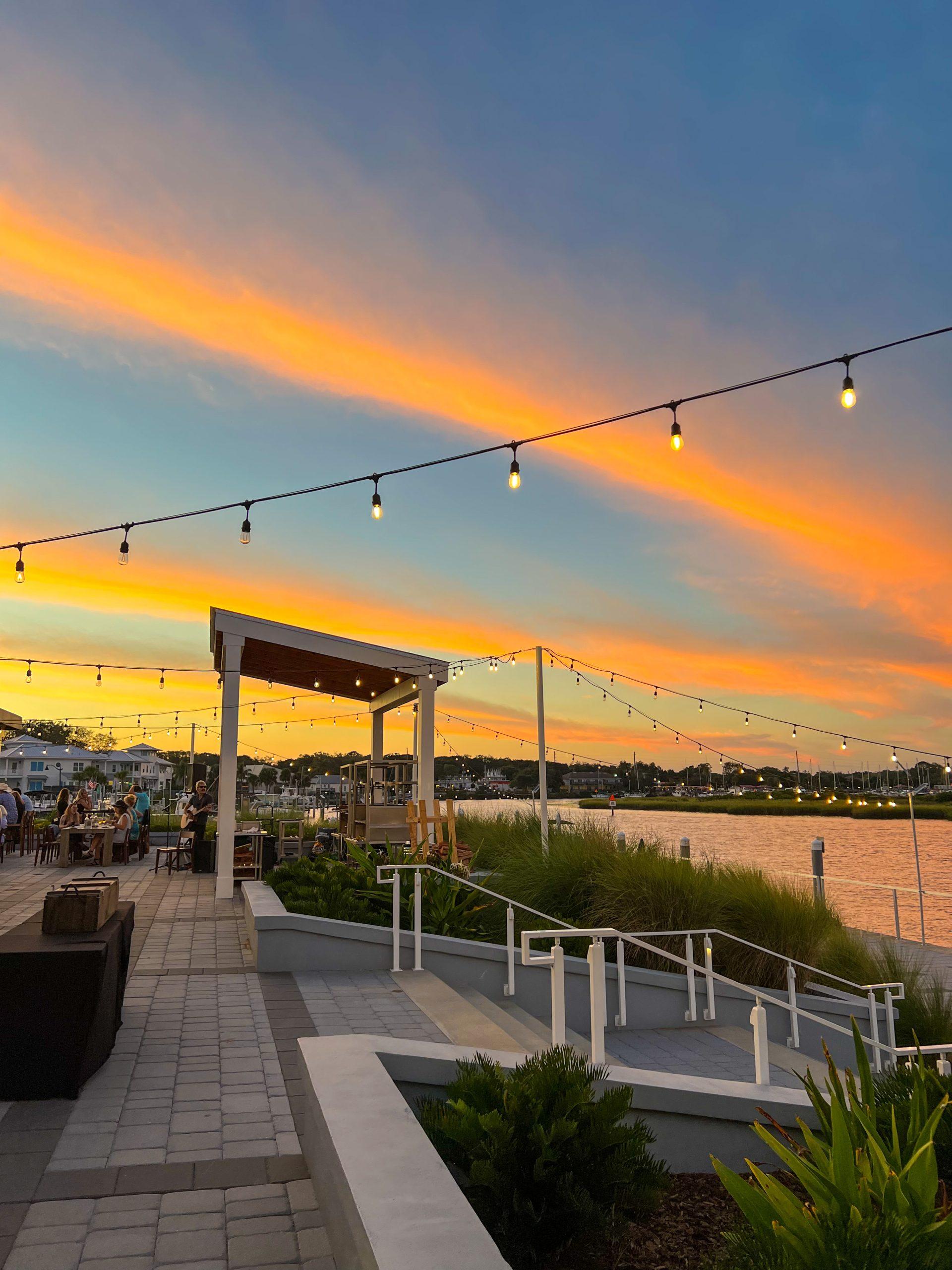 Asado Life
Asado Life… it's fire baby! What a fun dining experience in St. Augustine! The new waterfront location is beautiful. Check their website for the schedule, and make your reservation. The tomahawk bone-in ribeye is my fave, but they also have a whole branzino, lobster, and vegetarian options. It's all served with appetizers, salad, and a mouth-watering dessert.
If you need more dining suggestions, slide on into my DMs @PenneyFarmsPrincess. I'm always happy to help. Cheers, y'all!