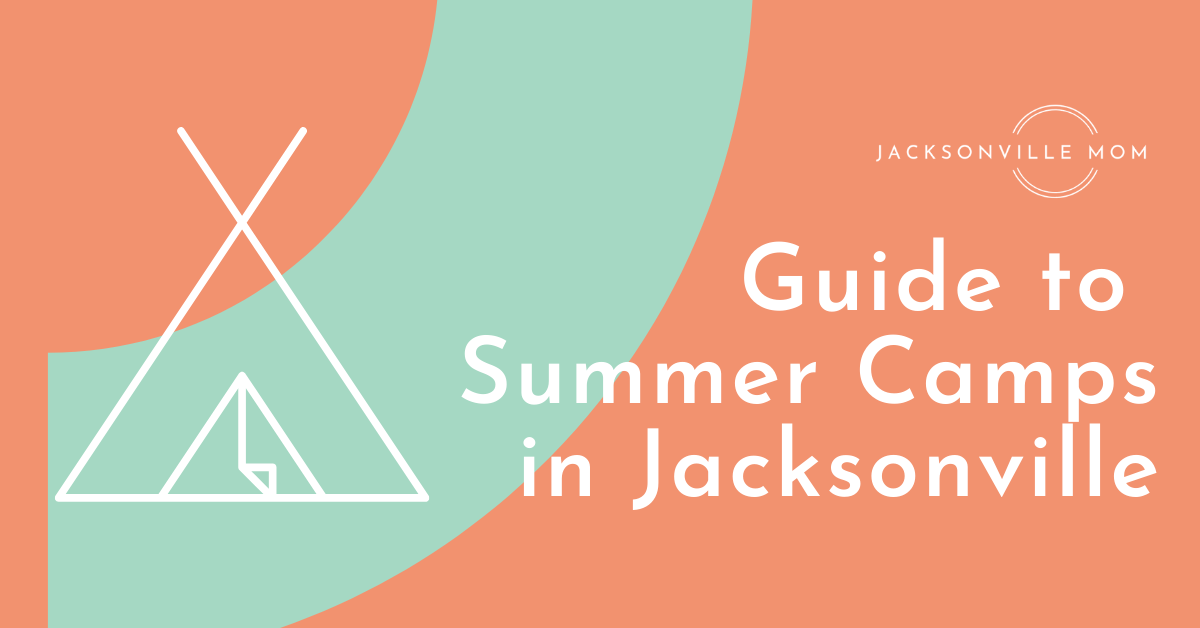 Welcome to the 2021 Jacksonville Summer Camp Guide! It can be hard to get our heads around the fact that summertime will be arriving in Jacksonville soon, but spring is a great time to plan ahead for what to do with the kids when school is out. That's where summer camps come in!
We know that summer camps are at the top of the list of things moms need to figure out early. While summer makes us think of popsicles, parks, and festivals we KNOW as moms that it can also be a frustrating time where you are struggling to piece childcare together week by week and month by month. From Art to Tech, Theatre to Cooking, Sports to STEM, and plenty in between indoors and out, we hope this Ultimate Guide to Summer Camps in and around Jacksonville helps you plan for a fun and memorable summer, full of exploring and new experiences!
EPISCOPAL SCHOOL OF JACKSONVILLE
Summer programs at Episcopal are offered on the school's Munnerlyn Campus this year, with full daycare available. Camps are open to all and offered from May to August for kindergarten through grade 12. Sports camps stress the love of the game, and activities and arts camps allow students to explore a passion with supervision and support. Courses give older students the opportunity to enjoy the subject matter at a relaxed pace, with fewer students and greater teacher attention. Episcopal's inclusive and caring environment allows campers to focus on what is important: improving academics, athletics, and fine arts skills and having fun! Camps are available on Episcopal's website.
Ages: Kindergarten – 12th Grade
Dates: May thru August
Cost: Varies, $150 and up
Location: Munnerlyn Campus, 4455 Atlantic Boulevard,
Jacksonville, Florida 32207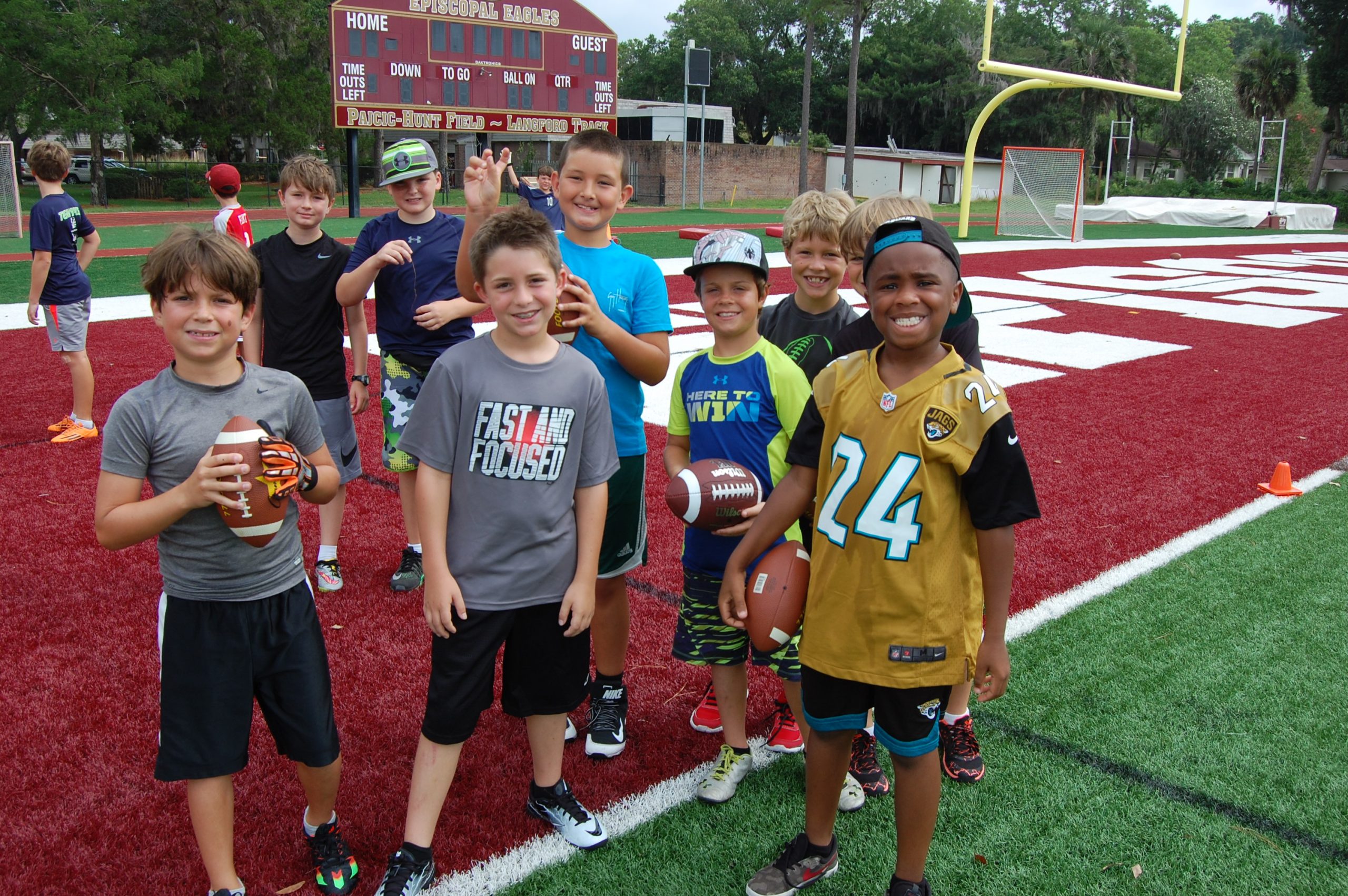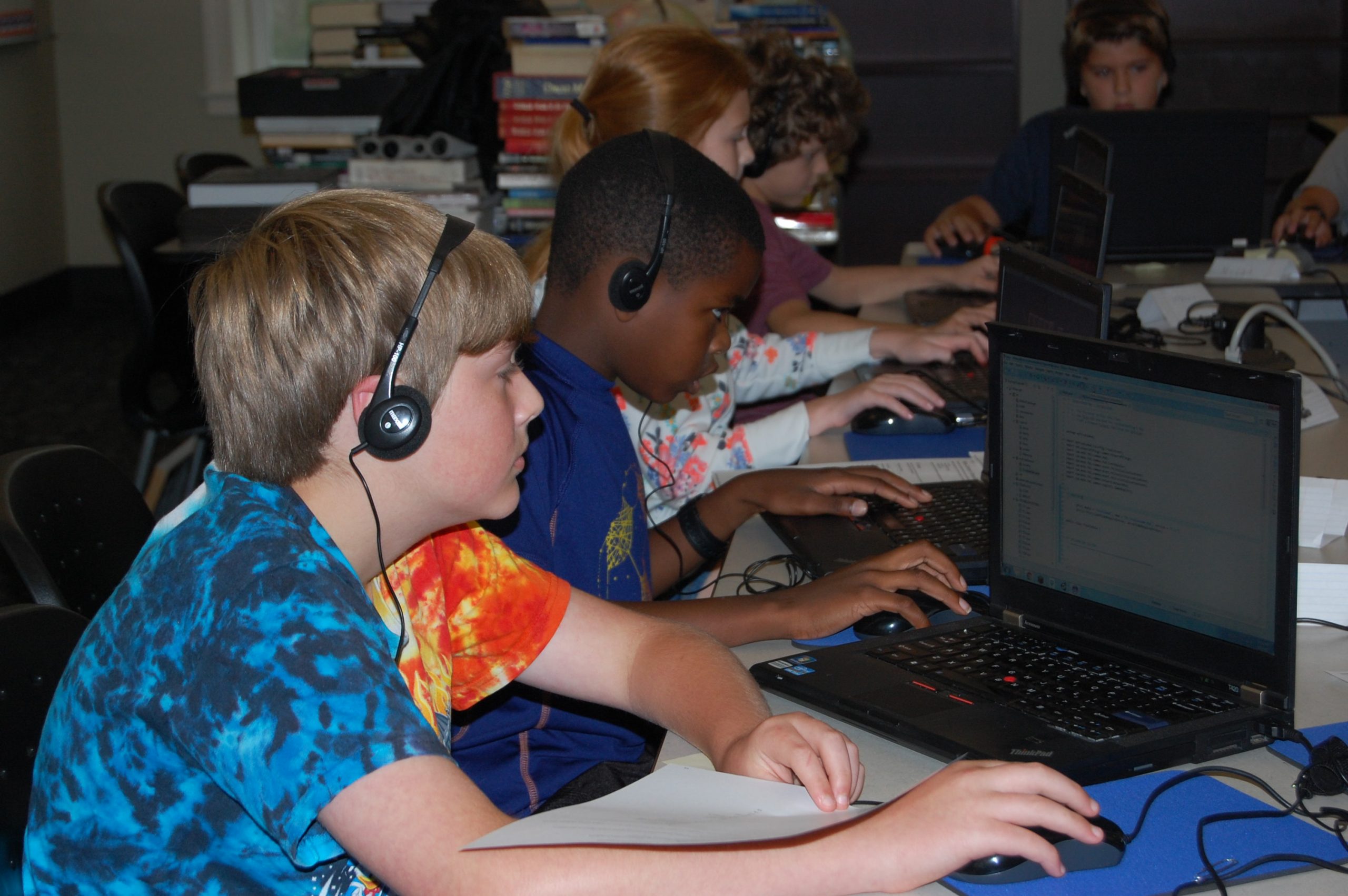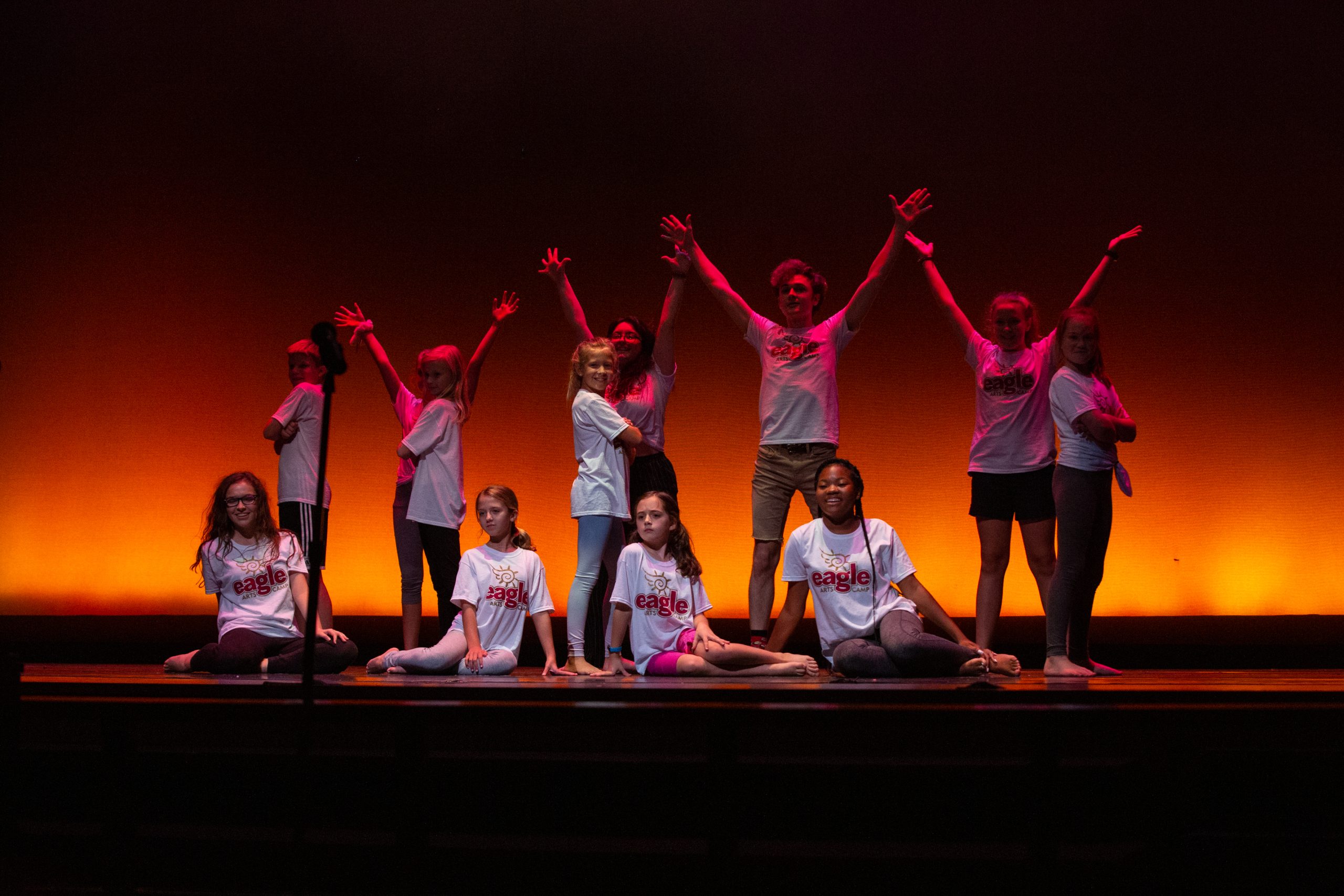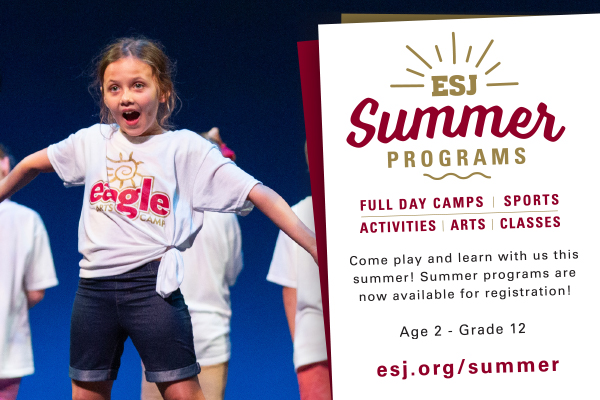 Tommy Hulihan Basketball is offering sports camp, basketball camp, basketball training, and basketball league this summer!
Sports Camp Dates:
All summer starting June 7th!!! Sports Camp is open for girls and boys 5 years old through 6th grade.
Hours: 8am-3pm Extended Care: 3pm-6pm.
Cost: Sports Camp $140 per week 8:00am-3:00pm. Extended Care 3pm-6pm $50 per week.
Single Day Rates: Monday – Thursday $35 per day Friday- $40 includes (Pizza Party on Fridays)
Tommy Hulihan's Summer Basketball Camp
Dates/Location to be announced!
Please subscribe to our email newsletter to be notified of all upcoming events!
Beaches Basketball Summer League
Open to girls and boys 3 years old through 5th grade (use current grade)
Deadline to register Monday, May 10th
Dates: May 29th – July 31st
Cost: $150
Basketball Skills Training
Basketball Training including Individual as well as small group training. Also, shooting School and our Player Development Programs
TBA
It's all hands on deck at The Bolles School, as camp captains prepare to launch a super season of summer fun on all four Northeast Florida campuses. The charted course begins May 31 with JTCC Tennis Camp, a Day Camp Mini Session, Danny Witt Tennis, a Photography Workshop, and a Grand Classroom Trip Grand Canyon program to name a few. Sessions and special programs run through August 11 on the Bolles Upper School San Jose and Whitehurst Campuses, Middle School Bartram Campus, and Lower School Ponte Vedra Beach Campus. Bolles is the only summer camp program with on-campus St. Johns River access for boating, water sports, activities, and research. Programs are often age-specific, but options are available for campers in grades Pre-K through 12. A bounty of engaging activities, camps, and excursions led by expert educators and leaders is on the horizon! Whether you've charted art, athletics, innovation, or academics options for your summer navigation plans, your camper is sure to discover a wave of fun at The Bolles School this summer!
Ages: Pre-K through 12
Dates: Sessions available from late-May to August 2021
Cost: Programs starting at $185/week
Location: Various – San Jose, Ponte Vedra Beach, Bartram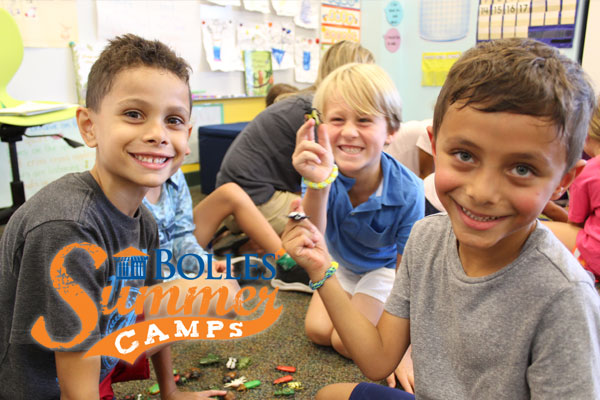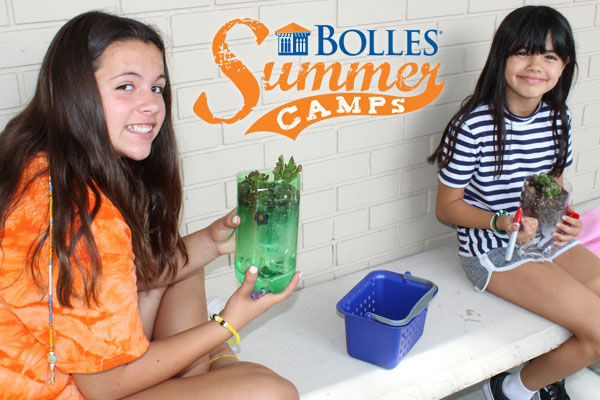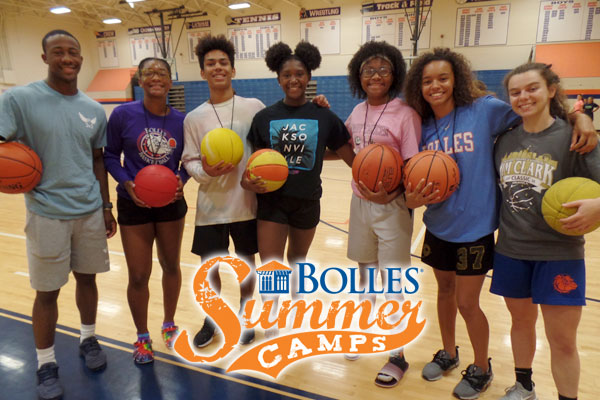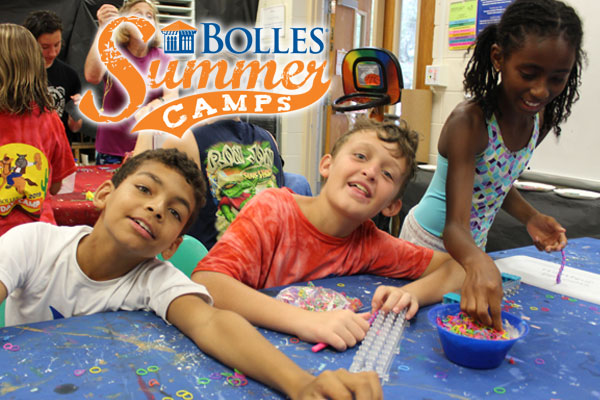 The Discovery School has been serving the Jacksonville Beach area for over 30 years and remains committed to cultivating an inclusive and vibrant community that promotes knowledge, creativity, independent thinking, and mutual respect. The Discovery School offers a wide variety of educational, athletic, and creative camps for children ages 3 through 14 for the Summer of 2021! Summer camp participants will enjoy the amenities of our beautiful campus with updated classrooms, a music studio, STEAM lab, soccer field, and basketball court. Both half and full-day programs will run from June 7th through July 31st, and will include music, art, soccer, dance, chess, Spanish, and many more! Let The Discovery School share another summer of fun with your child in a nurturing and positive environment. Registration begins on the school website in early March.
Ages: 3 through 14
Dates: June 7 – July 31
Location: Jacksonville Beach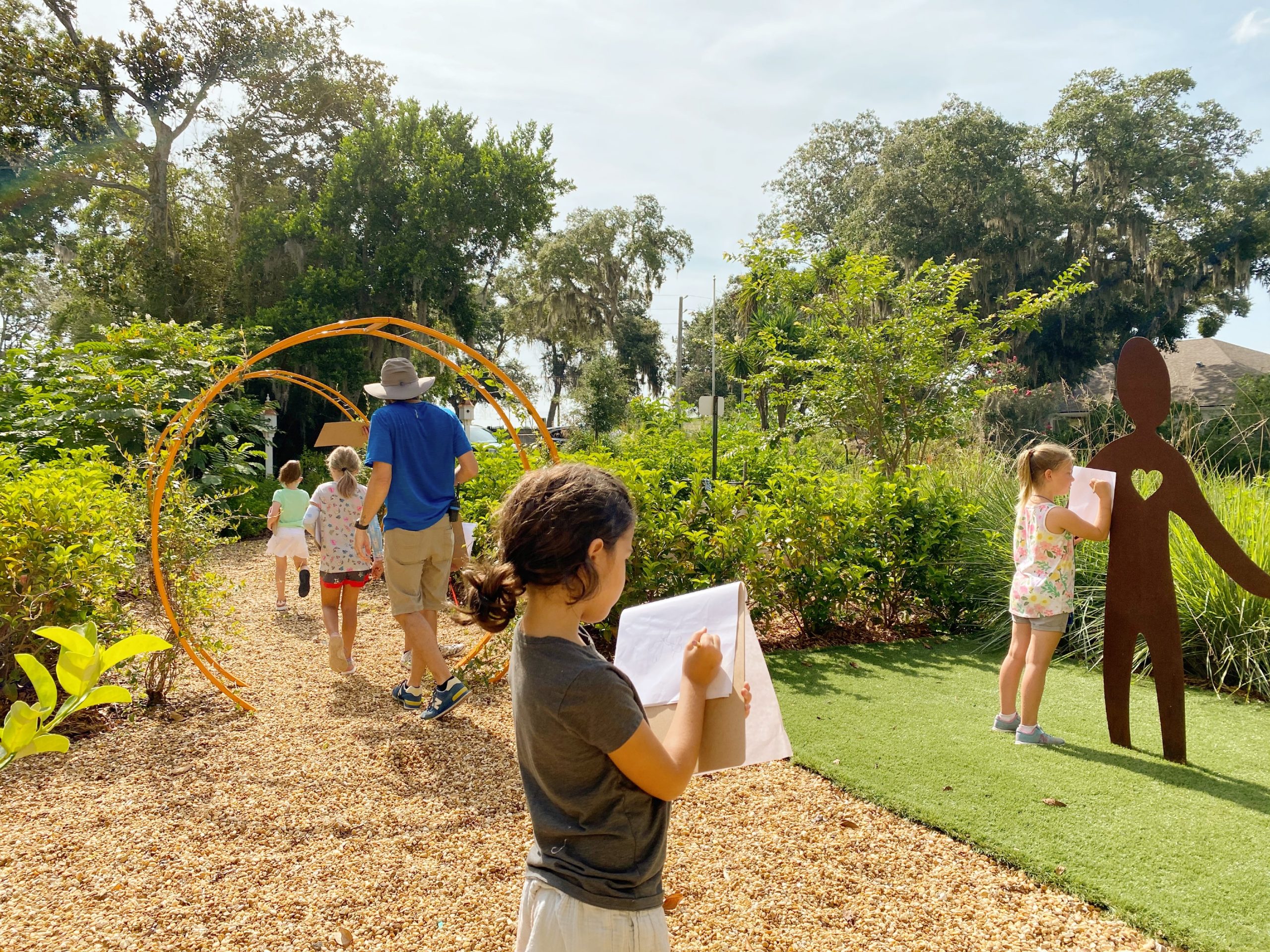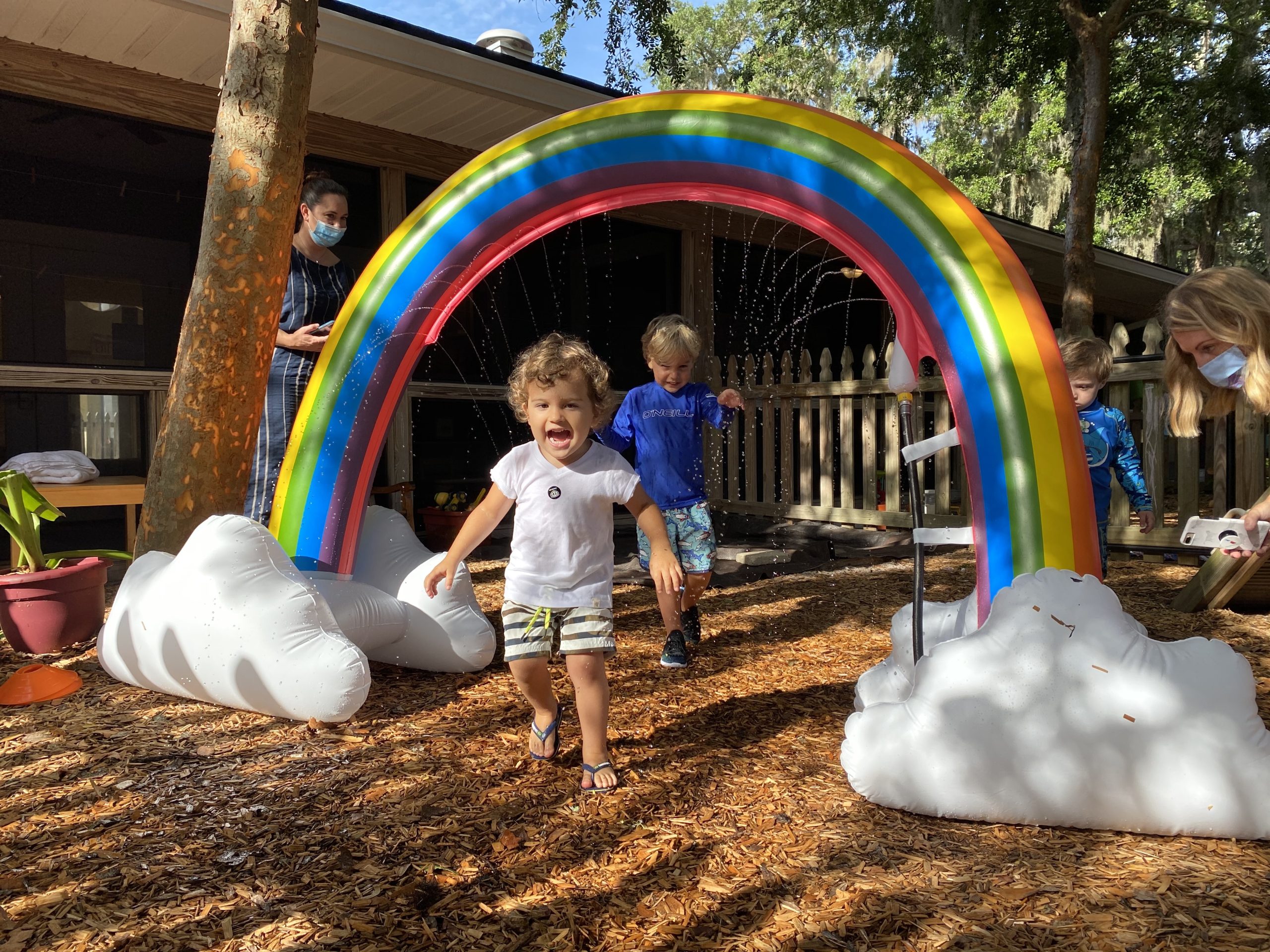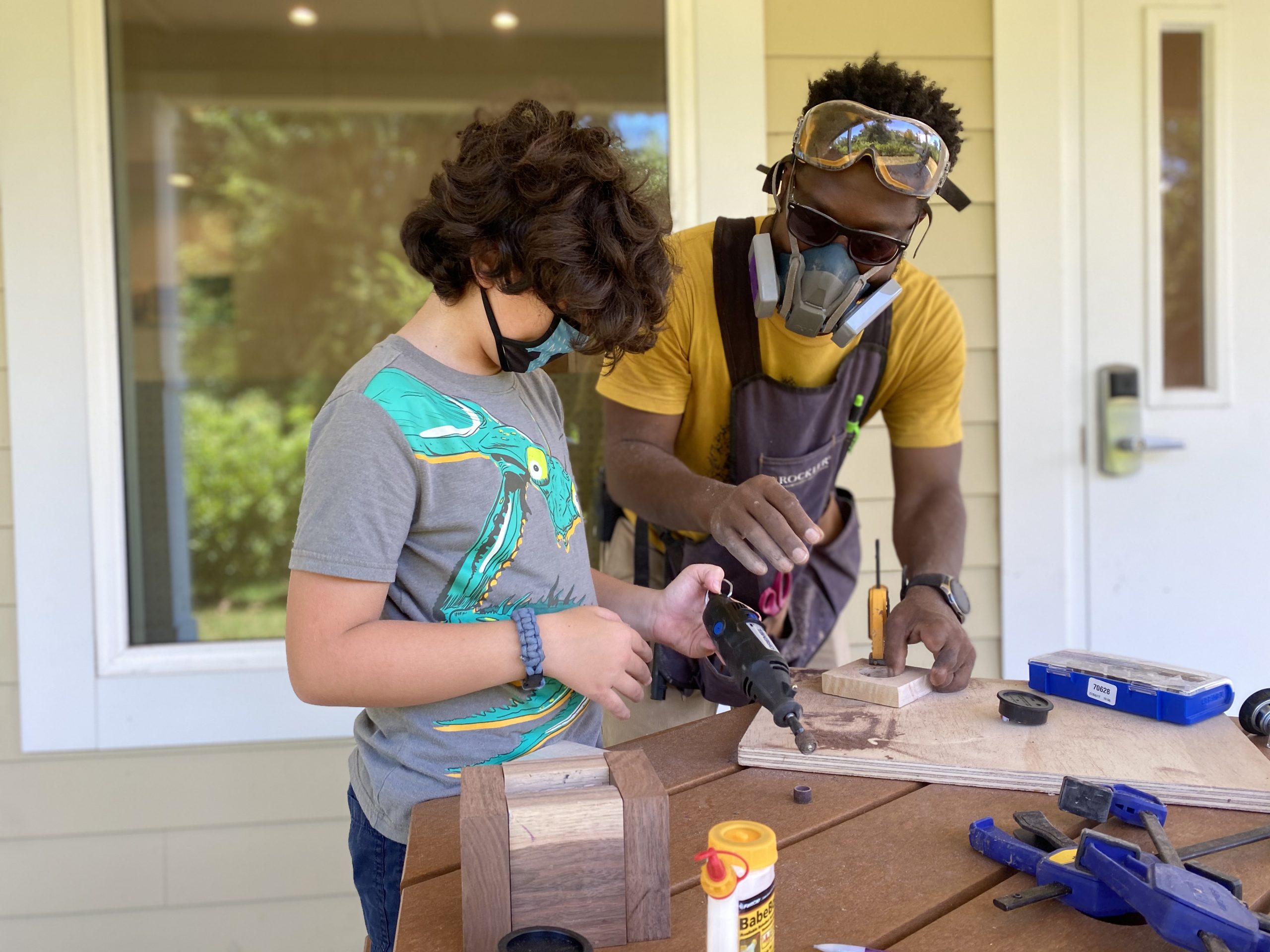 JEWISH COMMUNITY ALLIANCE
JCA provides a wide range of engaging activities to enrich your child's summer experience. From arts and music to unique Israeli programs, carnivals, concerts, science, and sports, JCA Summer Camp offers more than just a place to spend summer days. It is a place for your child to learn and grow! The JCA's extensive campus is an unparalleled facility. With indoor and outdoor pools, tennis courts, a full-court gymnasium, an indoor running track, art studio, a theatre auditorium, dance, and aerobic studios, and outdoor playgrounds, your child has access to all the JCA has to offer, including 100,000 square feet of indoor space. A second campsite will be located at the Jacksonville Jewish Center, 3662 Crown Point Road. An excellent facility with multifunctional indoor space, swimming pool, baseball field, tennis courts, and more provides an ideal setting for unlimited camp experiences! Camp is open to all children regardless of race, religious affiliation, or ethnic origin.
Camp Programs Located at JCA:
Kindercamp, Camp Gan Yeladim (Camp Ages: 2 – 4) , Stage Door Theatre Camp (Camp Ages: Grades 1-9), Adventure Days (Camp Ages: K-8)
Camp Dates: 6/14 – 8/6
Camp Cost: Varies, Valued Member Cost, Guests at $50 per session
Camp Programs at Jacksonville Jewish Center:
Camp Sabra (Camp Ages: Grades 1 – 3)
Camp Habonin (Camp Ages: Grades 4 – 6)
Camp Yalla (Camp Ages: 7 to 9)
Camp Dates: 6/14 – 8/6
Camp Cost: Varies, Valued Member Cost, Guests at $50 per session
New! Camp Kaytana – One Week Programs
Camp Ages: 6 – 16
Camp Dates: 6/14 – 8/6, 1/2 Day Morning/Afternoon and Full Day Offered
New this year, allow your camper to focus on one subject of special interest. Each week is 5 days, M-F, from 9 am-noon, 12:30 pm – 3:30 pm, or 9 am – 3:30 pm and designed with the goal of acquiring new knowledge and skills in a concentrated time frame while having fun! Professional staff with expertise in each subject ensure quality curriculum and instruction. Snack and supplies included. Children bring a dairy lunch for 9 – 3:30 pm programs.
Camp Cost: Varies, Valued Member Cost, Guests at $50 per session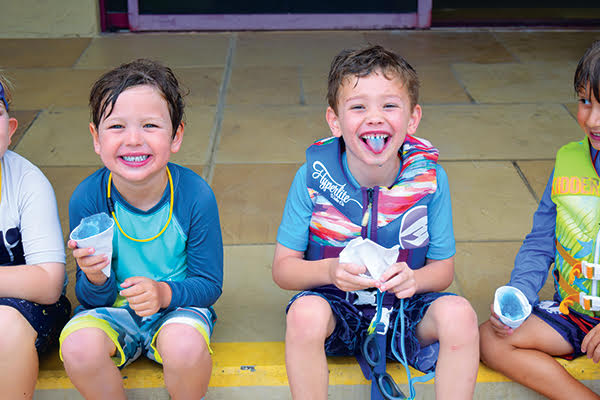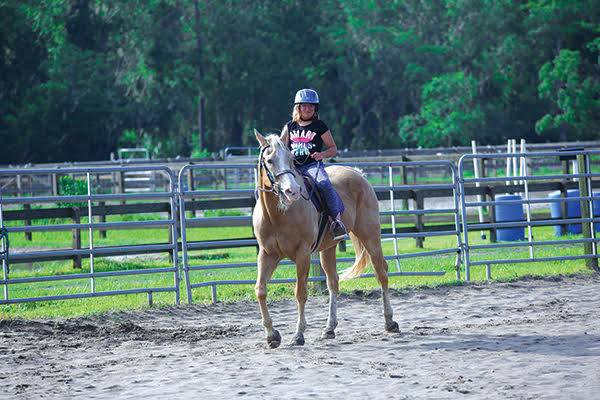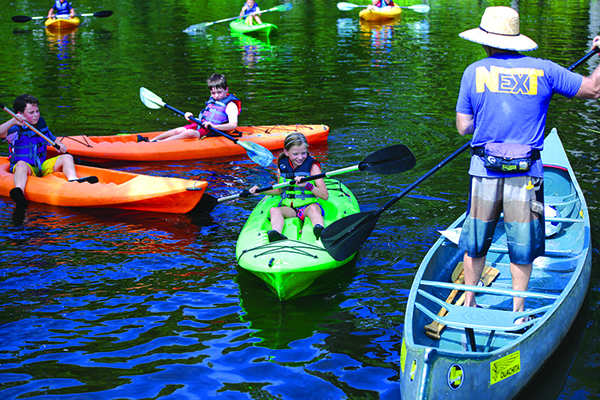 JACKSONVILLE COUNTRY DAY SCHOOL

JCDS is excited to offer a fun and engaging calendar of camps this summer, all while providing a safe environment, healthy meals/snacks, and maintaining the school's safety guidelines. Camps are offered for Pre K 4 – 6th grade (rising grade), and divided into 8, one-week sessions. Campers may choose from a selection of Specialty topic camps, or the 'Summer Sharks' Day camp program.
For over 50 years, Jacksonville Country Day School has provided students with a high-quality and enriching summer day camp program. Campers experience a wide range of activities including arts and crafts, daily pool time, music, games, sports, fun field trips, and more! The camp program is divided into 8 one-week sessions. JCDS is proud to offer a number of quality and exciting specialty camps. The offerings include dance, cooking, academic preparation, music, art, and computer programming.
Our camp is staffed with trained counselors who allow the campers to be creative and express their individuality, while at the same time providing leadership in a safe, enjoyable environment. Choosing the right summer program for your child is one of the most important decisions a parent can make. We are confident our diverse, camper-focused program will provide your child with a memorable summer experience. We look forward to seeing you and your camper this summer!
Ages: PreK – 8th Grade
Dates and Hours: 8 Sessions of summer day camp beginning June 7 – July 30. 9 AM – 3 PM, Extended care available 7:30 AM – 6 PM.
Cost: $220/week. Specialty camps: $300 – $400/week.
Location: Southside/Baymeadows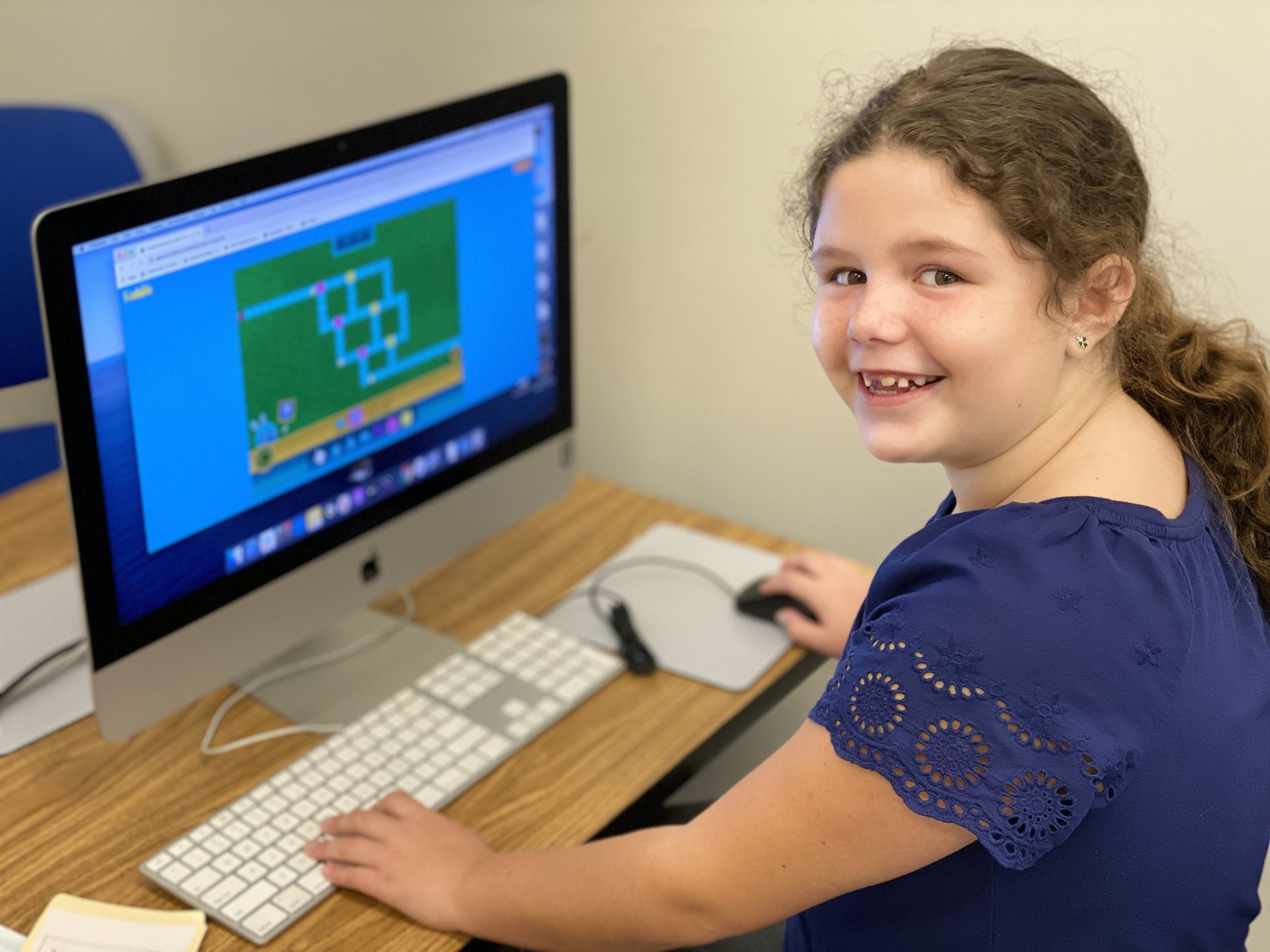 Connect with Jacksonville Country Day School
There is no better place for kids to connect, make new friends, try new things, and discover their potential than during summer camp at the Y. We're a national leader in out-of-school programming that has proven to make a measurable and meaningful difference for kids. We welcome all children and their families because our communities are stronger when everyone has access to opportunities, relationships, and resources to learn, grow and thrive.
Day Camp
L.E.A.P. into summer day camp at the YMCA. Each week, a new theme will help campers Learn, Explore, Accept and Play as they discover new skills, build self-confidence and feel a sense of achievement and belonging. Camp activities include STEM, arts and humanities, sports and outdoor recreation, and more! Our camp day is available 6:30am-6:00pm at dozens of convenient locations in Baker, Clay, Duval, Nassau, and St. Johns counties. Safety is our number one priority with extensive protocols based on guidance from the CDC, the health department, and local medical experts.
Ages: 5-15
Dates: June 7 – August 6 (varies by location)
Cost varies by camp location
Locations: Sites in Baker, Clay, Duval, Nassau, and St. Johns counties
Registration
Overnight Camp
Catch the magic at Camp Immokalee, a favorite for generations of overnight campers (and parents!) Since 1909, Camp Immokalee has engaged, encouraged, and empowered young people with life-changing experiences necessary to grow as individuals, friends, and leaders. Camp Immokalee is a tech-free zone but with all of our fun things to do, campers love staying unplugged. Activities include archery, pottery, canoeing, water sports, swim lessons, horseback riding, songs and skits, teambuilding games, zipline, and much more! Safety is our number one priority, and we monitor CDC, American Camp Association, Y-USA, and other sources to ensure our policies and procedures keep campers as safe as possible.
Ages: 7-17
Dates: June 13 – August 7
Cost: YMCA Members $575, Non-Members $640
Location: Keystone Heights
Registration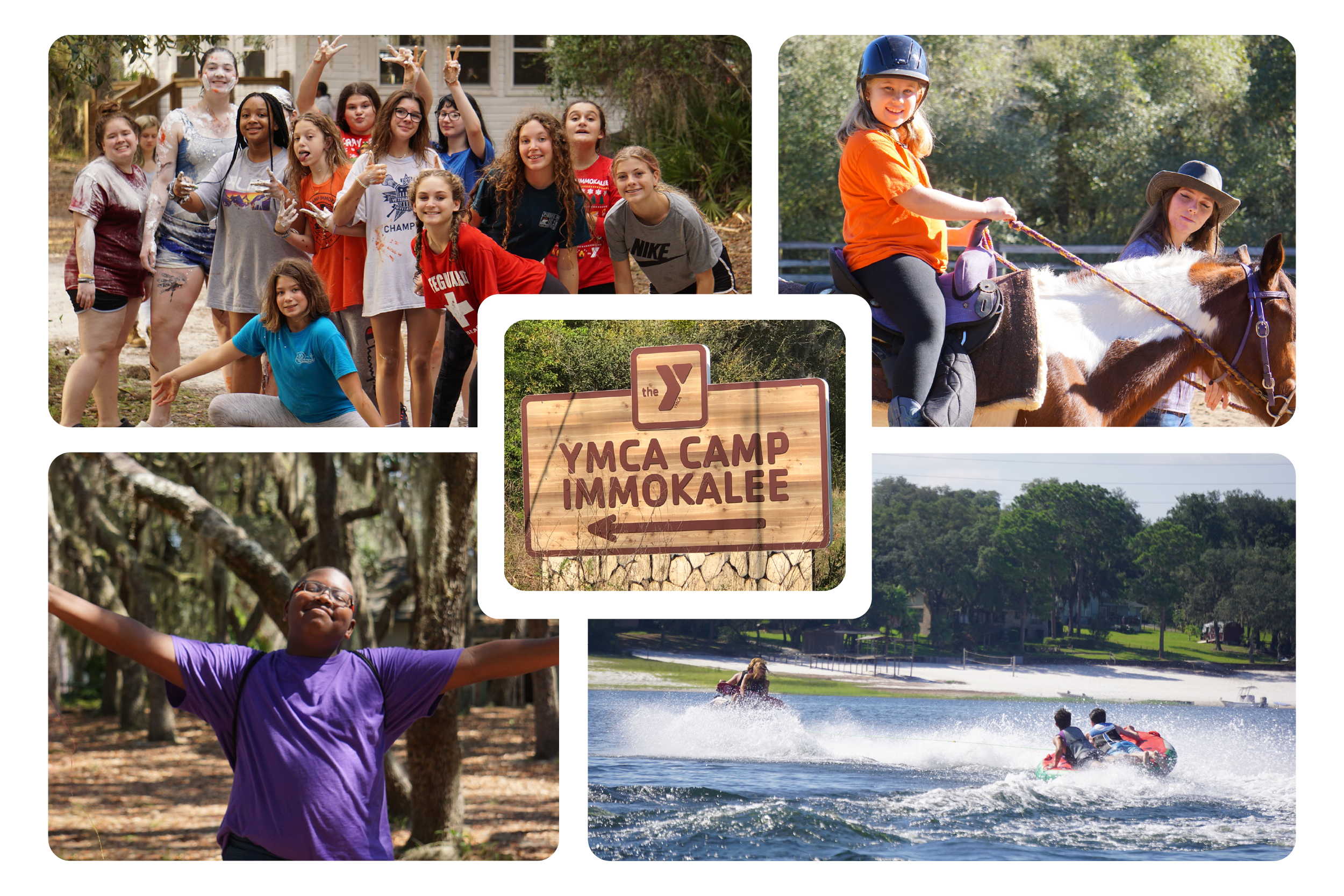 Connect with First Coast YMCA
THE GODDARD SCHOOL SAINT JOHN'S/JULINGTON CREEK

The founding principle of The Goddard School of St. John's/Julington Creek's program is that children experience the deepest, most genuine learning while they are having fun. We've incorporated this philosophy into every aspect of our summer camp program for children ages 4 years old through 3rd grade. From STEAM activities (Science, Technology, Engineering, Arts, and Mathematics) to outdoor play, we'll explore a wide range of STEAM activities through both indoor and outdoor play, messy crafts, water play, and cool experiments. Our campus offers clean and safe classrooms in addition to opportunities for active play on 1 of our 3 outdoor playgrounds. An Indoor Gym is also available for activity when the heat index is too high! The school is open 7 AM to 6 PM with half-day, school day, and full-day schedules available. Call us today to learn more about our amazing 2021 Summer Camp program!
Ages: 4 years old – 3rd Grade
Dates: June 1 – August 6
Cost: Varies
Location: 100 Julington Plaza Drive
St. John's, FL 32259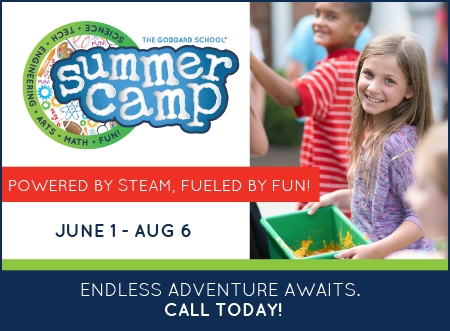 Connect with The Goddard School Saint John's/Julington Creek
THEATRE JACKSONVILLE'S SUMMER CAMP is gearing up for a fantastic time! Whether in-person or virtual our camps celebrate the joyful, ridiculous, and brilliant passions of your child. They provide the time for them to explore, have fun and make new friends all while discovering the world of live performance in a safe and healthy environment. Our experienced artists share their passion for theatre through classes in a variety of disciplines to tap into the imagination of each camper.
IN-PERSON CAMP: There are two sessions, each are three-weeks long. Limited space. First come, first serve. Each session wraps up with campers putting on a show for you! Unfolding before your eyes is everything our campers have learned. Also supporting our campers throughout their session are our energetic camp counselors, some of the best and brightest teens from area high schools.
For ages, dates, pricing, and more, click HERE.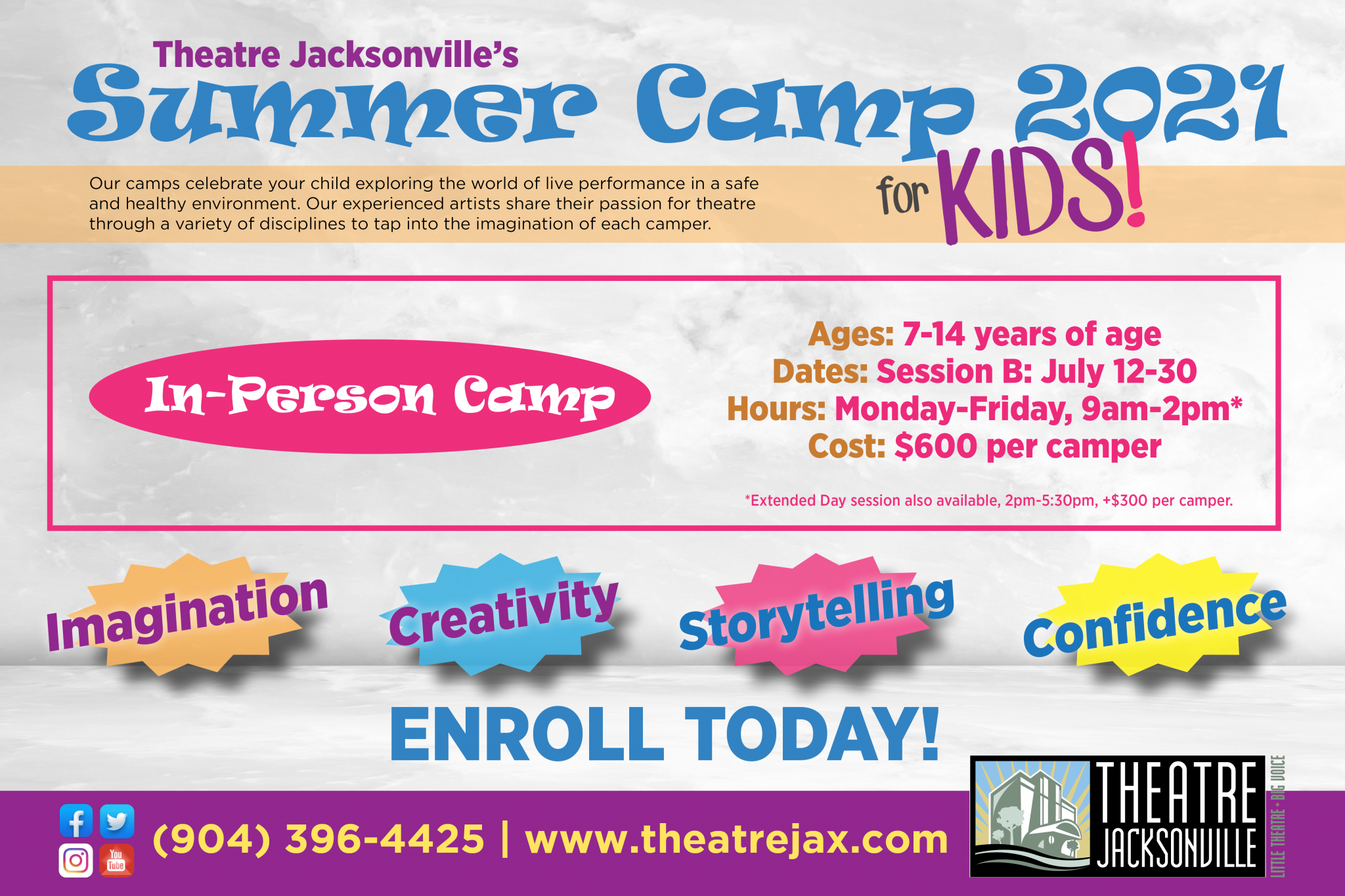 Get your kids outside with JSP Surf Camp!  We hope each of you and your family members are staying safe and healthy. JSP Surf Camp is a great way for your little surfer to learn, grow, and have tons of fun this year. Camp is open to any child aged 6-16 who is able to swim. We offer two half-day camps (Morning 5 sessions M-F or Afternoon 5 sessions M-F), full-day (Morning and Afternoon 10 sessions M-F), and when available single-day sessions to help fit your busy schedule.
Use"Early Bird 21″ for $10 OFF Spring Surf Camp (expires 2/28/21)
We are also very excited to offer a second season for our Advanced Riders Camp held at our surf school in Neptune Beach!  We will announce more info on this session.  Students interested in the advanced camp must be able to pop-up, ride a wave and get the board back out to line-up to be accepted in the program. This is for surfers who graduate from our main beginner camp or have more than a beginner skill set.  JSP Advanced Riders Camp will include smaller instructional groups with video critiques of form and skill throughout the week. Those interested should contact us.  Register early – all camps are filling up fast!
Ages: 6-16
Dates: Spring March – April | Summer June – August
Cost: varies
Location: Atlantic/Neptune Beach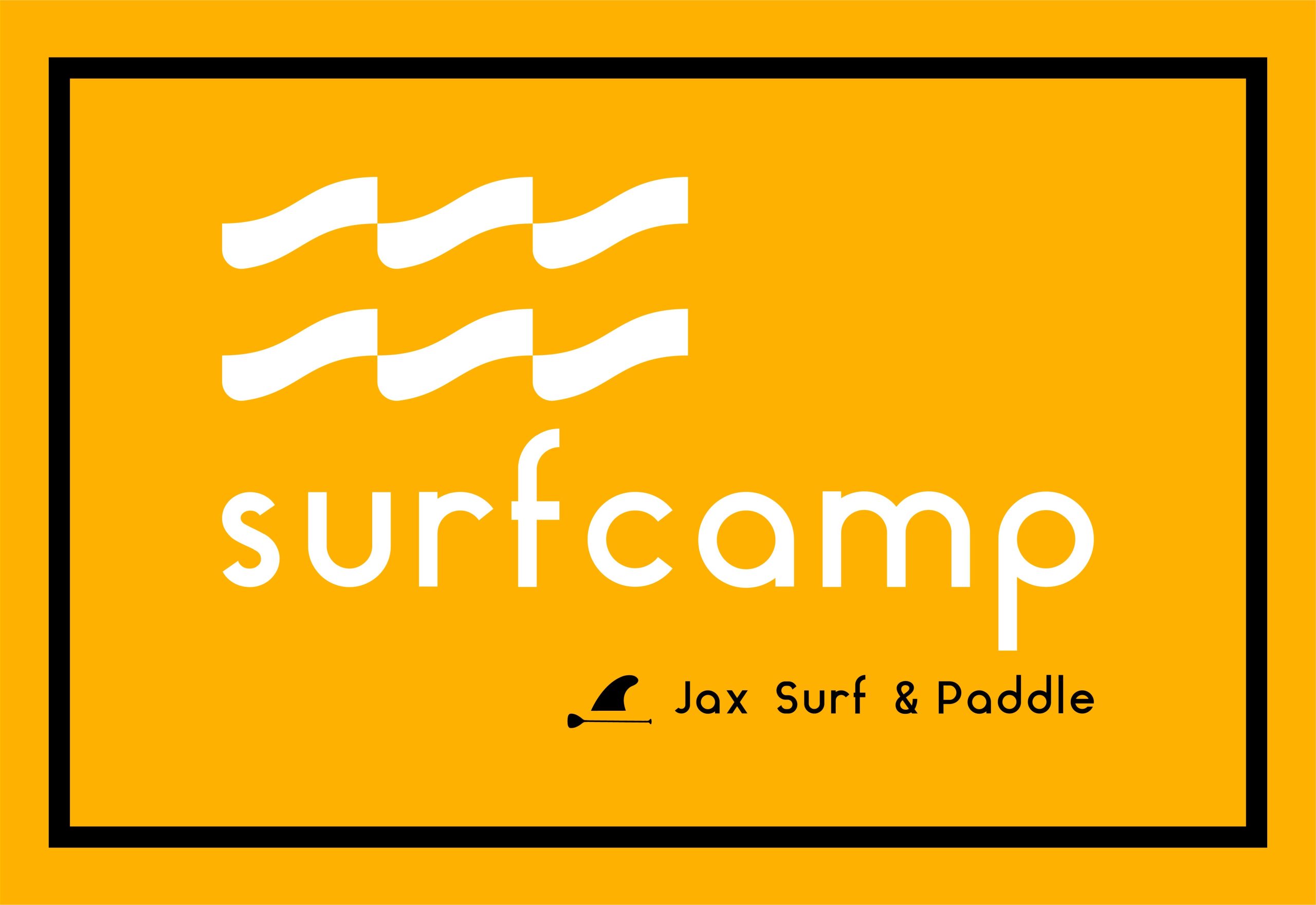 Connect with Jax Surf & Paddle
Bolts & Bytes Maker Academy was founded on the belief that children learn best when they are truly interested and excited by what they are learning. Classes are built around project-based learning, where there is no right answer, and creative solutions and approaches are encouraged. Combining maker technology like 3D printing, coding, robotics, electronics, and drones with a fully-featured makerspace packed with fabrication tools that are sure to spark the inventive spirit.
Join for STEM Summer Camps: 3D Printing, Robotics & Battle Bots, DIY Skateboard Design & Build, Star Wars Academy, Drone Pilot Race School, Build an Escape Room, Coding, LEGO Masters.
Ages: Ages 6 – 16
Dates and Hours: Morning & Afternoon Camps | Extended Care Available | Morning Session: 9am-12pm | Afternoon Session: 1pm-4pm
Cost: $269 + /camp week | 10% Multi-Camp Discount! Sign up for one Bolts & Bytes Summer Camps and automatically receive 10% off ALL additional Summer Camp registrations for that camper!
Location: Jacksonville Beach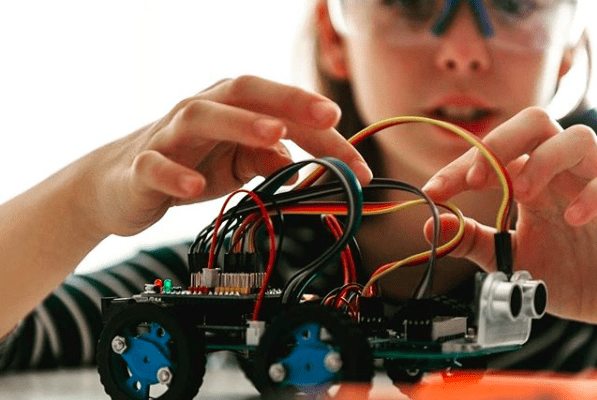 Connect with Bolts & Bytes
Do your kids love music? Look no further! Bach to Rock has summer music camps that will turn your kids into rock stars! For ages 7+, your kids can join Rock Band or Glee Camp for the full rock star experience. These musicians will form a band, learn how to play a song on their instruments, record their very own demo in B2R's state-of-the-art studio, and even put on their very own performance! Kids ages 10+ are also eligible to join Recording Arts where they will spend a full week learning how to be a recording engineer, including creating their own songs and running a real recording session.
Are your kids on the younger side? We have camps for them too! For ages 4-7, we bring you Rock City World Tour. This group will explore instruments from around the world while learning music theory and gaining instrument knowledge, complete with a performance at the end of the week.
B2R turns music into a team sport with these awesome opportunities. Camps require no prior experience. For those seeking information on our virtual camps, check out our website!
*Safety measures are in place! Face masks are required for everyone over the age of 6, instruments and rooms are sanitized before/after each use, social distancing is utilized, group sizes are reduced, and our facility is professionally cleaned every Sunday.
Ages: 4-17
Cost: $229 – $329
Dates: 6/7 – 8/6 (sessions run Monday-Friday, full or half-day options are available)
Location: Jacksonville Beach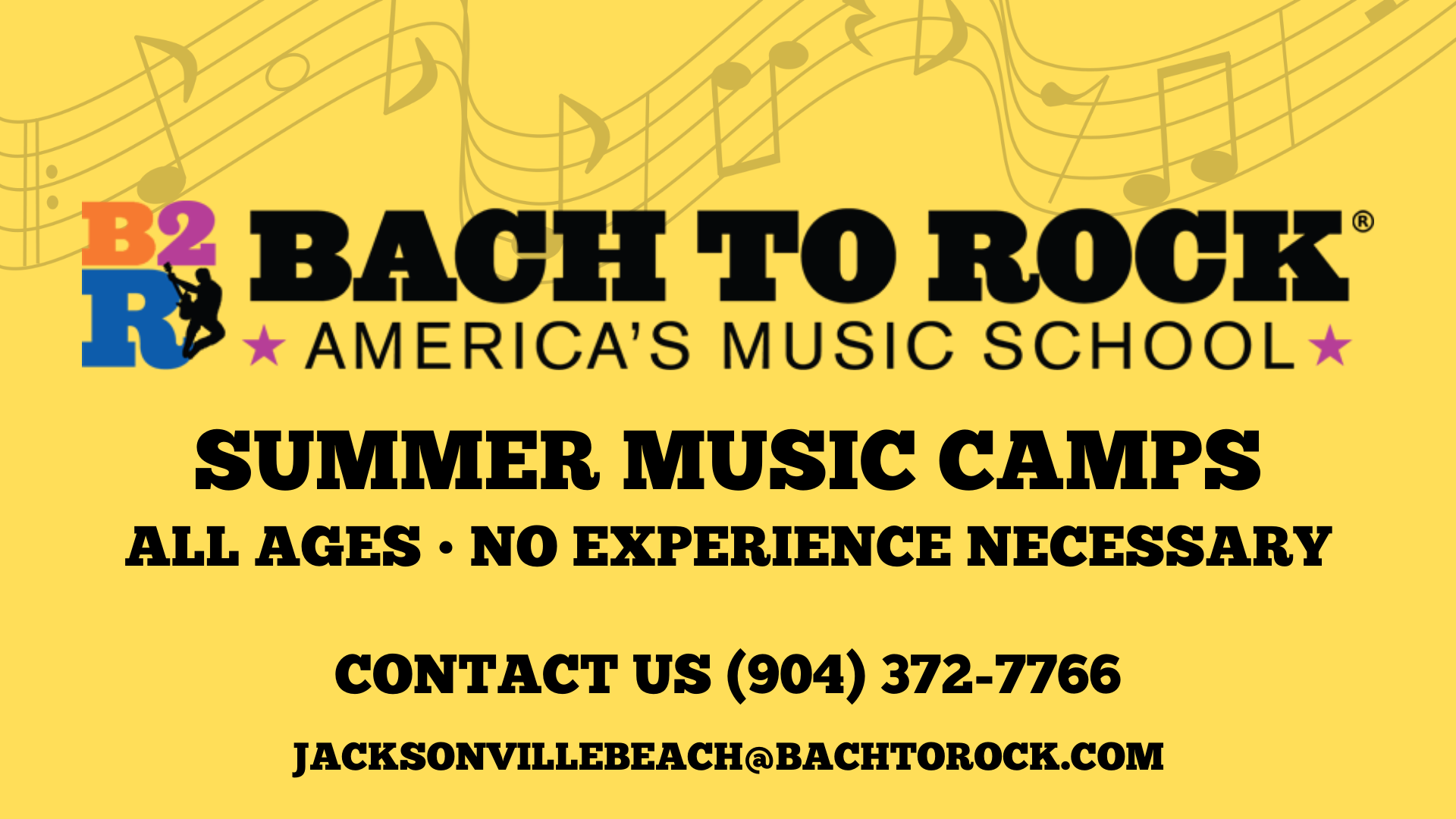 Connect with Bach to Rock
At JAX Cooking Studio Summer Camps, kids are taught to cook with whole foods from scratch. All classes are hands-on and each child participates in preparing the food. At the end of each day, the kids eat what they have cooked. Yum! Kids also learn about kitchen safety and cleanliness, proper food handling, measuring ingredients, knife safety, how to arrange the kitchen workplace for success, and how to read and follow recipes or even make your own recipes.
Ages: 6 and up
Cost: $315 and up
Camp Dates and Times: Weekly sessions all summer. Each Camp meets Monday—Friday for 3 hours a day. Choose from either 9 am—12 pm or 1:30 pm—4:30 pm.
Location: Intracoastal West/Beach Blvd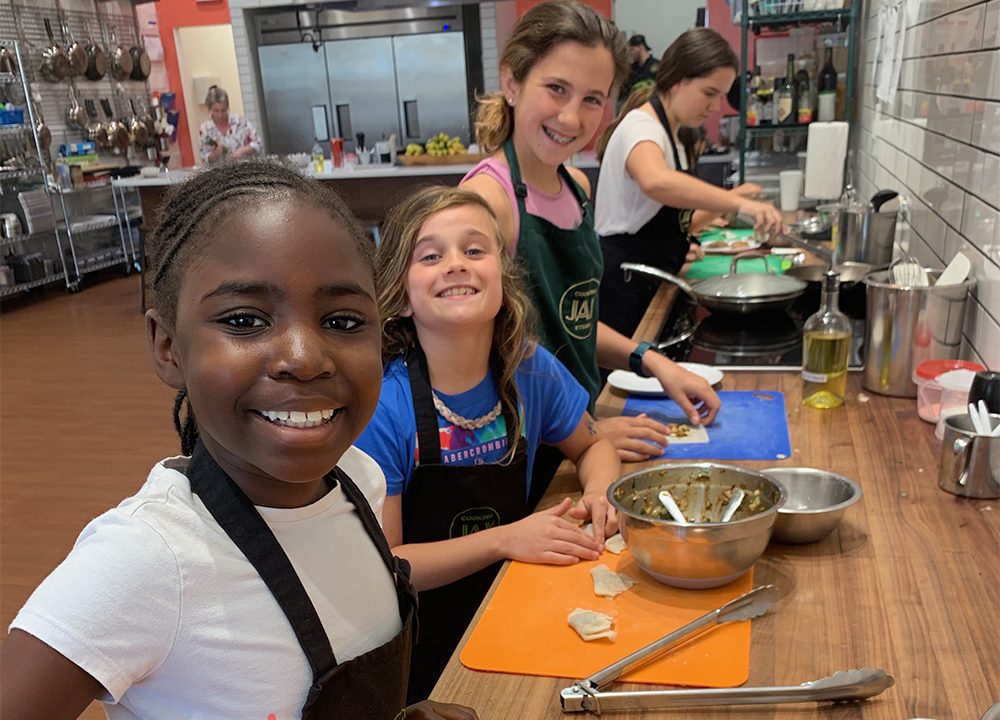 Connect with JAX Cooking Studio
Collage Day School offers unique summer programming aligned to our philosophy utilizing our 8-acre campus. Parents have the ability to select either Camp Collage for nine-weeks of adventure or TimberNook for a fun-filled summer embracing nature. Both offerings provide students with developmentally appropriate activities catered to the sensory needs of students.
Throughout the summer, students will transform themselves into scientists, explorers, superheroes, artists, dancers, and athletes. Parents will have peace of mind knowing their students are actively engaged in topics that further develop their interests. Contact us to tour our campus and learn more about our summer offerings today!
Ages: 3 years through 10 years old
Dates: June 1st– July 30th
Cost: Price varies based on the program
Location: 171 Canal Blvd, Ponte Vedra Beach, FL 32082
Connect with Collage Day School
Your camper will enjoy meeting up with old friends and making new lasting friendships! New to our camp? We will make sure your camper feels right at home with a camp buddy to help them feel welcome! From the Jacksonville Zoo to Bolts & Bytes Makers Academy, the possibilities for your child to be introduced to new and exciting opportunities are endless! We love to incorporate various interests into our summer camp to help ignite that creative spark in each of our campers. We've partnered up with several local businesses to bring these field trip programs right to our gym! We hope your camper will have the BEST summer ever at Beaches Gymnastics when they attend any of our fun packed-themed weeks! Sign up now to take advantage of our Early Bird Discount!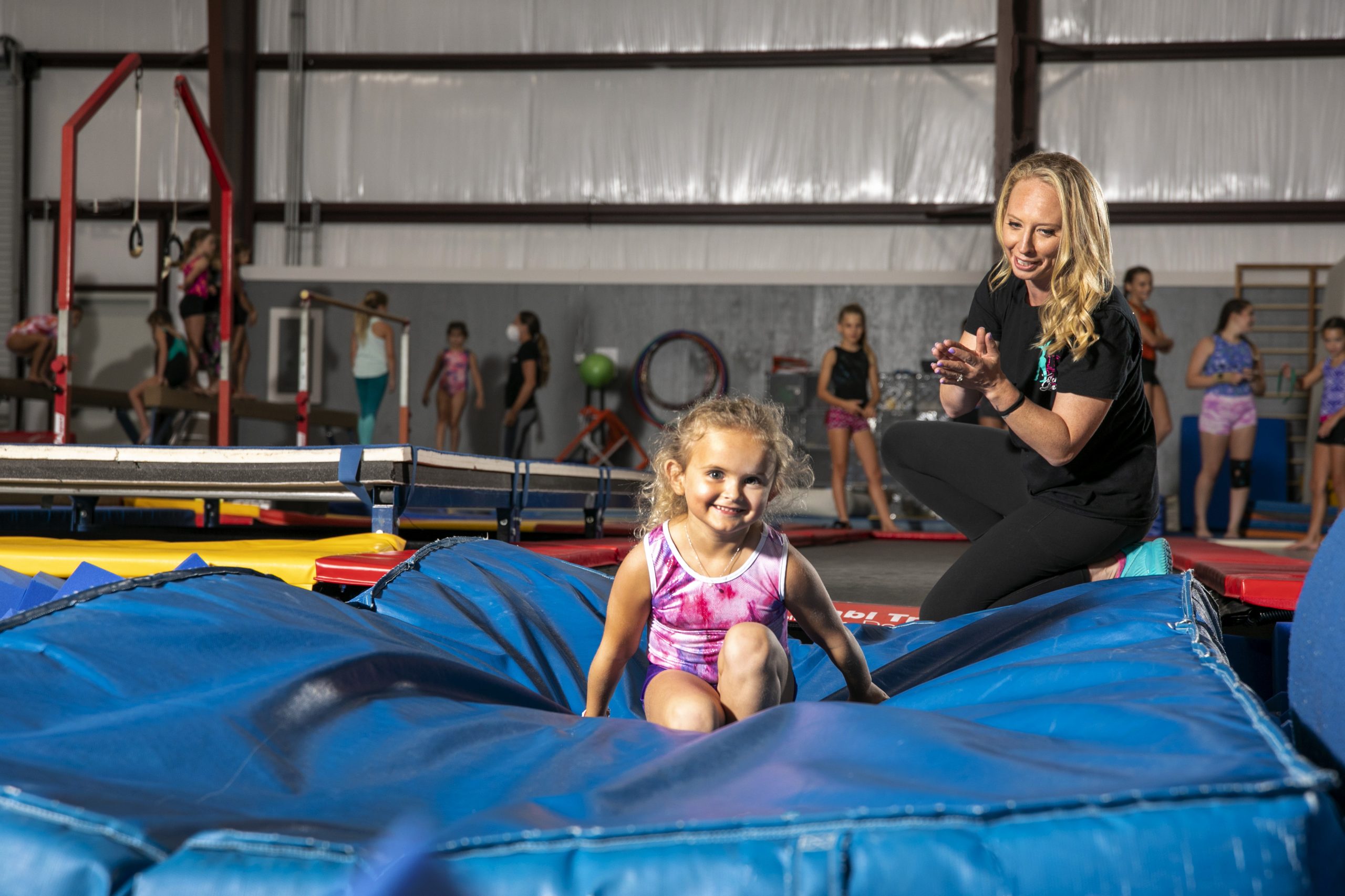 Connect with Beaches Gymnastics
Camp TLE® is non-Stop FUN and entertainment. It's where children can create lasting friendships all summer long! We offer exciting weekly entertainment, virtual field trips, and plenty of outdoor opportunities to stay active and engaged. Our outdoor activities are designed to bring a smile to children's faces, and develop their gross motor skills and promote teamwork and collaboration. Camp TLE® provides laughter, smiles, and cherished memories. Our camp activities are for children ages 2-10 years old. Our little ones learn a range of social and emotional skills such as problem-solving, sharing, and how to bond with other children. Our elementary school-aged campers will participate in various project-based learning activities and experiments that will peak their curiosity and tap into a variety of STEAM-based adventures. We've structured our program to encourage social and emotional development in an environment where children feel happy and safe.
Come take a tour and learn why Camp TLE® is the place to be this summer!
Ages: 2-10
Cost: Varies
Location: TLE Mandarin, TLE Southside, TLE Oakleaf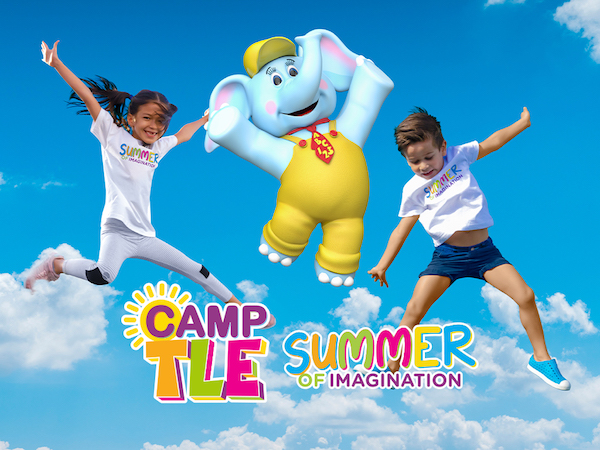 Connect with The Learning Experience
Chappell Schools ensures summer campers continue to learn over summer vacation while having FUN! Camp follows a weekly theme that allows exploration, discovery, and continued learning with extra emphasis on making friends and having fun.
We have THREE great summer options for your camper in 2021! Our ever-popular, robust Summer Camp at Deerwood (capacity 60), San Marco (capacity 30), and Longleaf (capacity 24)! Questions? We'd love to have your camper this summer! San Marco: (904) 399-1009 | Deerwood: (904) 739-1279 | Longleaf: (904) 230-3337
Ages: 5-12
Location: Various| San Marco, Deerwood, Longleaf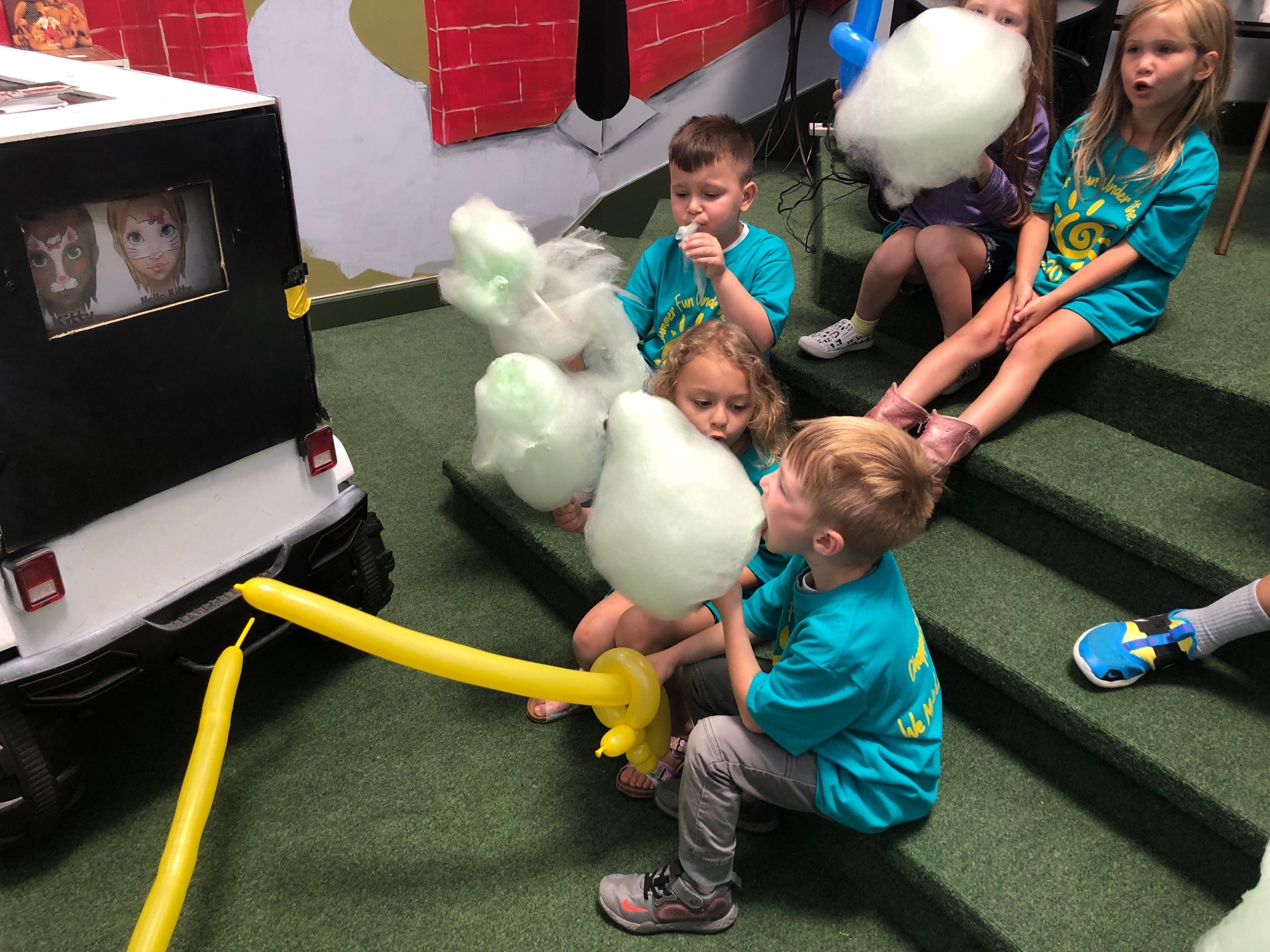 Connect with Chappell Schools
THE RATTLESNAKE CONSERVANCY CONSERVATION CAMP
Conservation Camp is a unique, one-of-a-kind program led by a team of dedicated naturalists and scientists that gives children ages 8-17 the opportunity to spend a week as a wildlife biologist. Campers will learn real-life applications of environmental sciences, meet animal ambassadors, and embark on an amazing journey to explore the ecosystems of Florida, native plants and animals, and how to make an impact through the conservation of wildlife and their habitat!
Dates: We will meet Monday – Friday, from 9:00, am to 3:00 pm, during the weeks of June 14th through July 30th at the Tree Hill Nature Center located at 7152 Lonestar Road, Jacksonville, FL 32211.
June 14-18, 2021
June 28-July 2, 2021
July 12-16, 2021
July 19-23, 2021 – TEENS WEEK!
July 26-30, 2021
9am – 3pm
Cost is $299 weekly, $275 for TreeHill members, $250 for active-duty military, and a 10% family discount for siblings.
The Rattlesnake Conservancy at Treehill Nature Center
7152 Lonestar Road
Jacksonville, FL 32211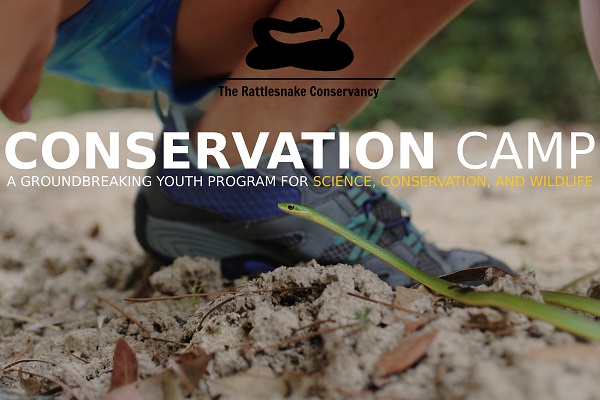 Connect with The Rattlesnake Conservancy Conservation Camp
The Knight School Chess Academy of Jacksonville summer camp programs are open for registration! Chess Camp is a super-fun, high-energy experience for kids ages 6-13. Camp participants celebrate a new chess tactic each day with silly videos, music-driven puzzlers for prizes, colorful Tactixbands, chess movies, and clock slapping tourneys! TKS Summer Chess Camps are the perfect way to keep your brain sharp during the summer while having an absolute blast!
Ages: 6-13
Dates: May 24th – July 30th
Cost: Varies per location
Location: Several on-site locations available this summer in St. Johns, Ponte Vedra, Jacksonville Beach, and Jacksonville.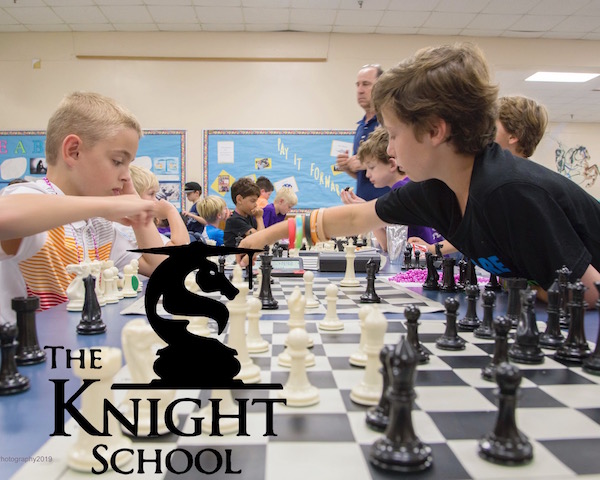 Connect with The Knight School
EXPLORE ALL JACKSONVILLE CAMPS BY CATEGORY
Want to be a part of our Summer Camp Guide?
We want to show our readers all the great camps available right here in the Jacksonville area. Partnering with us allows your business greater visibility with a large targeted market of local families. Join us and help enrich the lives of Jacksonville Moms!