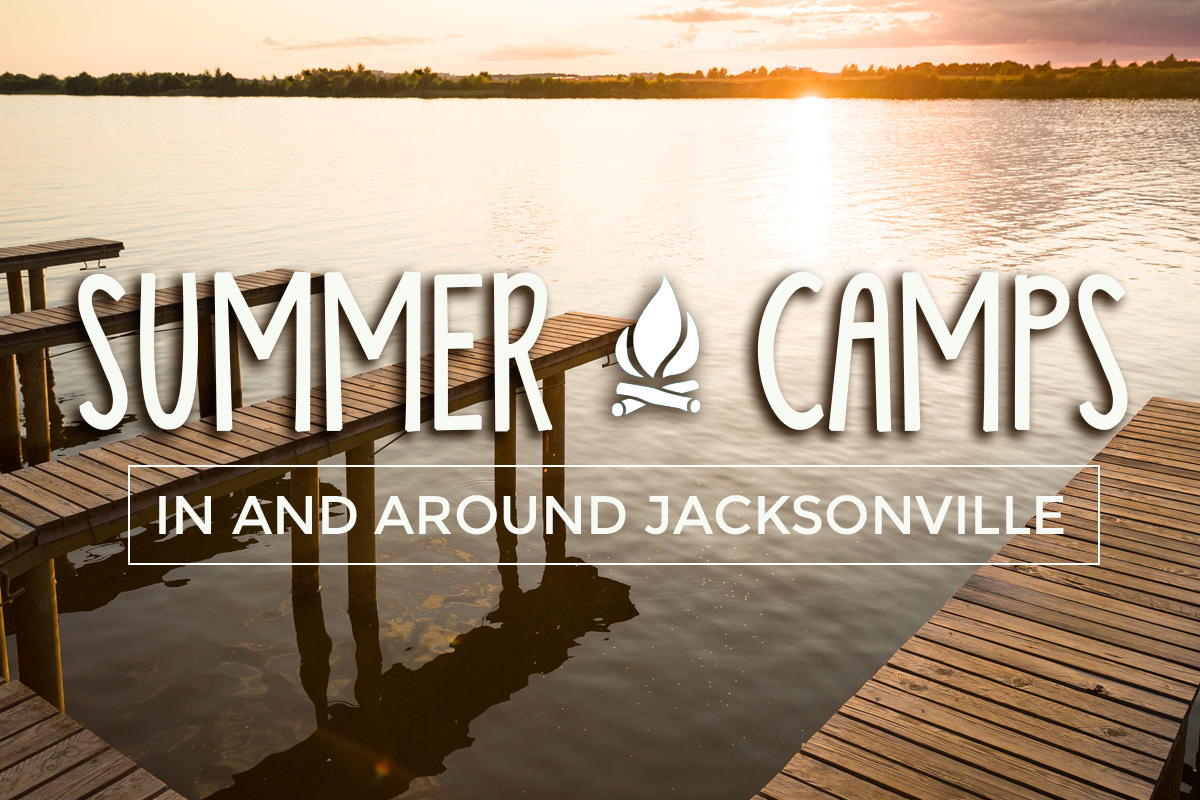 Welcome to the 2019 Jacksonville Summer Camp Guide! It can be hard to get our heads around the fact that summertime will be arriving in Jacksonville soon, but spring is a great time to plan ahead for what to do with the kids when school is out. That's where summer camps come in!
We know that summer camps are at the top of the list of things moms need to figure out early. While summer makes us think of popsicles, parks, and festivals we KNOW as moms that it can also be a frustrating time where you are struggling to piece childcare together week by week and month by month. When "school's out for summer" we know finding camps to keep the kids busy and cared for is on the top of every family's to-do list. From Art to Tech, Theatre to Cooking, Sports to STEM and plenty in between indoors and out, we hope this Ultimate Guide to Summer Camps in around Jacksonville helps you plan for a fun and memorable summer, full of exploring and new experiences!
EPISCOPAL SCHOOL OF JACKSONVILLE
Summer programs at Episcopal School of Jacksonville are all about fun and self-improvement for grades K-12. The classes give students the opportunity to enjoy the subject matter at a relaxed pace, with fewer students and greater teacher attention. The sports and arts camps stress the love of the game and offer something for everyone, whether it be volleyball, swimming, music, dancing or fencing. Activity camps offer a variety of opportunities, include driver's ed or fishing. Eagle Arts Camp and Coach Mark Brunell Football Camp are two favorite ESJ camps! The safe, secure environment at Episcopal allows students and parents to focus on what is important: improving academics, athletics, and fine arts skills. The School prides itself on being a small, close-knit community that welcomes anyone to join us! Come play and learn with us this summer. We know you will find a camp you will love at Episcopal.
CAMP DATES: May – August
JACKSONVILLE COUNTRY DAY SCHOOL
For over forty years, Jacksonville Country Day School has provided students with a high quality and enriching summer day camp program to enjoy. Campers experience a wide range of activities including arts and crafts, daily pool time, music, games, sports, fun field trips, and more! The camp program is divided into 8 one-week sessions. The campers are placed into cabins according to the grade they will be entering in the fall. The programs are specifically designed for each age group. In addition to our day camp, JCDS is proud to offer a number of quality and exciting specialty camps. TThe offerings include dance, cooking, academic preparation, music, art and computer programming.
Our camp is staffed with trained counselors who allow the campers to be creative and express their individuality, while at the same time providing leadership in a safe, enjoyable environment. Choosing the right summer program for your child is one of the most important decisions a parent can make. We are confident our diverse, camper-focused program will provide your child with a memorable summer experience. We look forward to seeing you and your camper this summer! Registration will open on March 11, 2019.
CAMP DATES: 8 Sessions of summer day camp beginning June 3 – July 26.
CAMP HOURS: 9 AM – 3 PM, Extended care available 7:30 AM – 6 PM.
CAMP COST:$200/week. Specialty camps: $300 – $400/week.
FIRST COAST YMCA
The First Coast YMCA Super Day Camp team is embarking on a fantastical Journey Through Time! Kids will discover new adventures, interests and skills, build self-confidence, make new friends and achieve success! Camp activities include swimming, arts and humanities, literacy, STEM, character development, healthy habits, field trips, special guests, and outdoor play! Space is limited, so be sure to save your spot early to guarantee the dates and camps of your choice.
CAMP DATES: 5/28 – 8/9. CAMP COST: YMCA members save 20% on Summer Day Camp!
THE BOLLES SCHOOL
Bolles Summer 2019 launches with a diverse offering of more than 100 camp programs on all four campuses, as well as Bolles Day Camp and Teen Camp – a well-attended summer tradition for Jacksonville families for decades! It is the only Jacksonville riverfront summer camp that provides access, boating, tubing and water sports activities for campers on the St. Johns River. Bolles facilities are known far and wide for their beauty and advantage. This year's Crew Camp, for example, will be held in newly enhanced boating and dock facilities on the St. Johns River. This year, four camps are planned and they are the only summer crew camps in Jacksonville to provide instruction for rising fifth grade students. Crew camp is open to students in all levels of experience from rising Grade 5 to Grade 12. Campers will be inspired by national champion rowers from all over the country, who also are training at the boathouse this summer. Crew Camp is just one exciting opportunity planned for this summer at Bolles. Scheduled camps will utilize Bolles' top facilities on all four campuses including a swimming pool where internationally ranked swimmers train, nationally acclaimed and upgraded sports fields and tennis courts, gyms, a riverfront marine biology center and classroom buildings, exceptional tennis courts, pristine classroom facilities, a new iLab, robotics equipment, 3-D printers, a brand new gymnasium and stage on the Ponte Vedra Beach Campus, acoustically designed auditorium and stage facilities, and 3-D technology and robotics, among many others. Most importantly, Bolles' highly regarded faculty and coaching staff run summer enrichment opportunities on all campuses. Enrolled campers hone skills from authorities in their field. Of Bolles' faculty, 10 hold doctoral degrees and 92 hold master's degrees. Coaches in all areas have led teams to numerous regional, state and national titles. Bolles Day Camp and Bolles Teen Camp provide a wide range of activities for students that feature everything from waterfront activities and swimming, to arts and crafts, sports, archery and field trips. Bolles Summer opportunities also include many individually focused camps and academic enhancement opportunities.
CAMP DATES: Sessions are available from June through August 2019.
CAMP COST: Costs begin at $180 for a week.
CAMP ENCORE
Camp Encore offers 6- to 11-year-olds the opportunity to discover their passion and grow their creativity. Campers of all experience levels will enjoy one-of-a-kind instruction in dance, music, theatre, and the visual arts, led by qualified teaching artists.
CAMP DATES: June 10-14 | June 17-21 | June 24-28
CAMP TIME: 9 a.m. – 3:30 p.m. Extended Day: 3:30 – 5:30 p.m.
Session 1 | June 10-14 | Super Artists Unleash your inner superhero at Camp Encore and discover your superpowers through the visual and performing arts. It's not just capes and comic books. The arts will help us save the world! Get ready for an action-packed week!
Session 2 | June 17-21 | Party Animals Ever wonder what your pets do while you're away? Or how an alligator feels at lunchtime? Gallop, slither or hop over to Camp Encore and let your inner animal shine through the visual and performing arts. Celebrate your love for animals and the arts while your imagination soars to new heights!
Session 3 | June 24-28 | The Greatest Camp on Earth Step right up and join the greatest show on earth! Whether you dream of being an acrobat, lion tamer or ring leader, you'll become the star attraction through the visual and performing arts. Feel the magic under the big top at Camp Encore!
CAMP COST: $214 per session, Lunch Plan – $35 per session, Extended Day – $50 per session
iD TECH CAMPS FOR KIDS & TEENS
At iD Tech, students ages 7-19 learn to code, design video games, produce videos, design Fortnite-inspired levels, mod Minecraft, create with Roblox, engineer robots, model and print 3D characters, work with AI and machine learning, build laptops, learn about cybersecurity, and more! Weeklong, day and overnight summer programs that instill in-demand skills and embolden students to shape the future. iD Tech Camps (weeklong, co-ed, 7-17), Alexa Café (weeklong, all-girls, 10-15), iD Tech Academies (2-week, teen-only, 13-18).
THE GODDARD SCHOOL PONTE VEDRA
The Goddard School's summer camp is powered by STEAM and fueled by fun! Our summer camp curriculum incorporates STEAM learning (science, technology, engineering, arts, and mathematics) into exciting, one-of-a-kind and fun experiences for your child every day! We offer a broad range of programs and mini-camps to pique the interest and curiosity of every child.
The founding principle of The Goddard School's curriculum is that children experience the deepest, most genuine learning when they are having fun. We have integrated this philosophy into every aspect of our summer camp to foster play-based learning opportunities both inside and outside the classroom. We've created a variety of camps so your children can find a program they will absolutely love.
MOSH SUMMER DISCOVERY CAMP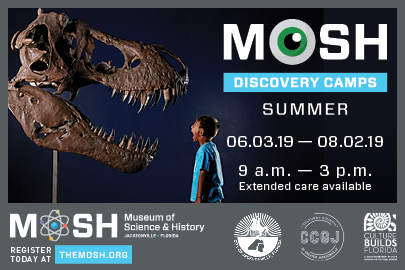 MOSH Summer Discovery Camp goers will get to explore science, history, astronomy and more with weekly adventures that are sure to tap into a child's interests. This summer, campers will go on an epic adventure through our new exhibit, Expedition Dinosaur! They will discover the different ways dinosaurs thrived in their regions and how their diverse characteristics helped them survive. Then, they will use their Dino Discoveries to create a dinosaur of their own! And, space camps will feature a trip to Kennedy Space Center. More than 25 camp topics will be offered over eight weeks. Dino Discovery, Under the Sea, Mad Science 101, Crazy Colors and Perfect Patterns, MOSH's School of Magic, Storybook Science, Brick Builders, Space Cadets, The Human Body Machine, Incredible Insects, Jr. Inventors, The Nature of Art, Pirates Only, Brick Engineers, Amazing Astronauts, Fossil Frenzy, The Future of Medicine, Marine Biology, The Science of Art, MOSH Makers, Mission to Mars and Movers & Makers are among the offerings. Plus, campers will get to explore the Museum's traveling exhibit, Expedition Dinosaur and will also see science and planetarium shows. Offered primarily for ages kindergarten through 5th grade with select weeks offered for 6th through 8th grade.
CAMP DATES:  June 3 – August 2, 2019 (Three-day camp offered the week of July 4th)
CAMP HOURS: Monday through Friday, from 9 a.m. – 3 p.m. Before Care is available from 7:30 to 9 a.m. and costs $25 per week. After Care: 3 to 5 p.m.
CAMP COST: $180 for MOSH Members / $225 for Non-Members. Cost of Extended Care: $10 per child per day. (Some camps are an additional $25 for additional supplies and/or field trip transportation).
WHITE OAK CONSERVATION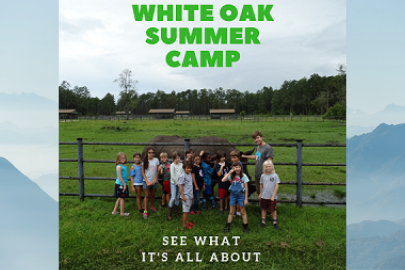 Summer camp at White Oak is an experience your child will simply never forget. Campers ages 8 – 17 explore White Oak's 17,000 acre center for a week-long journey into the world of wildlife conservation, STEM education, and more.  At White Oak, students get up close and personal to endangered species like rhinos, cheetahs, and okapi while they learn alongside leading experts in veterinary care and wildlife biology.  With no more than 13 students in each session, White Oak offers a personal and special camp experience.  Additionally, campers will enjoy activities such as horseback riding, boating, swimming, night hikes, and campfires along with other classic camp adventures.  Whether your child is a seasoned camper or someone thinking about their first sleep away camp, White Oak custom tailors each session to create a welcoming and engaging atmosphere that is sure to create memories and friendship.
In addition to once again hosting specialized camp sessions such as the Conservation Caretaker and Vet Camp, White Oak is proud to announce the launch of an all-new opportunity for rising juniors and seniors in high school.  Leadership Camp at White Oak gives young adults exposure to camp life from the perspective of a counselor, while developing their own confidence and talents to engage and inspire others.  These sessions are only available on select dates and will fill up quickly.  Details of each camp session can be found on White Oak's website.  You can rest assured that your child is having the time of their life in a highly unique and premier environment nestled in north Florida at White Oak's private conservation center.
CAMP DATES: Week-long camp sessions will begin the week of June 2nd and end August 2nd. Campers arrive on Sunday afternoon and depart Friday evening after a special, family-friendly event.  There is no camp session the week of July 1st.  All sessions, with corresponding age ranges, can be found via www.whiteoakwildlife.org
CAMP COST: $1,100 and is all-inclusive (materials, t-shirt, food, lodging).
CAMP CUMMER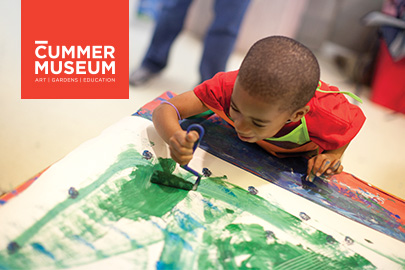 MAKE THIS SUMMER A MASTERPIECE. Let your child's creativity shine this summer! Campers enjoy instruction in various artistic methods, guided tours of the galleries, time in the historic riverfront gardens, and boundless opportunities to learn through creative play.
CAMP DATES: Weekly Themes – June 10 through July 26 (no camp July 1 through 5) CAMP AGES: For children entering grades 1 through 6
CAMP HOURS: Monday through Friday, from 9 am – 3:30 pm. Extended AM Care is offered 7:30 to 9 a.m. and costs $30 per week, Extended PM Care is offered from 3:30 to 5 p.m. and is $30 per week
CAMP COST: $200 per camper per week for Members; $230 per camper per week for Non-Members
MIDDLE SCHOOL CAMP DATES: Printmaking, Paper, and Cloth – July 29 through August 2
CAMP AGES: Students entering grades 6 through 9
CAMP HOURS: Monday through Friday, 9 a.m. to 3:30 p.m. There is no Extended Care
THEATRE JAX
Theatre Jacksonville's SUMMER CAMP is gearing up for another fantastic time! Each of our 4-week sessions celebrate the joyful, ridiculous and brilliant imagination of your child. It's time for them to explore, have fun and make new friends all while discovering the world of live performance. Our experienced artists share their passion for theatre through classes in acting, music, dance, and improvisation. Each session wraps-up with campers putting on a show for you! Unfolding before your eyes is everything our campers have learned. This is a performance written and created just for them.  Also supporting our campers throughout their day are our energetic camp counselors, some of the best and brightest teens from area high schools. We look forward to working with you and your creative child year! Camp ages include 7-14 years of age.
CAMP DATES: Session A: June 3 – 28, Session B: July 8 – August 2. CAMP HOURS:  Monday -Friday 9 a.m. -2 p.m. , Extended Day 2 p.m. -5:30 p.m. at $10 a day.
CAMP COST: $550 per camper, discounts available when enrolling in multiple sessions and/or with siblings.
TOMMY HULIHAN BASKETBALL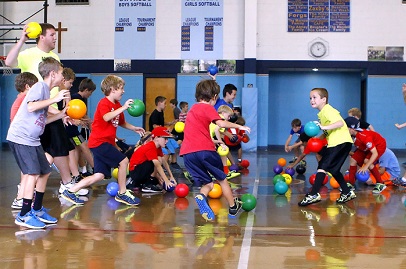 Tommy Hulihan Basketball is offering sports camps, basketball camp, and basketball league this summer!
CAMP DATES: Summer Sports Camp 8 weeks! June 10th – 14th, June 17th – 21st, June 24th – 28th, July 1st– 3rd  (3 day Camp $85), July 8th – 12th, July 15th – 19th, July 22nd – 26th,  July 29th – August 2nd for girls and boys 5 years old through 6th grade.
CAMP HOURS: 8am-3pm Extended Care: 3pm-6pm. 
CAMP COST:  Sports Camp $135 per week 8:00am-3:00pm. Extended Care 3pm-6pm $50 per week. Single Day Rates: Monday – Thursday $35 per day Friday- $40 includes (Pizza and Bowling)Basketball Camp
CAMP DATES: Summer Basketball Camp June 3rd – 7th- 15th Session #1 9am -12pm Boys currently in 2nd – 4th grade (Please use CURRENT grade)
CAMP COST: $140 *Extended Care Available 8am-9am and 12pm-5pm ($50). Session #2 1pm-4pm Boys currently in 5th – 7th grade. CAMP COST: $140 Session #3 5:00pm-7:00pm Girls currently in 2nd – 7th grade. CAMP COST: $100
Beaches Basketball Summer League: Deadline for registration, Friday, May 10. Includes 8 games, 3 practices beginning June 1st.  Cost: $140
CREATIVE ME ART STUDIO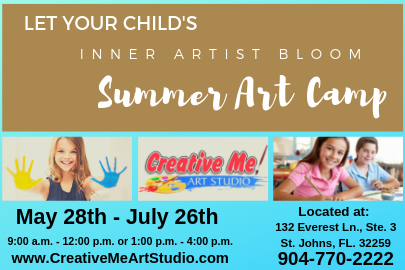 Creative Me Summer Camp Program promotes exploration and discovery of the art world. To help foster that growth, we give our students the opportunity to think outside the box while working on their teacher-guided art projects. Each child's week at camp will be centered around a specific art theme. Within that theme, they will explore a variety of age-appropriate materials and hands-on FUN!
CAMP DATES: May 28th – July 26th – Two Daily Sessions to Choose from – 9:00 a.m. – 12:00 p.m. or 1:00 p.m. – 4:00 p.m.
CAMP COST:  $175/week or $35/session (Your Choice Morning or Afternoon)
CAMP AGES: 5+
Located: 132 Everest Lane – Suite #3 – St. Johns, FL. 32259 – Within the Promenade of Bartram Springs Shopping Plaza – Off Race Track Rd. (1/2 Mile West of U.S. 1)
JAX SURF & PADDLE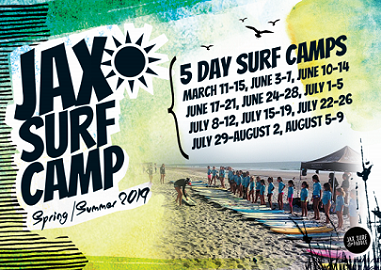 Jax Surf Camp is a fun and safe way to enhance a child's surfing skills, ocean knowledge and comfort in the water. Camp is open to ages 6 – 16 and will break into groups depending on age and skill. Intermediate level surfers are welcome as well as beginners. After completing our five-day surf camp your child will have learned these fundamental skills: water safety, paddling, navigating the surf zone and of course standing up on a board!
CAMP DATES: March 11 – 15, June 3- August 9, Full Day, Half Day, and daily drop-in dates available.
CAMP AGES: 6-16  CAMP COST:  Half Day: 9am-12pm or 12pm-3pm (5 Sessions Monday – Friday)$210/week, Half Day: 9am-12pm or 12pm-3pm (5 Sessions Monday – Friday) $210/week, Single Half Day "Drop-In" 9am-12pm or 12pm-3pm ( 1 Session 1/2 Day)$50/day, Single Full Day "Drop-In" 9am-3pm   (2 Sessions 1 Day)$100/day
COLLAGE DAY SCHOOL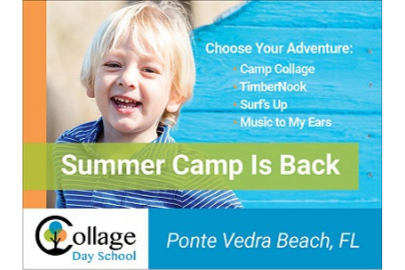 Consistent with the mission of Collage, the program aims to cultivate in each child a sense of wonder and curiosity for the natural world. Our camps are designed to inspire creativity, collaboration with others, and confidence to engage in new experiences. Our programs offer unique crafts, group games, hiking, exploration, and nature-based play on Collage's beautiful 8-acre campus. Mixed-age groups provide a welcome opportunity for new and lasting friendships across grades.
CAMPS:  Camp Collage 9-Week Summer Camp: $150 – $250 per week
TimberNook: $150 – $225 per week. Offers two-week camps for ages 2-3 years and ages 4-10 years.
Surf's Up Camp: $300 per week. Offered for children ages 5-10 years old and is located at 8th Ave North in Jacksonville Beach.
Music To My Ears: $275 per week. An interactive music camp where children participate in singing, creating, listening, playing musical instruments, and exploring various types of music and music related activities.
THE DISCOVERY SCHOOL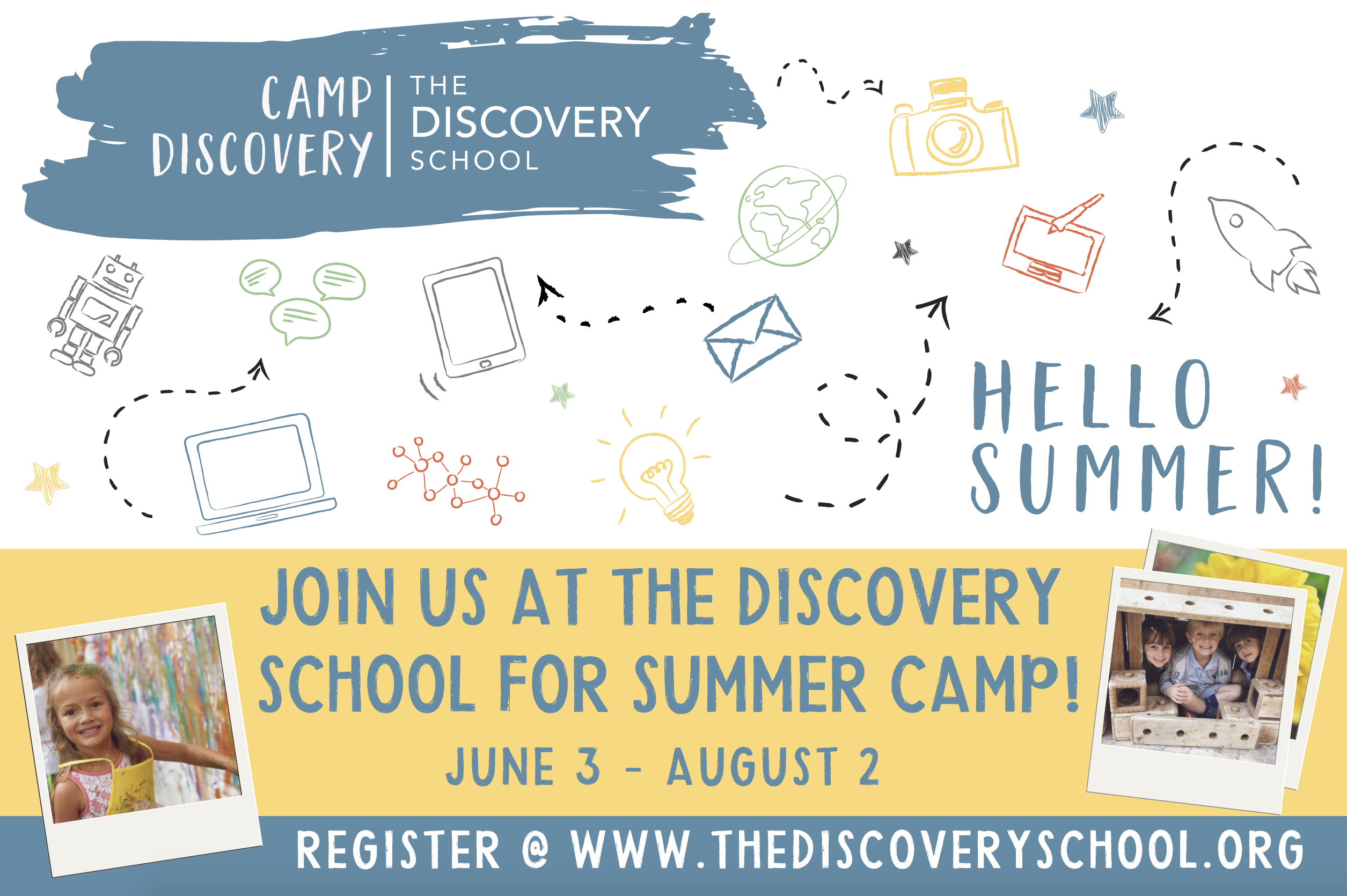 The Discovery School summer program, Camp Discovery, offers a day camp option along with a variety of specialty camps from June 3 – August 2. Located in Jacksonville Beach, Discovery offers an inclusive and nurturing environment, where a child is encouraged to explore, create, and take risks to become their best self. Check out our camp options today and register for a summer of fun and learning!
CAMP DATES: June 3 – August 2
CAMP HOURS: Full Day, 9-4pm & Half Day, 9-12pm
CAMP COST: Dependent upon program selection
THE CULTURAL CENTER AT PONTE VEDRA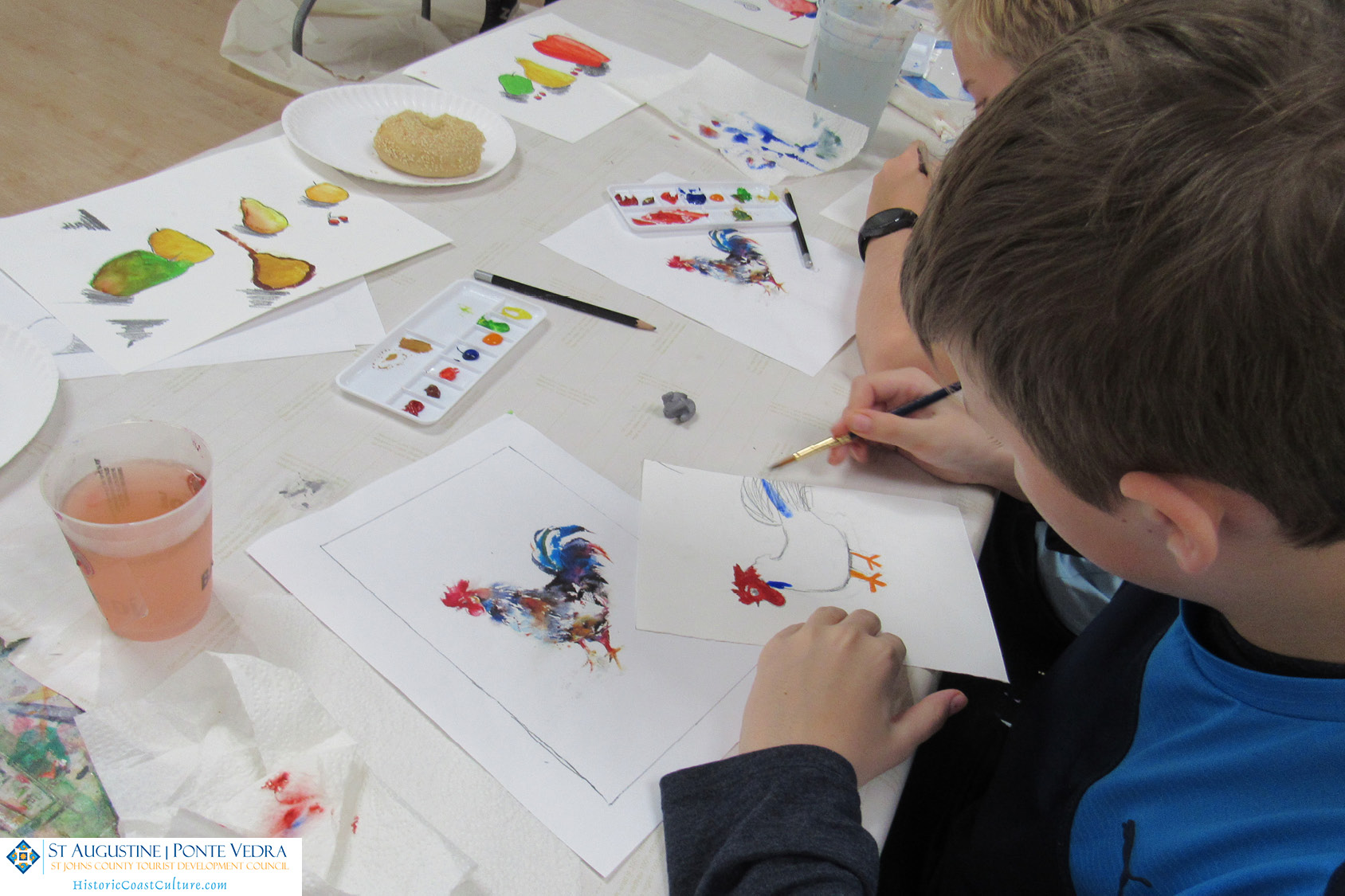 Spend a week or the entire summer break creating original artwork with our professional arts instructors! Your young artist will come home with art enthusiasm and finished projects. Themes and mediums will vary by week. Dress for the mess and all supplies are included! These programs are sponsored in part by the State of Florida, Department of State, Division of Cultural Affairs and the Florida Council on Arts and Culture.
CAMP AGES: 4 – 5, 6 – 8, and 9 and up.
CAMP DATES: June 3 – August 9th. No camp on July 4th. Drop-off is from 8:50-9:00 am and pick-up is from 1:50-2:00 pm for ages 6 and up and 12:20 – 12:20 pm for ages 4 – 5.
CAMP COST: Varies by camp, see registration for more details.
JAX
COOKING STUDIO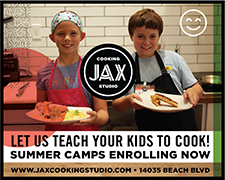 In JAX Cooking Studio Summer Camps, we teach kids to cook with whole foods from scratch. All our classes are hands-on, and each child participates in preparing the food. At the end of each day, the kids eat what they have cooked. Yum! We teach Kitchen Safety, hand and workspace sanitizing, proper food handling, and knife safety | How to read and follow recipes and make up your own recipes! | Proper methods to measure ingredients | How to arrange the kitchen workplace for success | How to reuse or repurpose ingredients already on hand | How to keep your body healthy through proper nutrition | How to keep our kitchen clean
CAMP DATES: June 3-7: Italian Cuisine June 10-14: Sweet Baking June 17-21: Southern Comfort Foods June 24-28: Global Cuisine July 1, 2, 3 & 5 (no class 7/4) Culinary Bootcamp with Emphasis on Cooking with Chocolate July 8-12: Sweet and Savory Baking July 15 -19: Italian Cuisine July 22-26: Sweet Baking and Cake Decorating July 29-Aug 2: Culinary Bootcamp August 6-9: Southern Comfort Foods
Choose from Two Sessions Each Day: Morning: 9 a.m.–12 p.m. Afternoon: 2–5 p.m.
CAMP COST: $310/camp week. $10 Early Bird discount for registrations before April 1.
DOING DISHES POTTERY STUDIOS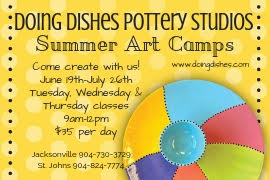 Come create with us! Doing Dishes Summer Art Camp will get your creative juices flowing for ages 7 and up.. Each session will have a different theme and project. Campers will create at least two great projects a day, project mediums include, pottery painting, canvas and glass fusion.
CAMP DATES: June 18 – July 25. Held Daily Tuesday, Wednesday and Thursday classes.
CAMP HOURS: 9am – 12pm.
CAMP COST: $35/day.
SHEPHERD OF THE WOODS SCHOOL
Your child will have fun while enriching, maintaining, or remediating skills in a values-based environment emphasizing social, emotional, and academic learning. We offer a half-day Preschool Summer Camp (for 2 ½-year-olds who are potty-trained through 5-year-olds) offered either five-days, three-days, or two-days a week from 9am-noon at our Southside Campus. We also offer Summer School for K through 6th graders on Tuesdays, Wednesdays, and Thursdays for 4-week or 3-week sessions from 9am-3pm at our Mandarin Campus.
CAMP DATES: Preschool Summer Camp – June 17-August  2, Summer School – June 18-July 11, and July 16 – August 1.
CHAPPELL
SCHOOLS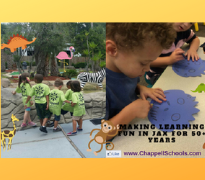 Chappell's Summer of Fun! Join us for an amazing, action-filled, nine-week summer camp program. Camp is being held at Chappell San Marco and Chappell Deerwood. More details to come!
CAMP COST: More details to come! Includes all snacks, lunches, field trips, arts and crafts, and a camp t-shirt.
Registration coming soon for children ages 5-12. The Chappell campuses at FSCJ South and FSCJ Downtown will also offer a summer program for school age children.
BOLTS & BYTES
MAKER ACADEMY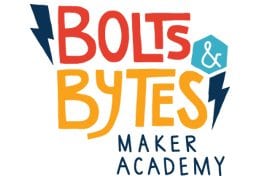 Bolts & Bytes Maker Academy was founded on the belief that children learn best when they are truly interested and excited by what they are learning. Our classes are built around project-based learning, where there is no right answer, and creative solutions and approaches are encouraged. We combine maker technology like 3D printing, coding, robotics, electronics and drones with a fully featured makerspace packed with all the fabrication tools that your imagination may require.  Bolts & Bytes is here to guide, to encourage and to instruct – but more than anything, we are here to light the spark of the imagination.
CAMP DATES: June 3 – June 7, June 10 – June 14 , July 8 – July 12, July 15 – July 19 , July 29 – Aug 2, August 5 – August 9
CAMP HOURS: Sessions 9am – 12pm and 1pm – 4pm, Ages and Theme Vary, Week of July 29-Aug 2 Full Day Camp 9 AM – 4 PM
EARLY BIRD DISCOUNT: Register before Mar. 31st for the 2019 Summer Camp season and get a 20% DISCOUNT on ALL summer camp registrations — Save over $50 per camp! 10% Multi-Class Discount also offered,  multiple discounts can be combined.
BOY SCOUTS
OF AMERICA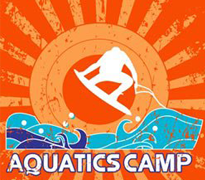 It is the vision of Aquatics Camp to provide an unparalleled experience for youth at an amazing day camp this summer. These experiences will help the campers develop leadership skills and values that are important for a happy, healthy and safe summer. Owned and operated by the North Florida Council, Boy Scouts of America, this property is located at the St Johns River Base at Echockotee sitting on beautiful Doctors Inlet. Not just a water camp, Aquatics Camp has a 50′ climbing/repelling wall, BB and Archery Range, Fun Ecology Area, Sports Activities and much more! Accredited each summer by the National Camp Accreditation Program, the camp has met strict guidelines in health, safety, staffing qualifications and programming. Managed by trained, certified staffers who care about your camper and our program. We firmly believe that your camper will leave with valuable new skills, abilities, interests and  a few new friends, and pull resources from the Boy Scout of America's merit badge program in many of our program areas, which give all scouts opportunities to earn merit badges or accomplishments towards rank advancement.
CAMP DATES: Themes vary by week. June 17 – August 2.
CAMP AGES: Boys and Girls ages 6-14.
CAMP COST:  Early Bird (Paid by May 20, 2019) $250/week; Regular (Paid by 5pm the Wednesday before your week starts) $275/week Late registration (Paid after 5pm Wednesday before your week starts)  $290/week  *Extra fees apply to certain classes.  Fees may be found on the class description during registration.
Extended Care (7:15am-8am/5:30pm-6pm) +$25/week
Busing – 
Beach Blvd/295
 (Strike Zone Fishing) & Mandarin (Christ Church on Greenland Rd)) +$40/week
LA PETITE ACADEMY
Invent your summer. Camp Innovate, at La Petite Academy®, is a great place to discover all the joys of summer. Your child will enjoy weekly themed experiences (exploring interesting subjects such as science, art, animals, history, and games), engaging activities, fun field trips, and healthy meals and snacks. Choose your favorite weekly camp themes, or spend the whole summer with us. Plus, campers will get a brand-new T-shirt, water bottle, and backpack for summer adventures! Sounds great, right? Then, what are you waiting for? Call us at 877.217.9530 or visit LaPetite.com/summer to learn more—and find your local school.
CHILD TIME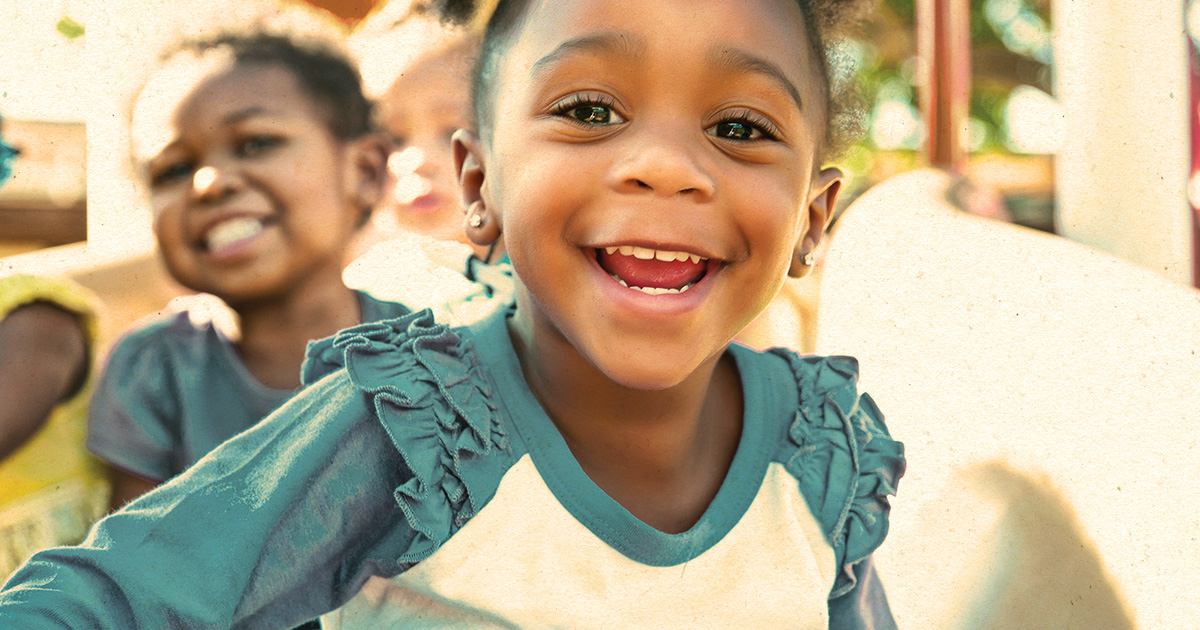 A busy summer is a fun summer. Fill your summer with wonder at Childtime's Camp Curiosity, brimming with activities and featuring weekly and bi-weekly themes that may include science, geography, zoology, art, fitness, history, games, and STEM learning. Your child will enjoy immersive field trips, educational experiences, cool gear, and healthy meals. Choose your favorite camps, or go all summer long. Younger siblings at home? We offer programs for younger children! Get ready for a summer camp experience that will pique your curiosity! Connect with us at 877.217.9528 or visit Childtime.com/summer to learn more and find your local school.
TUTOR TIME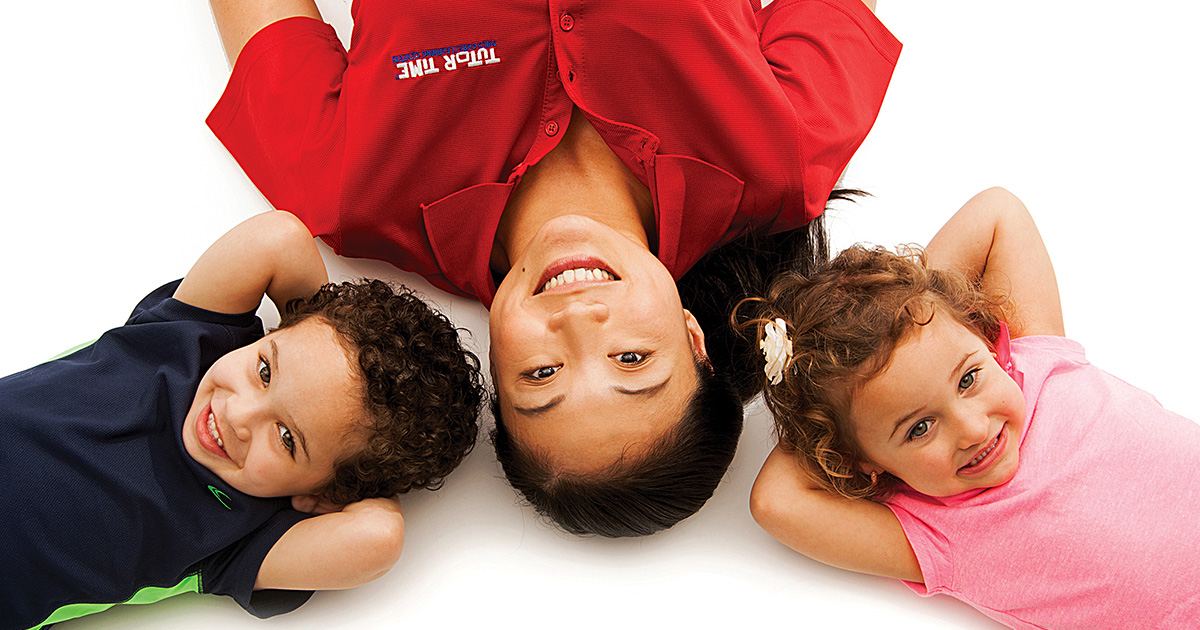 A busy summer is a fun summer. Make this summer like no other at Tutor Time's Camp One-of-a-Kind, which is brimming with activities and features weekly and bi-weekly themes that may include science, geography, zoology, art, fitness, games, and STEM learning. Your child will enjoy immersive field trips, educational experiences, cool gear, and healthy meals. Choose your favorite camps, or go all summer long. Younger siblings at home? We offer programs for younger children too! Get ready for a summer camp experience that's totally unique! Call us at 877.794.6704 or visit TutorTime.com/summer to learn more and find your local school.
BEACHES EPISCOPAL SCHOOL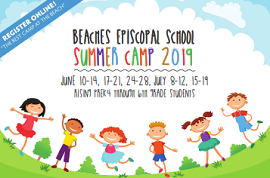 Register your rising PreK4 through sixth-grade students for "The Best Summer Camp at the Beach" at the 2019 Beaches Episcopal School Summer Camp! This year's camp program will be an engaging and exciting learning experience as students join with their friends for 5 weeks of fun activities!
CAMP DATES: June 10-14, June 17-21, June 24-28, July 8-12, and July 15-19. Weekly themes include Sand and Surf, Wild West, Stars and Stripes, Space Out, and Frozen. Morning (9am-12pm) and Full Day (9am-3pm) programs are available to fit every family's needs. And don't forget about Water Day and Movie Day on Fridays!
Contact Dallas Skornia, Camp Director, at (904) 246-2466 or [email protected] for additional information.
JACKSONVILLE HUMANE SOCIETY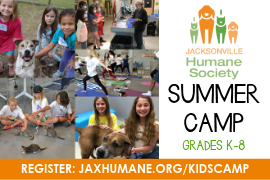 Children in grades K-8 are invited to attend summer camp at the Jacksonville Humane Society! Seven full-day, week-long sessions – all with different themes – are available in the months of June through August. JHS Summer Camp provides children with the opportunity to learn about dogs, cats, and helping pets in shelters and in our community. Activities will include dog and cat enrichment, lessons on animal body language, surgery observation, training both dogs and cats, promoting pets for adoption, making crafts for the animals, games, and so much more.
CAMP AGES: Grades K-8
CAMP DATES:
Week 1: June 3 – June 7
Week 2: June 10 – June 14
Week 3: June 17 – June 21
Week 4: June 24 – June 28
Week 5: July 15 – July 19
Week 6: July 22 – July 26
Week 7: July 29 – August 2
CAMP TIMES: 9am-4pm (7:45am-5:15pm with extended care), CAMP COST: $205/week ($255 with extended care)
SPRING RIVER CAMP BY THE SEA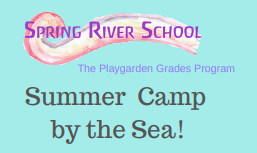 Summer break is just around the corner, and Spring River's Summer Camp by the Sea can't wait to share the fun filled adventures created for your children! Celebrate the Spirit of Childhood in a unique experience inspired by the alumni families of the The Playgarden and Spring River Homeschool group.
CAMP DATES:
Weekly themes for summer 2019:
June 3rd-7th: Music is in the Air!
June 10th-14th: Back Yard Circus Arts!
June 17th-21st: Celebration of Midsummer/Summer Solstice!
CAMP AGES & TIMES: For rising 1st – 5th graders. Hours 9 AM – 2 PM, held at Community Presbyterian Church
JAGUARS PREP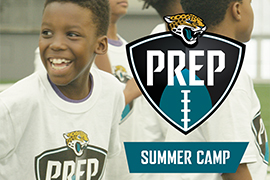 Jaguars PREP is designed to give kids access to learn the fundamentals of football using the NFL's top resources. The goal of the Jaguars PREP programs is to educate youth on the "Way to Play" and the basics of football with a strong emphasis on character development, health, safety and fun. Registration includes official Jaguars PREP t-shirt, prize pack and two (2) tickets to 2019 Jaguars home preseason game.
CAMP AGES: 6 to 14 CAMP COST: $85
CAMP DATES: