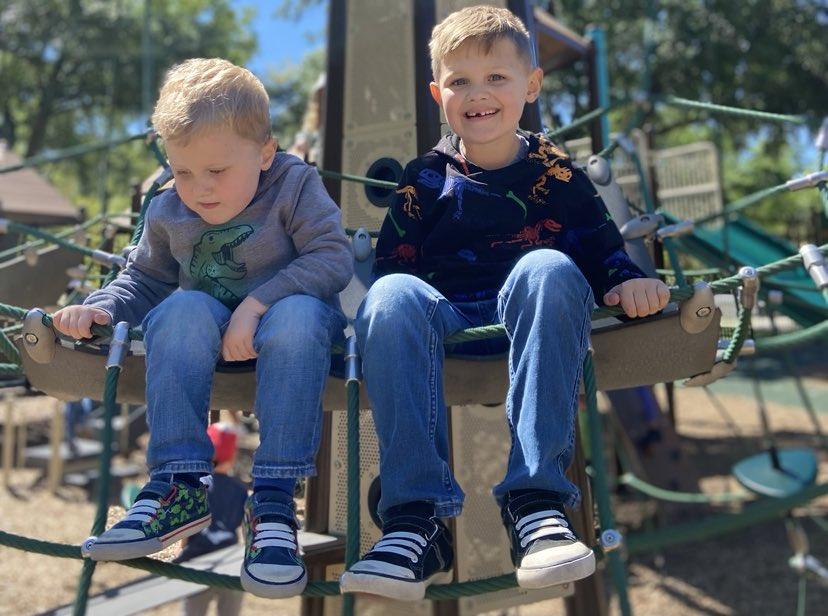 We're fortunate to live in a place where the weather is nice practically year-round — and one of our favorite activities to do is to head to the park. Parks are a great option for children of all ages, whether your kids want to stay in the swing, dig in the sand, climb on everything, make new friends, or just wander through the grass enjoying the day. And they're a great option for parents, too — you come home with tired kids, you can actually have a conversation with another grownup (maybe), and of course, they are completely free.
Lucky for us, Jacksonville offers the largest urban park system in the country, with over 400 public parks totaling more than 80,000 acres! That is a lot of ground to cover, so we've narrowed it down to just a few of our favorite "hidden gems," if you will. So, if you're looking to get outside and try a new place for the kids to play, check out these beloved parks and playgrounds in and around Jacksonville.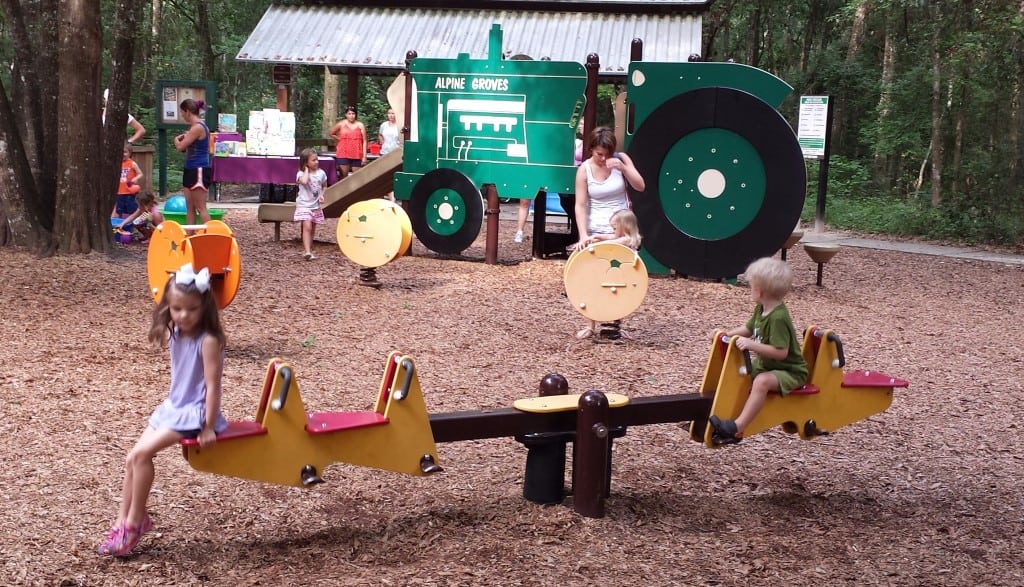 Alpine Groves Park (St. Johns County)
Step back in time at Alpine Groves Park! This 54-acre park, located in northwest St. John's County, features a turn-of-the-century homestead and citrus grove that your kids will love to explore. The farm-themed playground is made up of great playground equipment, and there are also nature trails, picnic areas, and a covered dock for fishing and launching your canoe or kayak.
Address: 2060 FL-13, Switzerland, FL 32259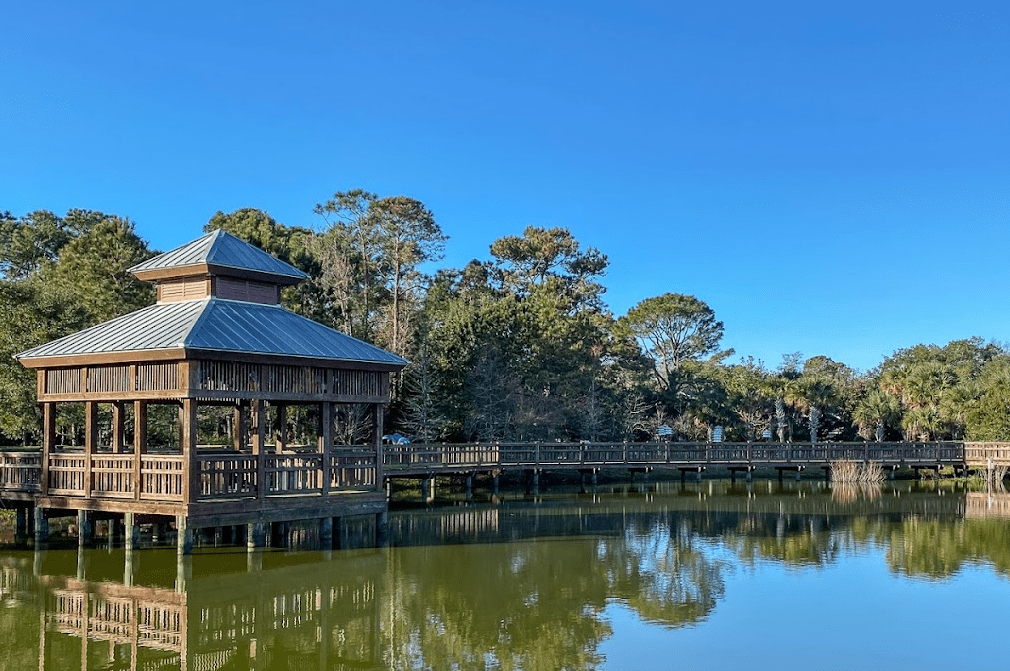 Bird Island Park (Ponte Vedra Beach)
The peaceful waterfront Bird Island Park may not have a huge playground but it's full of neat native birds, foliage, trails, a hedged maze, and Instagram-worthy sculptures.
Address: 101 Library Road, Ponte Vedra Beach, FL 32082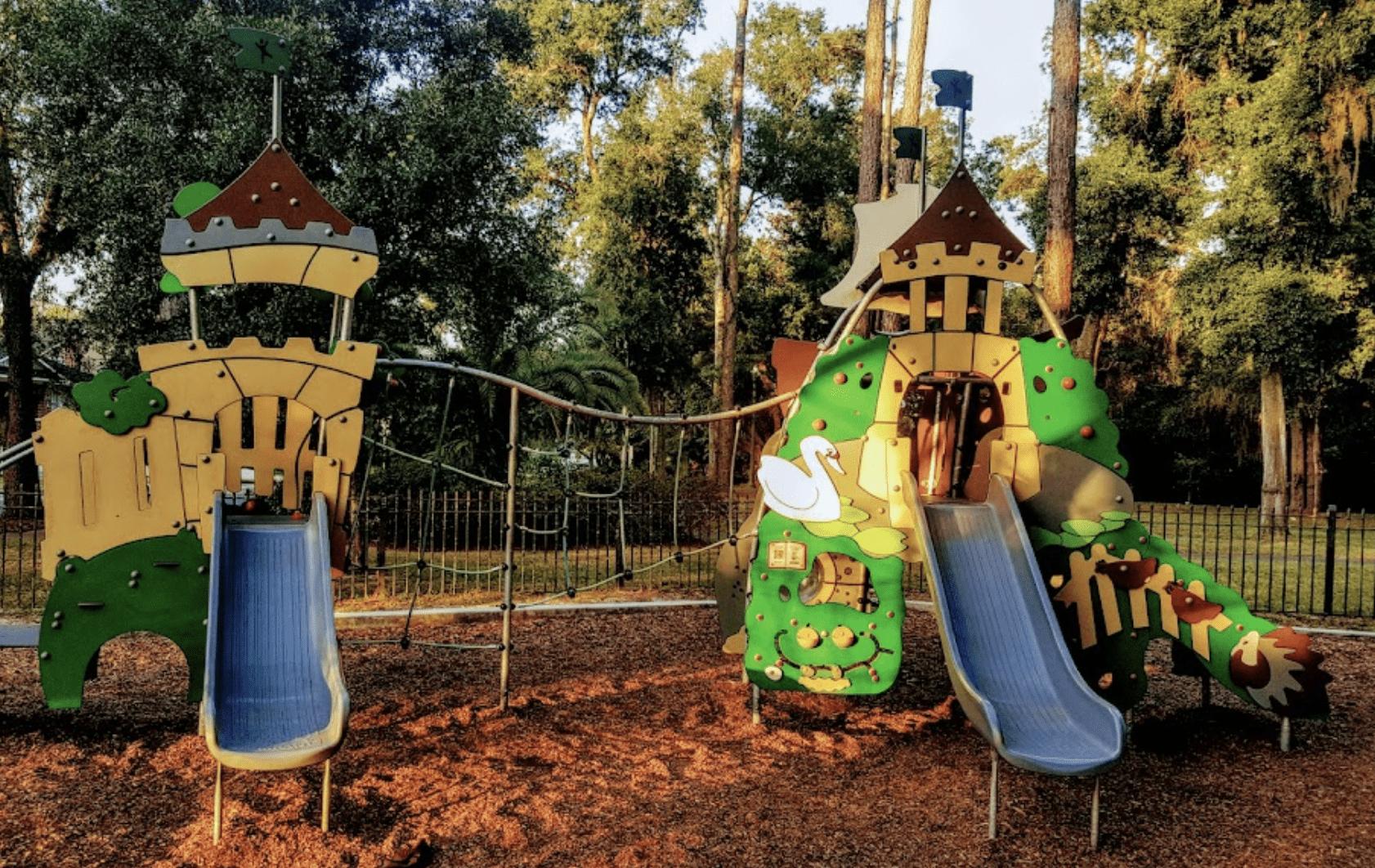 Boone Park (Avondale)
Located in a beautiful historic Avondale, Boone Park spans seven blocks and offers plenty of room to play. There are two playgrounds, gorgeous tree-covered paths for exploring, and multiple pavilions, picnic tables, and shaded benches. Boone Park also offers several clay and hard tennis courts, available for play by the hour or yearly membership.
Address: 3700 Park Street, Jacksonville, FL 32205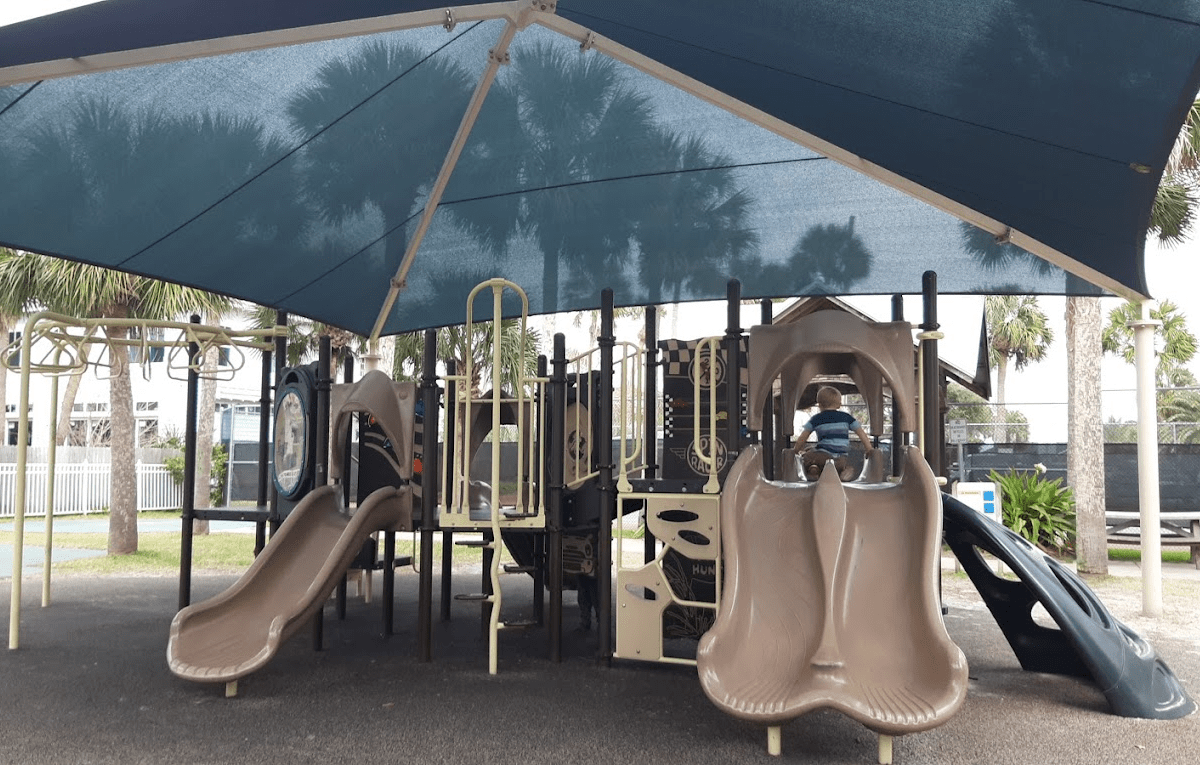 Bull Memorial Park (Atlantic Beach)
Tucked away in a cute Atlantic Beach neighborhood, Bull Park is just a short walk from the shops of Atlantic Beach and Neptune Beach! Grab a cup o' Joe from Southern Grounds and meander down the road to Bull Park. The space features a tennis court, basketball court, picnic area, a tetherball court (yes, tetherball!), a large sand playground, and a covered play area fit for climbing. The best part? It's fenced in, so you can easily keep a close eye on your littles!
Address: 716 Ocean Boulevard, Atlantic Beach, FL 32233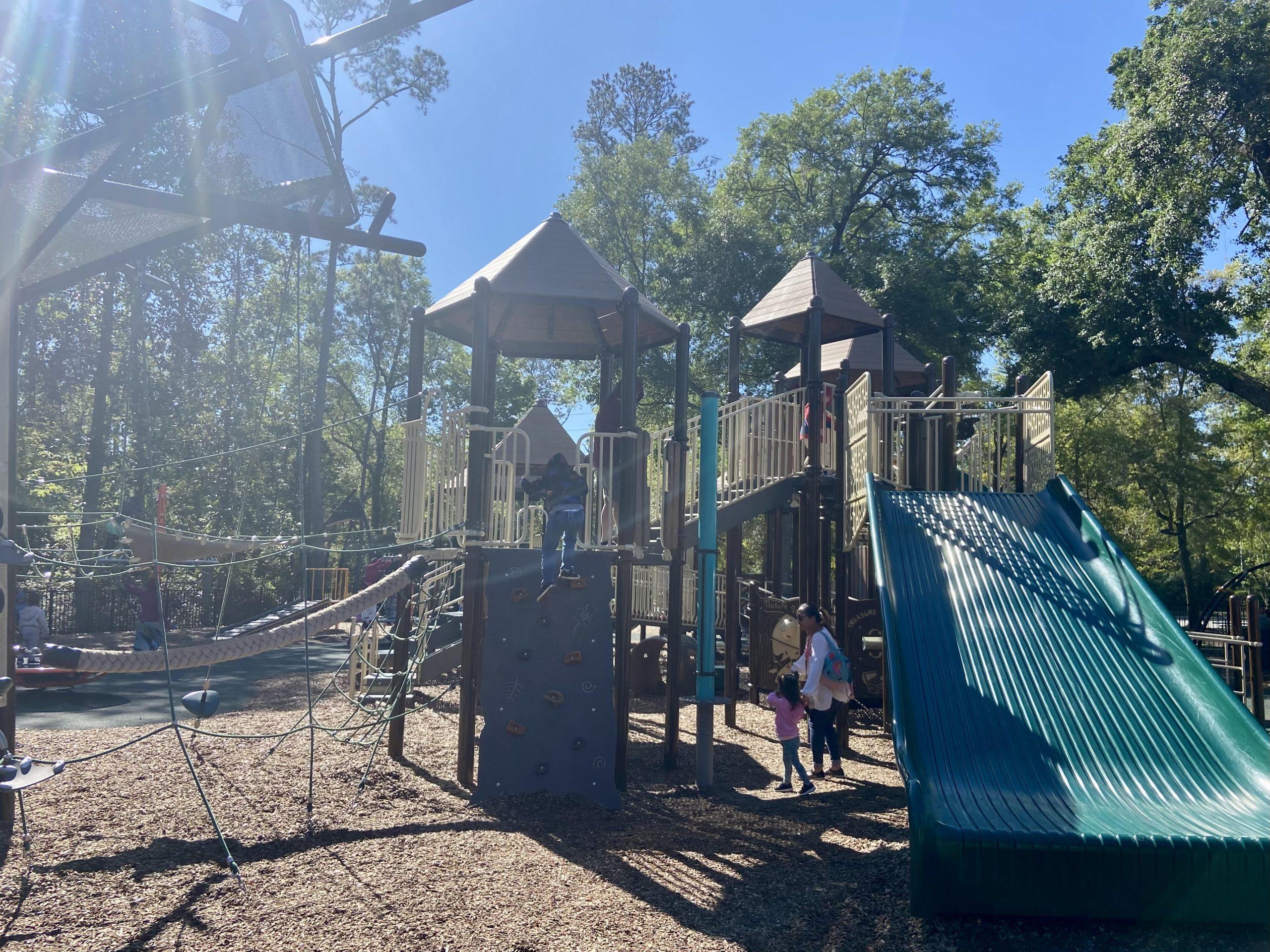 Clarke House Park (Orange Park)
Home to the Clarke House, which is listed on the National Register of Historic Places, the Clark House Park is a favorite local parks spot for birthday parties and family gatherings. The large, wooden castle-themed playground is memorable for kids of all ages, and the canopy created by the oak trees makes for a beautiful backdrop. This recently renovated park also features sand volleyball courts, nature trails, a butterfly garden, and a larger-than-life slide.
Address: 1039 Kingsley Avenue, Orange Park, FL 32073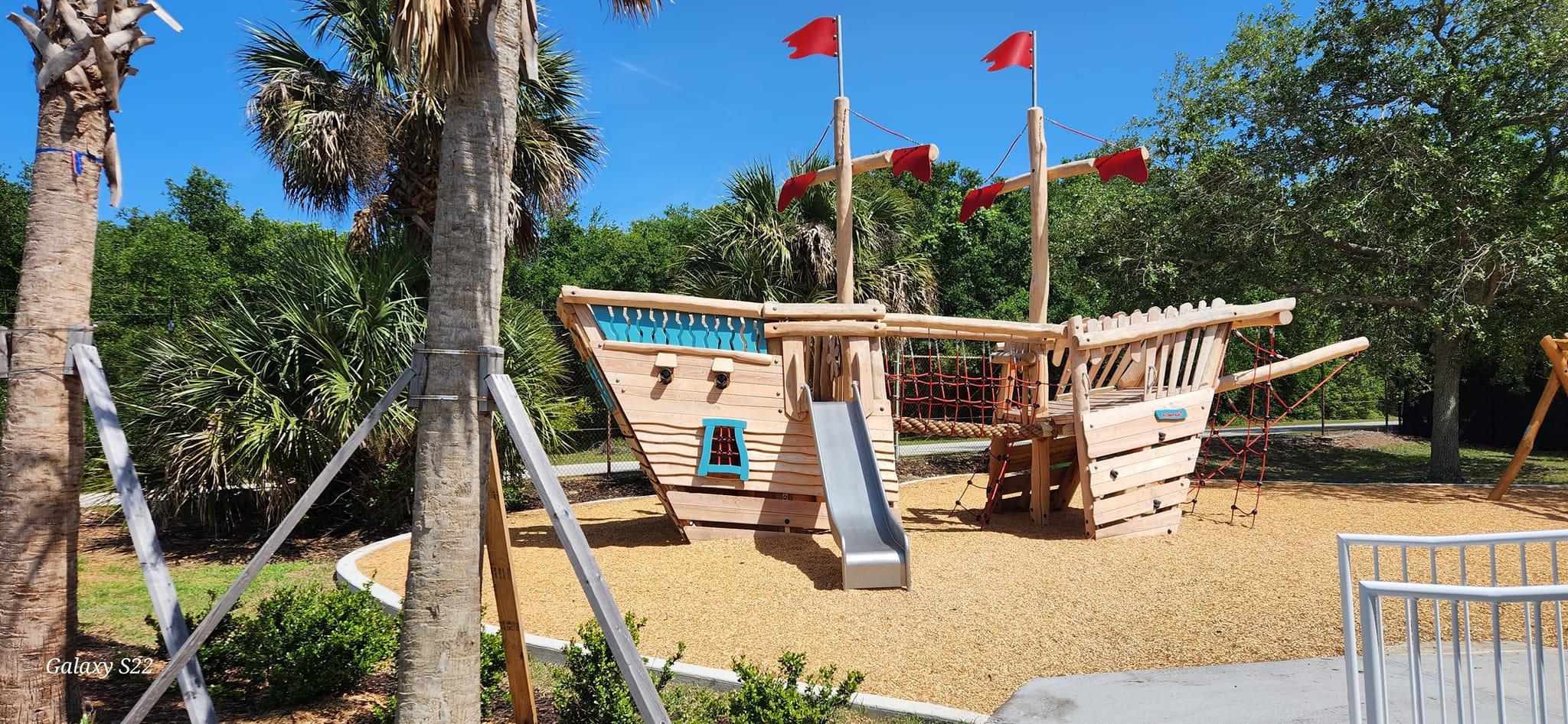 David Wayne Pack Park (Mayport)
Located near the William "Bill" Gulliford Jr. Community Center, David Wayne Pack Park and playground features a cool pirate ship play area perfect for young mates looking to explore! Grab lunch at the nearby Safe Harbor Seafood Market.
Address: 4871 Ocean Street, Jacksonville, FL 32233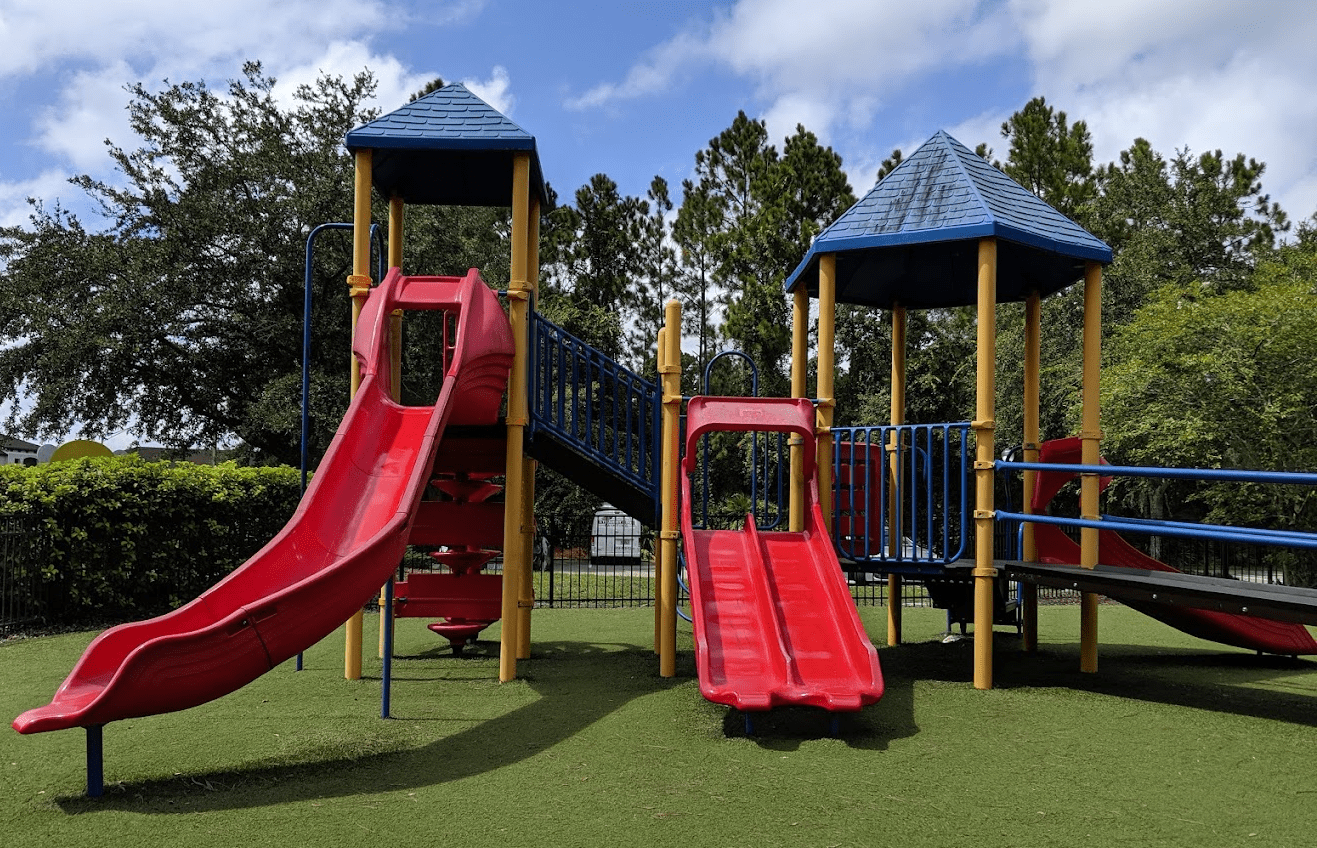 Deerwood Rotary Childrens Park (Southside)
The bright cheery space of Deerwood Rotary Children's Park was dedicated to the City of Jacksonville in 2001. The handicapped-accessible park is complete with several swings and colorful playground equipment, alongside a covered picnic table pavilion. But perhaps the best part of this park is the nice, lush green artificial turf making for a somewhat less dirty (or mulch-covered) playtime!
Address: 7901 Baymeadows Road East, Jacksonville, FL 32256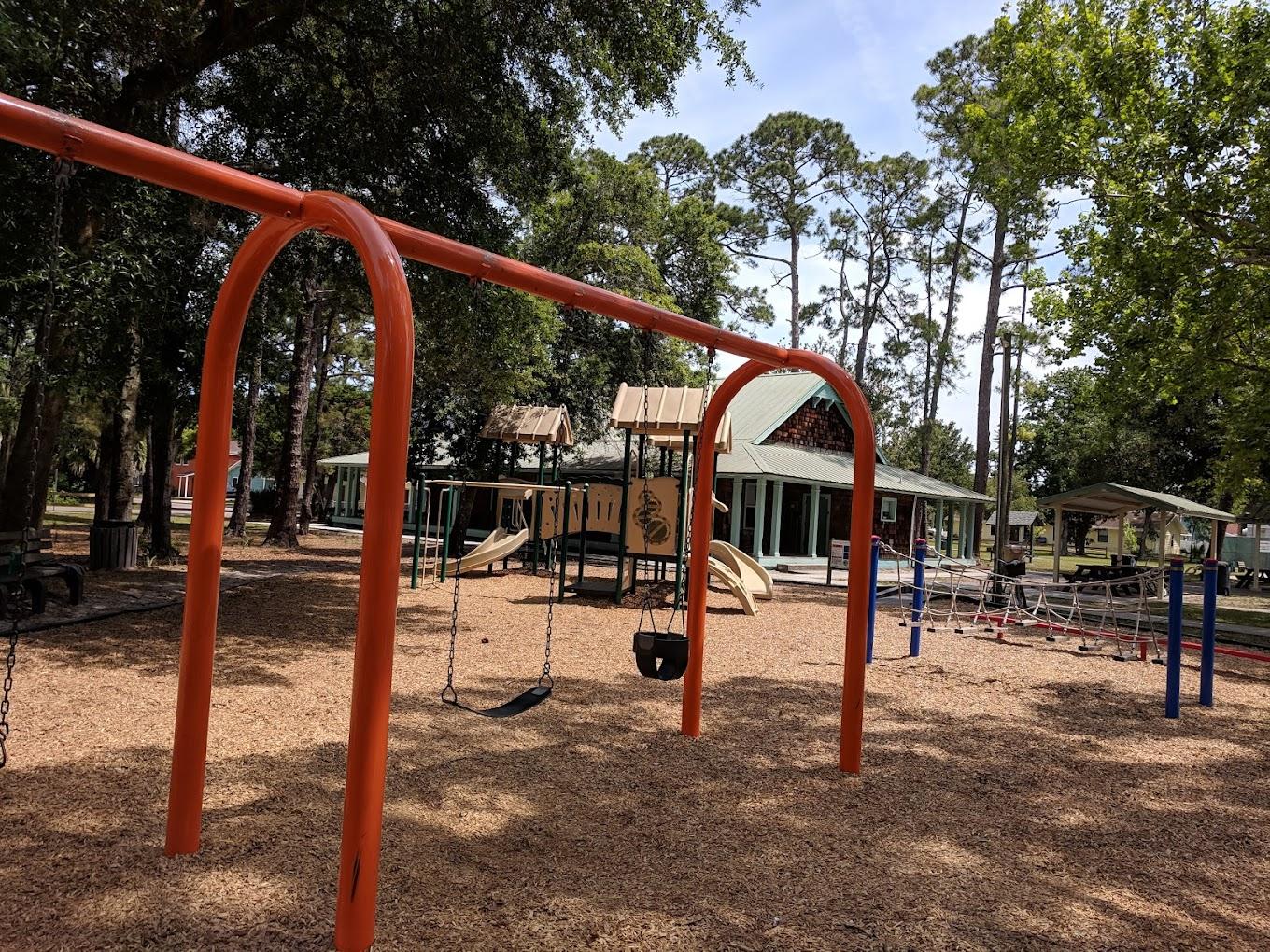 Donner Park (Atlantic Beach)
Located in the heart of Atlantic Beach, Donner Park rests on over 5 acres of shady parkland and features a basketball court, baseball field, tennis court, pickleball courts, covered picnic areas, and, most importantly, an amazing playground.
Address: 2072 George Street, Atlantic Beach, FL 32233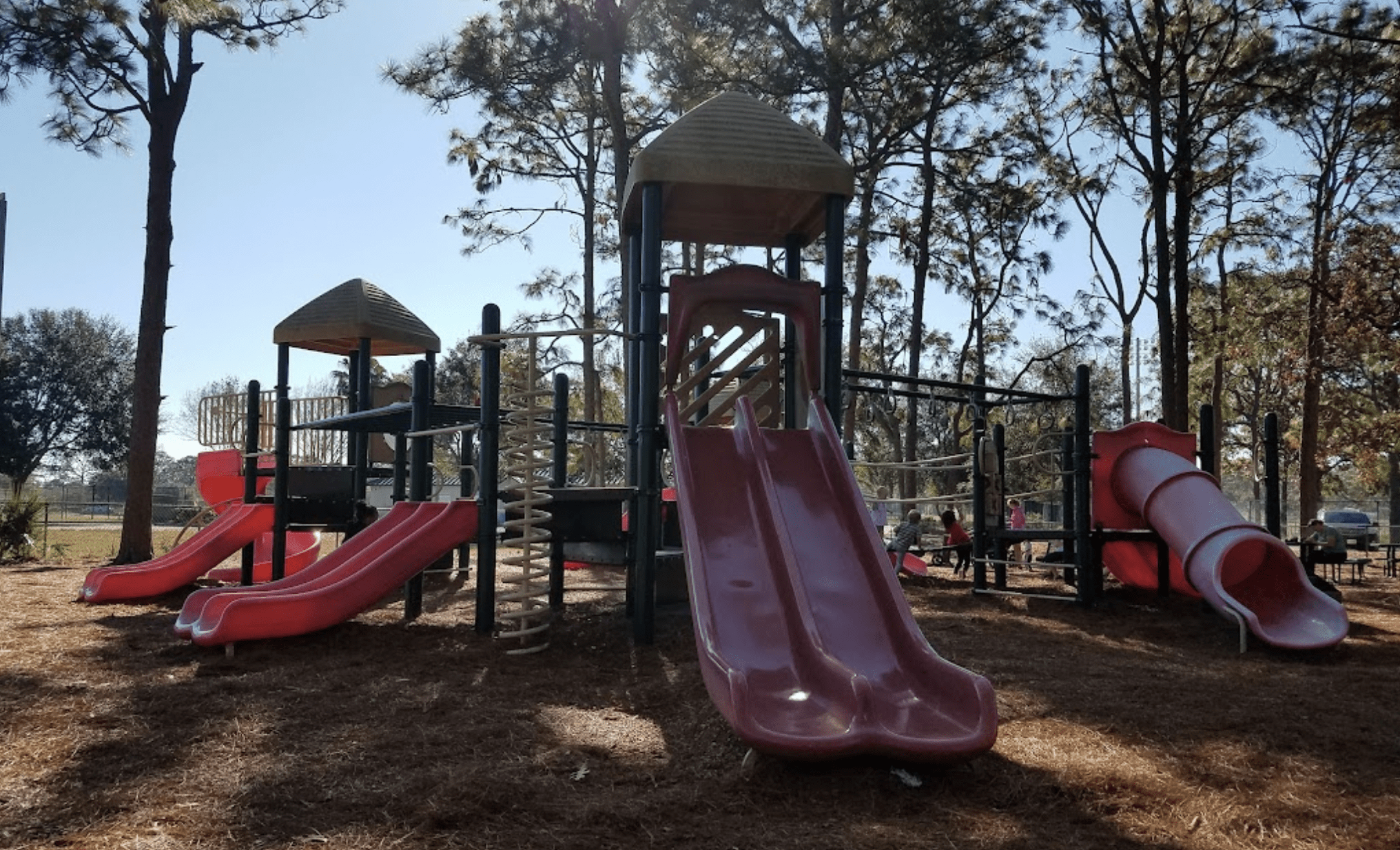 Ed Austin Regional Park (Arlington)
This 144-acre Ed Austin Park offers something for everyone! There are two playground areas, one that is completely fenced in and surrounded by beautiful trees that provide much-needed shade. One of my favorite features is the 1.75-mile paved and mostly shaded path. It is the perfect route for a walk with the stroller or a family bike ride. My kids love bringing their scooters and having me chase them along this path. Ed Austin also offers soccer fields, baseball fields, a skate area, a basketball court, and even an 18-hole disc golf course.
Address: 11751 McCormick Road, Jacksonville, FL 32225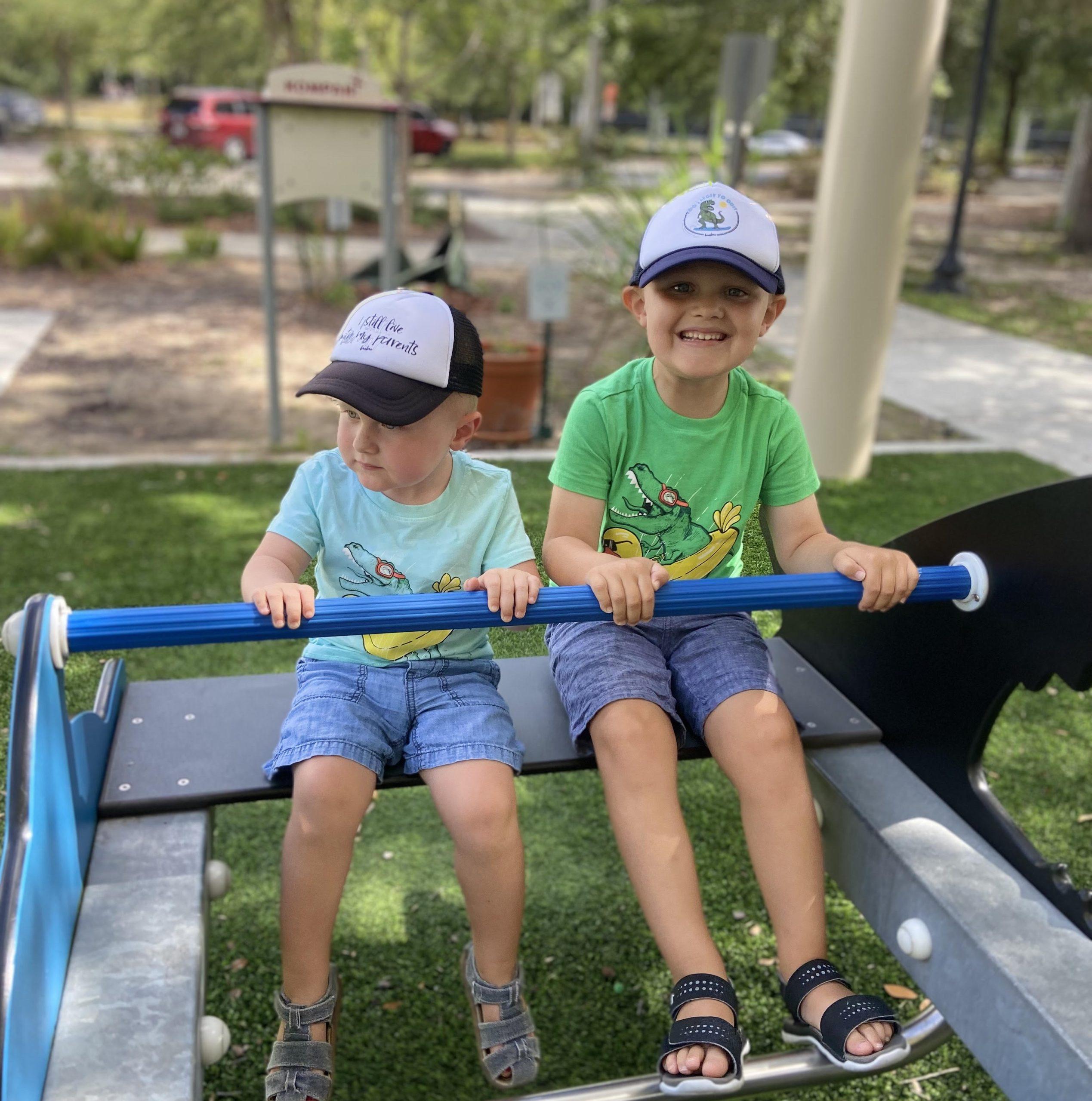 Huffman Boulevard Park (Arlington)
A beloved community favorite, Huffman Boulevard Park is just a half mile north of Beach Boulevard and was very recently renovated to include many handicapped-accessible amenities and playground equipment, as well as ample shade. Brightly colored musical equipment, pirate ship-themed structures, a large see-saw, and a variety of swings for toddlers and children of all ages. Also, add this park to your list of those with artificial turf!
Address: 2775 Huffman Boulevard, Jacksonville, FL 32246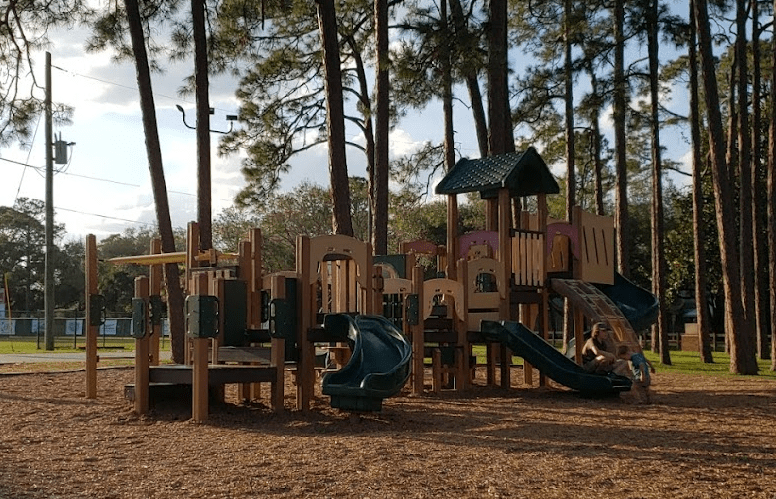 Jack Russell Park (Atlantic Beach)
Another park that features two playgrounds and plenty of space to run around is Jack Russell Park, one of our local favorites. Located in Atlantic Beach, it is beautifully laid out with plenty of trees for shade. There are baseball fields as well as tennis, racquetball, and basketball courts, but perhaps the most unique feature is the huge skateboard park. Even if your kids aren't into skateboarding, it is fun to sit on the bleachers and watch.
Address: 850 Seminole Road, Atlantic Beach, FL 32233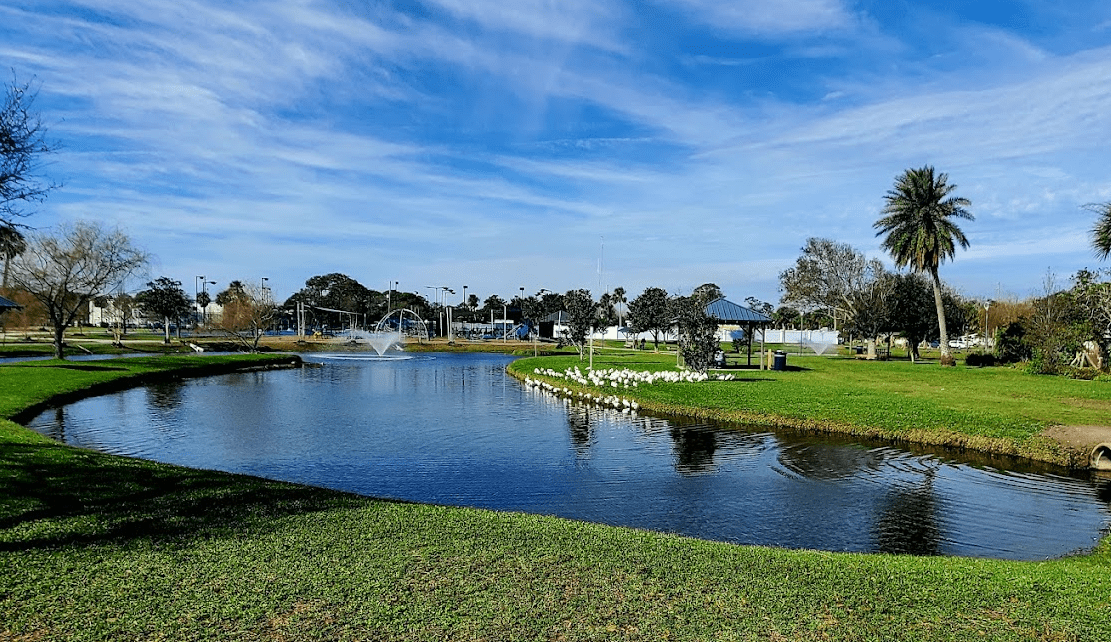 Jarboe Park (Neptune Beach)
Home to ponds, little bridges, walking trails, sports courts, a toddler's play area, a "big kids" play area, and the most adorable butterfly garden, Jarboe Park is a beloved community recreational space. When the weather's especially nice, you can find the occasional pop-up parks storytime with the Jacksonville Public Library!
Address: 510 Florida Boulevard, Neptune Beach, FL 32266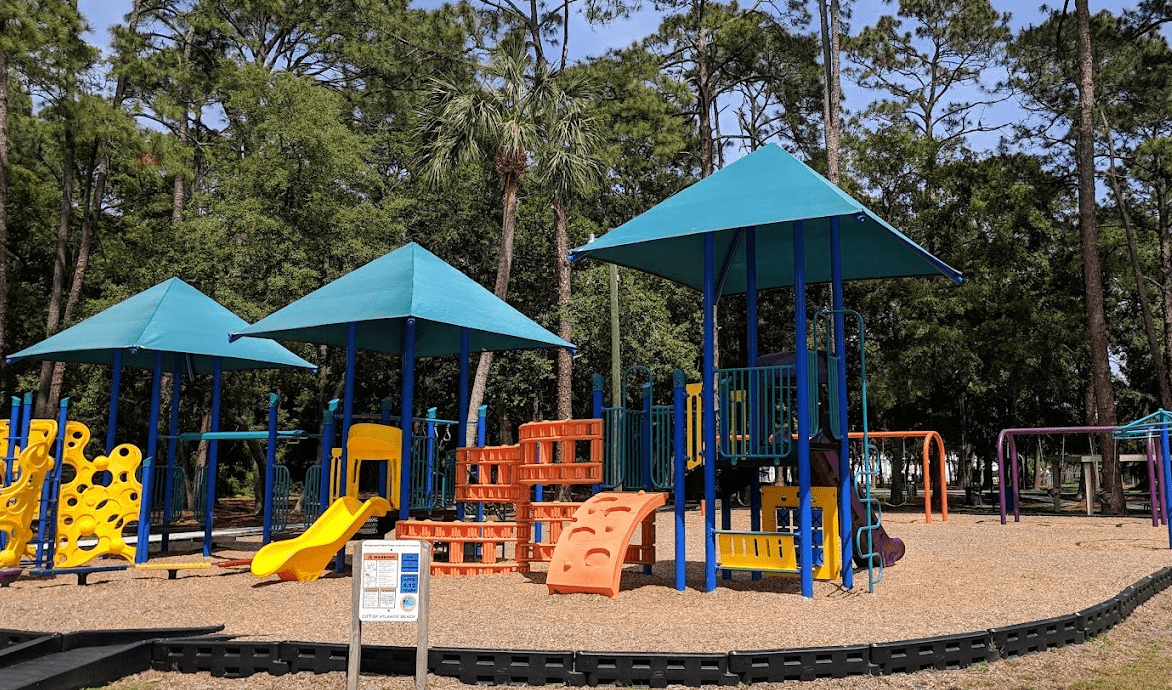 Jordan Park (Atlantic Beach)
Another Atlantic Beach favorite, the 1.5-acre Jordan Park is wooded and features a nice, large playground area, covered picnic pavilions, a basketball court, and plenty of shade.
Address: 1825 Francis Avenue, Atlantic Beach, FL 32233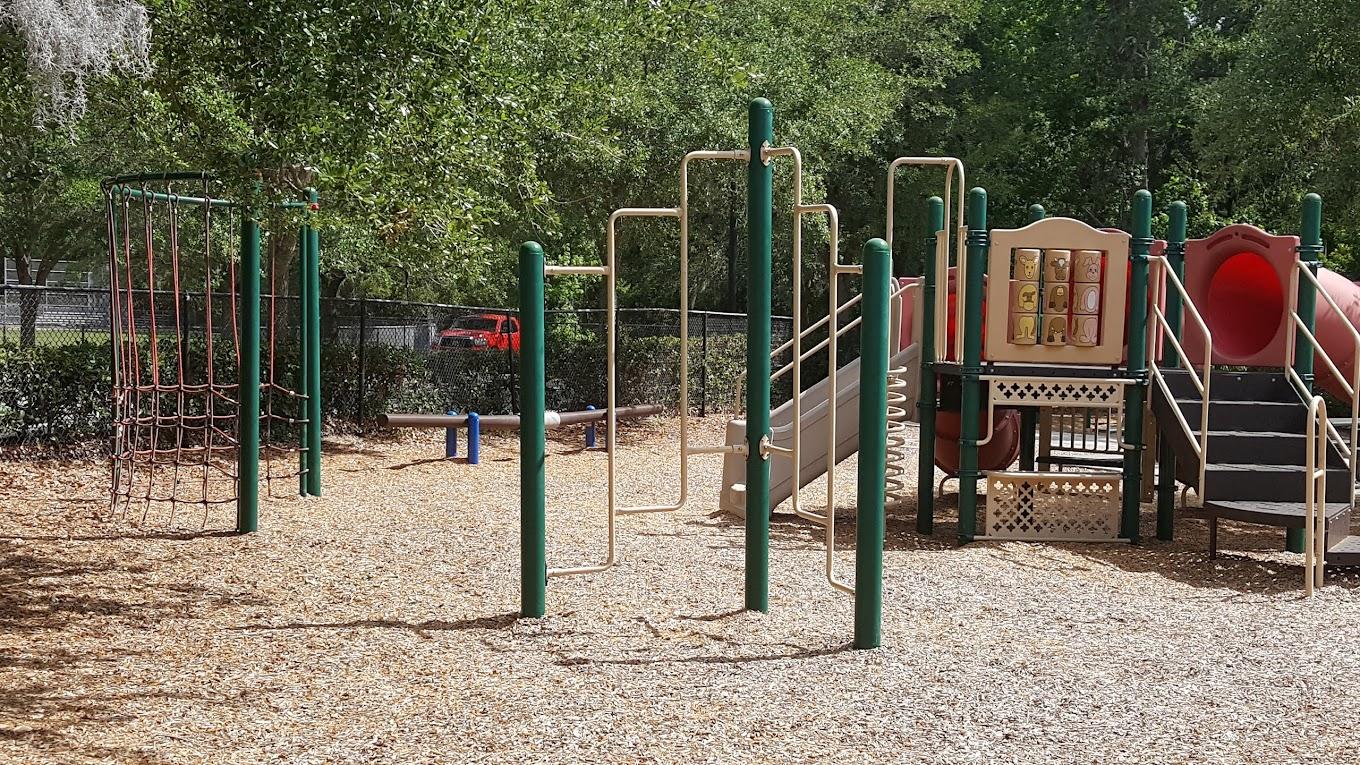 Leonard Abess Park (East Arlington)
This gem located near Girvin Road and Atlantic Boulevard features various playscapes, climbing structures, a picnic shelter, sports fields and courts, paved trails, and a newly added splash pad (perfect for summer!).
Address: 12743 Abess Boulevard, Jacksonville, FL 32225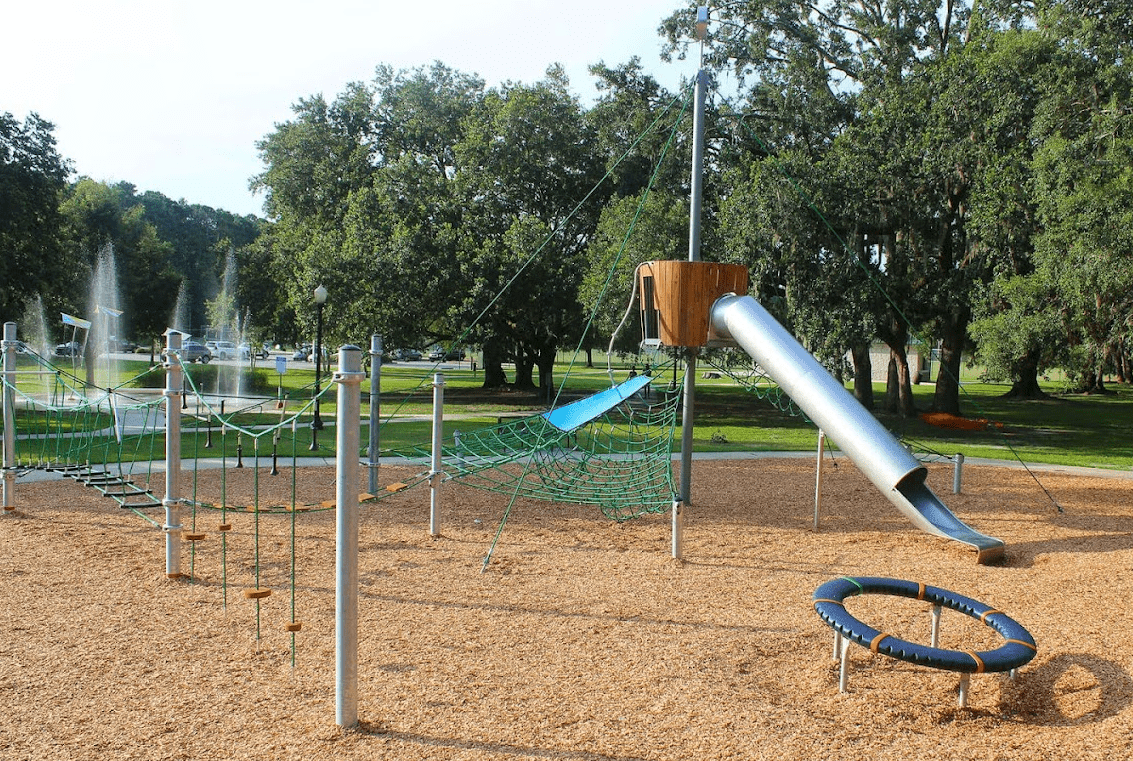 Losco Regional Park (Mandarin)
Despite being in the middle of Mandarin, you would never know you were in the city when you are at Losco Park. Surrounded by a quiet wooded area, Losco offers a scenic paved path that wraps around the park and is perfect for a stroll or bike ride. There are also two playgrounds as well as soccer fields. Kiddos can enjoy the adjacent splash pad during the summer months!
Address: 10931 Hood Road South, Jacksonville, FL 32257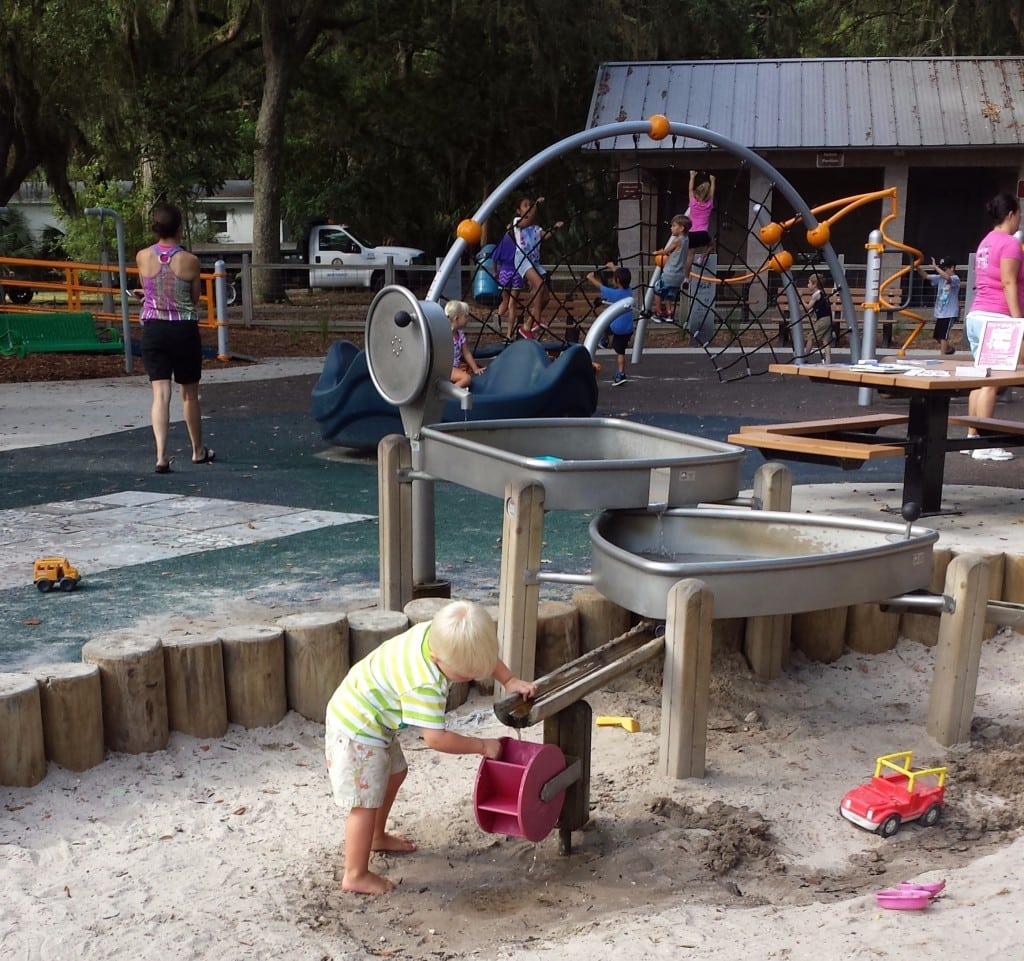 Pirate Park (Amelia Island)
The Pirate Park is absolutely worth the trip to Fernandina Beach. Set in a breezy, shaded area among the trees, this community-accessible playground integrates exercise, art, nature, music, imagination, and local history for children of all ages.
Address: 2500 Atlantic Avenue, Amelia Island, FL 32034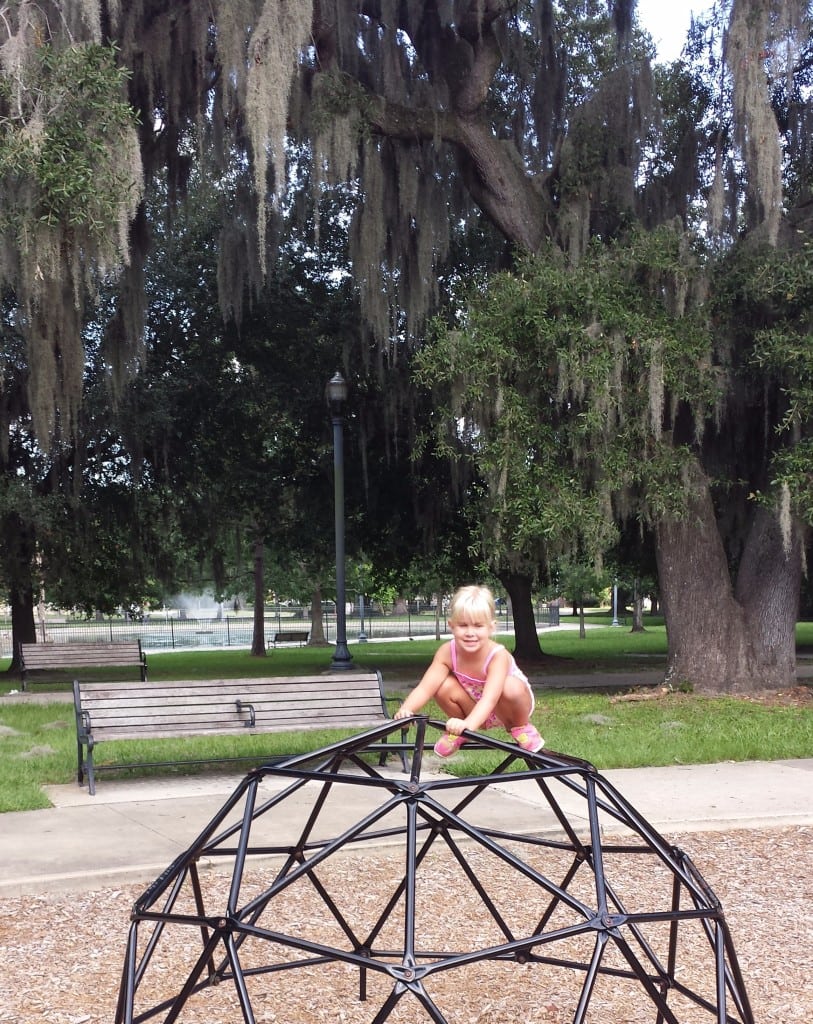 Riverside Park (Riverside)
Originally developed in the 1890s, the 11-acre Riverside Park is one of our most charming parks. In addition to several pieces of unique playground equipment, there is plenty of space to play and numerous tables and benches that are perfect for picnics. Our favorite part is the ponds, filled with friendly, hungry ducks!
Address: 753 Park Street, Jacksonville, Florida 32204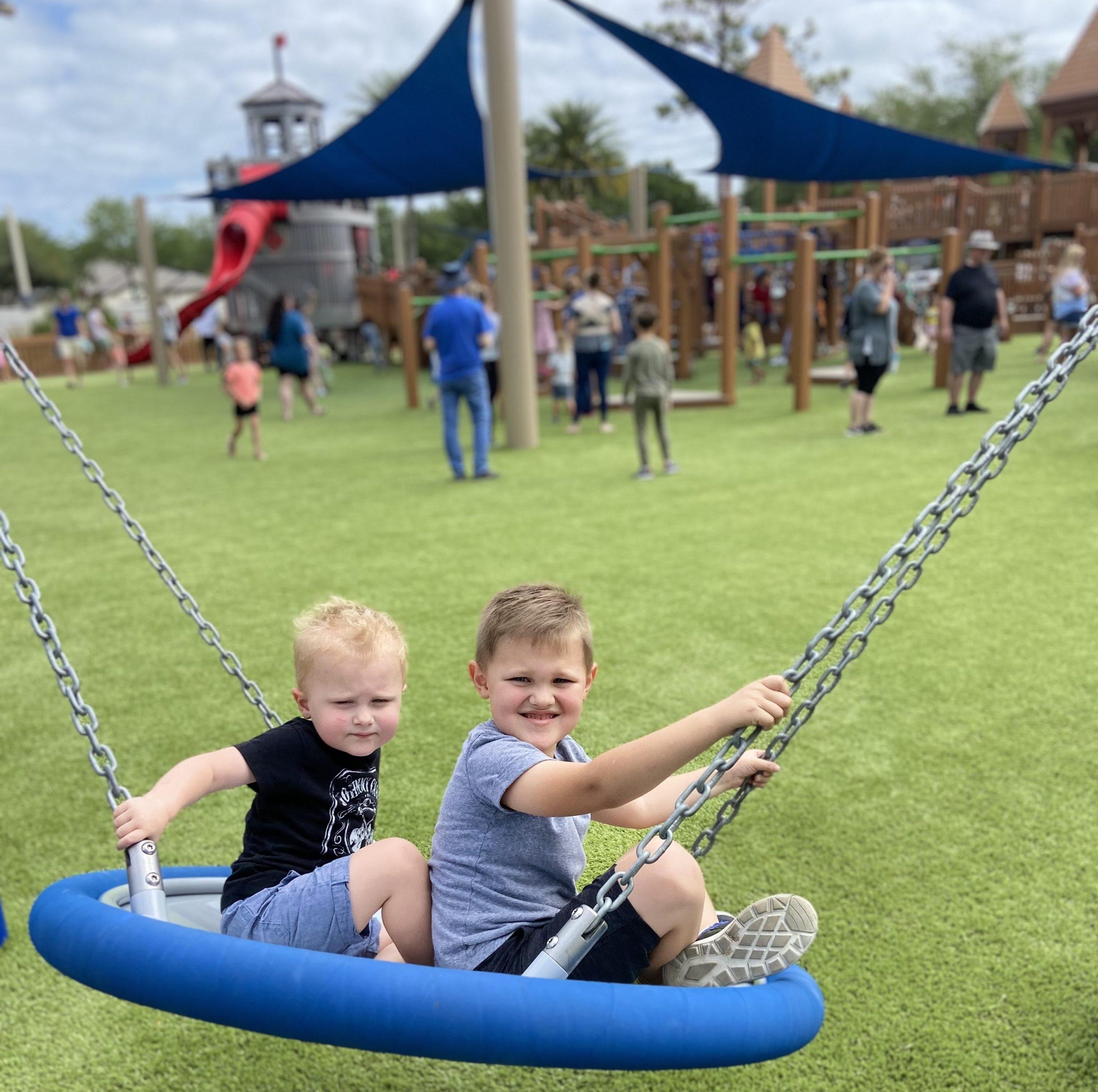 South Beach Park and Sunshine Playground (Jacksonville Beach)
One of our favorite parks? South Beach Park and Sunshine Playground is loved by locals at the beach, but it offers enough activities to make it worth the drive for anyone. Recently renovated, Sunshine Playground has two play areas: one for toddlers and one for bigger kids, and both are some of the most interesting play spaces we've seen. The wooden castle structure in the bigger kid area is so much fun to explore, with multiple places to hide, slide and climb. The toddler area is just as much fun with several slides and plenty of places for the little ones to climb. In addition to the playground, South Beach Park offers a quarter-mile paved loop, three volleyball courts, a tennis court, a basketball court, and a giant field. There is also a splash pad that remains open all summer!
Address: 2514 South Beach Parkway, Jacksonville Beach, FL 32250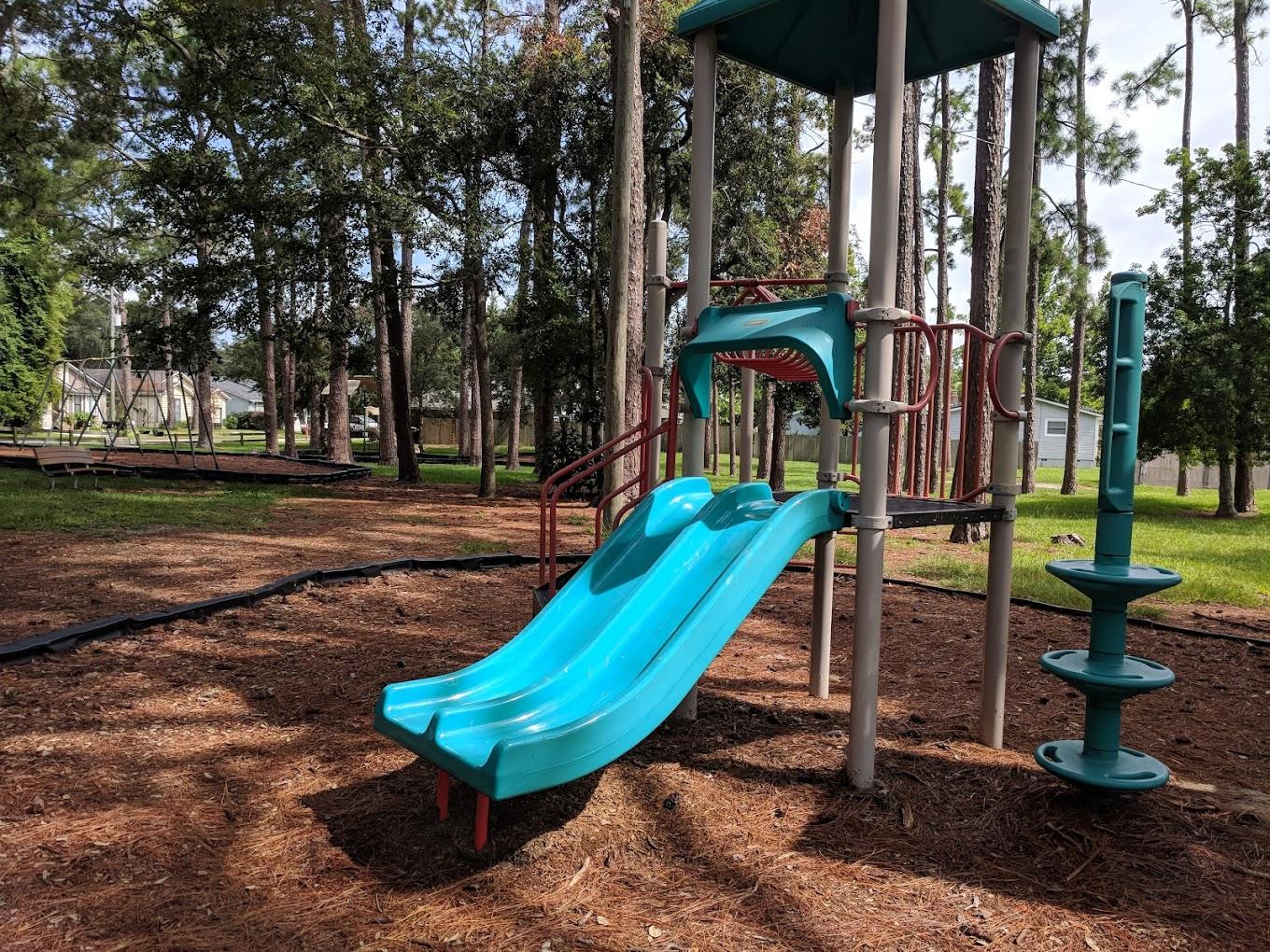 Tall Pines Park (Jacksonville Beach)
Considered by many to be a bona fide "hidden gem," Tall Pines Park is a 1.5-acre park surrounded by — you guessed it! — very tall trees. A basketball court, picnic pavilion with a grill, and playground equipment are all ready and waiting for your next recreational adventure.
Address: 9th Avenue North (west of North Penman Road) Jacksonville Beach, FL 32250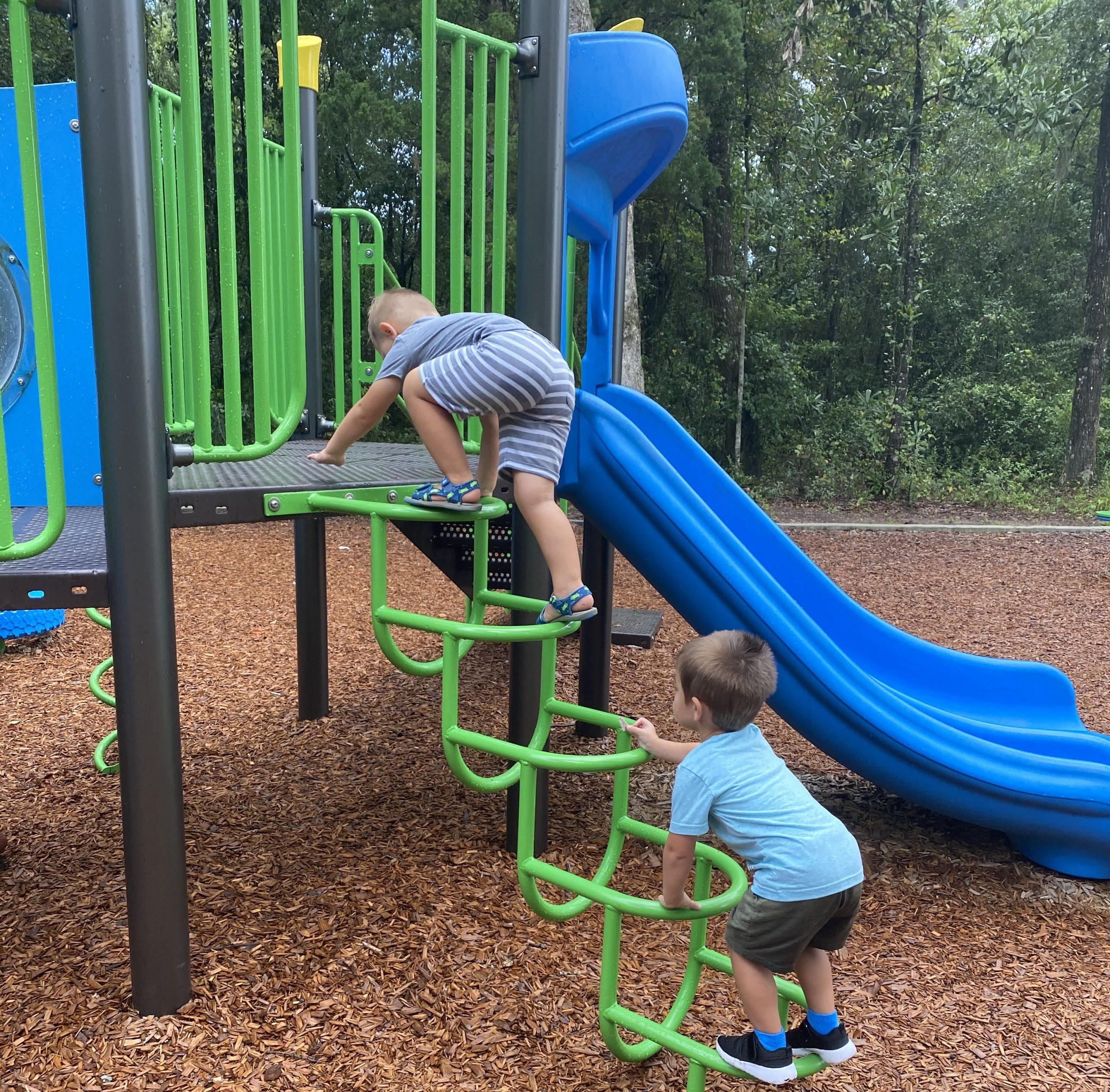 Touchton Road Park (Southside)
Touchton Park is a family favorite resting on 42 beautiful acres, complete with a spacious playground (perfect for climbing!), a skate area, racquetball courts, a fitness trail, and picnic pavilions. The playground and outdoor fitness equipment were installed as recently as 2019.
Address: 8551 Touchton Road, Jacksonville, FL 32216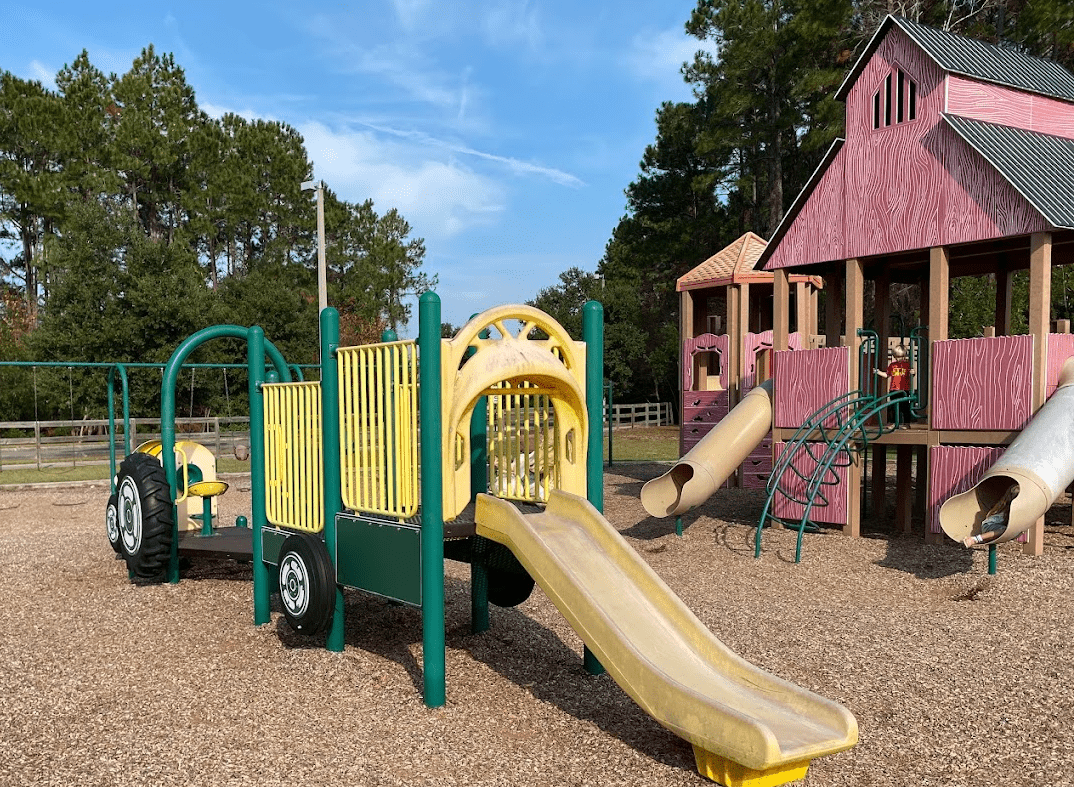 William F. Sheffield Regional Park (Northside)
Adjacent to New Berlin Elementary on the north side of Jacksonville, William F. Sheffield Regional Park is a great place to play when it comes to parks. The "giant, twisty slide" at this park can't be missed! In addition to the playground, there are two fishing ponds and plenty of space to run around in the large, open fields.
Address: 3659 New Berlin Road, Jacksonville, FL 32226
What are some of your favorite parks or playgrounds in Jacksonville?