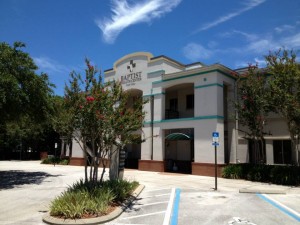 520 A1A North, Suite 102 Ponte Vedra Beach, FL 32082
The pediatricians of Baptist Pediatrics feel that children have very unique and specific needs from infancy to adolescence and young adulthood. Your child's primary care doctor is here to be your partner in keeping your child safe and well – backed by resources including our region's nationally recognized pediatric hospital, Wolfson Children's Hospital.
Two locations offered, San Jose & Ponte Vedra Beach.
Pediatricians:
Bethany Atkins, MD,
Christopher Emanuel, MD,
R. Matthew Paton, MD,
Stephen Silberman, MD,
Erica Tarbox, MD,
Valerie Jacobson, MD,
April Brenes, MD
Christy Conner, MD
My son has been visiting this office since he was a newborn- we interviewed a few peds offices before he was born and we knew this is where we wanted our son to be seen. Dr Emmanuel has been his primary pediatrician and I can't say enough great things about him. He is very knowledgeable and knows how to deal with us 1st time parents. Every pediatrician has shown great compassion and throughly checks my son when we need to go in. They fit you into the schedule if your child has something you want looked at immmediately. I have used the on-call service for middle of the night fevers and illnesses and the on call nurse is always very helpful and understanding, even at 3 am! Highly recommend.
You must login to post comments
We Love Baptist Pediatrics
We've been with Baptist Pediatrics for 3 years now and both my kids love them. All the doctors there are kind and knowledgeable.
You must login to post comments