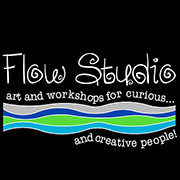 1112 3rd Street, Suite #11
Flow Studio is a place where collaboration and interactive exploration meet. When good people come together with collective knowledge and experience, it creates an atmosphere of learning, exploring, and self-expression.
We offer classes with diverse forms of art material, including mixed media, drawing, multimedia painting, poly clay sculpting, printmaking, design, crafts, photography, literature, mosaics, art journaling, therapeutic art, partner art, group collaborative pieces, contemplative art practices, and so much more!