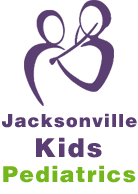 7807 Baymeadows Rd E Ste 207 Jacksonville, FL 32256
Where Parents and Pediatricians are Partners
At Jacksonville Kids Pediatrics, a skilled team of Jacksonville pediatricians offer comprehensive medical care for infants, children and adolescents. Conveniently located in the heart of Jacksonville, their courteous and knowledgeable staff works hard from first contact to make every visit a positive one.
The best pediatrician in town!
In the nearly 5 years I visited Jacksonville Kids Pediatrics with my two boys, I have: 1. Never waited more than 4 hours from my initial phone call to see the doctor when one of my children is sick, 2. Never not seen Dr. Kostur during each and every visit, and 3. Received wonderful and attentive service.
I started at Carither's with my first son, moved to Progressive Pediatrics when he was 1.5 years and then ended up at JKP prior to the birth of my second son. I had the same problems many moms have at each of the previous offices – long waits to see the doctor – at home and in waiting rooms, inattentive/rude office staff, a rotating cast of doctor's and/or PA's, frustration when they couldn't remember my son and his specific issues and just general unhappiness at the level of care I received on a regular basis.
At Dr. Kostur's they get all of these right – we get in quickly, we see the same people each time and they are all wonderful at what they do. Dr. Kostur knows my children so well we rarely have to discuss previous visits and 'catch up.' I never feel rushed during these appointments either. In addition to common colds, sore throats…we faced issues with a re-circumcision, ear infections, recurring Hand/Foot/Mouth… Dr. Kostur & JKP worked with us to find specialists and ensure these issues were resolved and we felt good about the resolutions. Most important? My kids know and love Dr. Kostur and her staff.
I highly recommend JKP & would send any mom to her there without hesitation. Make the switch & you won't regret it.
You must login to post comments