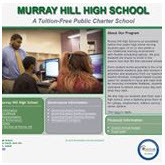 929 South McDuff Avenue, Jacksonville, FL 32205, United States
Our Mission: We help at-risk students earn a regular high school diploma and prepare for post-secondary success. We offer an instructional calendar beyond the traditional 180 days to give students more opportunity to continue working toward meeting graduation goals. Attendance throughout the school's instructional calendar is mandatory and necessary for success. Please see the published school calendar.
Program Offered:
Murray Hill is a tuition-free public high school that operates two sessions per day – morning and afternoon. Students have the opportunity to enroll in the session that best fits their personal schedule so they have the flexibility to earn a quality education while working, caring for family, or managing other commitments.
Once enrolled, the school works with the student to create a personalized academic plan to graduate, and immediately helps the student to start earning credits at his/her own pace. Courses are computer-based to help the student to focus and track progress, and certified teachers provide individualized support.
The school serves ages 16 to 21. Graduation ceremonies are held in June.
There is no cost to attend. All programs are free.