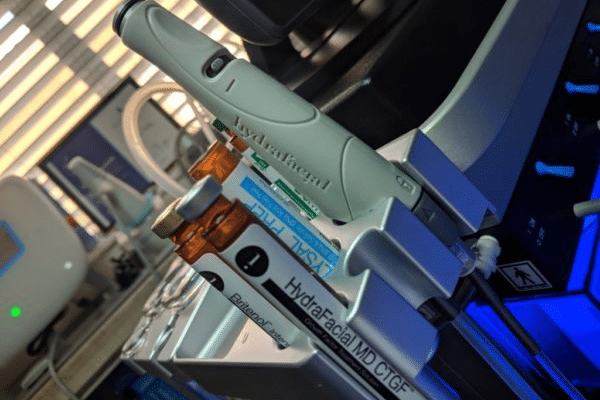 We mom, we wife, we love, we work, we volunteer, we cook, we clean — we give, give, GIVE. Then we squeeze out another drop of giving. Do you sometimes feel like your entire life is about everyone else? Do you give yourself the same love you give everything else? If not, PLEASE DO. It's essential to love and pamper ourselves with little treats that lift us up to continue giving our best.
When I need a tiny break and want to treat myself, it frequently includes a facial. Facials are not only indulgent, they are an investment in my skin with long-term benefits. I may spend six days a week sans makeup, so I want my skin to project the glow on the outside that I feel on the inside. And when I am not feeling particiularly "glowy," a facial sure as hell helps me fake it.
You've met me, right?
I am OBSESSED with skincare and the latest advances in technology that can reveal your best skin. I was entrenched in the aesthetics industry for years and worked closely with cosmetic dermatologists and plastic surgeons with injectibles, while also learning the importance of truly taking care of your skin beyond SPF.
Facials are my jam!
I love to feel the tingle of an acid peel eating away my dull skin, like peeling dirty sheets off a bed, revealing a fresh complexion underneath. I love when the aesthetician extracts my imperfections with her tool, like the crusty socks I pick up behind my son's hamper. I love the infused cotton pads over my eyes while the steamer opens my pores, like finally Windexing down a counter at the end of the day. And at the end of my treatment when they hand me the mirror to show me their work – my skin – its smooth dewiness reinvigorates me to take on another 10 loads of laundry.
My new skincare secret.
Recently, I treated myself to a Hydrafacial for the first time. It had been a challenging school year, and the beginning of summer didn't provide the reprieve I anticipated. I felt defeated. I made an appointment to see Andrea, my medical aesthetician extraordinaire, who not only whips my skin into glorious condition, but feeds my soul with positive affirmations during the process. I'd read about the Hydrafacial, but never understood how it was different than my regular facial at the spa. Now I know — there is no comparison. Don't call it a facial, it's a MIRACLE.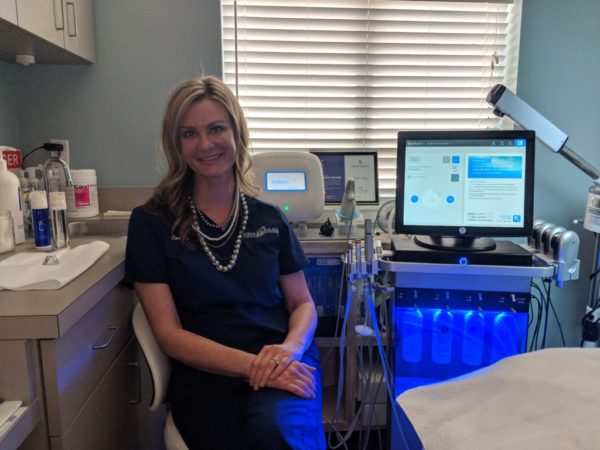 The Hydrafacial is a facial on steriods!
The Hydrafacial has three steps: cleanse and peel, extract and hydrate, fuse and protect. What sets this facial apart is the handpiece used by the aesthetician to perform the treatment. The handpiece is a medical-grade hydradermabrasion device used to exfoliate the skin and vacuum out pore impurities, while simultaneously infusing the skin with a magical concoction of serums. The treatment handpiece has patented spiralized tips that are described as "vortex technology" as it exfoliates, extracts and infuses your skin to perfection. Unlike microdermabrasion treatments that use crystals and diamonds to exfoliate, the Hydrafacial uses water to cleanse the skin, extract and infuse serums. It's gentle and completely painless.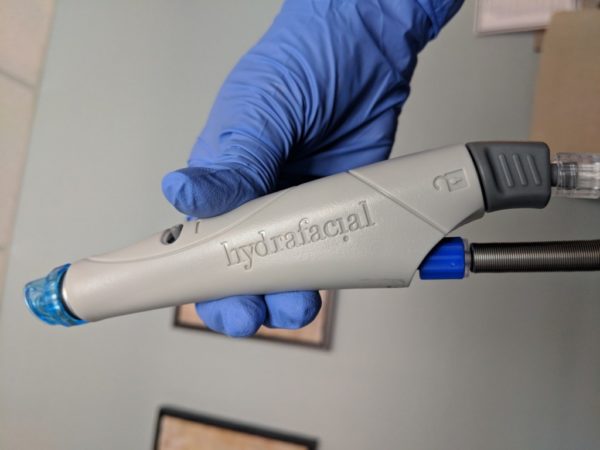 Hydrafacial uses lactic, glycolic and salicylic acids to peel and extract the skin (steps 1 and 2). Sometimes the word "acid" can be scary for some, especially those with sensitive skin. I have sensitive skin and rosacea, and these acid treatments are super gentle and extremely effective. I experienced zero discomfort. The final step (3) is to infuse the skin with mega nutrients that feed and plump the skin with antioxidants, vitamins and hyaluronic acid. Youth restored. Glow intact.
Somewhere in the world, a Hydrafacial is performed every 15 seconds.
The Hydrafacial is for EVERYONE and can be customized by tailoring specific concerns with serum boosters. The treatment is 30 minutes with no downtime! The cost can be anywhere from $150 to $200. Full disclosure: I took advantage of a discounted special that included dermaplaning before my treatment and Eye Perk after my treatment, and the total cost was $175. And I left with the Eye Perk serum that lasted an entire month after treatment used both morning and night.
This facial was so transforming I texted friends immediately with a car selfie from the parking lot. And I generally don't do selfies. I saw benefits of the Hydrafacial for at least two weeks post treatment and still feel like my skin is benefitting from it four weeks later.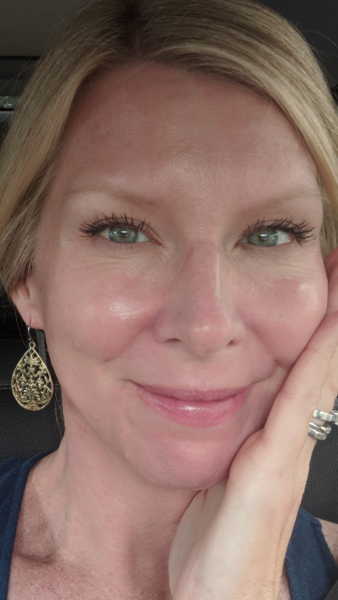 Mamas, more than anything, make sure to give yourselves the love you are giving everyone else. Find your "treat." It may be time to read without interruption or a solo walk on the beach. For me, it's the Hydrafacial and I beg you to try it. It's a 30-minute skincare miracle!
As always, with any medical treatment, talk to your provider and trust their recommendations. You can read more about the Hydrafacial and find a provider here.
Have you experienced a Hydrafacial, and what were your results?