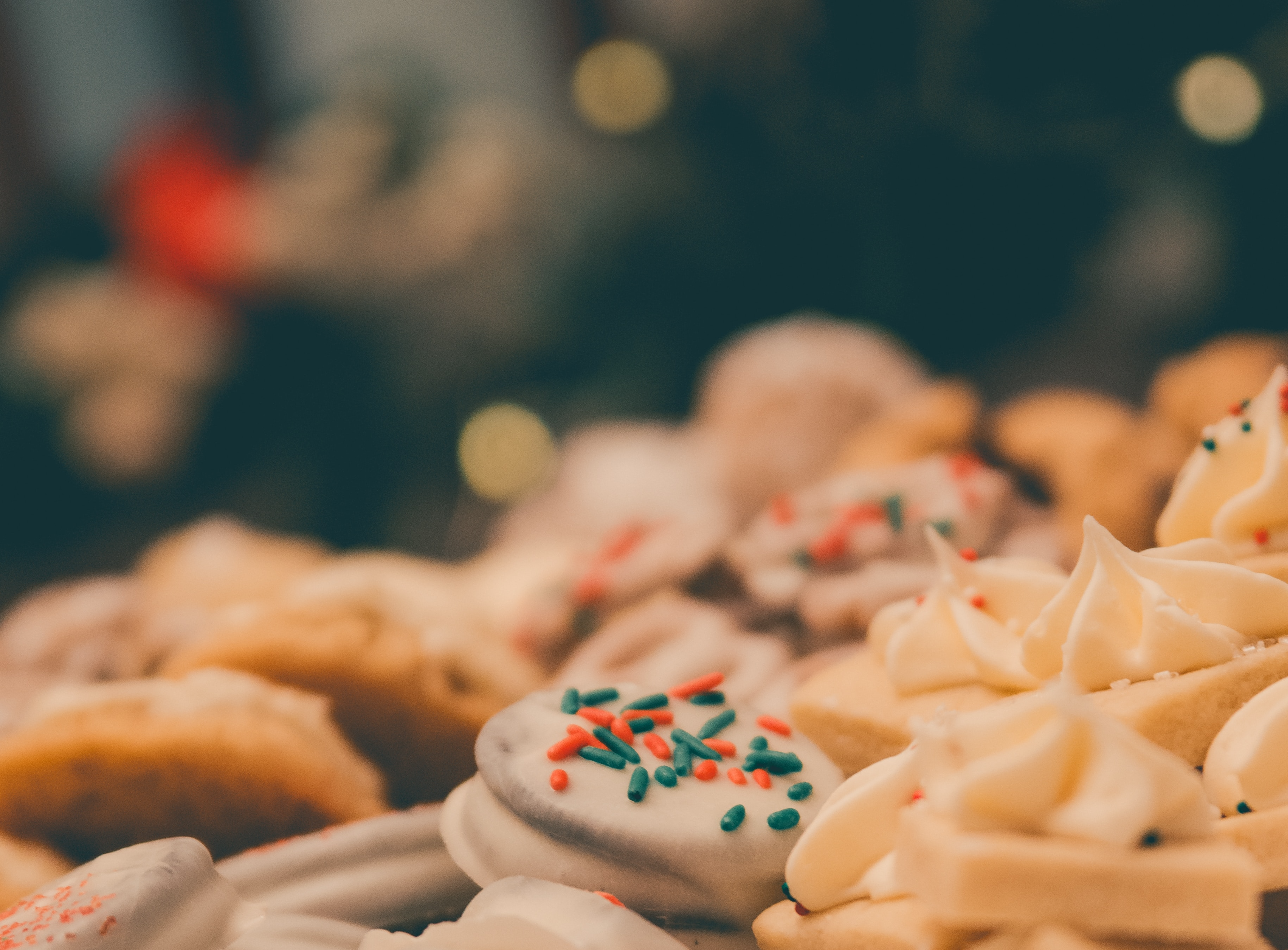 Holidays bring tradition, excitement, memories, family, and maybe even a little cussing and crying. For many, nothing signals this special time of year quite like family recipes. Personally, it can't be Christmas until there are flour and sprinkles on every surface of my kitchen. If the thought of searching Pinterest for a quick holiday recipe overwhelms you (Ahem, me! I mean, who needs 1 billion sugar cookie recipes?) then hopefully this post can be of help!
Some of our team shared their personal family recipes so that we can share them with all of you! We hope you will enjoy them, and even share some of your own in the comments. May your holidays be merry and bright with these recipes from the Jacksonville Mom family to yours!
Appetizers
Pimento Cheese Sausage Balls (Maya Sutherland)
Ingredients:
1 lb ground breakfast sausage
2 cups pimento cheese
2 cups Bisquick
1 tbsp chopped parsley
Directions:
Preheat oven to 350. Thoroughly mix sausage and pimento cheese. Mix Bisquick in well. Form into balls and place on cookie sheets. Bake for 14-17 minutes. Top with parsley for garnish.
Ultimate Holiday Cheeseball (Tina Peckham)
Ingredients:
Two 8 oz cream cheese blocks
8 oz can crushed pineapple (in juice, drained)
1/2 cup diced green bell pepper
2 tbsp minced onions
2 tsp seasoned salt
Crushed pecans
Directions:
Mix all ingredients and refrigerate one hour. Form into a ball and roll in crushed pecans. Serve with crackers as an appetizer. Enjoy! Pro Tip: Serve alongside hot pepper jelly for a delicious kick.
* "My mom made this every Thanksgiving and Christmas, and it's the only recipe I have from her that is in her handwriting and on the original piece of paper. (She died in 1998.)" –Tina Peckham
Pepperoni Bread (Kerry Schicker)
Ingredients:
Two cans of Pillsbury pizza dough
8 oz package of pepperoni slices, any brand
One package shredded mozzarella cheese
1/3 cup Parmesan
2 tsp garlic powder
2 tsp Italian seasoning
2 tbsp of olive oil
Directions:
Preheat oven to 350. Take one can of pizza dough and cut into 1-inch squares. Mix with half of the ingredients. Put half into greased bundt pan. Do other half and add to top of other half in pan. Bake for 45 minutes. Should brown on top. Serve with marinara sauce.
Entrees
Grandma's Chicken (Becky Walters)
Ingredients:
Three whole chicken breasts
1/2 cup sour cream
1 cup cream of chicken soup
1/8 tsp poppy seeds
1/2 cup of cracker crumbs
2 tbsp melted butter
Directions:
Preheat oven to 325. Mix sour cream, soup, and poppy seeds. Spread over chicken. Top with crackers and drizzle melted butter. Bake for 1 hour.
Red Chicken (Jennifer Steiger)
Ingredients:
4 to 6 boneless, skinless chicken breasts
1 package dry spaghetti sauce mix
2 cans of chopped tomatoes
Salt and pepper to taste
Directions:
Rinse and pat dry the chicken breasts. Sprinkle with salt and pepper and set aside. Mix dry sauce mix and tomatoes (do not drain) in a crockpot. Place chicken breasts in crockpot and toss to coat. Cook on high for 4 hours or on low for 8 hours. Serve with yellow rice or egg noodles.
Jessica's Cheap-Ass Chicken Enchiladas (Jessica Morgan)
Ingredients:
1 lb Fresh Market Tuesday $2.99 Chicken breasts
1 cup chicken stock
1 packet taco seasoning mix
1 20-count package of small 6″ flour tortillas
1 or 2 10-oz cans of mild red enchilada sauce
8 oz shredded cheese
Chopped onion and sour cream (optional)
Directions:
Throw that cheap chicken in the crockpot. Don't bother to trim or cut it. Rub down with taco seasoning and salt and pepper. Add chicken stock around the chicken. Cover and cook on low for 6-8 hours. Once cooked, drain chicken and mix in half the shredded cheese. Lightly spray casserole dish with cooking spray. Using spoon, scoop about 2 spoonfuls of chicken and cheese mixture into tortilla. Fold over and put into casserole dish, seam side down. Once all are filled and in a dish, cover enchiladas completely with the enchilada sauce. Add remaining cheese on top. Bake uncovered for approximately 15-20 minutes. Optional: Top with chopped onions and sour cream to serve.
* "This dish costs approximately $15, so feeding a family of 4 for less than $5 per person. This is my go-to meal train meal. Add a dessert, a bag of chips and some salsa, and BOOM, dinner!" –Jessica "is not a chef" Morgan
Sides
Grandma's Corn Pudding (Vicky Lane)
Ingredients:
1/2 cup softened butter
1/2 cup sugar
2 room-temp large eggs
1 cup sour cream
1 8.5-oz package corn muffin/bread mix
1/2 cup milk
1 can whole corn, drained
1 can cream-style corn
Directions:
Preheat oven to 325. In a large bowl, cream butter and sugar until light and fluffy. Add eggs, one at a time, beating well after each addition. Beat in sour cream. Gradually add muffin mix alternately with milk. Fold in corn. Pour into a greased 3-qt. baking dish or 9×13 pan. Bake uncovered, until set and lightly browned approximately 45-50 minutes.
Christmas Fat Fest Potatoes (Meg Sacks)
Ingredients:
1/4 cup butter or margarine
1/4 cup all-purpose flour
2 cups half-and-half cream
2 tbsp minced fresh rosemary
2 garlic cloves, minced
1 tsp salt
1/4 tsp pepper
3 lbs potatoes, peeled and cut into 1/8 inch cubes
2/3 cup grated Parmesan cheese
Gruyere cheese
Directions:
Preheat oven to 350. In a large saucepan, melt butter over medium heat. Stir in flour until smooth. Gradually add in cream. Bring to a boil; cook and stir for 2 minutes or until thickened. Remove from heat and add in rosemary, garlic, salt, pepper, and potatoes. Transfer to a greased 9×13 baking dish. Sprinkle with Parmesan and Gruyere. Cover and bake for 45 minutes. Uncover and bake another 10-15 minutes or until potatoes are tender.
Zucchini Fritters (Brittainy Speicher)
Ingredients:
1 1/2 lb zucchini, grated
1 tsp salt
1/4 cup all-Purpose flour
1/4 cup grated Parmesan
2 cloves garlic, minced
1 large egg, beaten
Kosher Salt and freshly ground pepper to taste
2 tbsp olive oil
Directions:
Place grated zucchini in a colander over the sink. Add salt and gently toss to combine; let sit for 10 minutes. Using a clean dish towel or cheesecloth, drain zucchini completely. In a large bowl, combine zucchini, flour, Parmesan, garlic, and egg; season with salt and pepper. Heat olive oil in large skillet over medium-high heat. Scoop tablespoons of batter for each fritter, flattening with a spatula, and cook until the underside is nicely golden brown, about 2 minutes. Flip and cook on the other side, about 1-2 minutes longer. Serve immediately.
Desserts
Grandma's Shortbread Cookies (Theresa Duncan)
Ingredients:
3 sticks unsalted butter
1 cup plus 2 tbsp granulated sugar
1 large egg
1 tsp vanilla extract
1/4 tsp salt
1/2 cup cornstarch
4 cups all-Purpose flour plus more for dusting
Directions:
Combine butter and sugar with electric mixer at low speed. Beat in egg, vanilla, salt, and cornstarch. Beat in flour one cup at a time until mixture begins to come together. Put dough on floured work surface and knead in remaining flour until dough is no longer sticky. Divide dough into thirds, wrap in plastic and refrigerate for at least 45 minutes to stiffen. Preheat oven to 275 degrees. Roll out dough to 1/2 inch thick and cut into desired shapes. Bake for 40 minutes, until golden brown.
Allergy-Friendly Christmas Snowballs (Stacy Mcdonald-Taylor)
Ingredients:
2 cups vegan (or traditional) butter, softened
4 cups Bob's Redmill 1-2-1 Gluten-free (or standard all-purpose) flour
1 cup powdered sugar
Directions:
Preheat oven to 350. Mix ingredients in a bowl with a fork until it starts to come together. Finish dough by folding together with clean hands. Pinch off bite-sized amounts and roll into 2-inch balls. Bake for 10-14 minutes. Watch closely. Remove from oven and allow to cool to a manageable temperature. Roll each warm snowball in extra powdered sugar. Finish cooling on wire rack.
Peanut Butter Fudge Bars (Krista Dyr)
Ingredients:
1 pouch Betty Crocker peanut butter cookie mix
3 tbsp vegetable oil
1 tbsp water
1 egg
1 jar hot fudge topping
1 cup cream cheese frosting
1/4 cup peanut butter
1 8-oz container whipped cream
3 Butterfinger bars, finely crushed
Directions:
Preheat oven to 350. Spray bottom only of 9×13 pan with cooking spray. In large bowl, stir cookie mix, oil, water, and egg until soft dough forms. Press in bottom of pan. Bake 12-15 minutes. Cool approximately 30 minutes. Spread fudge topping over cooled cookie base. Mix frosting and peanut butter. Gently fold in whipped cream and most of the Butterfinger pieces. Spoon mixture over fudge and spread evenly. Sprinkle with remaining Butterfinger. Cover and refrigerate about 2 hours. Store in fridge.
* This recipe is great when you have a crazy day because you can do one part while the kid is napping, take a break, and then come back when you have a chance again!
Becker Hot Fudge Sauce (Megan Kilis)
Ingredients:
4 oz Baker's unsweetened chocolate
3 tbsp butter
1 1/2 cups of sugar
1 cup Half and Half
1 tsp vanilla extract
Directions:
Melt unsweetened chocolate and butter being careful not to burn. Add sugar, stirring well. Add half and half, again mixing thoroughly. Bring mixture to low boil; then simmer for 7-8 minutes. Add vanilla, stir well. Serve warm over your favorite ice cream.
Share some of your own favorite family recipes in the comments and let us know how you like the above!