I've stared at this screen for way too long. If there is one thing I have avoided writing about lately, it is pediatric cancer. It is NICU talk. It is Wolfson's Children's Hospital. Simply driving past, it creates a knot in my stomach AND it makes me smile because of those people, that place saved my daughter… twice.
But Wolfson did not just save my daughter; they saved us all.
September is Childhood Cancer Awareness Month. It is also NICU Awareness Month. And some days, it is a month I wish that did not exist.
My daughter, Marjorie, was born at 27 weeks and is a cancer survivor. Two things I wish never happened, but they did and now we are forever linked to these awareness months.
My daughter's first year of life was nothing like I had planned. You never think your birth story will include rupturing at 25 weeks, lying in a hospital bed for two weeks and being rushed into emergency surgery to deliver via c-section a 1-lb., 15-oz. baby girl. Then, after we survived the NICU, we were handed the cancer card when she was 7 months old.
While life never goes as you planned it, these were some cards I was never prepared to receive as a mother. NICU life and pediatric cancer were never on my radar until we were thrust into their worlds.
You never think about tiny babies in rows of incubators until your child is hanging on to life in the plexiglass box where your only way to touch your baby is through tiny portholes.
You never think about your baby having an IV until you are flushing your baby's PICC line.
You never think about the lifesaving people as you drive by the hospital until you are within its walls, waiting with bated breath for them to save your child.
You drive passed the hospital never glancing at the Weaver Tower, until you are staring out the fourth-floor window, rocking your daughter as they administer chemotherapy. You can't help but wonder how you went from a car passing by to a parent praying for their daughter to live.
Today, I can't drive past Wolfson without looking into the windows overwhelmed with sadness and gratitude. But mostly gratitude — gratitude for the extraordinary angels that exist within its walls.
NICU Nurse Lisa Lammons
"Mama Lisa" entered our world and our hearts on October 9, 2014, one day after Marjorie was born. She was our absolute sunshine during the toughest days. She held my hand and calmly told me what to expect as I was suddenly baptized into the NICU. She took my picture and cried with me when I finally got to hold my precious daughter.
Mama Lisa not only became Marjorie's primary nurse but mine, too. A few weeks after Marjorie's birth, my body started shutting down. I was exhausted physically and mentally. Mama Lisa sat me down and told me that I was not to come to the hospital the following day. She ordered me a day of rest and assured me that she would be with Marjorie and she would be just fine, but Marjorie needed her mama to take some time to rest and heal. I followed Mama Lisa's orders for the next two and a half months.
This month, she celebrates 30 years as a NICU nurse. We are thankful every day for our angel Lisa and many other NICU and L&D angels: Mary, Ashlene, Jenny, Amy, Dr. Glas, Courtney, Sara, and so many more!
Mackenzie Lordhaul
"2-Knock" walked into room 402 at 7 a.m. on Wednesday, May 27, 2015. She leaned over Marjorie's hospital crib and placed her stethoscope on our daughter's sick and distended belly. My eyes fell to the multiple bright rubber bracelets wrapped around the neck of her stethoscope.
Words like "Warrior," "Fighter," and "Army" followed by a child's name were imprinted on each band. I knew those bands belonged to cancer kids whose family and friends created these bracelets as a way to show their love and support for their tiny fighter.
My eyes watered and my face flushed with anger. We will NOT be another bracelet on her stethoscope. No, no, no. This is not happening. We are not a cancer family. I am not a cancer mom. No. No. No.
Our nurse, Mackenzie, finished her exam and told us we would be going down for Marjorie's CT scan at any moment. Mackenzie proceeded to hang out in our room, make us laugh and hugged us when laughter turned to tears. She answered every question — every. single. question.
Mackenzie spent probably too much time in our room, but not according to us. Her presence was a gift from God. She answered our questions, laughed at our jokes and prayed over my baby girl in the PICU when I would take a break to go eat. She was our angel.
Today, our beloved 2-Knock is no longer our nurse, but our dearest friend. She was a main character in Marjorie's cancer journey and is now a main character in our daily lives.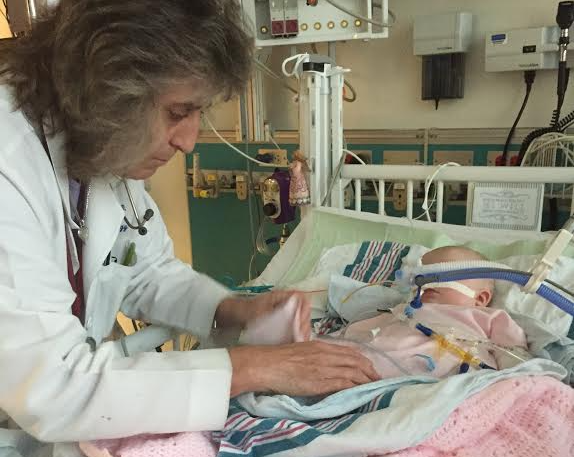 Dr. Gauger
Then, of course, there was Dr. Gauger. It was her swift action and thinking that saved our girl. The day after our CT scan and diagnosis, she tossed open our hospital door at 7 a.m. and came flying in.
"I've been thinking about Marjorie all night. We are starting chemotherapy. NOW."
While Marjorie remained in the PICU on a ventilator longer than we wanted, it was because of Dr. Gauger's decision that kept Marjorie from a horrific alternative. One that I will spare you the details.
Dr. Gauger would take time out of her day to come down to the PICU just to check on "her girl." You could see that not only was she dedicated to her job, she truly cared — and continues to care — for every child she treats.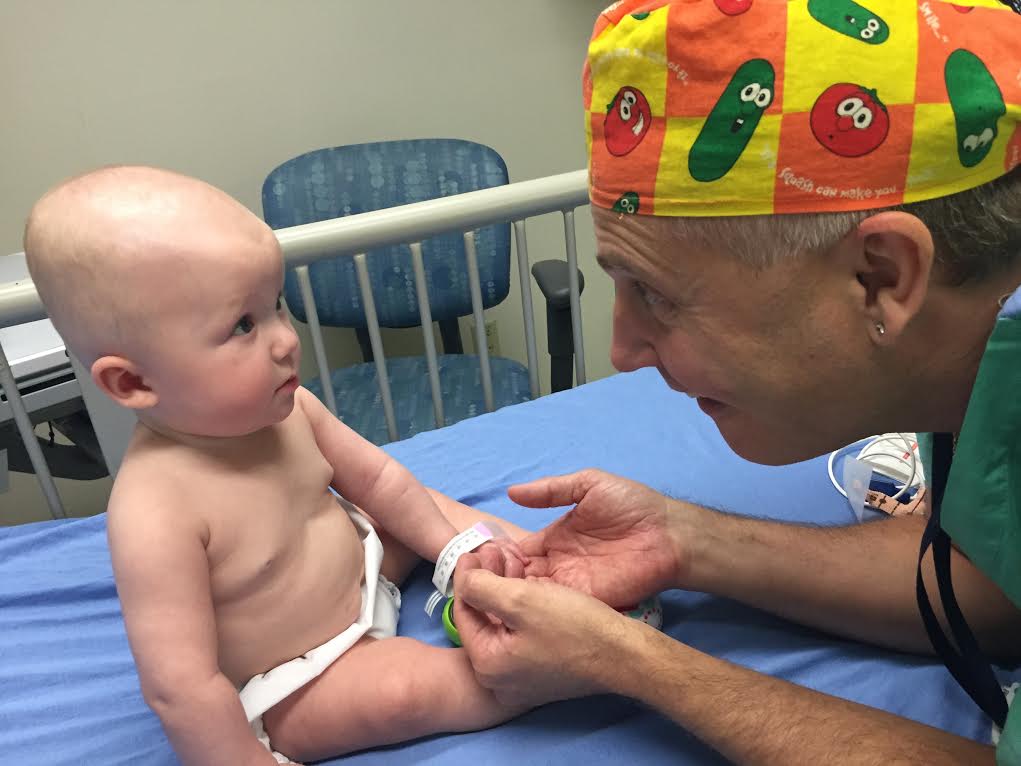 Dr. Collins
Oh, sweet Dr. Collins. I am pretty sure if I didn't watch him close enough, he would have taken Marjorie home. Dr. Collins fell hard for Marjorie, and we fell just as much in love with him.
We met Dr. Collins on the dreaded diagnosis day, minutes before handing him our precious girl for anesthesia. We sat in the tiny pro-op room. My husband Jordan quietly signed where he was told as I clung to Marjorie in the corner of the claustrophobic room. Dr. Collins was our anesthesiologist that day. He, too, would become a main character in Marjorie's story. He fell in love with our girl that day, and we fell in love with him. Dr. Collins came to take Marjorie, but before he did, he asked if he could pray for her. We nodded and thanked him. He told us he would take extra good care of our precious girl.
He would continue to be our anesthesiologist, praying and watching over our baby girl in her most fragile of hours. Keeping his promise of loving and caring for our girl every step of the way.
Countless other Wolfson Children's Hospital angels on Earth: Dr. Sandler, Dr. Joyce, Dr. Bradfield, Katie, Emily, Haley, Brooke, and so many others.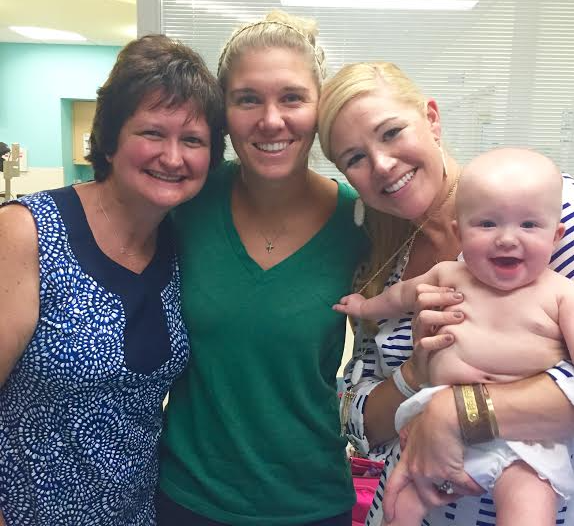 While life is wonderfully normal, our lives will never be the same. May 27, 2015, forever changed our lives. "Your daughter has cancer." We were inducted into the Gold Ribbon hall of fame that day. The month of September will never be about fall leaves or football season. It will be about "Going Gold" and cancer.
There is something ultra special about these kids. They are innocent warriors, battling until the end. No matter how angry my heart may be at times, I will never turn down an opportunity to Go Gold.
Marjorie will be 5 next month. My girl is here because of research, because of so many countless others who went before her, and because of the angels at Wolfson Children's Hospital.
Next time you drive by Wolfson, whether it is an awareness month or just another Tuesday, take a look up. Send good vibes to the mom looking down at your car as it passes by. Say thanks to the incredible people who work so hard and save lives every day.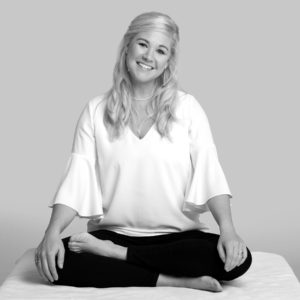 About the Author
McCall Dempsey, founder of Southern Smash is an eating disorder survivor and passionate recovery advocate. After a 15-year battle, McCall sought treatment in December 2010. Since then she has made eating disorder awareness and prevention her life's work and passion. McCall travels the country, sharing her story of hope and healing with audiences everywhere. She also writes the popular blog, Loving Imperfection. McCall been featured on various national television, print and online publications, including the TODAY show, Women's Health Online, and Huffington Post. A Louisiana native, McCall now resides in Ponte Vedra Beach, Florida, with her husband, Jordan, and her two children, Manning (7) and Marjorie (4).