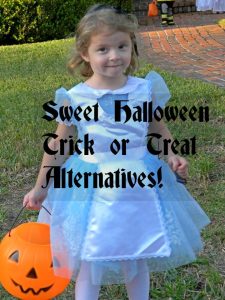 I look at the months of Halloween to Easter as a free for all with candy, between the trick or treating, holiday parties, Valentine's Day and Easter egg hunts. This year, while looking for costumes and decorations at Target, I noticed they had multi-packs of Halloween-themed school supplies–pencils, eyeball erasers, and other small treats that were 100% sugar-free. I made a decision right there in the Halloween aisle that this year, we'd not be handing out candy.
Don't get me wrong, my kids gorge themselves with the rest of the world while trick or treating and afterwards I totally raid their candy buckets when they've finally passed out in a sugar-induced coma while still wearing their costumes and sticky blue lollipop on their face.
But with a two-year-old who can't manage hard candy or gum yet and an older child that gets more than enough treats, I figured this year at our house at least, we'd do something different for Halloween.
There are other reasons besides the sugar overload to offer alternative treats to kids, including allergies. While my kids have not developed any food allergies, both their schools are peanut-free and I am learning to be sensitive about other children's dietary needs or their parents' concerns about healthy eating.
Food Allergy Research & Education (FARE) is a national organization that promotes the Teal Pumpkin Project during trick or treating. The Teal Pumpkin Project™ raises awareness of food allergies and promotes inclusion of all trick-or-treaters throughout the Halloween season. Families offering non-food treats can paint a pumpkin teal for their front step so parents of children with allergies know a safe treat is available at that home.  More information is available on FARE's website, including printable signs and an online pledge to support the cause.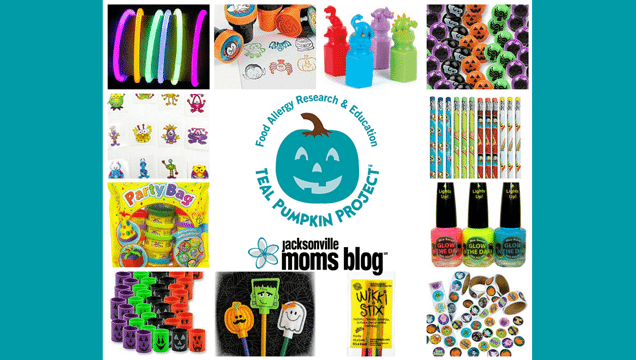 Sweet Alternatives:
Halloween themed: pencils, erasers, stickers, crayons, stamps, pens,
Plastic rings, bracelets from the dollar bin or dollar store
Glow sticks
Mini Playdoh cans
Mini LEGO packs
Temporary tattoos
Rubber ducks (for babies and toddlers)
Bouncy balls, tops, mini bubbles, squeeze balls
There are many things you can buy to hand out instead of candy. Oriental Trading Company has Halloween treat items in bulk on their website, Target, Wal-Mart and the dollar stores all have small items in bulk bags as well.
This year I am giving each child an eyeball eraser, Halloween pencil and stickers in a clear gift bag with a ribbon. (We don't get that many trick or treaters!) Bonus: maybe the mean kid who always steals our entire bucket of candy while we are out trick or treating with our kids won't want the school supplies!
Whether you're as over the candy as I am, or want to include children with special dietary needs, consider handing out an alternative "sweet" this year! Believe me, some mom, including me, will thank you!