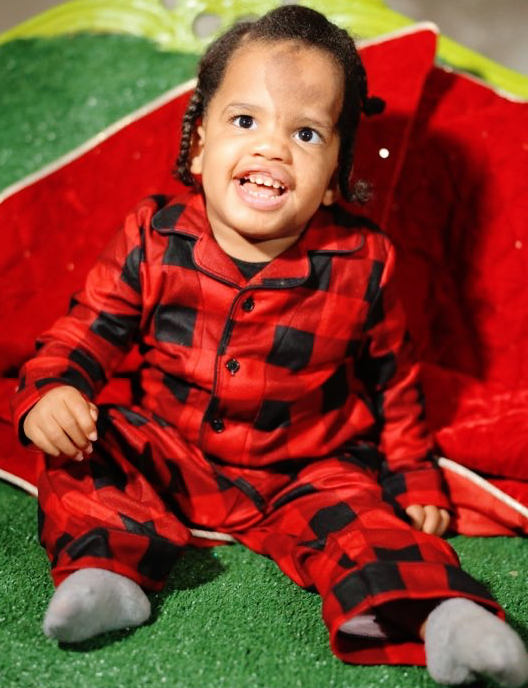 Wolfson Children's Challenge races on, finding new ways to honor patients and raise funds amid COVID-19 pandemic.
If 2020 has taught us anything, it's that people are resilient, constantly adapting to whatever life throws their way. But this is nothing new for the patients and families at Wolfson Children's Hospital, who have shown immeasurable strength and resilience for decades.
Mya Simmons and her mother Miriam are prime examples. When Miriam gave birth to Mya in October 2018, she already knew from ultrasounds that her baby had a fight ahead. At 30 weeks pregnant, Simmons learned her unborn baby had a mass on her brain, which later turned out to be hemimegalencephaly, a disorder that causes one half of the brain to be larger than the other. This serious condition leads to seizures.
Almost immediately after Mya entered this world, she started seizing. She was transported via Kids Kare Mobile ICU to the high-level Neonatal Intensive Care Unit at Wolfson Children's, where she remained for several weeks. Unfortunately, Mya continued having seizures once she went home.
During a follow-up visit at Wolfson Children's, it was also determined that Mya had a second neurosurgical condition called craniosynostosis, the premature fusion of one or more of the sutures (growth plates) in the skull. This occurs in about three of every 10,000 live births worldwide.
Mya faces two brain surgeries in one day
At just 6 months old, Mya underwent a more-than-13-hour surgery at Wolfson Children's Hospital for both of her conditions.
"They were wheeling her away and her little body didn't even take up half the bed," Simmons recalled. "I'll always remember how she just looked so little."
First, pediatric neurosurgeon Nathan Ranalli, MD, medical director of Wolfson Children's Craniofacial, Spasticity, and Brachial Plexus Programs, performed surgery for craniosynostosis. This involved removing the bone at the top of the skull where the growth plate had prematurely closed.
Immediately after, his colleague, pediatric neurosurgeon Alexandra Beier, DO, medical director of Wolfson Children's Pediatric Epilepsy Program, performed surgery to address Mya's seizures.
Changes to the Challenge
Mya is among 55 patients to be honored as part of the 2021 Wolfson Children's Challenge, an annual event to raise funds for Wolfson Children's Hospital. The "Wolfson 55" represent the wide range of conditions treated at Wolfson Children's, founded in 1955.
While the Challenge typically consists of a single day of races, entertainment, and family-friendly activities, the 12th annual Wolfson Children's Challenge is going virtual due to the COVID-19 pandemic. The mobile app-based Wolfson Children's Challenge: Virtual Edition will consist of four weeks of interactive activity challenges, fundraising, inspiring patient stories, and much more, all beginning on January 3, 2021. Accessible activity challenges are designed so that people of all abilities can take part, such as participants who are wheelchair-bound or require special needs.
Because of the virtual platform, participants are encouraged to recruit friends and family from all over the country and the world to partake in the Challenge.
The event culminates in a virtual closing ceremony on Saturday, January 30, 2021.
Mya moves forward
Thanks to the groundbreaking neurosurgical care Mya received at Wolfson Children's, she is growing and developing every day. Now 2 years old, Mya is sitting, rolling over, and perfecting her favorite phrase: "Hey, girl!"
Following surgery, Mya wore a specialized helmet nearly around the clock for a year to reshape her skull from the craniosynostosis. She still receives follow-up care from Dr. Beier for her seizures, which have decreased significantly since her dual procedures.
The revolutionary combination of brain surgeries Mya received, along with care Wolfson Children's provides for everything from common childhood illnesses to complex medical conditions and traumatic injuries, would not be possible without generous philanthropic support from the community, region, and beyond. So lace up those walking or running shoes and get ready to take the Challenge!
Registration for the Wolfson Children's Challenge: Virtual Edition is now open! Sign up today at wolfsonchildrenschallenge.com. Instructions for downloading the app will be provided via email after registration through the online portal.