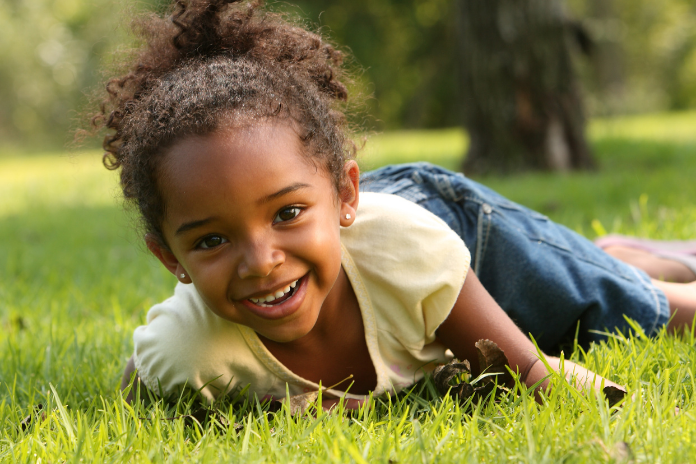 Now more than ever, it seems we could all benefit from living in the here and now, rather than dwelling on the past or worrying about the future. Because all we really have control over is the present moment. That's where the practice of mindfulness comes in — making a concentrated effort to be actively aware of what you are doing right now. The best part? This beneficial practice can be useful for both children and adults alike!
Children of all ages can actually work on mindfulness techniques to help ease stress and tension. When kids remain focused on the current moment, it allows them to be fully present and engaged in what they are doing, whether eating an ice cream cone on a sweltering day, digging their toes in the soft sand at the beach, or snuggling with a beloved stuffed animal.
The practice of mindfulness can sometimes get mixed up with meditation, but the truth is, you actually don't have to sit cross-legged in a meditative state or have a completely clear mind in order to be mindful. Mindfulness techniques don't even have to be very long — just a minute or two of practicing it can have major benefits.
Benefits of mindfulness
Practicing mindfulness techniques can help children:
Have improved focus.
Worry less.
Experience lower stress levels.
Improve mood.
Foster increased self-confidence.
Lower the risk of depression.
Feel more enjoyment and happiness in life.
Get better sleep.
"Generally, when kids are able to be mindful, they are more aware of how they are feeling. This helps them better recognize and regulate their emotions," said Emily White, PhD, clinical health psychologist with Baptist Behavioral Health. "The present focus of mindfulness can help reduce stress, decrease worry, and even improve concentration. Some studies show that elementary school kids who practiced mindfulness had higher math grades."
According to a recent study published in the Journal of Clinical Sleep Medicine, kids who regularly practice mindfulness saw an improvement in sleep patterns. Study results stated that elementary school-aged children who engaged in mindfulness training two times a week over the course of two years slept an average of 74 extra minutes a night.
Encourage mindfulness early
Parents can start to demonstrate mindfulness in the presence of their children when they're just infants. A good example of this is to gently hold your baby, gaze into his or her eyes, and simply smile. While doing so, be sure to put away the smartphone, shut down the laptop, and turn off the television. Focus only on your baby.
Giving your little one your full, undivided attention, engaging in one thing at a time rather than multitasking, and avoiding pesky distractions are all simple ways you can model mindfulness. Children learn best by actually seeing what their parents are doing. By the time they are around 4 or 5 years old, kids can begin to practice mindfulness on a more independent level.
Mindfulness tips and techniques
Techniques for your child to practice mindfulness will vary based on their age. Even toddlers can learn to focus on their breath as a way to remain in the present moment. Deep breathing exercises can literally slow down a racing heart and help children respond to stress in a much healthier way.
To center the child and bring them back to the current moment, try this simple exercise that surrounds the five senses. The child should take a deep breath and identify:
5 things they can see.
4 things they can touch.
3 things they can hear.
2 things they can smell.
1 thing they can taste.
In addition, the STOP skill can help calm your child's nerves and allow them to respond to situations more mindfully. This skill suggests that they:
STOP what they are doing.
TAKE a breath.
OBSERVE what is happening (both internally and externally — "I'm feeling X because Y happened.").
PROCEED with awareness.
Families can even practice mindfulness together. A simple way to do this is to enjoy dinner without distractions (like smartphones or a blaring television) at the table. Or, try going for a mindful stroll around the neighborhood together, where you focus on what you see and feel around you, such as the feeling of feet stepping on the ground, the warmth of the sunshine on your face, or a cool breeze tousling your hair.
Does your child struggle to deal with stress? Does he or she seem anxious or depressed? Wolfson Children's Behavioral Health has a team of specialists who will work to assess and treat your child. And if you're looking for activities and resources to help boost your child's mental wellness, check out Wolfson Children's On Our Sleeves campaign.