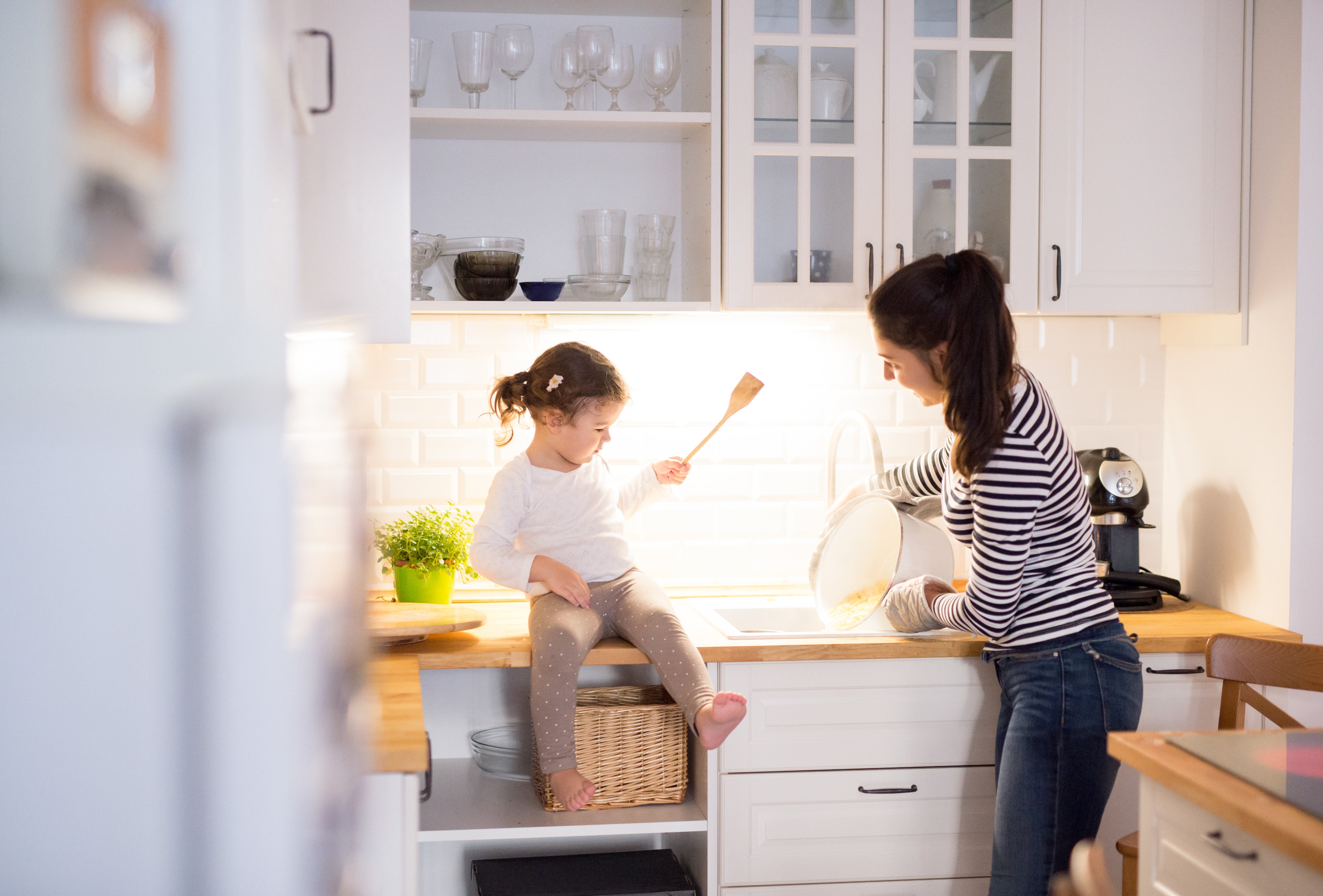 I am a food-loving, cooking-calms-me, enjoy-a-great-new-restaurant kinda gal. Cooking calms my soul, and I know not everyone feels this way. Heck, I even have days where I'm just a woman staring at a fridge, asking it to make me dinner. Figuring out meals that my kids and I enjoy can be tricky, and even trickier to make sure it's on the table in a reasonable time during the weekdays. I want you all to know that my kids eat some version of whatever I cook. I don't play the game of four different meals. "Here is dinner and that's what you get" is our house motto. All of these meals can be adjusted to taste preferences or "deconstructed" to suit the kids. Don't think for one minute that my tiny humans eat without complaints or me having to use the "psycho mom voice" from time to time. (We all know that voice.) Alas, your girl, the amateur foodie and resident Jax Moms Blog unofficial chef, is going to give you some easy, go-to meals!
Crockpot Chicken HOLLA-peño Tacos
We can all agree that we've moved on from that tragic episode of This Is Us, right? My Crockpot is good to go, no harm done, and makes me think I've done hours of work when I've only done minutes worth. It also makes my favorite day of the week, "Taco Tuesday," a breeze. This recipe I adapted from when I did Weight Watchers to lose the baby weight it is SO easy and delicious. I will give ya the heads up and say it is a bit spicy, but if your kids don't mind it, game on!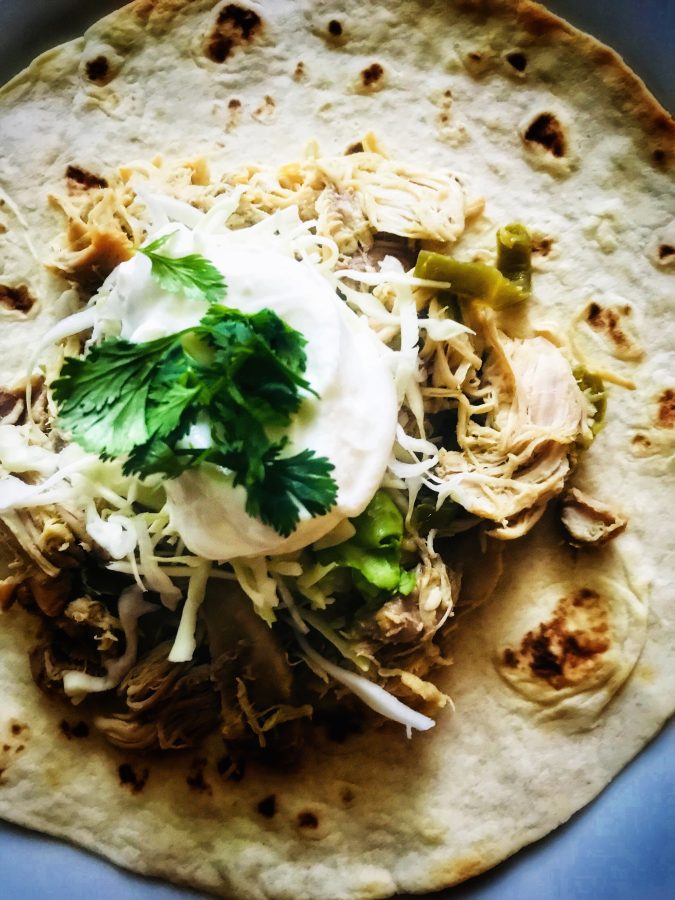 Prep Time: 5 minutes  Cook Time: 6 hours on Low or 4 hours on High
Ingredients:
4-6 Boneless/Skinless Chicken Thighs (You can use Chicken Breasts if you prefer but they tend to dry out.)
8 oz. jar Pickled Jalapeños
1/2 cup Low-Sodium Chicken Stock
1/2 teaspoon each of the following: Garlic Powder, Paprika, Onion Powder, Salt, Black Pepper, Cumin and Chili Powder
Directions: Put your chicken in the crockpot, cover with the spice mixture, add chicken stock and an ENTIRE jar of jalapeños (the liquid and all). Give a quick stir and set it for 4 hours on high OR 6 hours on low. About 15 minutes before the time is up, shred your chicken directly in the crockpot. When it's done, I like to serve on a crispy tortilla I heat up in the oven and add an Avocado Crema on top. Or you can go and have it any way you like your tacos! Any leftovers you have freeze wonderfully.
BONUS RECIPE: Avocado Crema
Ingredients:
1 Ripe Avocado
Juice from Half a Lime
Handful of Cilantro (You can leave the stems on if you want.)
1 cup Sour Cream (I prefer Light, it blends better.)
Healthy pinch of Coarse Salt and Pepper
Directions: Put ALL of that in a blender or food processor until it's well blended and the consistency of yogurt. Seriously, it's that easy.
Mario and Luigi's Breakfast
Why is it that Breakfast for Dinner feels so awesome? Because it is. Add in the fact that this recipe is also a pizza, and I just won everyone over! Pizza fills the void in everyone's life. So I am giving you another reason to eat it. Also, if you tell your kids that Mario and Luigi eat this, you have a better chance they will. Here's the deal, you can adjust this one to suit however you like your eggs (or your kids' preferences) — this is just how I like it. Serve some fruit salad on the side, and you are good to go!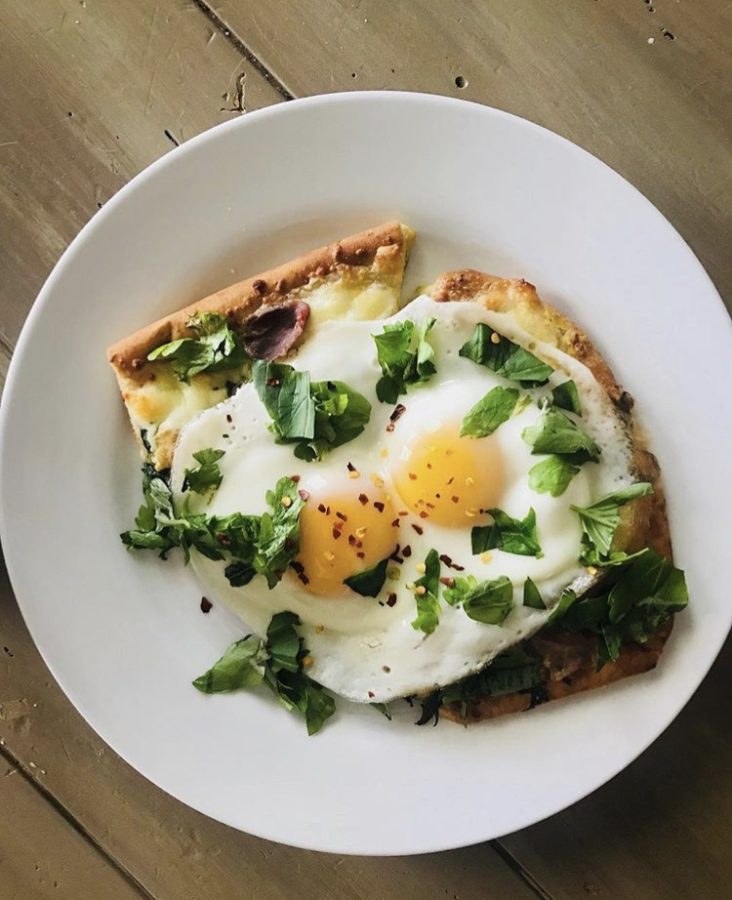 Prep Time: 15 minutes  Cook Time: 25 minutes
Ingredients:
1 store-bought Pizza Dough (I like the kind you can find in the bakery, BUT grab the Pillsbury one if you prefer and it's easier.)
2 12-oz. packages of Italian Shredded Cheese Mix
1/4 lb. Deli Sliced Ham (Bacon is good, too, OR be fancy and get Proscuitto di Parma.)
4 Eggs
Arugula or Basil (optional)
Directions: Preheat oven to 425 degrees. Roll out your dough and put on sheet or pizza pan. Take a fork and poke holes all over the entire dough; this will prevent bubbling up. Put in oven and pre-cook until lightly brown. While the crust is baking, I like to crisp up the ham in a pan. Don't add any oil, and just cook as if you would bacon. When done, put on paper towel and then cut up in big pieces. When crust is lightly brown, pull out and start adding ingredients. Cheese down first, then your eggs. Here's the deal with the eggs… I like cracking them into a small ramekin first so they stay with the yolk intact. Then I gently put them on the pizza, spaced out. I add the meat on top around the sides of the egg white to "hold it" in place. If you want your eggs scrambled, do that ahead of time and add to pizza. Bake in oven for 6-8 minutes. Depending on how you like your eggs, oven time will vary. When it comes out of the oven, I like to top mine with some fresh arugula. Not my kids, because they're kids, and it would ruin dinnertime if I did such a ridiculous thing.
Cornflake Crunchy Chicken
Do you have any of those recipes on hand that you pretty much always have the ingredients for, AND it's something no one will complain about in your house? That's this meal for me. You can also make this… wait for it… GLUTEN FREE!! Simply substitute the flour for whichever kind your little gluten-free heart prefers. Also, make sure to buy the gluten-free cornflakes (find some options here). The regular cornflakes usually have barley malt sweetener in them, so that's why you need to find the gluten-free ones. I like serving a vegetable and rice or potatoes on the side of this meal, but I won't make you do anything you don't want to do.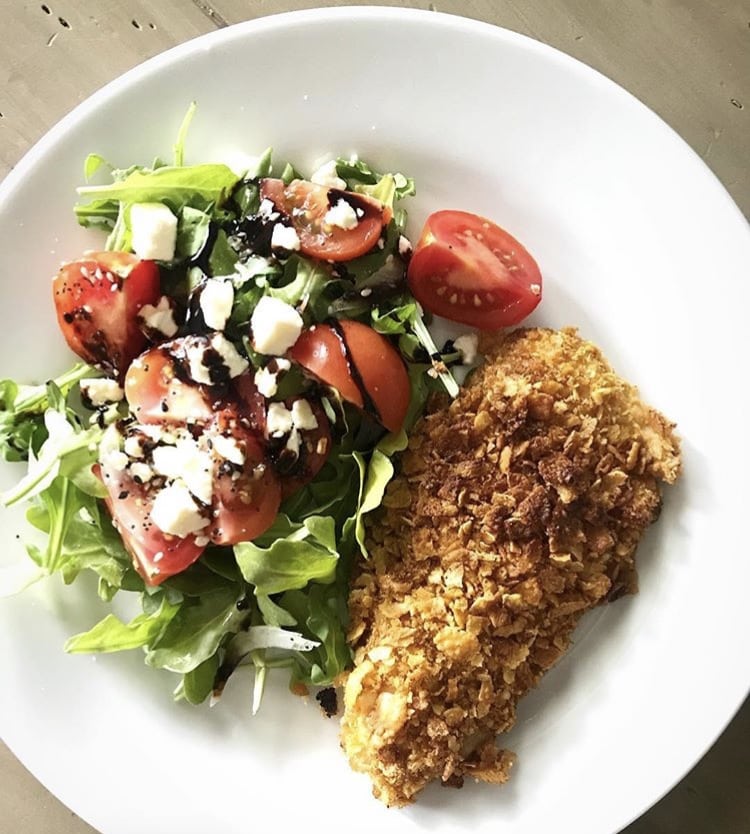 Prep Time: 10minutes  Cook Time: 30 minutes
Ingredients:
4 Boneless Skinless Chicken Breasts
1/2 cup Flour
4 tablespoons Unsalted Butter
4 cups Cornflakes
1/2 teaspoon of each: Salt, Black Pepper, Paprika, Garlic Powder, Onion Powder, and Cayenne Powder
Directions: Preheat oven to 425 degrees. Begin by taking all of the seasonings and putting them in a gallon zip bag with the cornflakes. Take that bag and start CRUNCHING it up! (Your kids can totally do this for you.) You want the pieces to be small, but NOT powder. (About the size of oatmeal oats.) Now it's BUTTA TIME! Melt the butter in a small pot on the stove. While that melts down, lightly dredge your chicken in the flour and then butter — cover the entire thing. Then it goes into the bag of cornflakes. I like to press the chicken into the cornflakes so you get good coverage. Place it on a baking sheet that has been covered in foil and lightly sprayed with a non-stick spray or coconut oil. Bake for 30 minutes. (Can vary depending on thickness of the chicken and your oven.) The chicken will be browned on top and crunchy. Bonus to the person who gets to eat the extra crunchy cereal around the chicken!
TJ Loves Allie Gnocchi
I have a boyfriend who helps me cook… his name is Trader Joe. He has delicious items at my disposal that if chosen correctly, you can turn into a ridiculous meal that seems you spent hours on. A personal favorite that my boyfriend "TJ" makes is his Gorgonzola Gnocchi. He likes to keep it in his frozen section… because he's practical like that. I then take it home, add a twist to it, and pretend that we are vacationing in Northern Italy together. Somewhere peaceful where children eat all the dinner without the psycho mom voice coming out. Don't be hesitant about my boyfriend using Gorgonzola. It does not have a pungent flavor to it and actually tastes more like an Alfredo — and that's how I trick my kids to eat it for me.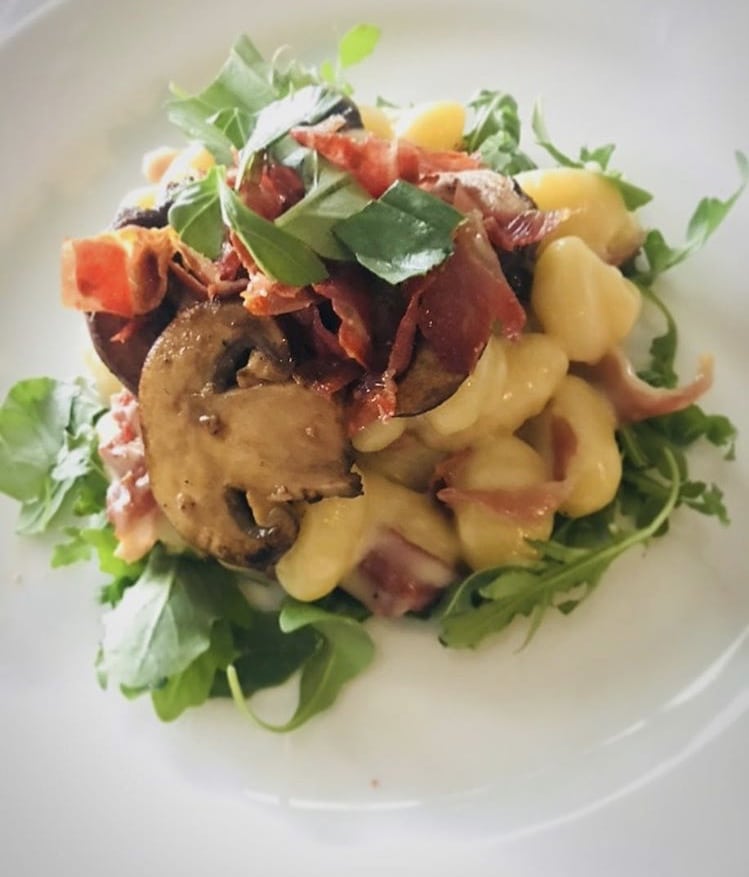 Prep Time: Less than 5 minutes  Cook Time: 20minutes
Ingredients:
1 package Trader Joe's Gorgonzola Gnocchi (Feeds 2 people GENEROUSLY; grab 2 packages for a family of 4.)
4 pieces Proscuitto di Parma OR Bacon
6 oz. Sliced Portabello Mushrooms  (optional)
3 cups Baby Spinach or Arugula
Directions: Start by crisping up your prosciutto or bacon in the same large pan you will cook the gnocchi in. When finished, put aside and add in mushrooms. If you used prosciutto, you may need to add in a little olive oil to get the mushrooms going.  Sauté until soft. Take out and set aside. Add in the gnocchi package and follow the directions on the bag. (My boyfriend is very thorough.) As the gnocchi finishes up, add in the mushrooms and give a good stir. I then like to add the spinach or arugula to the bottom of the bowl I am serving in. It will wilt down on its own and not get mushy. If you need to, use chopped spinach and mix it into the sauce with the gnocchi. Top the pasta with your crispy meat of choice. Usually, when my kids see bacon they just start eating and ask questions later. Think this is crazy and your kids won't eat the gnocchi? Grab the Trader Joe's macaroni and cheese in the freezer section and do this same meal with that. I won't judge you any differently.
Which recipe(s) are you most likely to try? Tell me what you think, share your own fave recipes and follow me on Instagram at @AllieLuvsFood.