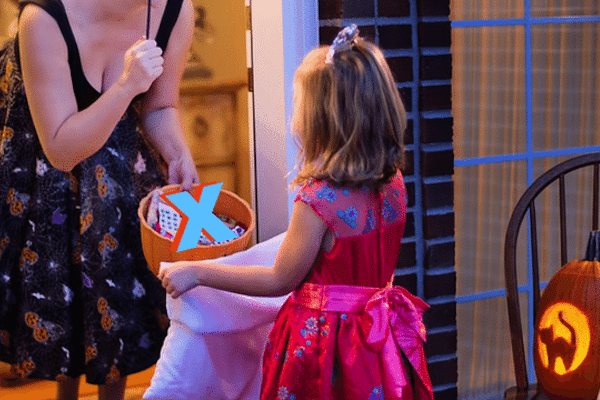 It's official! Teal is the new orange this Halloween. Have you spotted all the beautiful teal pumpkins around town? These guys are not just a trend — they are a trend with a purpose. The Teal Pumpkin Project is an initiative started by Food Allergy Research & Education (F.A.R.E). When you display a teal pumpkin on your stoop, it indicates that you have non-food treats available for trick or treaters. I know it sounds impossible to replace the candy in the candy bowl with non-food treats, but it is easier than you think. You can still delight trick or treaters, save money, and be a safe house for children with food allergies.
F.A.R.E reports that 15 million Americans are affected by food allergies. "One in every 13 children has a food allergy — that's about two in every U.S. classroom. And every three minutes, a food allergy reaction sends someone to the emergency room." Our family is among those 15 million.
Halloween is one of my favorite holidays, but when food allergies entered the picture, it became a new kind of terrifying. Halloween is a holiday that has been overtaken by sweet ghoulish treats. While they may be tasty, they often contain many of the top eight allergens and present tremendous hazards for our family. We have found ways to enjoy the holiday, but there is so much unsafe food everywhere. One of our traditions is painting our teal pumpkins. We love participating in the teal pumpkin project and providing safe treats, not only for ourselves but also for our friends and neighbors with food allergies.
This year, I was so excited to see that Michael's has partnered with F.A.R.E. to release pre-painted teal pumpkins and teal pumpkin buckets! This makes participating so much easier for those who are not feeling crafty, but if you are feeling crafty, creating your own teal pumpkin is a fun family project. We typically grab a few pumpkins from a local patch and paint one or two with teal craft paint and glitter. It makes a great family project and one that is easy to add to your existing pumpkin traditions.

Once you have your teal pumpkin, you can start collecting non-food goodies to give out to your trick or treaters. Some of our favorite items to purchase are bubbles, pencils, mini craft kits, rings, fangs, and anything that lights up. You can find some really cool things this time of year at stores like Michael's, the Dollar Tree, Target, and online at Oriental Trading. I have learned through the years that the first week in October is really the best time to shop. A lot of stores are selling seasonal items at 40% to 60% off. These discounts usually run dry by October 7 and won't be back until after the holiday, so if you like saving, get to shopping! Check out these awesome articles with additional ideas for non-food treats: Spooky and Not-So-Spooky Non-Candy Halloween Treats and Sweet Alternatives to Candy for Halloween.
You don't have to kiss all your candy goodbye in order to participate in the Teal Pumpkin Project. If you decide to offer both non-food treats and still have candy as an option, here are some tips to help keep food allergy friends safe, making sure that traces of other treats won't sneak into your teal pumpkin:
Keep your non-food treats in a separate teal bowl.
Avoid any open or homemade treats.
Remind trick or treaters not to reach into both bowls.
Don't open or eat candy near your non-food treat bowl.
Taking these precautions can help all our children feel included in the trick-or-treating adventure. Wishing you all a happy and safe Halloween!