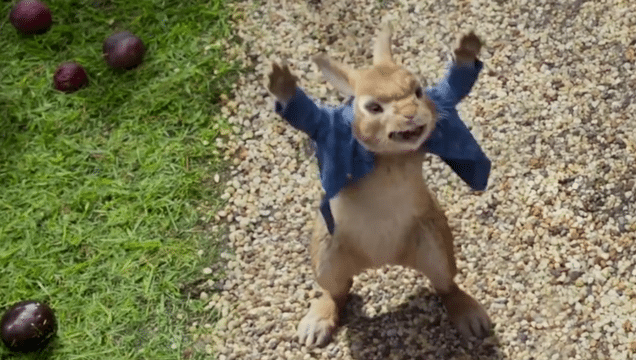 Let me preface this by saying my family loves Peter Rabbit.
The books, the cartoons, the little stuffed plushes. He is mischievous, quirky, and loves a garden as much as we do. The antics of that little bunny are delightful and engaging. When I saw that a Peter Rabbit movie was set to hit the big screen, I penned the release date on my calendar. Then I learned that James Corden was voicing Peter Rabbit, and I was beyond all in. My hopes for the soundtrack skyrocketed. The man has delightful taste in music. I mean, who doesn't love Carpool Karaoke and his epic rap battles? This film was sure to be a perfect fit for a fun-filled family night.
Then the film previewed, and I saw the allergy alert: This film contains allergy violence. My heart sank. What was the violence? Does the attack hold any awareness value? I mean, how bad could it be? It is Peter Rabbit, after all! I did my research, and I got my answer. It is irredeemably bad. Could we still safely see the film? The answer for us, sadly, was "no." And I think it is downright dangerous for non-allergy families to see it, too. I am such a hard pass on this film that I seriously debated writing this article at all. Ultimately, I decided I would be remiss to stay silent. Be careful for brutal spoilers after this paragraph.
If you haven't heard (here comes the giant spoiler alert), they turn Peter Rabbit into an attempted premeditated murderer.
Nope, that's not an over-estimation. He plans to attack the lead protagonist of the movie by forcing him to ingest his food allergen. That's his solution to a problem person in his life. Kill him by exploiting his food allergy. Yes, that's awful. No it's not funny in the slightest. This is not slapstick comedy; it is cruelty.
It is a cruelty that allergy families experience routinely. The reality is children with life-threatening food allergies are often bullied because they have an allergy. No Appetite for Bullying researched a sample of 1,000 food-allergy families with children ranging from elementary to high-school age. Of those sampled, 82 percent reported instances of their children being bullied due to their allergy. That bullying ranged in severity from taunting to intentional exposure to a life-threatening allergen.
When people hear the word "bully," I think they picture someone like Biff from the Back to the Future series. Someone who is just mean for meanness sake. They don't picture the child looking for a giant laugh in his school cafeteria. A child who has seen dozens of allergy exposures on TV shows and movies that always get the laugh, and routinely characterize the individual with the food allergy as someone who is weak and deserving of abuse. This pervasive misrepresentation creates grave misunderstanding about the real-life dangers of food allergies.
As horrible as Peter Rabbit being rebranded as a murderer at large in this film is, it is not the worst part of the movie. By far, the deadliest thing about this film is how the allergy itself is presented. It is a common problem that Hollywood films downplay allergic reactions. They are presented as comical and embarrassing for the allergy patient. It is shown as a nuisance at worst, something that is easily managed with a jab of an EpiPen or a sip of Benadryl.
News flash: Life-threatening allergic reactions are not only hives and visibly swelling lips.
Other signs of deadly allergic reactions are fatigue, an odd taste in the mouth, chest pain, loss of consciousness, turning blue, stomach pain, or a dry cough, just to name a few. Nothing about this is comical; 40 percent of children who have food allergies have experienced a life-threatening reaction. Every three minutes, a child goes to the emergency room with a life-threatening food allergy reaction — that is 210,000 hospital visits a year. Epinephrine, the drug inside EpiPens, is a time-sensitive drug and is most effective when administered quickly. At times, it does not abate symptoms quickly enough and additional doses are required. And sometimes, despite administration of epinephrine, patients still die from allergy exposure. Antihistamines like Benadryl are not effective during severe allergic reactions.
When children's movies depict a situation indicating it's okay to laugh at people with food allergies, they fail all of our children. It is not just mean; it is dangerous. Children need to understand that food allergies are not a reason to treat someone as less than or laugh at them. When movies show no consequence for cruelty targeting people's medical conditions, they fail all of our children again. It sets a false confidence level for impressionable children that they can be funny and everything will be okay. The reality is very different… for every child.