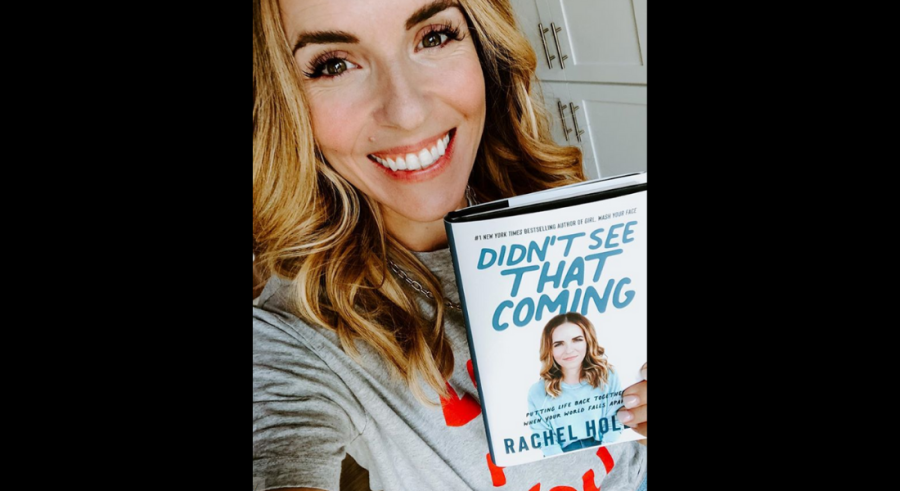 This week, everyone's (least?) favorite author and influencer announced that she has a new book being released next month. And, as only Rachel Hollis can do, she managed to make a genuinely emotional, traumatic topic like divorce seem almost as shallow as a kiddie pool.
Earlier this summer — in June, specifically — Hollis announced she and her husband were getting a divorce. They share four children and are co-partners in her successful multimedia company. In her Instagram announcement, she wrote, "Guys, I have some hard news to share and the honest truth is, I have no idea how someone announces something like this, so I'm just going to say it. Dave and I have made the incredibly difficult decision to end our marriage," adding, "We are choosing joy — even though, I'll be honest, the last month has been one of the most awful of our lives. I want to be strong and bold and optimistic for you now, but every ounce of my energy is reserved in being those things for my children."
She finished her post by pleading for everyone to respect the couple's privacy as they navigate through this difficult time and try to figure out what the next chapter of their life would look like. Understandable, right? Their marriage didn't work out, and that's nothing to be ashamed of. Y'all, just a friendly reminder that this all went down in June. Now, just two short months later, Hollis has let us in on what the next chapter of what their life entails. And it's completely typical for her brand.
Recently on Good Morning America, Hollis made an appearance to announce her next book, a 240-page venture titled, Didn't See THAT Coming. And on Instagram, she wrote:
The idea that Rachel Hollis, of all people, has any desire to not use something for attention and money would be surprising — that's literally how she built her empire. It would ordinarily seem callous or inappropriate to insinuate that as soon as Hollis decided to divorce her husband she was already seeing dollar signs, but just two months later, here we are. She is broadcasting not only her pain, but the pain of her ex-husband and of her children, and she appears to be promoting it to garner more book sales. She's unironically telling us she's saying something "in confidence," on a public Instagram post that will be seen by literally millions of people — while grinning alongside the caption saying that she's destroyed, too.
And that's not all — she even went so far as to compare herself to a sherpa in the process. For those unfamiliar, "sherpa" is not just a job description; it's an actual ethnicity, of people indigenous to Nepal and the Himalayas. Not only does she seem to be trying on an ethnicity to make a point, but she's also already a known plagiarizer, including of black women (even from Maya Angelou!) without giving them proper credit or attribution for their work.
Rachel Hollis seems to encapsulate some of the less desirable parts of confessional culture. This idea that we can air out all of our dirty laundry, under the pretense of "helping" people, and make money doing so can be harmful for others. Also, according to her podcast, Hollis' ex-husband is evidently not even the one who asked for the divorce. Does that mean her reasons for doing so aren't valid? Not necessarily, but her rush to exploit that decision and profit off of it really does make it seem a lot more suspicious.
Anyway, here's Rachel, acting as if she has advice or words of wisdom on surviving a divorce when she's still going through the divorce. If there's anything that needs to be said, it's this: Girl, tell the truth. This feels like nothing more than a cash grab, a quick way to publicize her current situation and make an easy buck. And sadly, her fans will eat it up without a thought of how inappropriate it is, or how painful it will be for the people affected. Her children will read this book one day. So will her ex-husband. So will their families. Does any of that matter, or is it all worth being sacrificed to make money? What she's doing isn't healthy for her, it's not healthy for her family, and it's not healthy for her followers. But perhaps the saddest part of all is how utterly unsurprising it is.